Mount Pinos Couple's Backpacking
Looking for a beginner backpacking trip? We got you covered! One thing that we get asked a lot is "Where should I go backpacking if I am a beginner?" Whether you are a seasoned backpacked or do not even own a sleeping bag, this a great weekend trip. Mt Pinos is located in Souther California and is covered with beautiful Pine Trees for as far as the eye can see. It is a local dirt bike riding, camping, and hiking area that is easy to explore. We want to help you have an amazing Mount Pinos Couple's Backpacking trip that you will not forget.
Preparing for Mount Pinos Couple's Backpacking
Ranger Station
First off, call the Ranger Station! You can find their contact information here. We did not know if we would be allowed to camp because of the whole COVID-19 event. We always call the local station just to see if they have any recommendations. Roads may be closed, conditions may be bad, a big event may be happening, the ranger is the most informed person in that area so it is always a good idea to call. Luckily the backcountry does not have to many people that flock to it. We got the green light from the station and was now time to pack for our Mount Pinos Couple's Backpacking Trip.
Packing
We knew it was going to be a short trip so we packed very light. The spring is our favorite time to go locally because the streams will be full, the flowers will be in bloom, and the temperatures are not too hot. Knowing it would be nice weather, we brought the sleeping essentials, 1 dinner and breakfast (including dessert of course), warm clothes, a bear canister to keep the animals out, and photography equipment to capture our favorite memories. When planning a trip, make sure to not overpack any unnecessary items. There was a spring at Sheep Camp so it saved us some unnecessary weight on water. Especially for a backpacking trip, overpacking means that you will be carrying extra weight that will just slow you down. For our backpacking gear guide check out this, or watch our new Youtube video. Comfort is key for a Mount Pinos Couple's Backpacking trip because you want to enjoy the outdoors rather than suffer through it.
Starting Mount Pinos Couple's Backpacking
Parking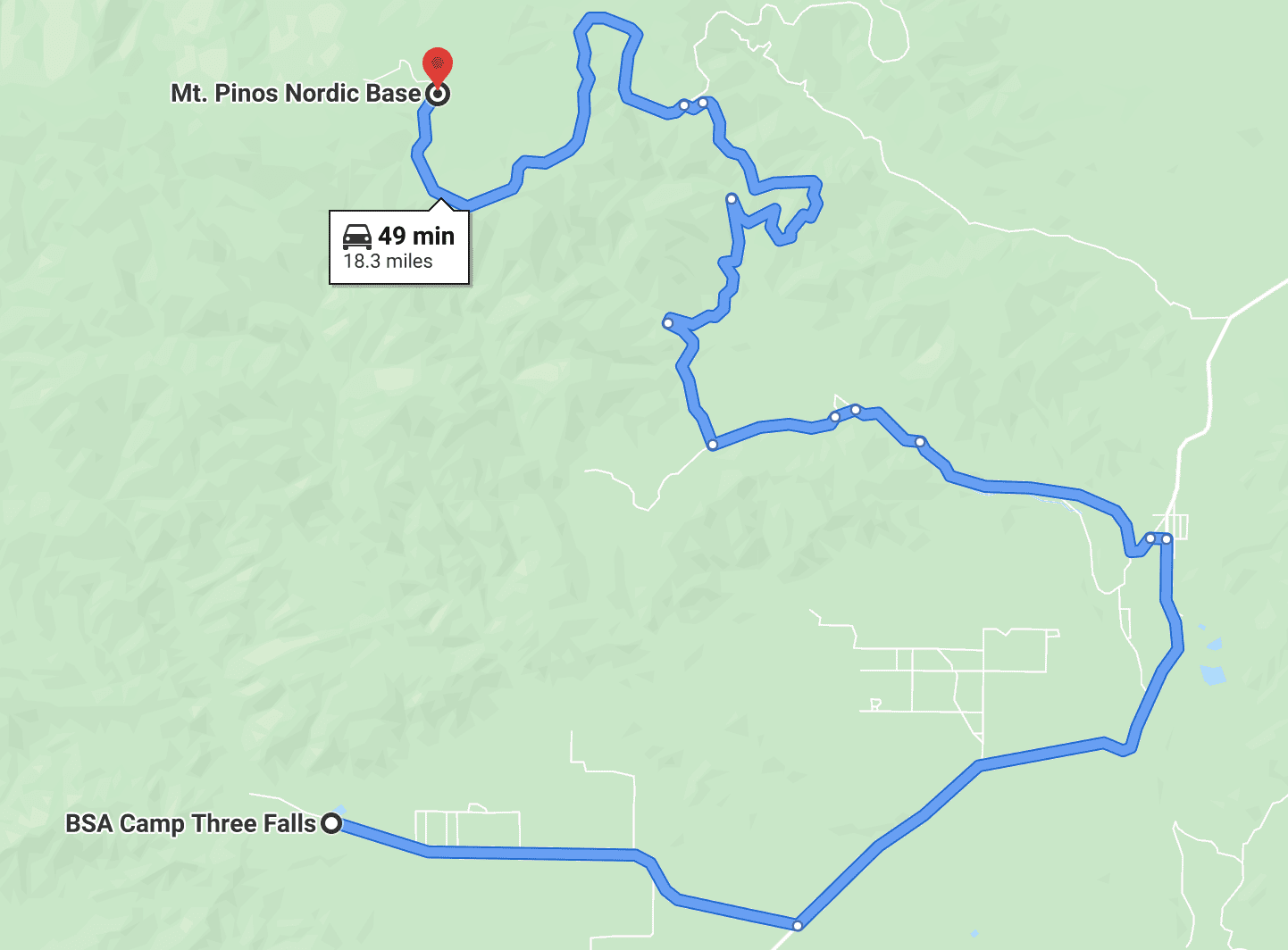 We decided to do a through backpacking trip. This means that we would park one car at Three Falls Boy Scout Camp and the other car at Mt Pinos Nordic Base. We wanted to do a through hike because we did not want to see the same scenery twice. It does take a little bit more set up and we did not get to jam out to music together, but we wanted to see more territory. To the right is the map of where we parked for our Mount Pinos Couple's Backpacking Trip. Plan ahead and make sure to put your valuables out of site.
Hiking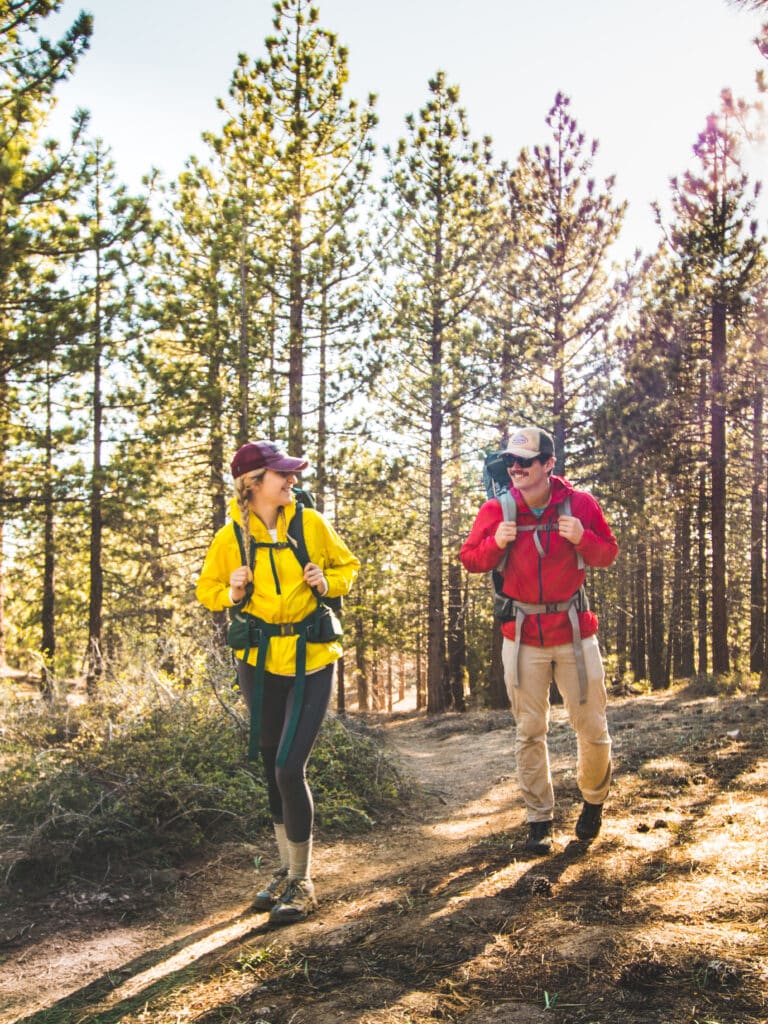 This trail is a very well maintained and an easy hike. Full trail description is located here. We had not backpacked in over 3 months so it was a great warm up for our summer plans. We recommend to start hiking in the early afternoon so you do not have to rush all morning and the temperatures start to cool off. The beginning of the hike is a gradual incline until you reach Mt. Pinos.
The view from the top of Mt. Pinos is stunning on a clear day. Views of the Owens Valley and the San Joaquin Valley make you feel quite small. We had some difficulty finding the summit register when we made it to the top so make sure you look around a bit. When you reach the Mt Pinos sign, walk forward about 150 ft until on your left you see a tree and a larger boulder, the summit register was located under a rock near there. Watch the video above for a closer look on exactly where it was.
After enjoying the view you can turn back if you just want a fun day hike, or trek on to the North Fork and continue your Mount Pinos Couple's Backpacking Trip. The trail slowly descends using switch backs through beautiful pine forests. We found views around every corner and enjoyed the birds chirping around us. Once we reached the fork, we veered left and headed down to Sheep Camp.
Sheep Camp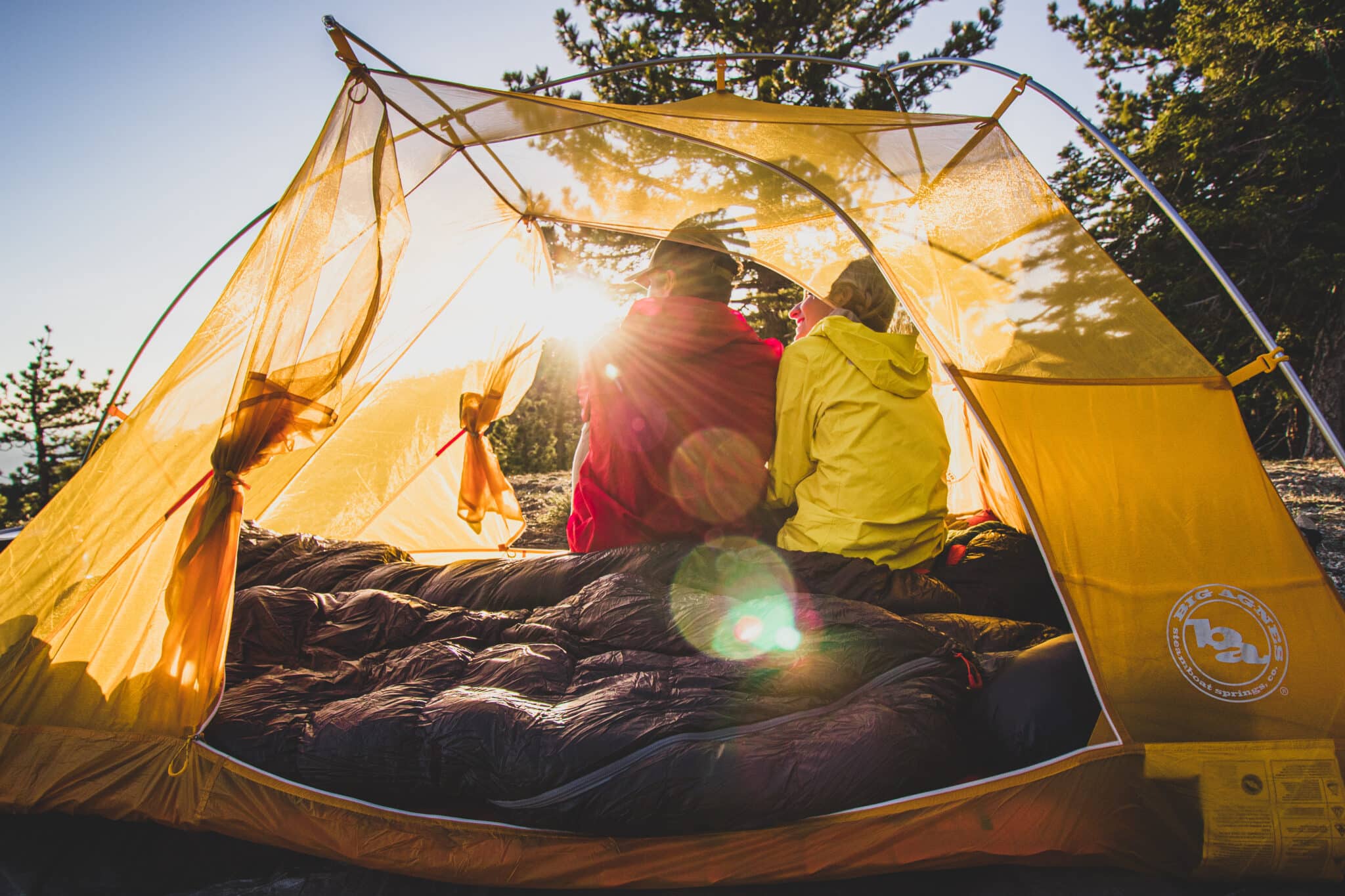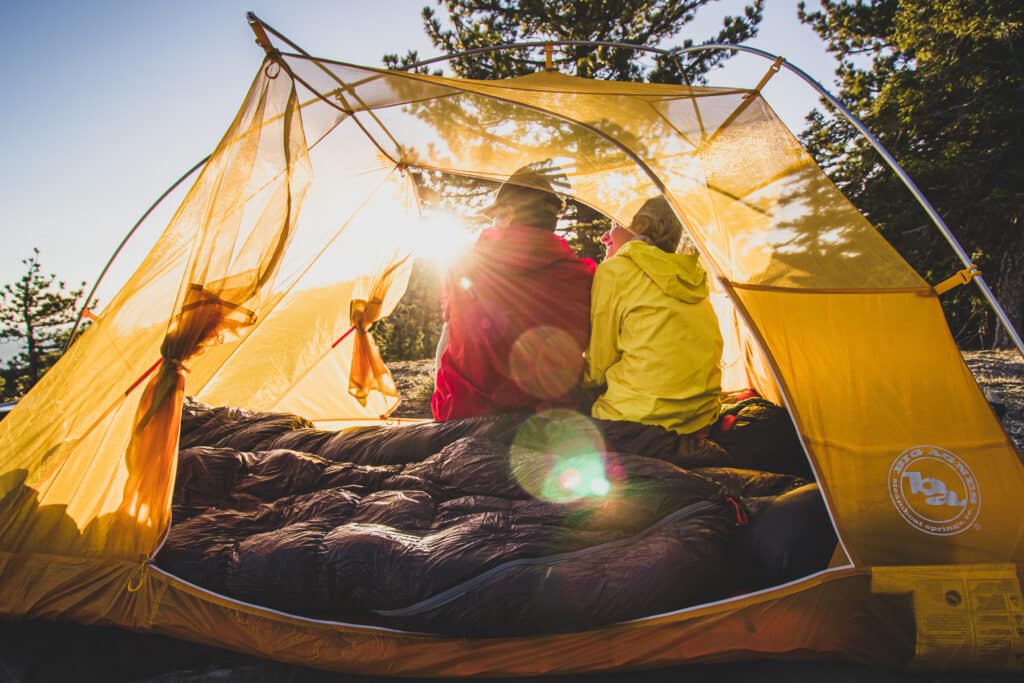 After hiking for about a while you will arrive at Sheep Camp. This camp is great because it has running water through a spring, beautiful views of rolling hills, and campfire rings. We recommend looking to your right once in camp and heading up the hill to a plateau. From up here you can enjoy sunset and warm cuddles. It was the perfect spot to get away from the crowds in the center of camp. We wanted to be able to see the valley and not be surrounded by too many other backpackers.
Lily Meadows
The next morning we saw sunrise and enjoyed some tea while looking out over the valley. The views were incredible so we took out time and enjoyed the morning golden hour. The rest of the backpacking trail is all downhill. From Sheep Camp we got an early start and started heading down the trail. The trail begins to get much steeper from here until Lily Meadows campground. We were both feeling our quads start to burn right as we decided to stop for breakfast. We set up a hammock in the trees and relaxed while we ate breakfast and enjoyed the views. This area makes for some great hammock spots because of all the trees so if you have one we would bring it!
When we reached Lily Meadows a few other groups were just waking up and starting their day. It is another beautiful area but a little to low in elevation for our taste. The bushes and trees seemed to be more dried out and the views were not as good. We recommend hiking to Sheep Camp because it is a better camp with more views and a spring.
Three Falls Boy Scout Camp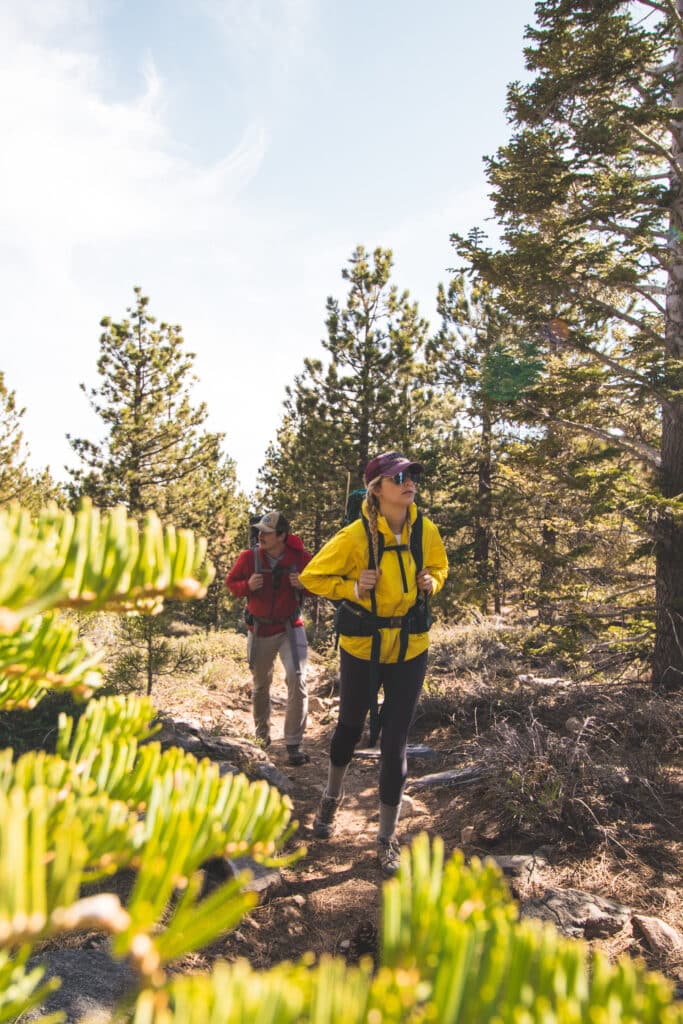 Once we finished hiking through Lily Meadows, we were home free on our Mount Pinos Couple's Backpacking Trip. We continued down hill along the side of a mountain, hopping over creeks and listening to the animals go about their business. The trail continues until you reach a big valley and a steep downhill section. If your quads were not feeling it before, they definitely will now.
Once you make it down the steep section, the trail evens out as you continue on the most boring section of the whole trip. The straight away from the bottom of the hill until the car felt like forever! This section was dry, not a lot of big trees for cover, and was basically a dirt road. This is where we had some fun conversations about our favorite parts of our Mount Pinos Couple's Backpacking and what food we wanted to eat.
Once we reached the car, we drove back into town and ate some delicious pizza! We had Mike's Pizza Company and drove up to our car to relax and eat in the beautiful area. This trip is a great place to start backpacking. When I (Stephen) was a kid, this was my first backpacking trip. This is what started my love for the outdoors which we now get to share together. Now that COVID-19 is coming to an end, we hope that you get to enjoy the outdoors and start adventuring again! Make this Mount Pinos Couple's Backpacking Trip a part of your next trip itinerary!