Ultimate Guide to Sequoia & Kings Canyon National Parks in the Winter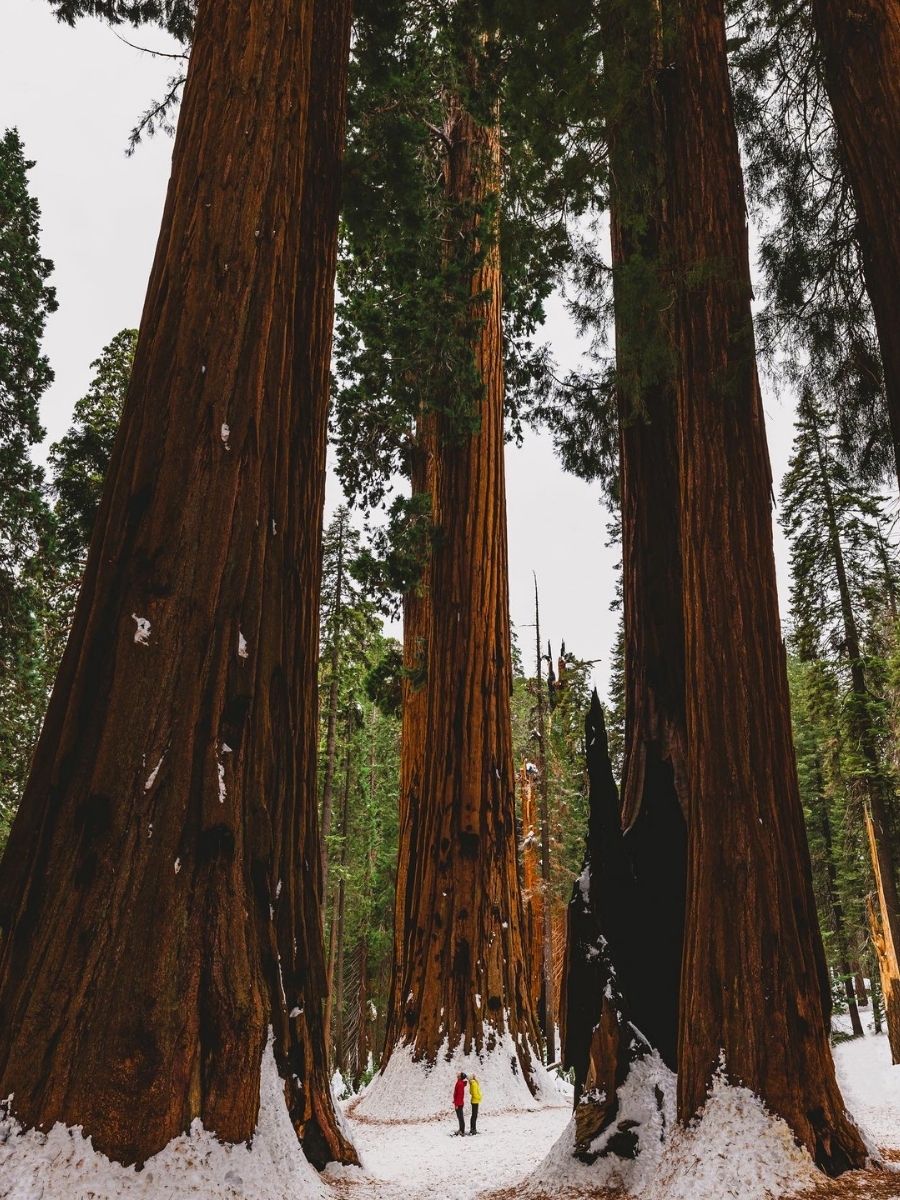 Fresno County is the perfect destination for winter adventures. Located in the heart of central California, it lies right in the middle of three of California's most beautiful National Parks, Yosemite National Park, Sequoia National Park, and Kings Canyon National Park. With a short drive in between each park, Fresno County is the perfect place to stay while exploring the gorgeous natural beauty of the parks.
While Yosemite is incredible, it often overshadows the lesser visited Sequoia and Kings Canyon National Parks. These are two of our top favorite parks to visit in the winter. Seeing all of the sequoia trees covered in snow is unlike any other experience as the red bark pops beautifully. Here's our ultimate guide to exploring Sequoia & Kings Canyon National Parks in the Winter.
Disclaimer: This blog post is in collaboration with Visit Fresno County. Some parts of the article also feature affiliate links, which means we get a small commission if you make a purchase (at no extra cost to you). It's one of the ways we can keep producing free guides and resources for our readers. Thank you for the support!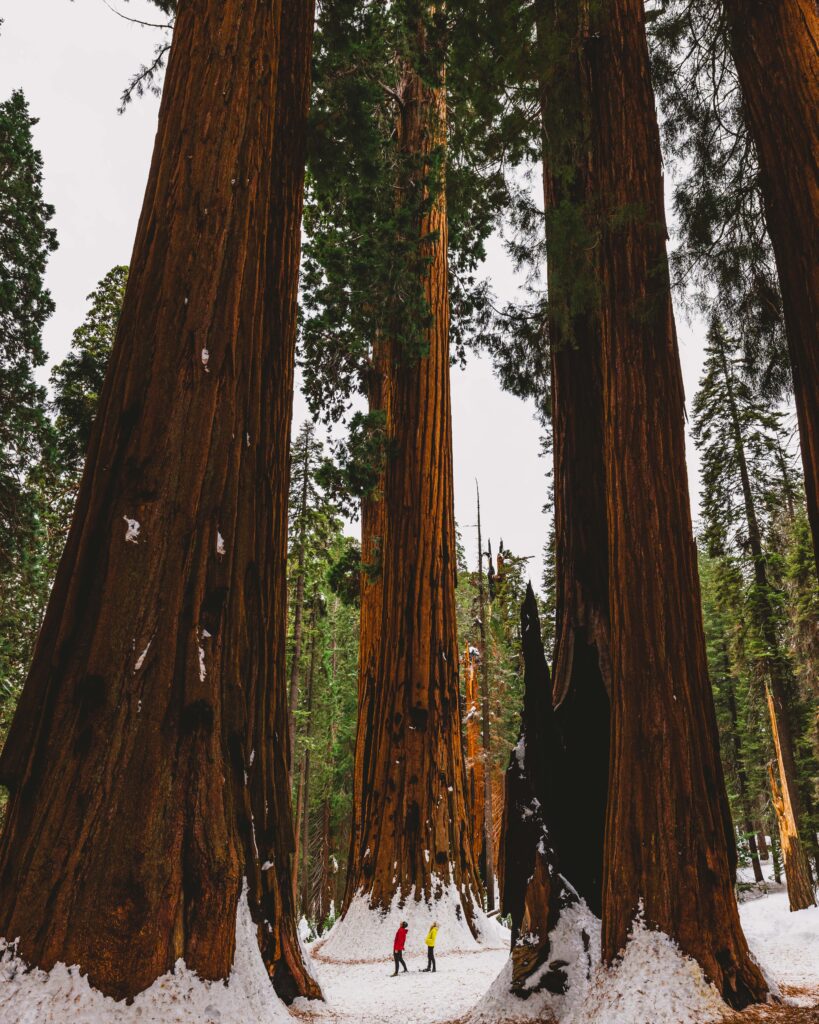 Things to Know Before You Go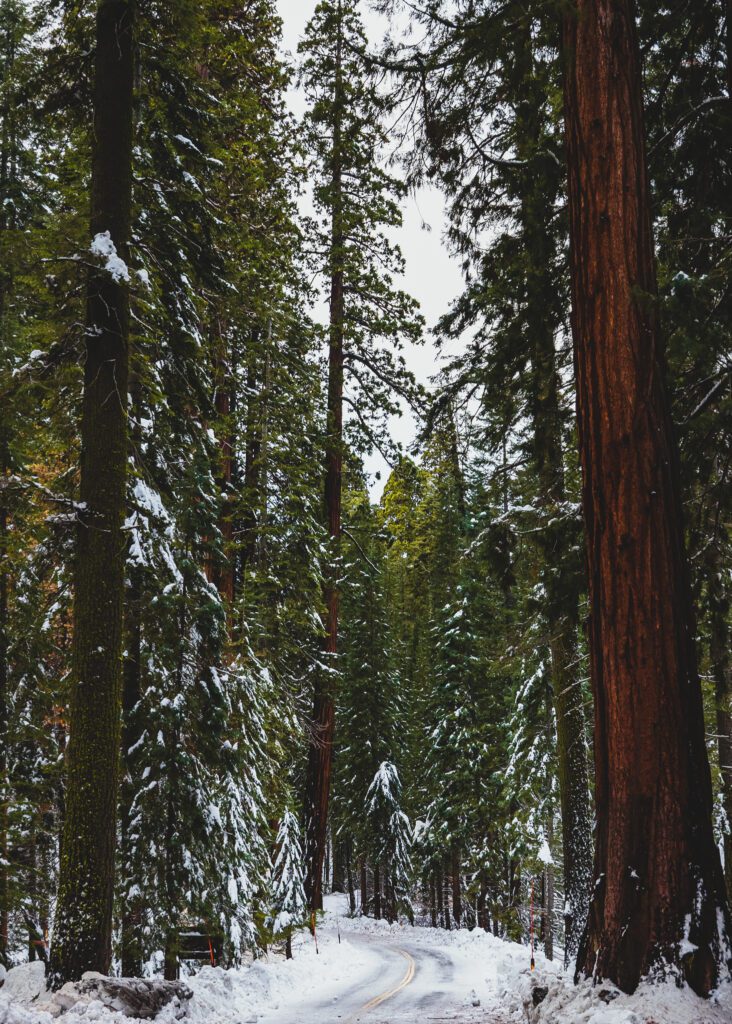 Road Conditions & Closures on Your Way to Sequoia & Kings Canyon
The biggest difference in planning a trip to Sequoia & Kings Canyon in the winter versus any other season is having to deal with road closures and potentially adverse road conditions. Once the first snow of the season arrives, certain areas of each park will be closed for the season, limiting some of the park's activities.
When planning your visit, make sure to check the NPS website for the most up to date road conditions. This will also impact some of the hikes you are able to do, however, if you bring snowshoes or don't mind walking an extra couple of miles down roads closed to vehicle traffic, then you may still be able to access certain locations within the parks.
Due to snow, you will also have to carry Tire Chains with you in the event of icy roads. Tire chains are required for all vehicles, including 4WD and AWD vehicles.
Things to Pack for Your Winter Adventures in Sequoia & Kings Canyon National Parks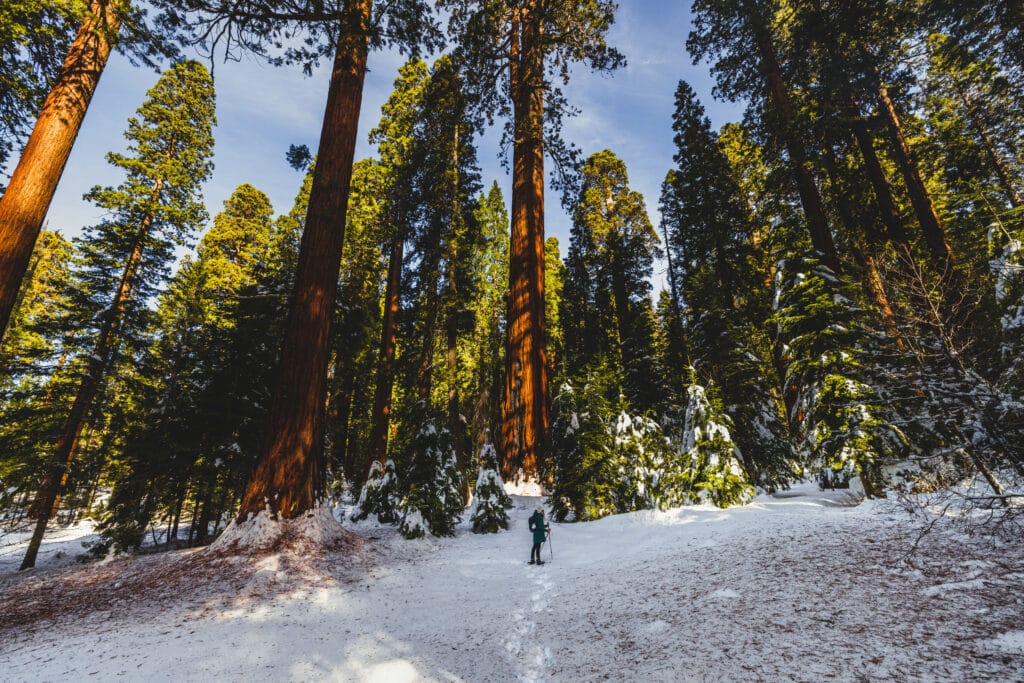 The key to being properly prepared for winter adventures is in your packing list! There are many essentials you're going to want to bring with you for winter hikes in Sequoia and Kings Canyon National Parks.
Trail Data
When you are hiking in the snow, it's imperative to have trail data downloaded so that you know you are on the correct trail. Especially if hiking after a fresh snowfall, it can be hard to see previous tracks of prior hikers. Prevent getting lost on trails by downloading your trail data on apps like GAIA GPS or All Trails Pro. Most of the main trails in Sequoia and Kings Canyon have great signage, but, just make sure to check to see if you're on the correct trail every so often while snowshoeing.
Snowshoes & MICROSpikes
We use and love the Yukon Charlie's Pro Snowshoes. They are fantastic for hiking through deep snow, easy to put on, and extremely durable throughout the years. For hiking on ice, we recommend bringing Kahtoola MICROSpikes to keep you from slipping along the trail.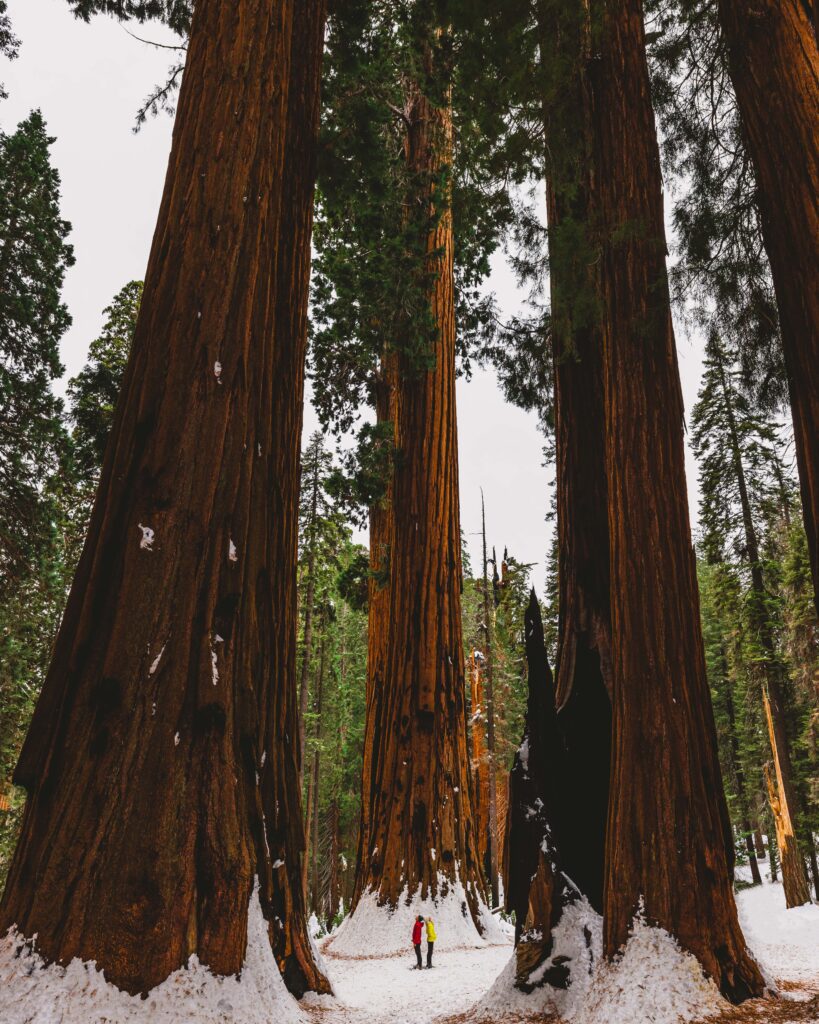 Hand & Foot Warmers
The first things that often get cold while you are out adventuring in the snow are your fingers and toes. We always like to have our rechargeable hand warmers with us as well as some foot warmers just in case we need them. Although your hiking shoes may be waterproof, if you get snow in your boots, you're going to want to have some way to keep your feet dry and warm. On top of having foot warmers, we'd also recommend making sure you wear merino wool socks.
Extra Layers
No matter the temperature, you should always bring extra layers in the event that you get cold, wet, or the wind picks up. We always bring an extra puffer jacket, extra windbreaker, and extra merino wool base layers, as well as extra socks. For our full list of our favorite layers, make sure to check out our Hiking Apparel favorites.
Winter Accessories
Make sure to pack some snow gloves, sunglasses, and sunscreen (the snow's reflection can still give you a sunburn). We also always pack beanies, scarves, and warm winter boots.
10 Essentials & Trip Acessories
We always make sure to bring the ten essentials with us when hiking, no matter the season. We also add emergency thermal blankets to our medical kits when hiking during the winter due to the increased risk of hypothermia. Finally, we also always pack our road trip essentials including our Rinsekit Portable Shower, our Jackery Power Station, our portable RovR Cooler, and our tire compressor amongst other things.
Best Winter Sequoia & Kings Canyon National Parks Hiking Trails
Sequoia National Park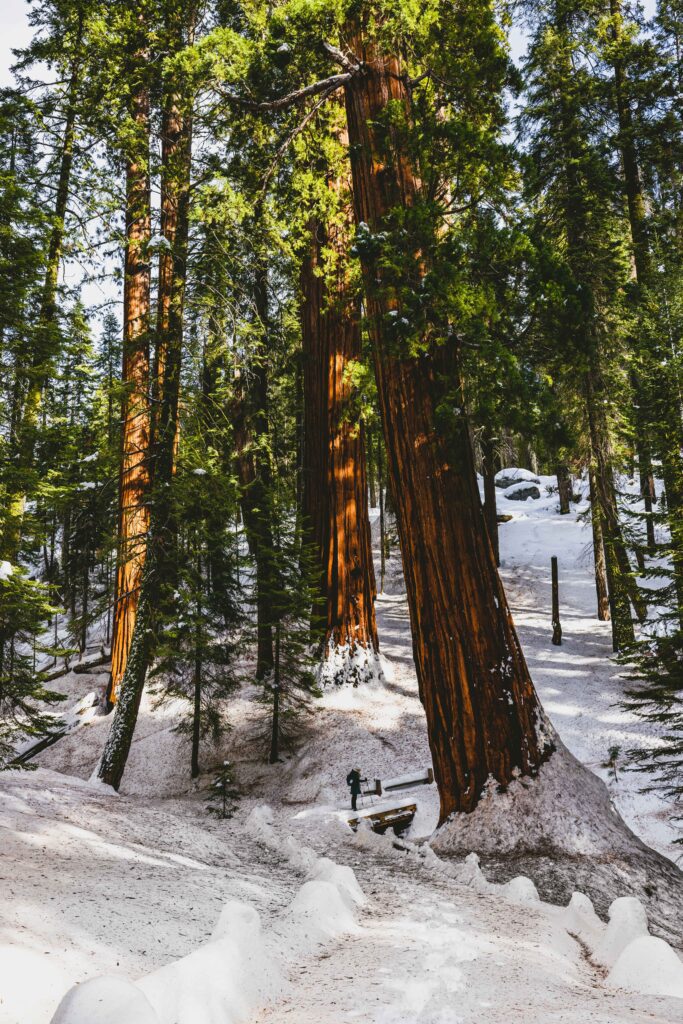 Congress Trail
The Congress Trail is our favorite trail to do in the winter time in Sequoia National Park. It's a 3 Mile loop with minimal elevation gain. Tucked away next to the General Sherman Tree, you can find the Congress Loop Trailhead. You will pass along some of the most incredible groves in the whole park along this trail. Make sure to check out the McKinley Tree, the House Grove, and the Senate Grove along your hike.
During the winter, you can park either at the winter General Sherman parking lot to access this hike if it is open, or you will have to park by the museum and walk via the road or one of the connecting trails like the Alta Trail to get to the trailhead.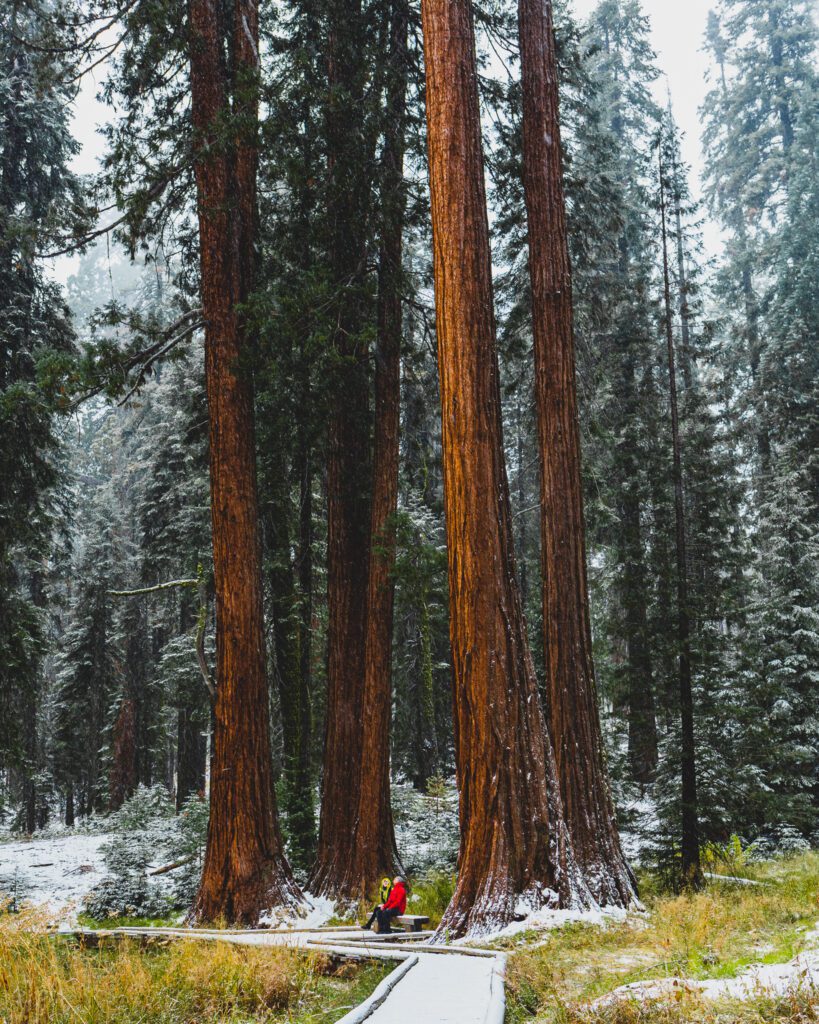 Big Trees Trail
The Big Trees Trail is probably our next favorite trail during the winter. It's a short 1.3 mile loop along a boardwalk right next to the Sequoia National Park museum. This hike is great for those of all ability levels and for those hiking with children. Make sure to check out all the signs along the trail to learn all about the lifecycle of a sequoia tree.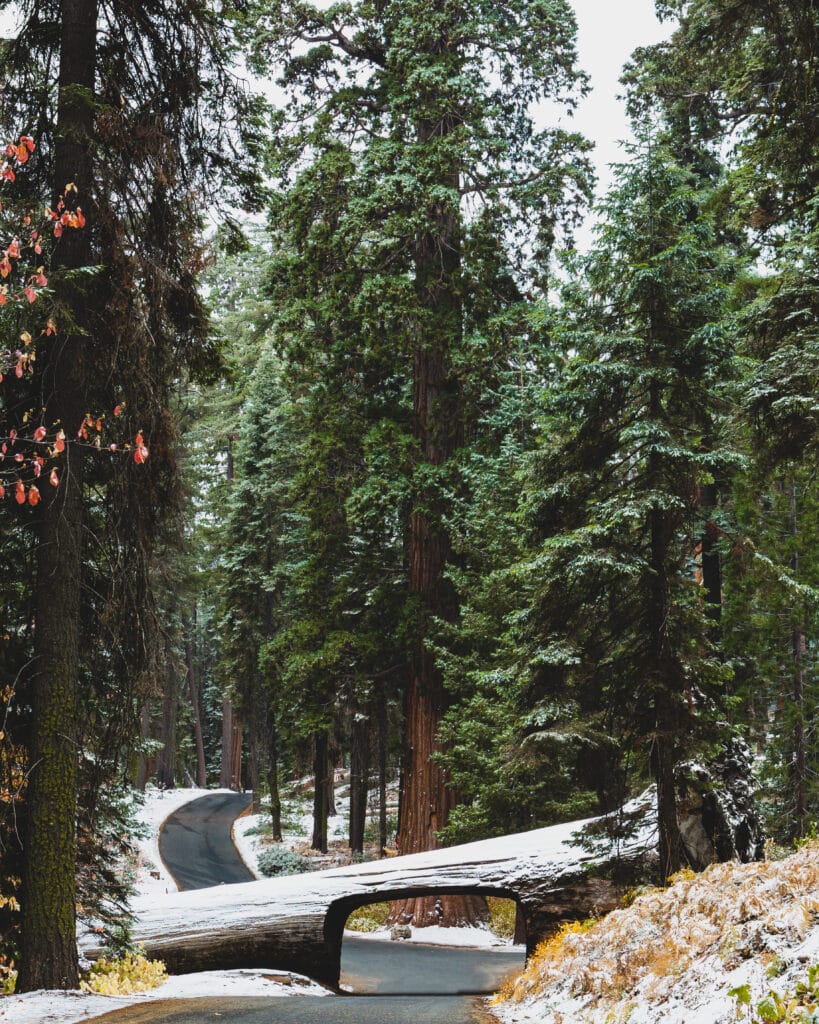 Tunnel Log & Crescent Meadow
During the winter, the road leading to Crescent Meadow, Moro Rock, and Tunnel Log is closed to vehicles. However, if you park at the museum parking lot and make the extra walk down the road, you'll reach the Tunnel Log after about a 1.6 mile trek. It's a really unique fallen log with a section carved out of a sequoia tree where vehicles can typically drive under it! During the winter, you can stand under the tree and really take in how big sequoia trees are.
Crescent Meadow is right around the corner from Tunnel Log. It's a beautiful loop hike at the farthest end of the park.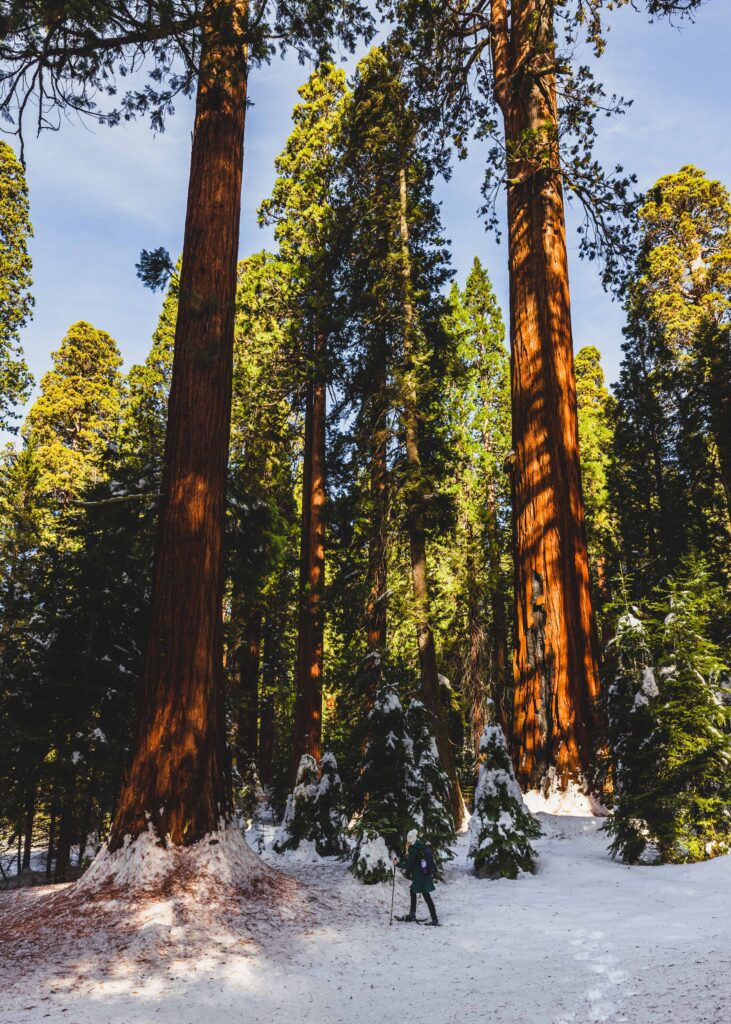 Alta Trail & Hazlewood Trail
If you have access to snowshoes, the Alta and Hazlewood Trails are great options for winter hiking in Sequoia National Park. If you are looking for quieter trails that give off more of the backcountry vibe, these are some great trails for you. The Hazlewood Trail is great for beginners whereas the Alta Trail is perfect for those with more advanced hiking experience looking for a more challenging trail.
General Sherman Tree
Finally, the General Sherman Tree is Sequoia National Park's biggest namesake. Although we always prefer finding more off-the-beaten-path trails, if you've never seen the world's largest tree, it's definitely worth checking out. If you visit the Congress Trail, add the General Sherman Tree to your trek!
Kings Canyon National Park Winter Trails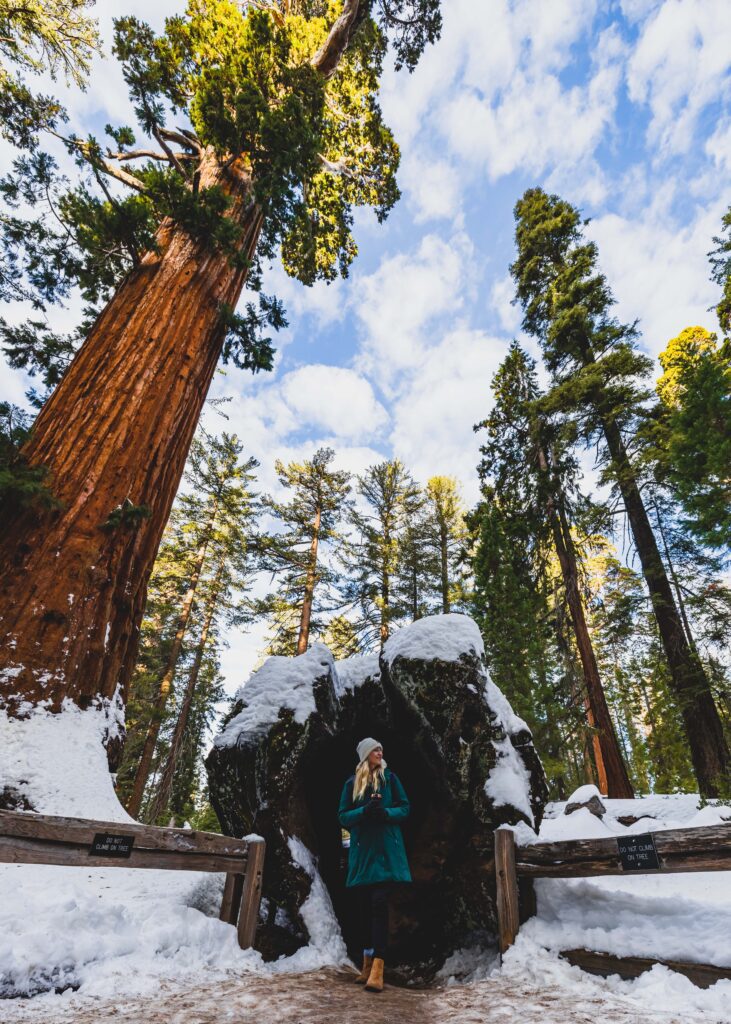 After spending time in Sequoia National Park, we always recommend spending at least one to two days checking out the neighboring Kings Canyon National Park as well. Kings Canyon is one of the most underrated parks and it's beyond stunning while having fewer crowds than Sequoia National Park.
During the winter, the road down into Kings Canyon proper is closed, however, the area around Grant Grove and Hume Lake are gorgeous areas to explore.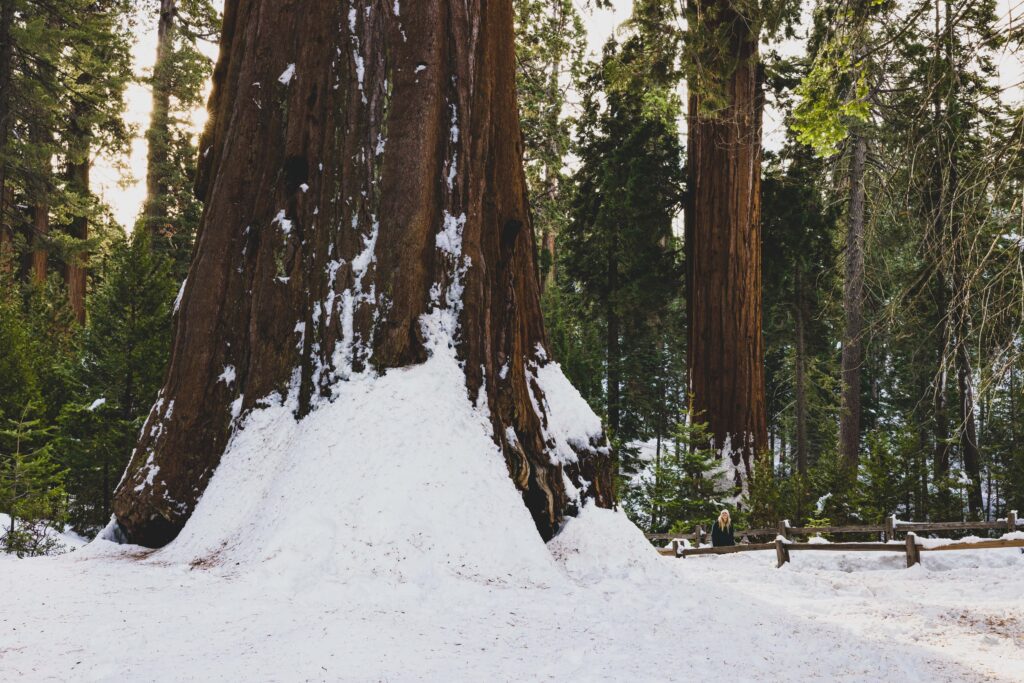 General Grant Tree
The General Grant Tree is famous for being the nation's first Christmas Tree. In our opinion, the tree is just as impressive as the General Sherman Tree but with fewer crowds! Around this trail, you'll be able to learn about how fire affects sequoia trees. You'll even be able to walk inside a fallen sequoia tree which is really cool for children and adults alike.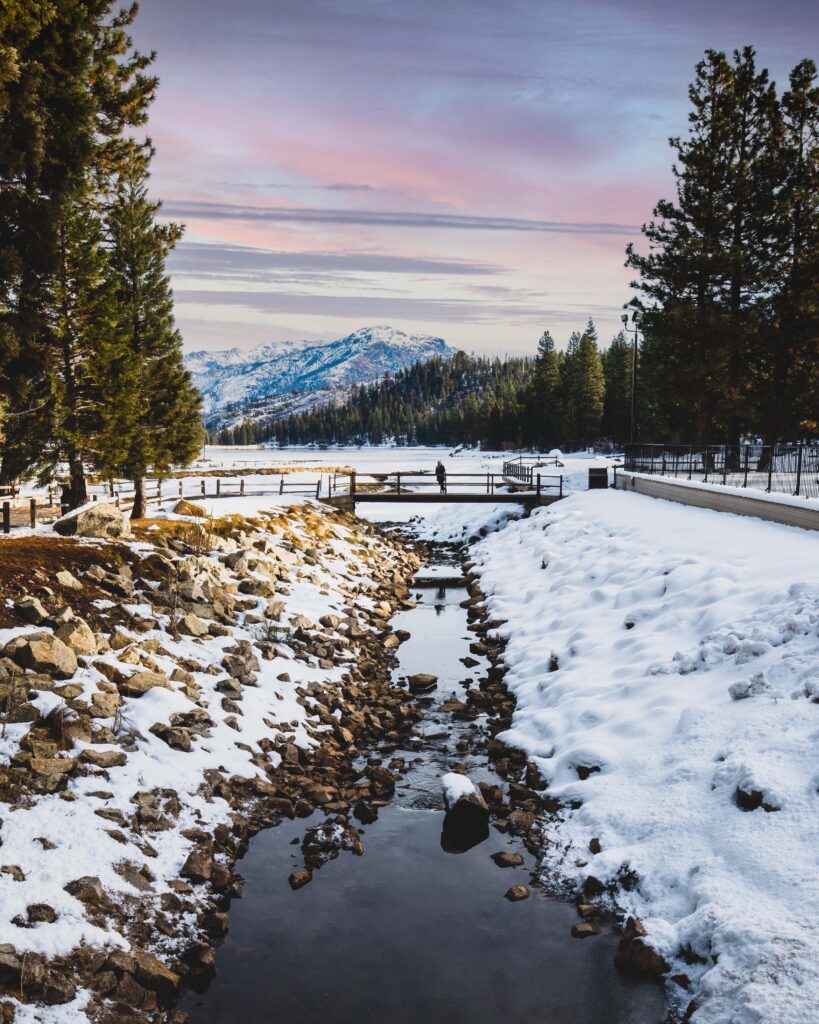 Hume Lake
Enjoy a relaxing walk around the frozen Hume Lake while checking out Kings Canyon National Park in the winter. The full loop around the lake probably takes about an hour and is about 2.8 miles long. Hume Lake also has a gas station in the small town if you are running low around your adventures in the park.
Overall, Sequoia & Kings Canyon National Parks should definitely be added to your winter bucket list! When staying in Fresno County, enjoy the beauty of all the surrounding national parks just a short drive away from each other.