The Best 9 Day Washington Road Trip Adventure Itinerary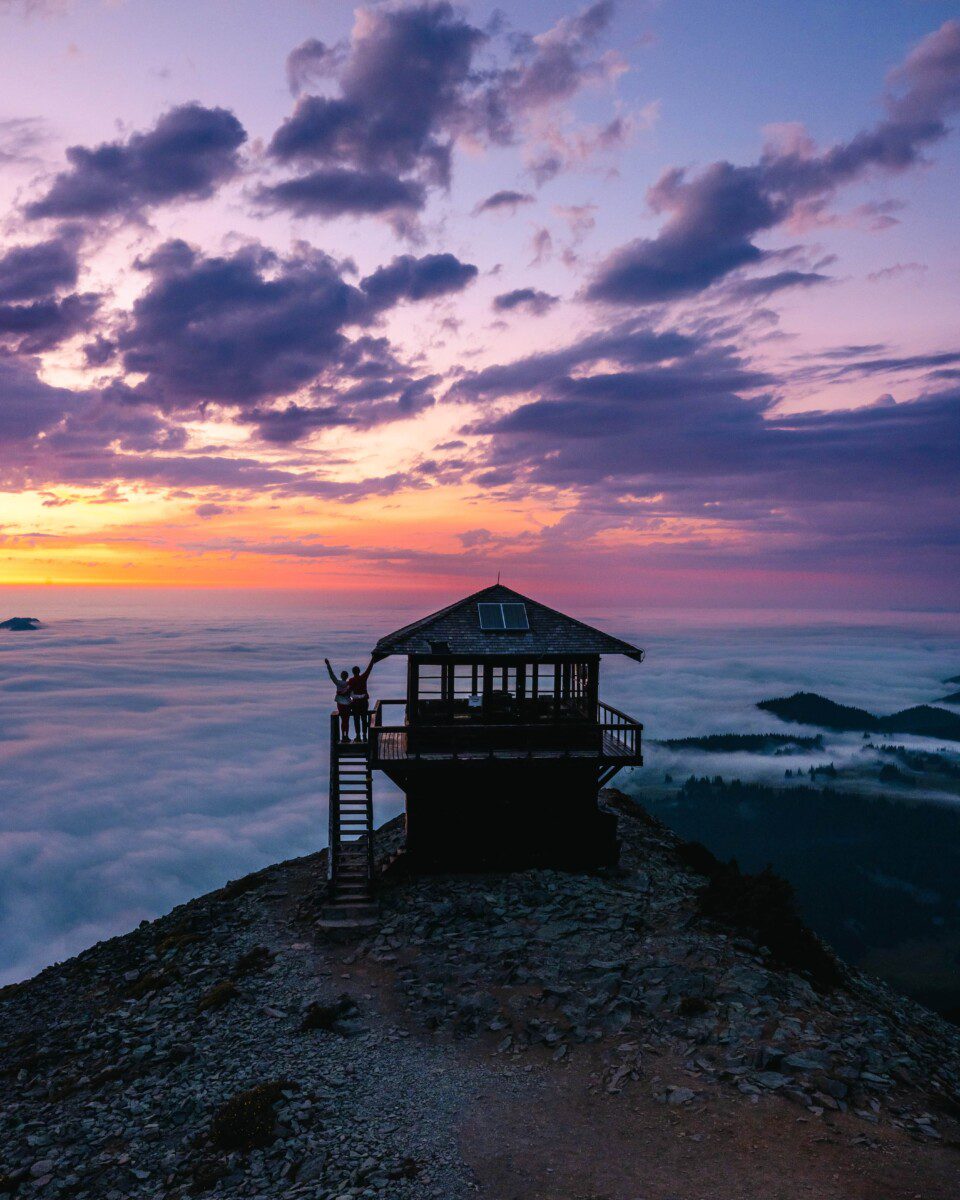 Washington State is an outdoor lover's paradise, offering stunning landscapes, and exhilarating adventures. And what better way to experience it all than with a 9-Day Washington road trip adventure around the state's most iconic destinations?
We took a summer road trip through Washington State last year and absolutely fell in love with the beautiful state. The glacial lakes, insane mountain ranges, wildflowers, and jaw dropping lookouts absolutely blew us away.
From Mount Baker, to North Cascades National Park, to the famous Enchantments, to Mount Rainier National Park, this jam packed 9 Day Washington road trip itinerary covers a ton of the bucket list hikes and adventures in Washington State. So buckle up, grab your camera, and get ready for the ultimate Washington road trip!
Things to Know Before You Embark on a Washington Road Trip
Our Washington Road Trip Route
We started by flying into Seattle and made our way around to Mt Baker, North Cascades National Park and Mt Rainier National Park since we did Olympic last year. We also ended this itinerary in Seattle.
Notes on This Itinerary
This itinerary does not include Olympic National Park since we had fully explored that park during a prior visit to Washington. If you'd like to add that on to your trip, we'd do it before or after this itinerary for logistics reasons as it's pretty far away from the rest of this itinerary. You can check out our full guide on Olympic National Park here.
Additionally, Stephen and I are very "go, go, go" kind of travelers. If you happen to travel in a different style where you prefer to knock off 1-2 things per day, you might need a longer amount of time to complete this itinerary. Or, you can simply axe some of the items on here and save it for another trip.
Best Time to Do a Washington Road Trip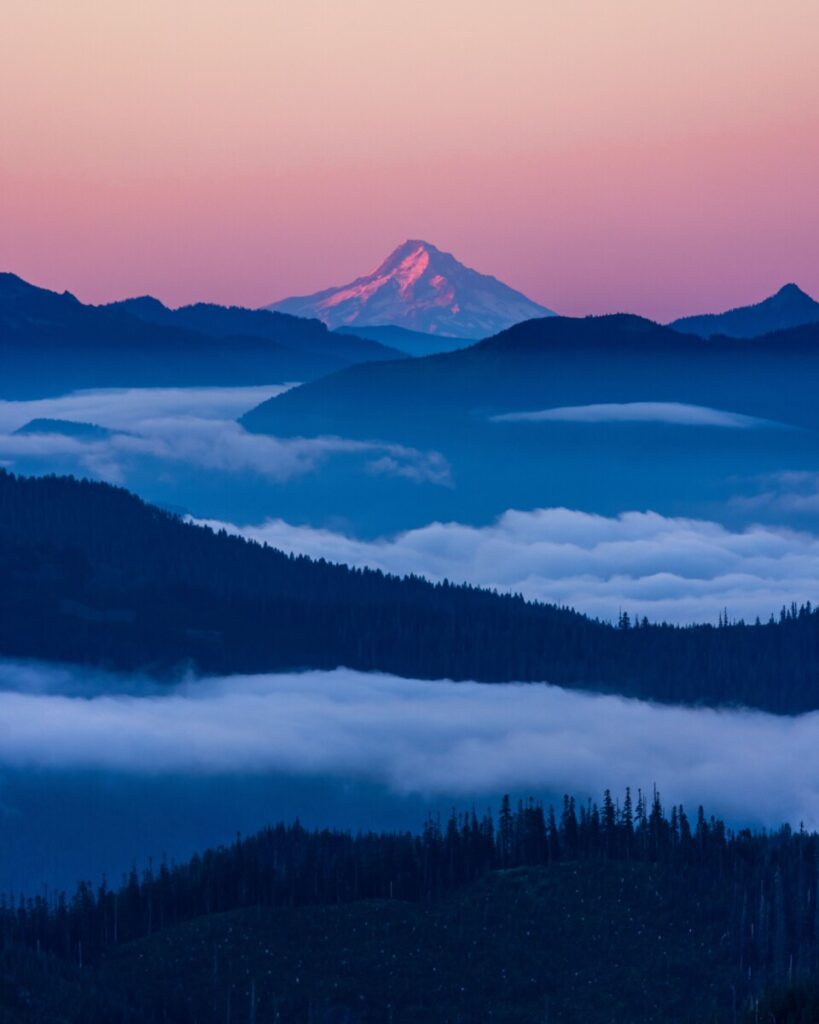 If you are interested in outdoor activities such as hiking, camping, and wildlife viewing, the best time to visit Washington is during the summer months, from June to September. The weather is generally sunny and warm, and the national parks and outdoor attractions are open for visitors. However, you do have to keep an eye out on snowmelt levels each year, as sometimes areas won't open until July due to seasonal road closures from snow.
July and August are also a great time to visit Washington if you are in search of beautiful wildflowers! The flowers were peaking all over the state when we did our road trip last year in mid August.
Fall is also a great time to visit Washington for its colorful foliage and harvest season. The temperatures are mild, and there are fewer crowds, making it an ideal time to explore the state's wineries and orchards. If you are hoping to catch Washington's famous golden larches, late September through mid October is the perfect time to visit.
Weather in Washington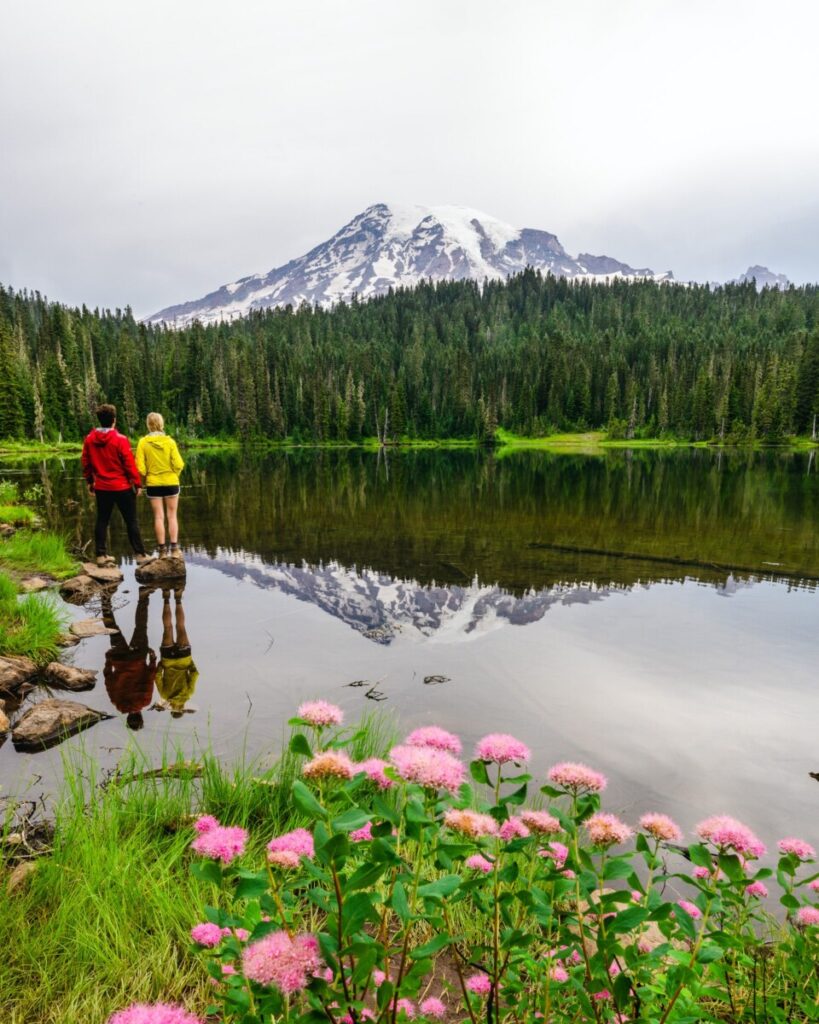 The weather in the Mt. Rainier, North Cascades, and Mt. Baker regions of Washington during the summer can vary depending on the elevation and location of each area. Here is some general information on what to expect:
Mt. Rainier region: The weather in the Mt. Rainier region during the summer months (June to August) is typically mild with daytime temperatures ranging from the mid-60s to low 70s Fahrenheit (17-23°C) at lower elevations. Snow can also be present in higher elevations, and some hiking trails may still be closed due to snowpack.
North Cascades region: The weather in the North Cascades region during the summer months (June to September) is generally warm and dry with temperatures ranging from the mid-70s to low 80s Fahrenheit (24-27°C) at lower elevations. Mosquitoes can also be present in some areas, especially near water.
Mt. Baker region: The weather in the Mt. Baker region during the summer months (June to September) is typically mild with daytime temperatures ranging from the mid-60s to low 70s Fahrenheit (17-23°C) at lower elevations. You will also want to keep an eye out for mosquitoes as the snow melts.
In summary, visitors to the Mt. Rainier, North Cascades, and Mt. Baker regions of Washington during the summer should be prepared for mild to warm temperatures, occasional afternoon thunderstorms, potential rainfall, and the possibility of mosquitoes. It's important to check the weather forecast and pack accordingly, including layers, rain gear, and insect repellent.
Be Mindful of Fire Danger
Washington is prone to wildfires during the summer months, especially in the eastern part of the state. Be mindful of fire danger and always follow fire restrictions and regulations. Make sure to properly dispose of cigarettes and campfire ashes, and only have campfires where they are allowed and regulated.
How to Get Around (Car vs. Van)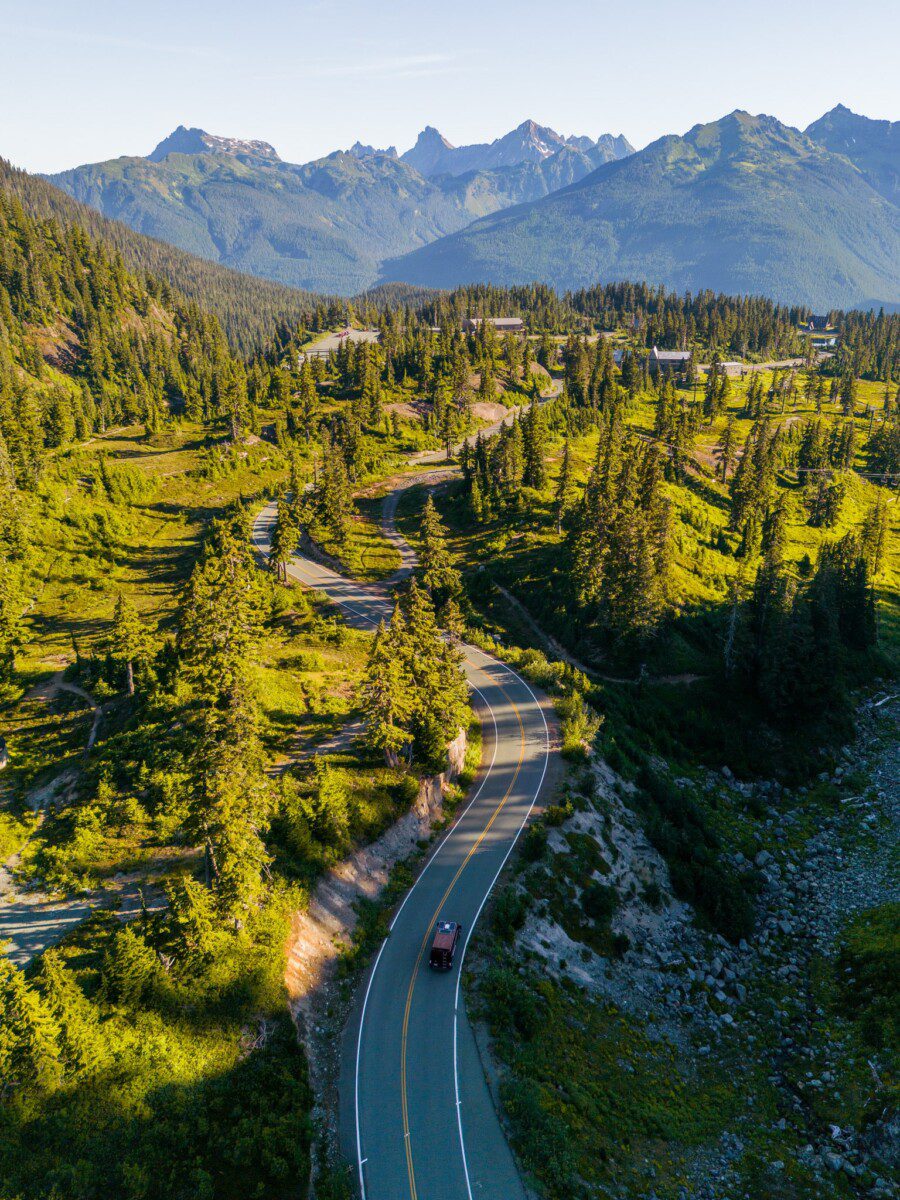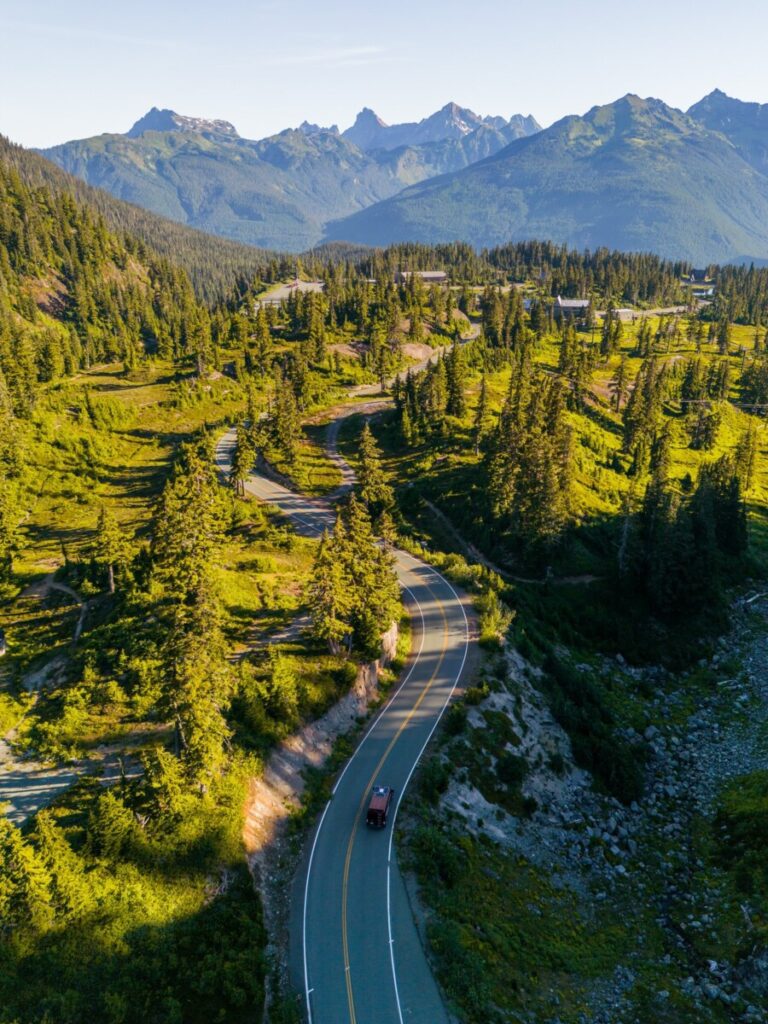 We chose to do our Washington Road Trip as a van trip to have the best accessibility, but there are other ways to do it as well. We opted to rent a van off of Outdoorsy and camp around various campsites around the National Parks and National Forests in Washington. After flying into Seattle, we picked up our van and were able to hit the ground running. If you decide you'd like to do something similar, you can use our code LoversPassport for 10% Off your van rental.
Another way to do this road trip would be via car rental or your own car. You can either sleep via:
Car Camp
Tent Camp
Hotels
Cabins
AirBnBs
There are so many different accommodation options available – just know that the cheapest option is to camp around either established campsites or on free campsites nearby the parks on National Forest land or BLM land. We use Free Roam and Free Campsites to find the closest free campsites near us.
What to Pack for a Washington Road Trip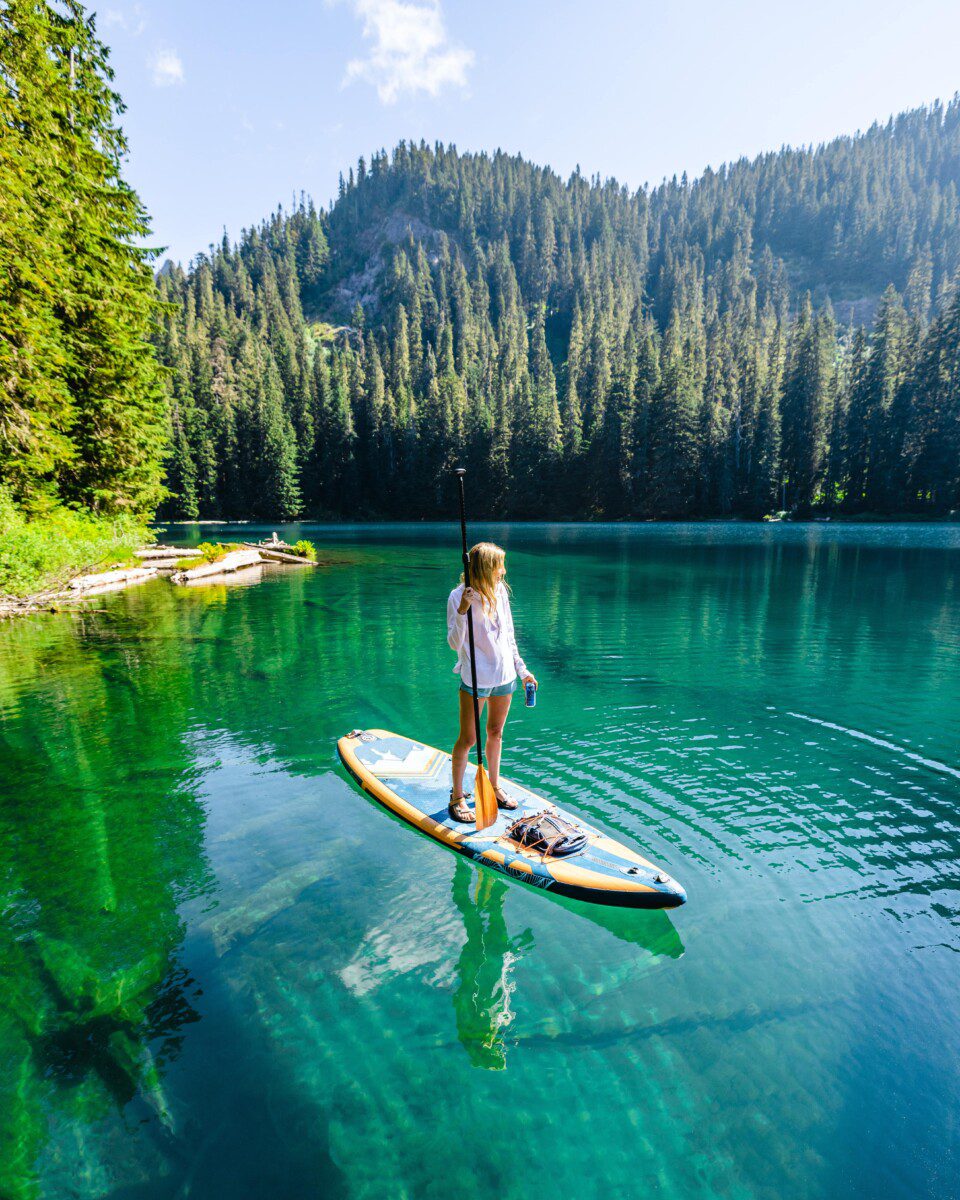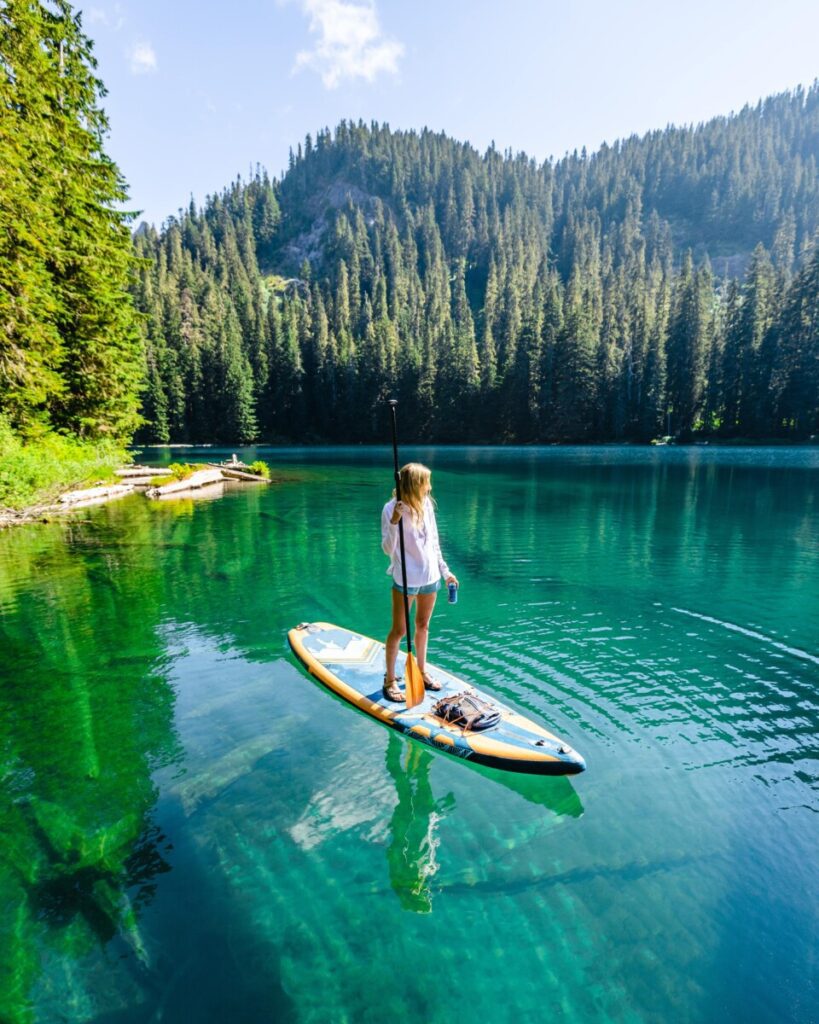 Pack for all types of weather Washington weather can be unpredictable, especially in the mountains and on the coast. Make sure to pack layers, including rain gear, warm clothes, and sunscreen. Don't forget to bring comfortable shoes for hiking and outdoor activities.
Our favorite thing we packed for this trip was our inflatable paddle board. Washington has some absolutely stunning lakes and we were able to use this at least 3-4 times during our week long trip to enjoy the beautiful water. We just checked it at the airport and it was super easy traveling in the van with it since it collapses down into a backpack.
Estimated Costs of a Washington Road Trip
Everyone travels differently, but just so you have an idea of how much our exact Washington road trip cost, we've listed out a breakdown below:
Van Rental: $200/night! Considering that's a car rental and hotel in one we thought that was pretty good! We rented the van for 7 nights.
Gas: $300
Food & Drinks: $300
Accommodations: Free since we dispersed camped on free land & were sleeping in the van!
Passes/Fees: Free since we have the America the Beautiful National Parks pass & our van rental came with the Northwest Forest Pass & Discover Pass  
Road Trip Total Cost: $2000 for 2 people for the week or $128 per person per day
We were able to save money by using Gas Buddy to find the cheapest gas, cooking a majority of our meals by getting groceries once we landed, and by camping in the van!
Reservations & Construction in National Parks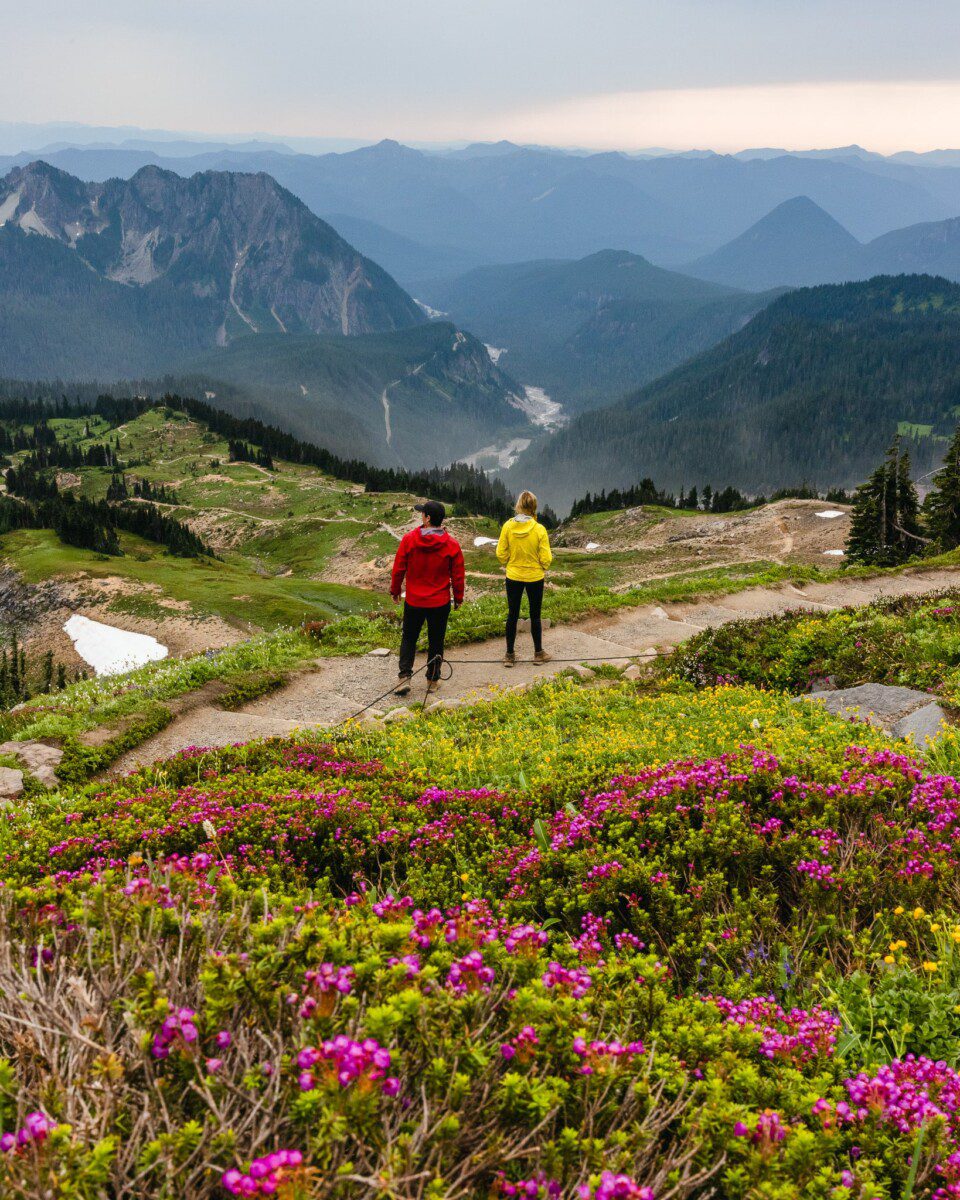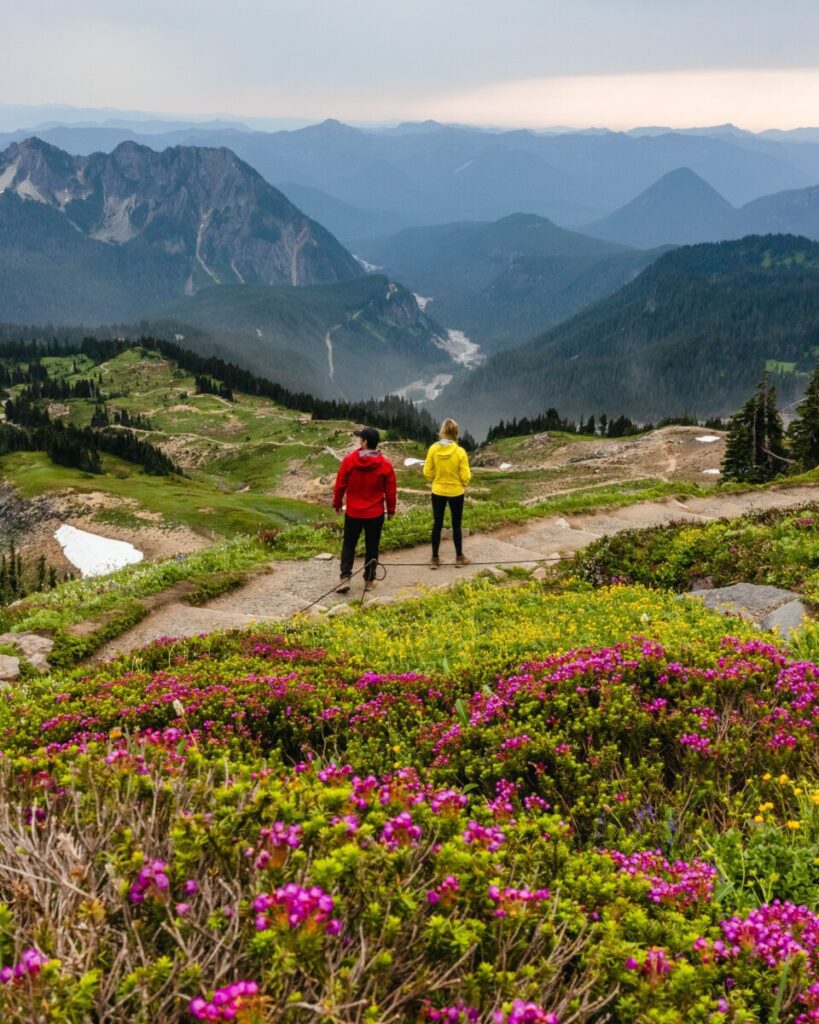 During our trip, one thing that we wish we knew about in advance was allowing travel time for construction and road closures. If you are traveling during the weekdays, you will likely encounter some sort of construction going on around the national parks. Subsequently, just make sure that you are allotting yourself enough time to get from point A to point B.
Check out current road conditions and delays here:
Photography/Videography in National Parks
If you are a photographer, videographer, or content creator hoping to create in National Parks and post your content on platforms that help you monetize, you need to be aware of permits and restrictions. You cannot do commercial photography or videography in National Parks now without prior permits. Each national park has it's own application and most require that you submit permit applications weeks in advance.
Note, you are never allowed to fly a drone in National Parks in the USA.
Hiking in Washington Expectations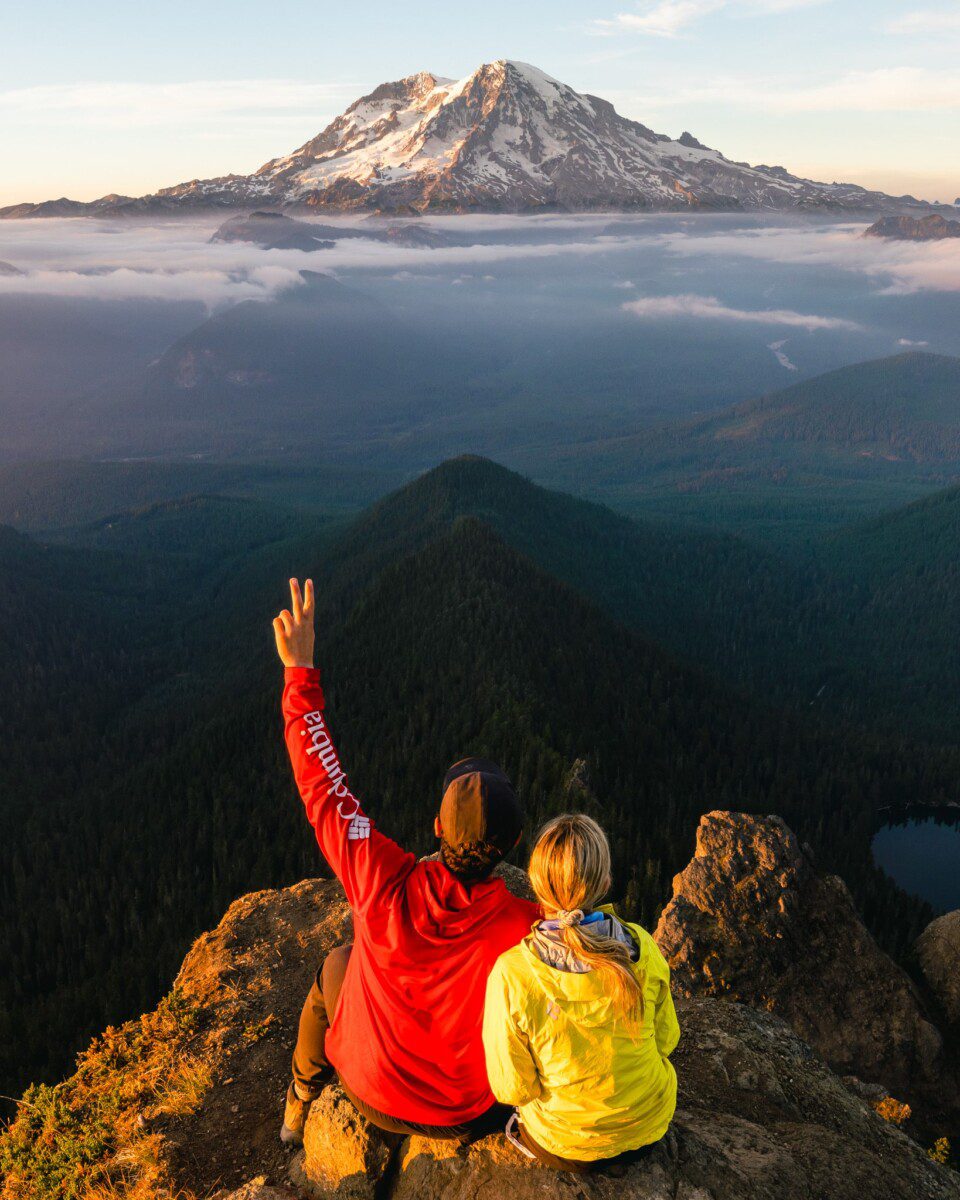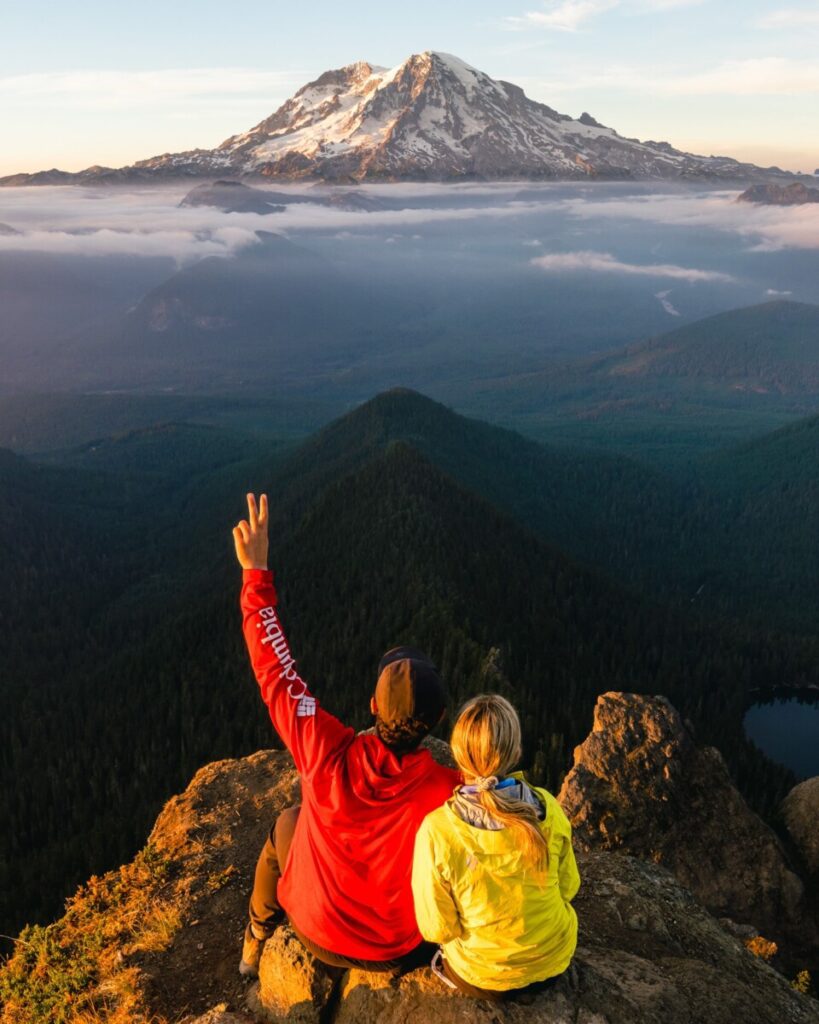 The hikes in Washington are next level – both in terms of views and difficulty. Most of the hikes on this itinerary are fairly long and rated for more moderate to advance hikers. Before your Washington road trip, we'd recommend training for longer distances and elevation gain.
Be Aware While Hiking in Washington
North Cascades National Park and Mt. Rainier National Park are homes to a variety of wildlife, including black bears and mountain goats. Be sure to keep a safe distance and never approach wildlife. For more info on bear safety, check out the NPS guide on being bear aware.
As always, please make sure to follow Leave No Trace Guidelines when out adventuring on your Washington Road Trip. It's important to keep these beautiful places clean for future generations to come. That includes: taking your trash with you, respecting other visitors, respecting wildlife, and staying on trail.
9 DAY WASHINGTON ROAD TRIP ITINERARY
DAY 1: TRAVEL DAY
Fly Into Seattle, Pick Up Your Car/Van, and Head to the Grocery Store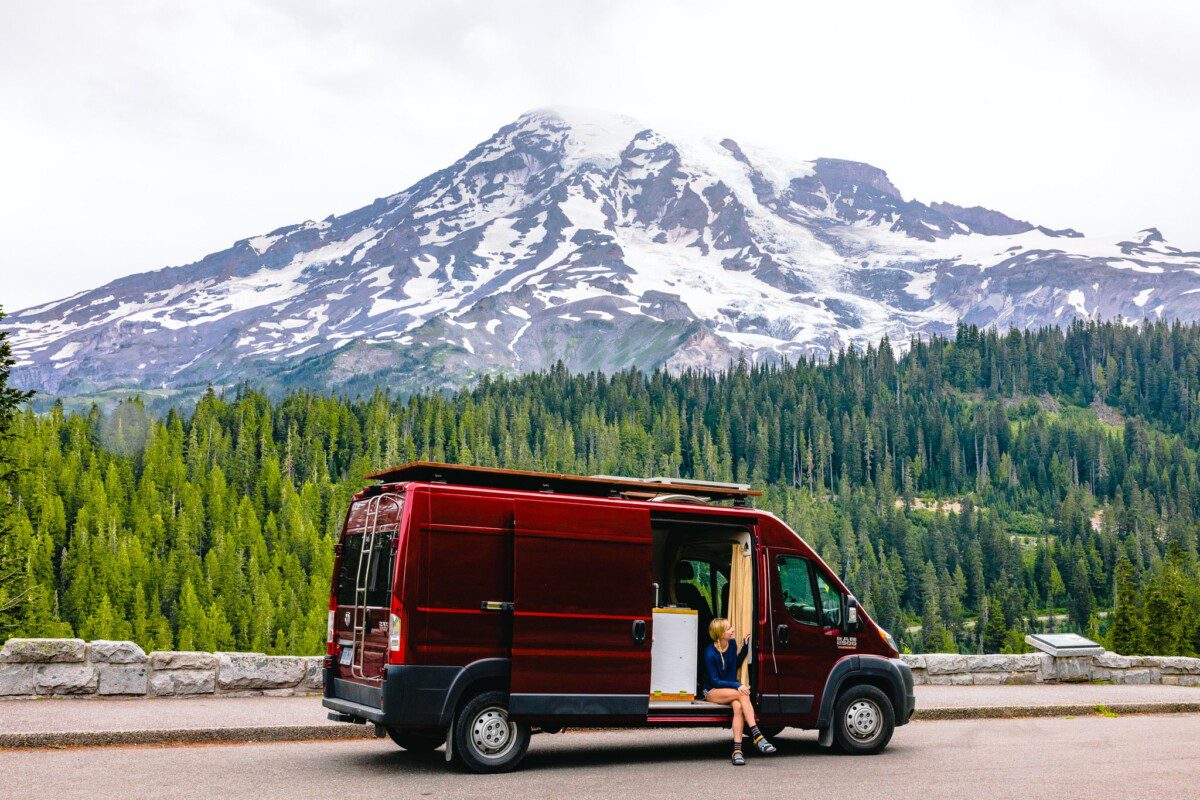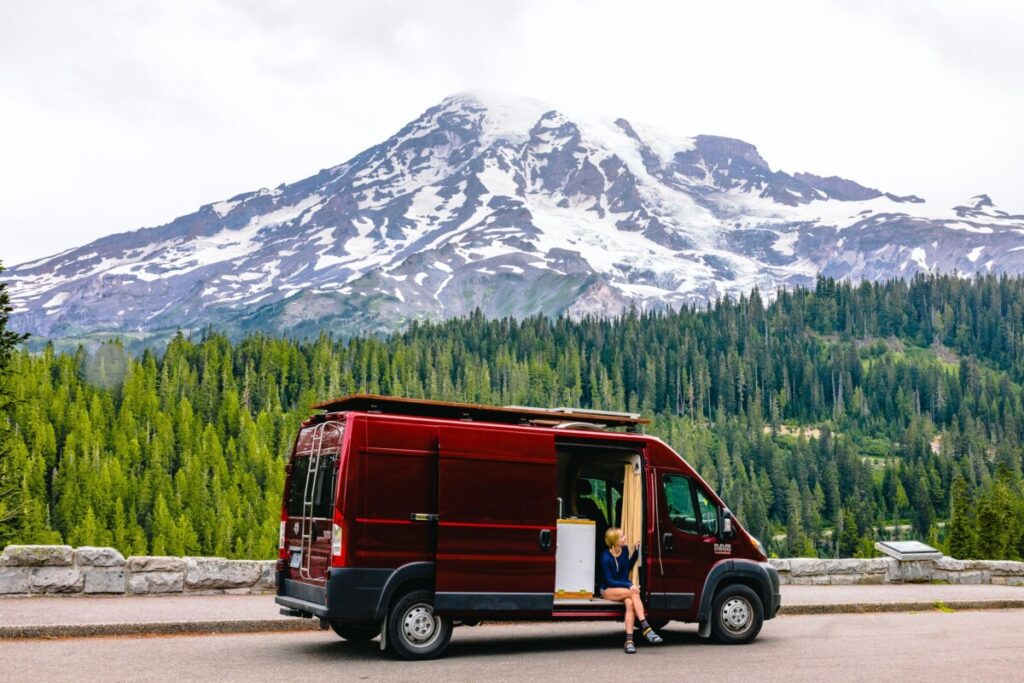 Mount Pilchuck Fire Tower Hike for Sunset
Start off your adventure with a hike to the gorgeous Mount Pilchuck Fire Tower. This hike is a Washington classic. The trailhead is located in the Mount Baker-Snoqualmie National Forest, about an hour and a half drive from Seattle.
The Mount Pilchuck fire tower itself is a historic structure that was originally built in 1918 and has been restored and maintained over the years. The tower offers 360-degree views of the surrounding area, including Mount Baker, Mount Rainier, and the Olympic Mountains. On a clear day, you can even see the city of Seattle in the distance.
The trail is a 5.2 mile round trip hike that is pretty well-maintained, with switchbacks leading up to the fire lookout tower at the summit. You'll want to make sure you're wearing good hiking shoes, as it is pretty steep with about 2,300 feet of elevation gain. Additionally, it's a good idea to arrive earlier than you think to secure a parking spot at the trailhead as it can fill up quickly.
DAY 2: Mount Baker Region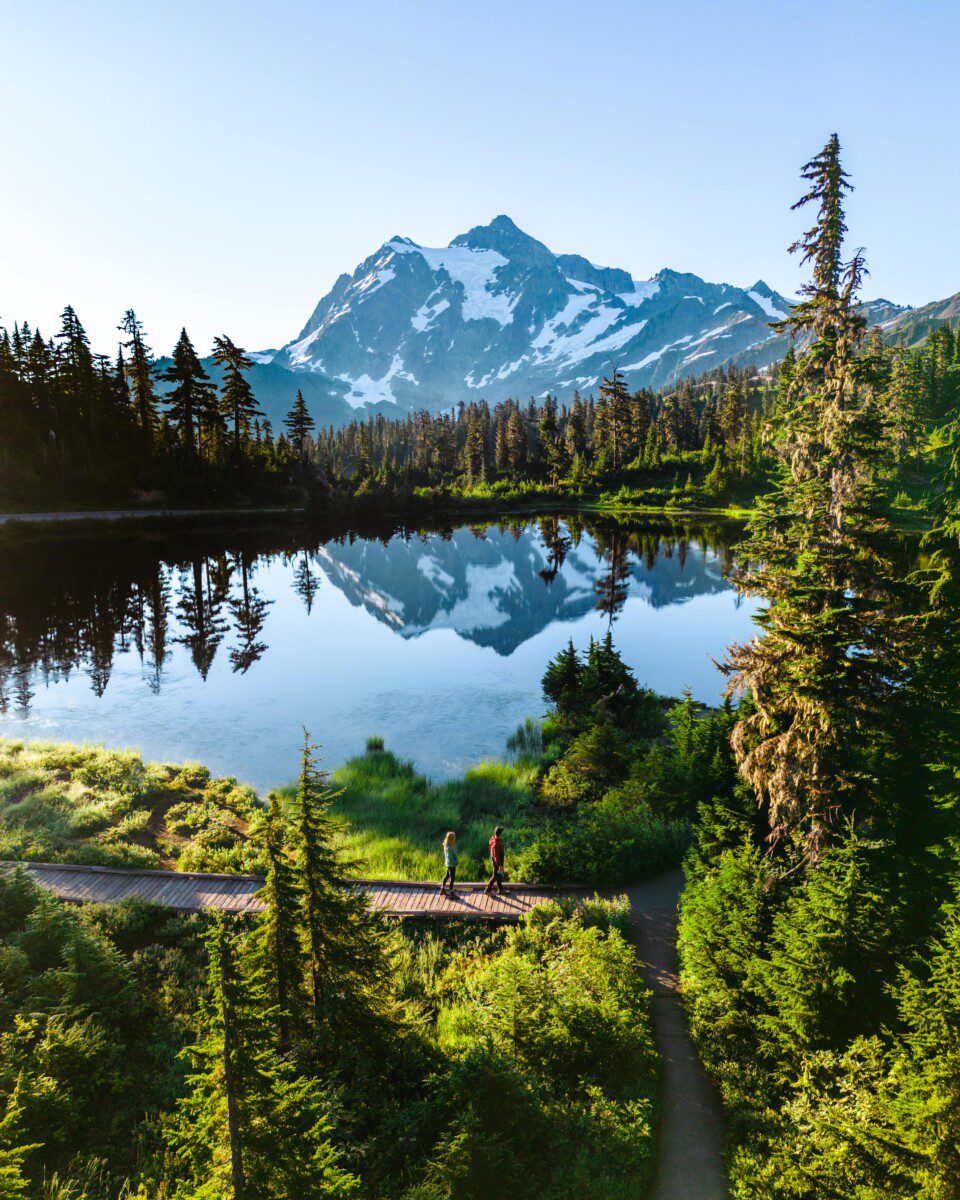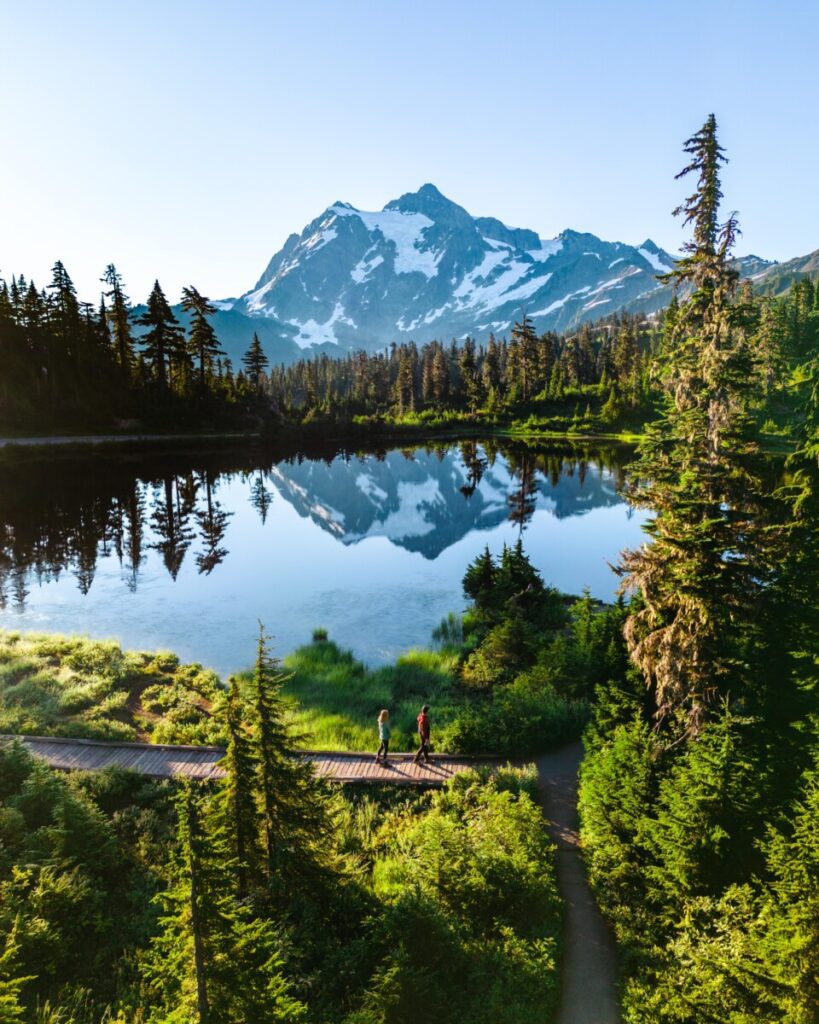 Watch the Sunrise at Picture Lake
To start off your first full day of adventure, there's no better place than going taking in the views of Mt. Baker. Picture Lake offers gorgeous views of Mt. Baker and the surrounding mountains, especially at sunrise. It's a short walk from the parking lot to the viewing area, and is a must see on your Washington road trip.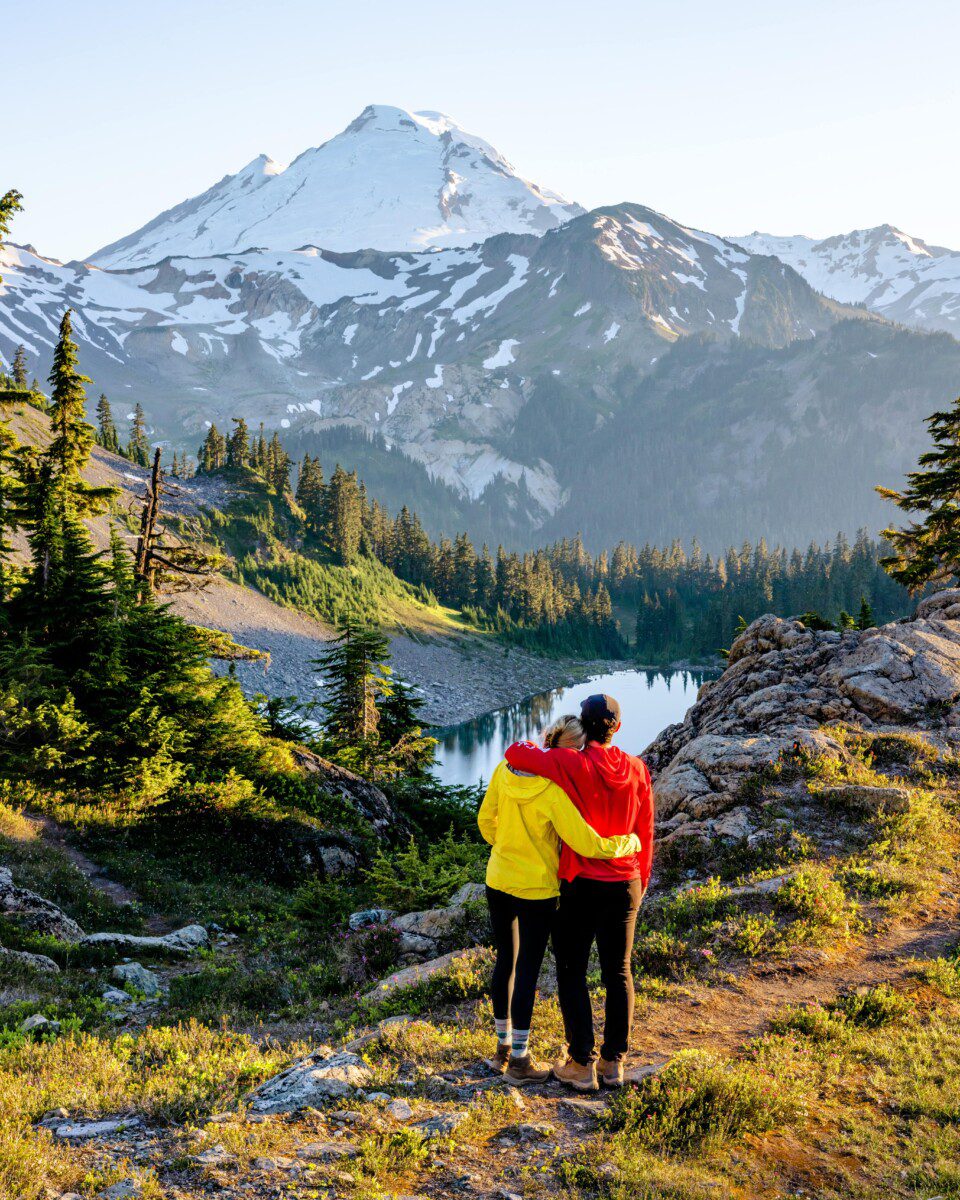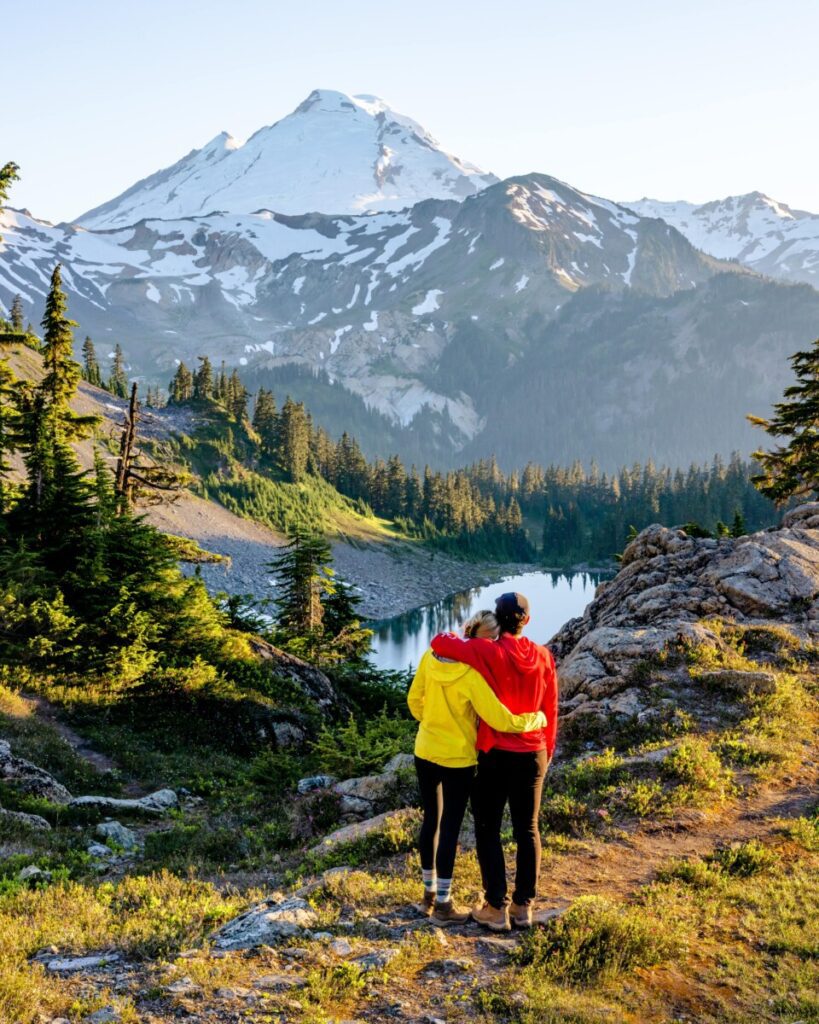 Hike the Chain Lakes Loop Trail
This area has the beauty of a national park without the technical designation, so there's way fewer crowds and much more opportunity to really immerse yourself in nature. Not to mention, a lot of the trails are dog friendly!
Get ready to head out to hike the Chain Lakes Loop. This trail, in particular, is a popular hiking trail that offers stunning views of Mount Baker and the surrounding mountains. It is a 7.1-mile trail that takes hikers through alpine meadows, past glacial lakes, and up to several scenic viewpoints. The trail is rated as moderate and is suitable for hikers of all skill levels as long as you prep accordingly. Overall, it's a pretty well-maintained trail that is easy to follow. However, you should be prepared for some steep inclines and rocky terrain.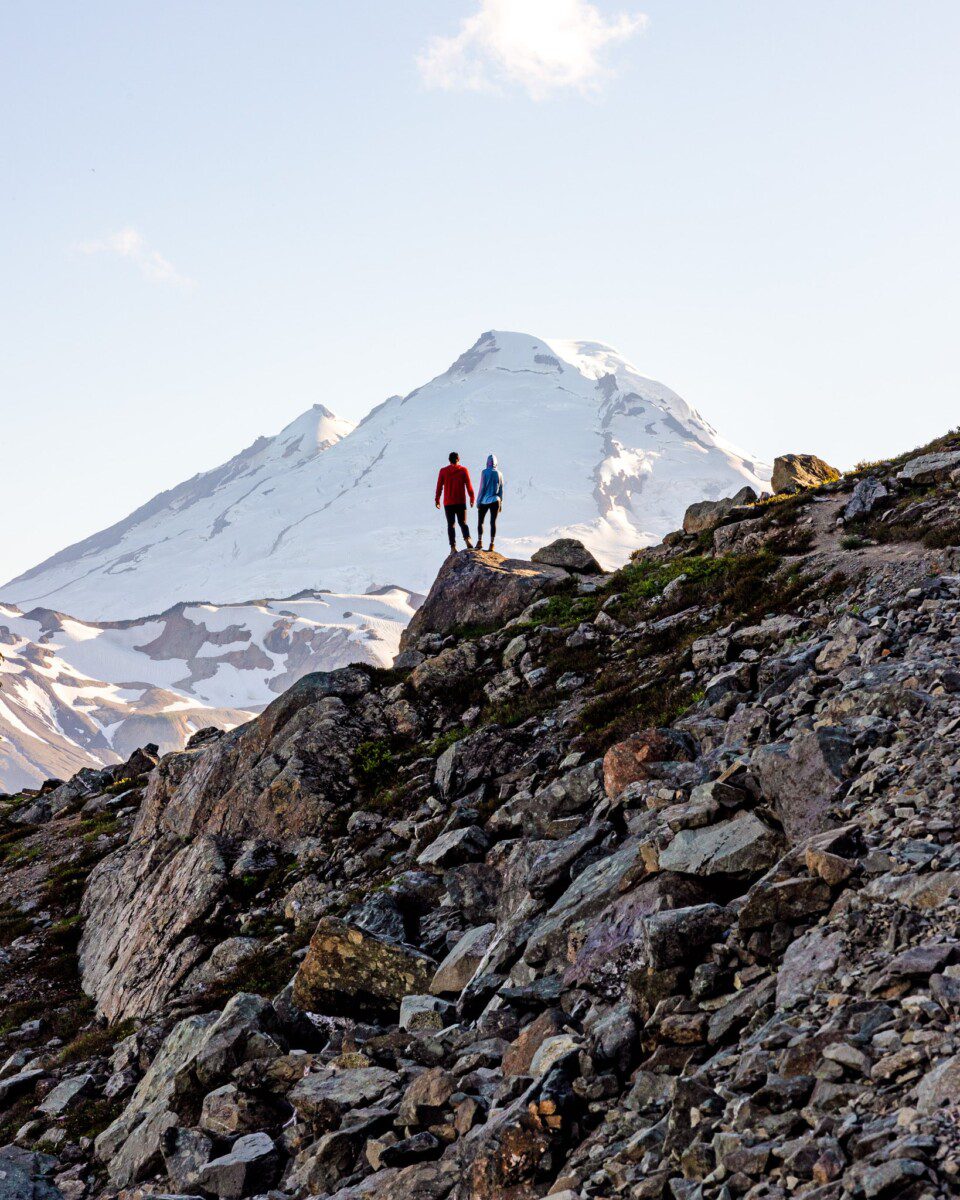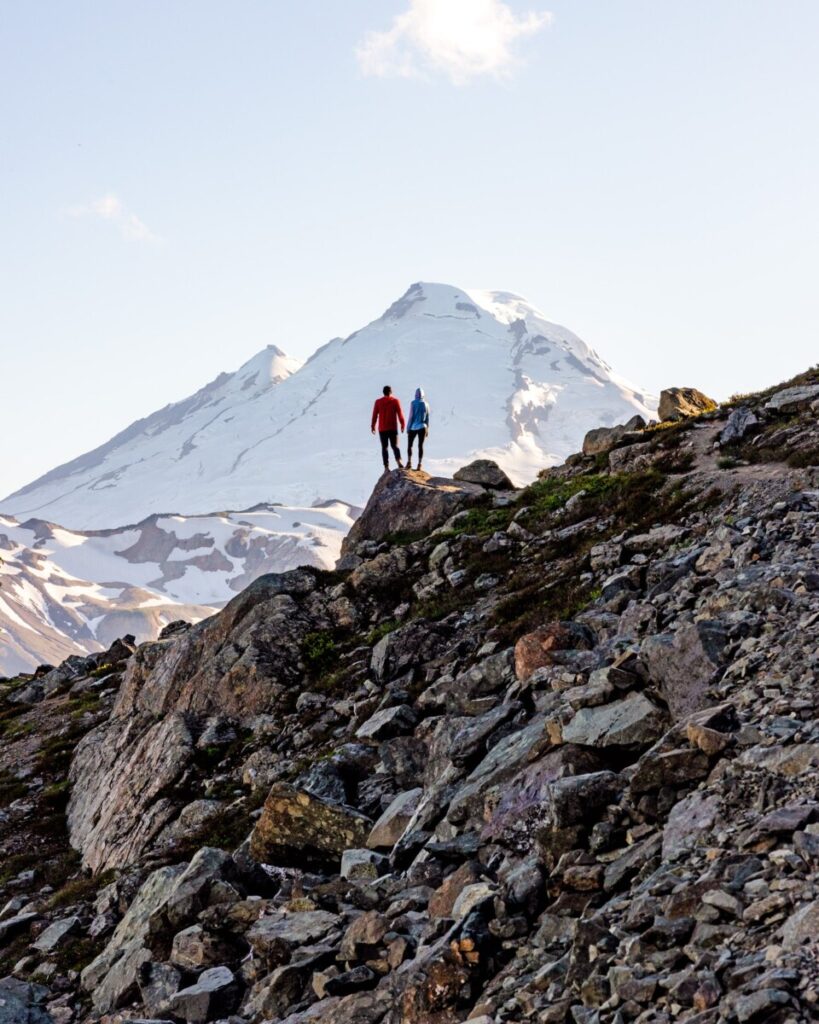 The loop starts at Artist Point, which offers panoramic views of Mount Baker and the North Cascades. The trail then descends into the valley, where hikers will pass several glacial lakes, including Bagley Lake, Mazama Lake, and Iceberg Lake. We'd highly recommend doing this loop counterclockwise to avoid having to scale up tons of stairs at the end of your hike.
Make sure to start early, bring plenty of water and snacks, follow the Leave No Trace principles, and check trail conditions before you go!
Day 3 & 4: North Cascades National Park
Hike the Thunder Knob Trail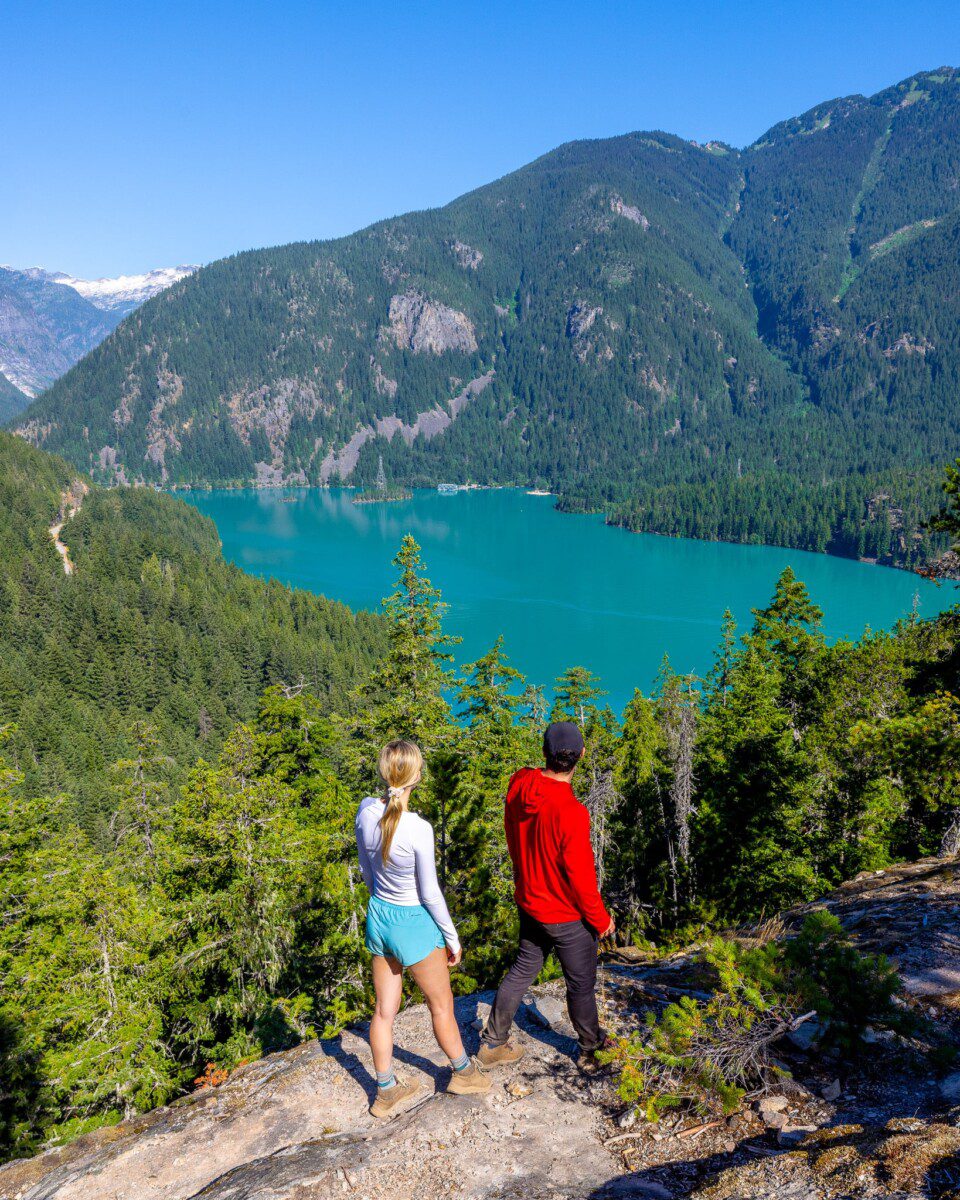 Start off your morning by heading out to hike one of the most popular and beautiful hikes in North Cascades National Park. The Thunder Knob Trail is a 3.6-mile round-trip hike that offers stunning views of Diablo Lake and the surrounding mountains. Compared to the other hikes on this itinerary, this one is a relatively short and easy hike that is suitable for hikers of all skill levels.
The trail then climbs up to the summit of Thunder Knob, which offers panoramic views of Diablo Lake and the surrounding peaks, including Colonial Peak, Pyramid Peak, and Davis Peak. The summit of Thunder Knob is 4,000 feet above sea level and offers some of the best views in the park.
There isn't too much parking at the trailhead, so doing this earlier in the morning is definitely the best move.
Paddle Board on Diablo Lake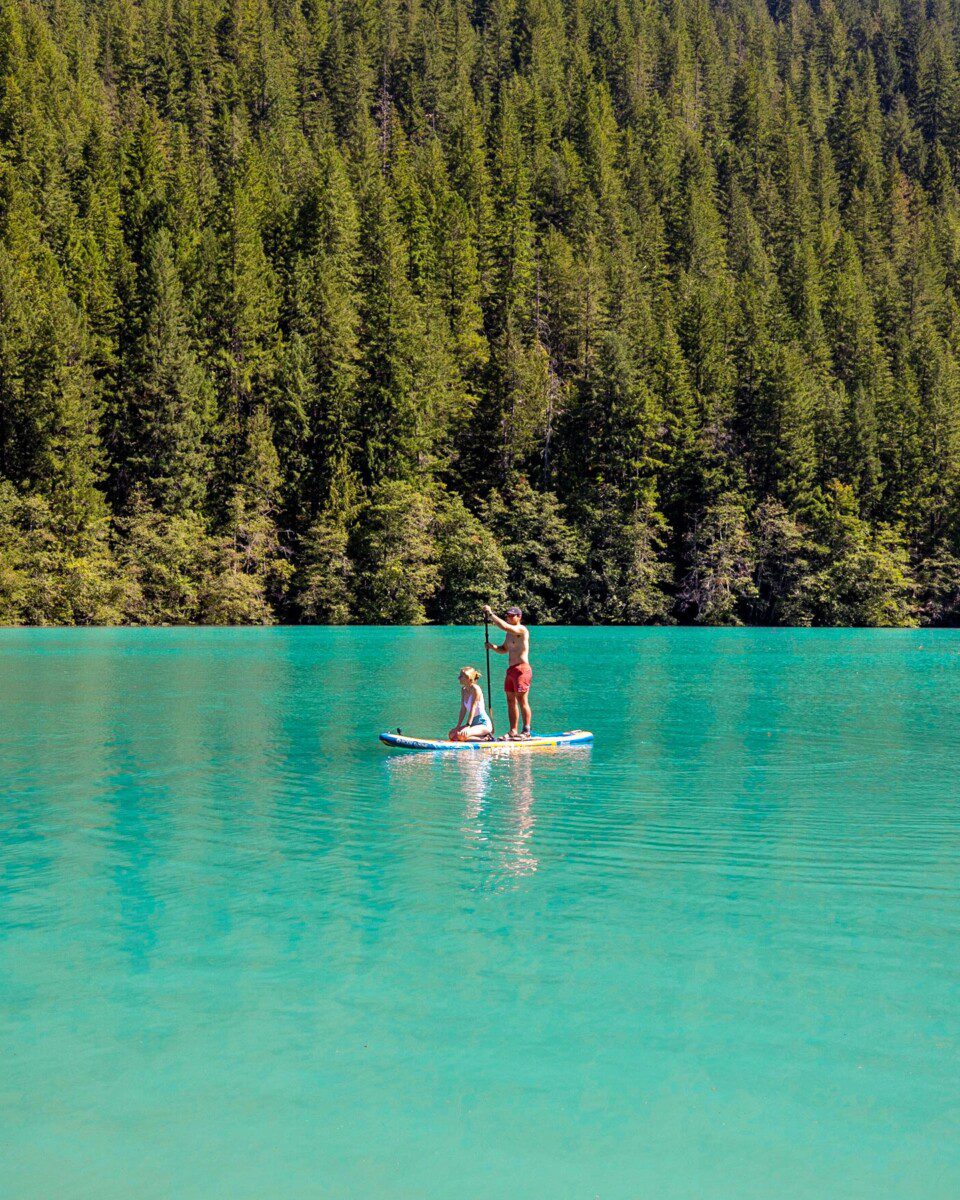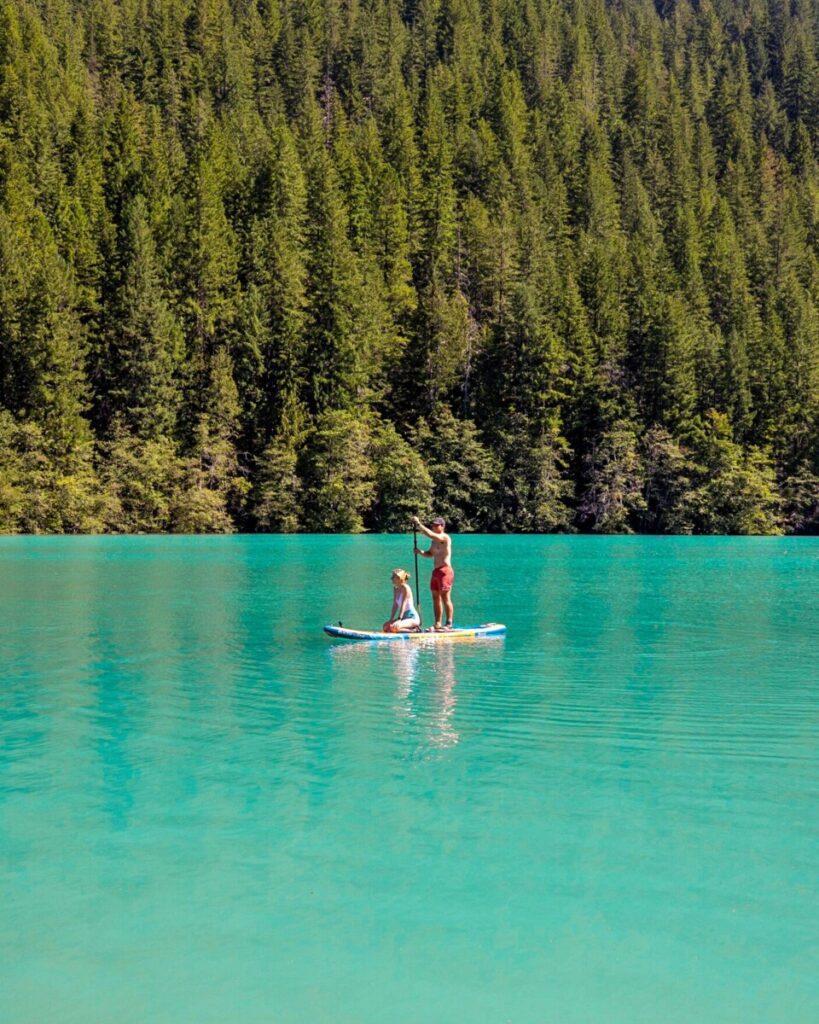 Diablo Lake is one of the most stunning lakes in Washington, dare I say, even in the USA. It's gorgeous turquoise water is not to be missed! If you decide to bring a paddle board or kayak, we highly recommend getting out on the water to take it all in. If you're feeling really adventurous, you can even take a dip; but, beware, the water is frigid!
Hike the Maple Pass Trail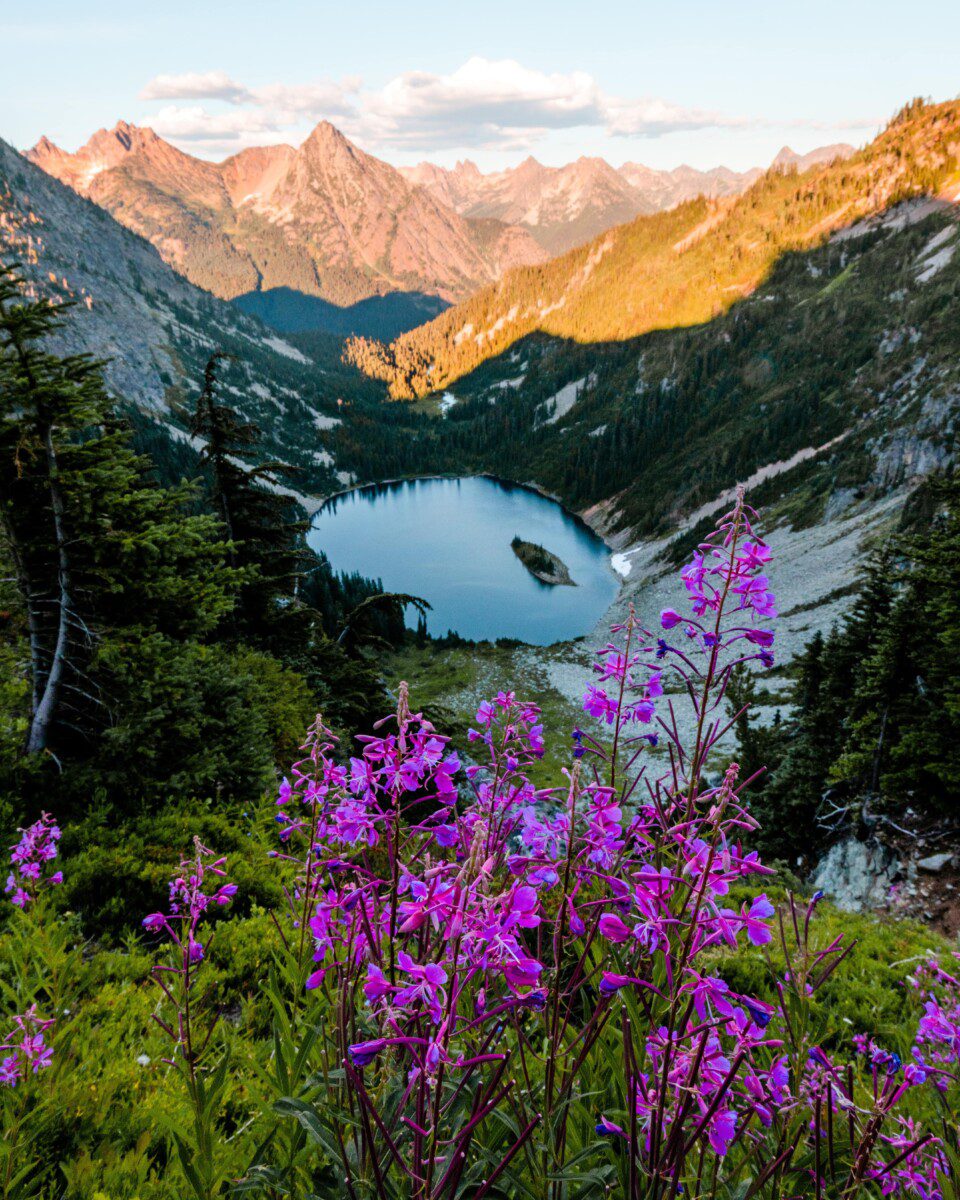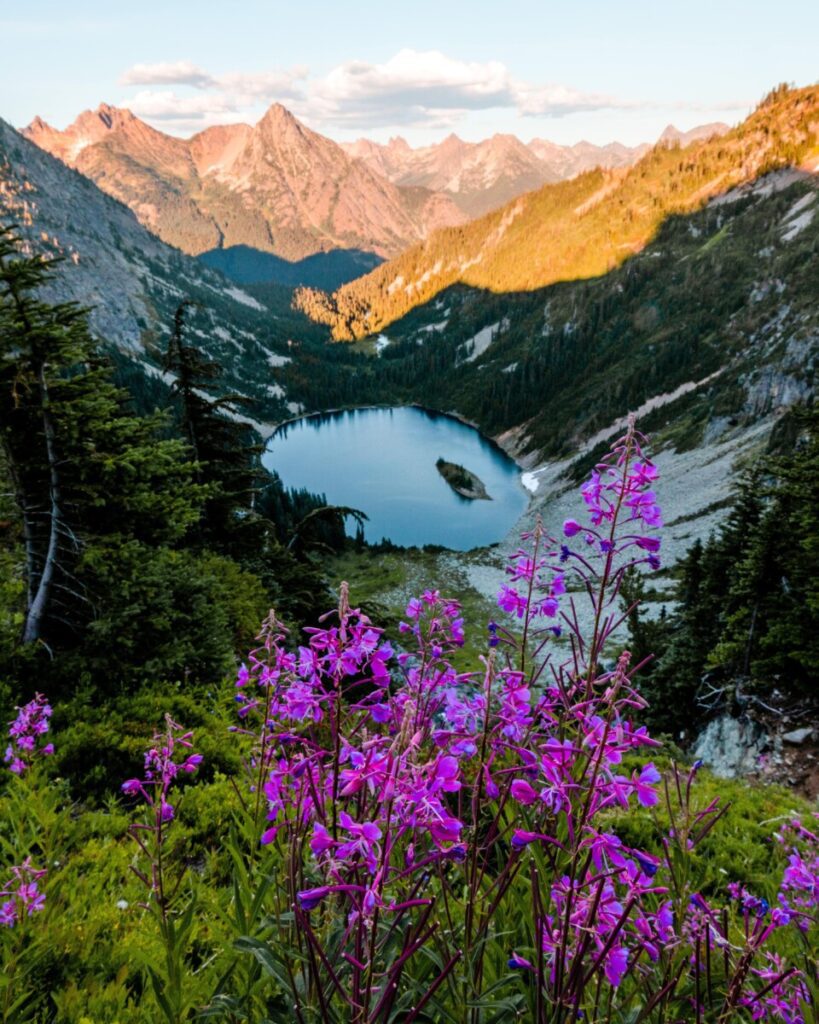 Then, it's time to hike one of our top favorite hikes of all time. The Maple Pass Loop Trail in North Cascades National Park is a 7.2-mile hike that offers stunning views of alpine meadows, glaciers, and towering peaks. The trail gains around 2,000 feet of elevation and takes around 3-4 hours to complete. The best time to hike the Maple Pass Loop is from July to October when the wildflowers are in full bloom, and the weather is mild. If you are looking for larches in fall, this hike is a must do!
Optional Add On: Hike to Blue Lake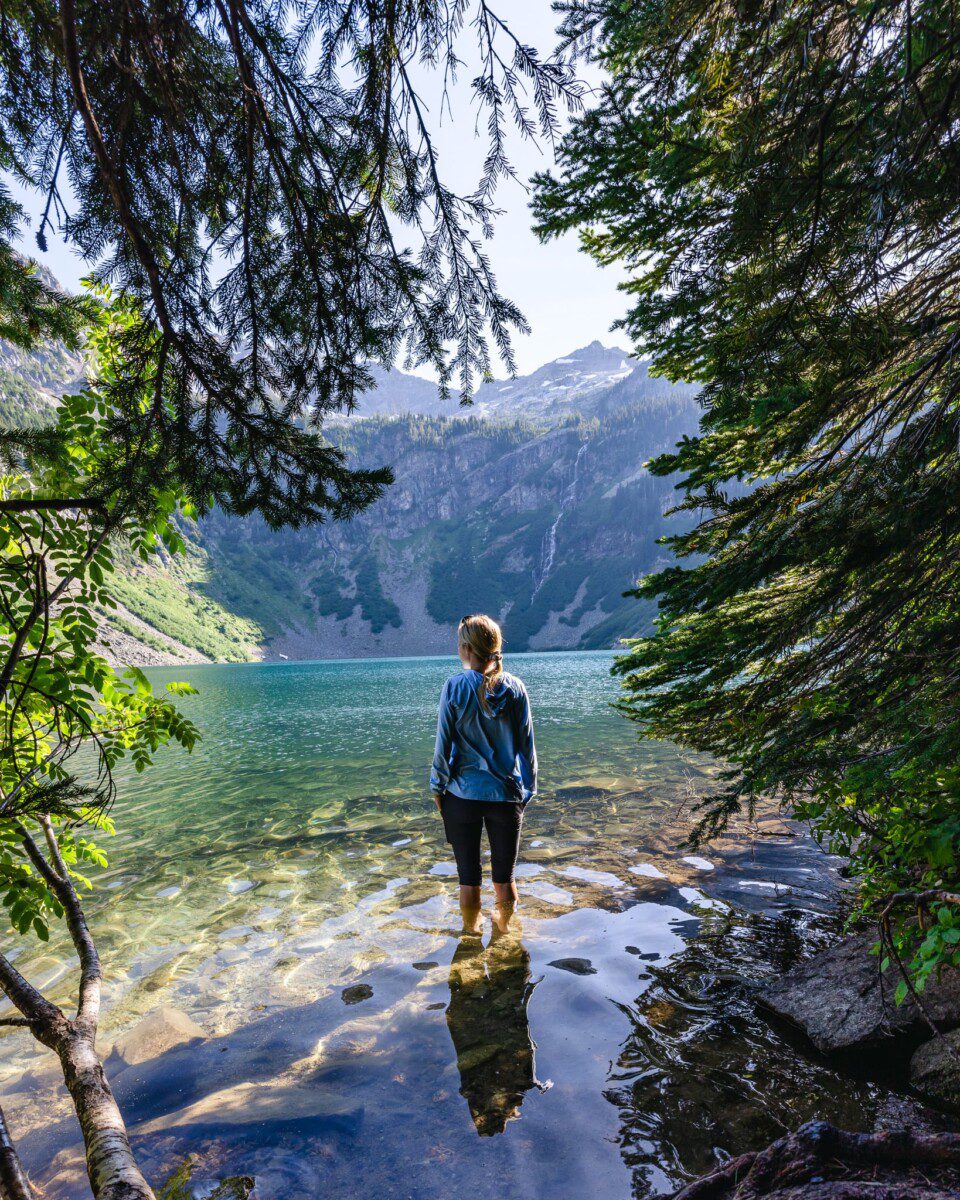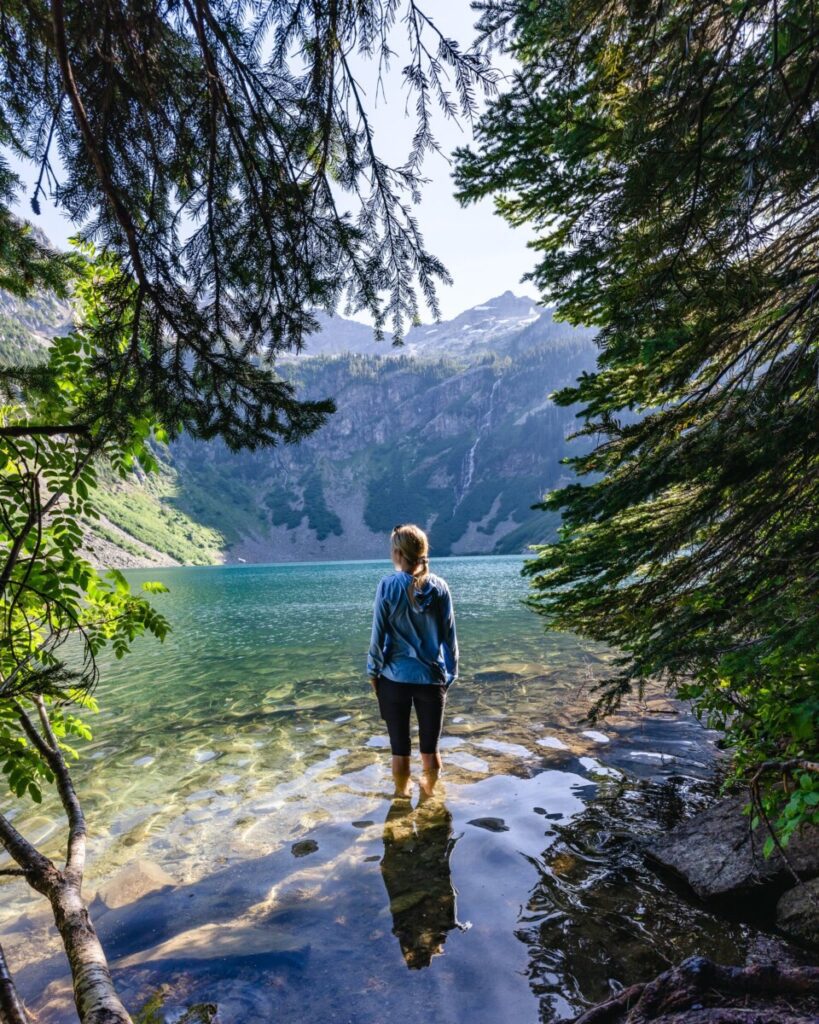 Right next to Maple Pass is the gorgeous Blue Lake trail. The trail is a moderate 4.4-mile round trip and gains around 1,100 feet of elevation. The highlight of the hike is the stunning Blue Lake, which is surrounded by rocky cliffs and snow-capped peaks.
Day 5: Explore the Enchantments
Hike Colchuck Lake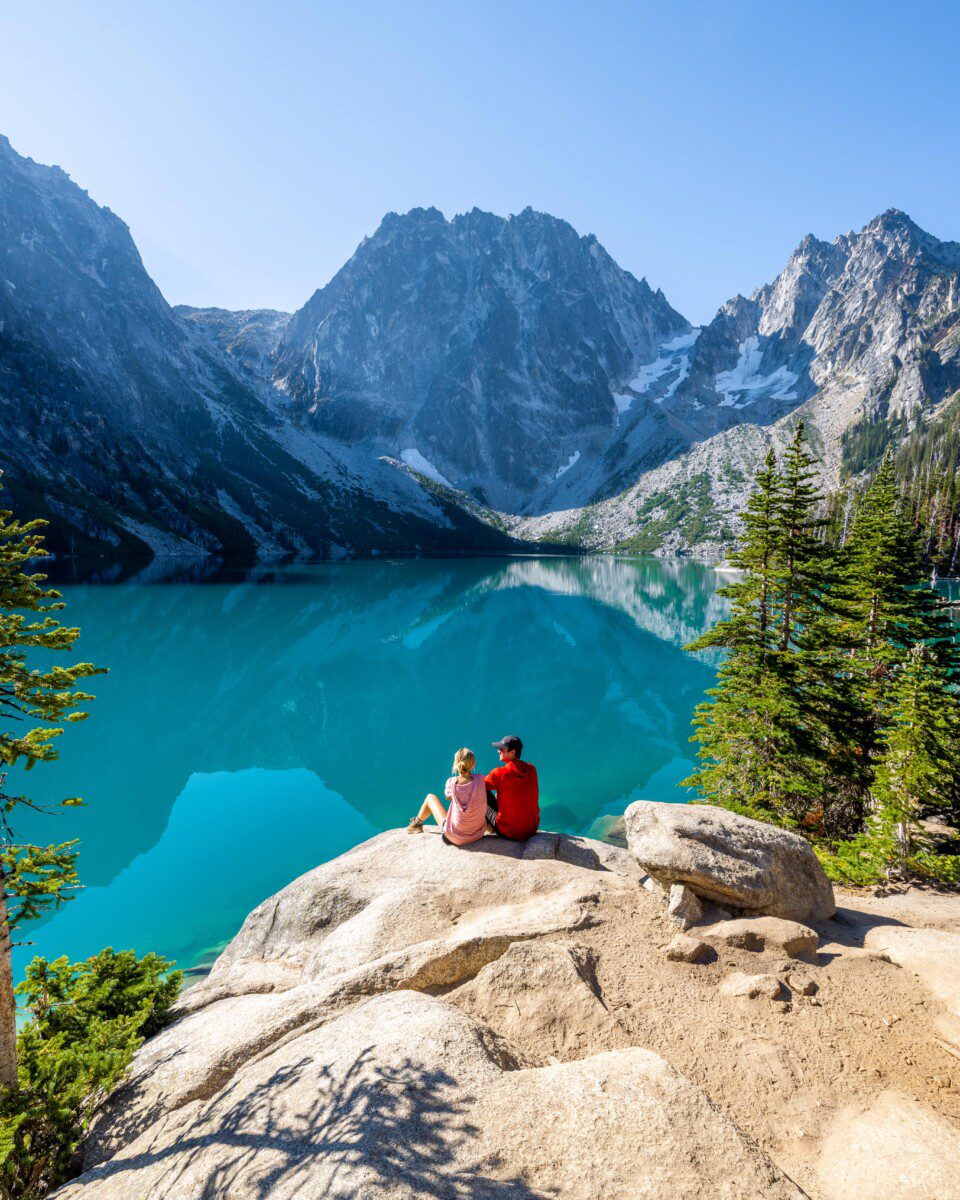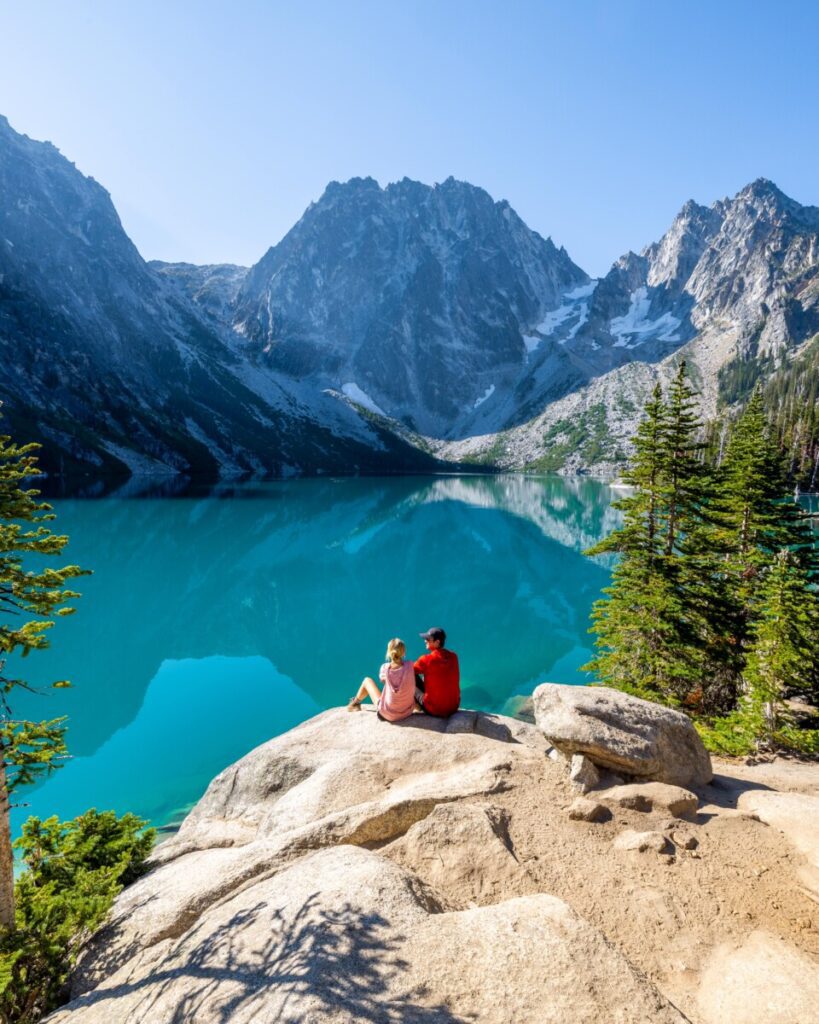 It's time to wake up early and head out on your next sunrise hike! Colchuck Lake is basically guaranteed to take your breath away. The Colchuck Lake trailhead is located in the Okanogan-Wenatchee National Forest, near the town of Leavenworth. The trail is about 8 miles round trip with an elevation gain of approximately 2,200 feet, making it a moderately difficult hike. But, the views are absolutely incredible and worth the climb.
The key to this hike is getting there as EARLY as possible. This was the most crazy busy trailhead we have ever seen, even when we were parking at sunrise. Both day hikers and backpackers use this trailhead so there's quite a bit of traffic. If you don't get there at sunrise, good luck finding a parking spot that's near the trail.
You will need to get a day permit to hike it, but they have them right at the trailhead for you! Keep in mind, you can't backpack this trail without proper permits from recreation.gov. Make sure to pack a lot of snacks and your 10 essentials, and remember to have a great time!
Explore the Quaint Town of Leavenworth
Next, head to the Bavarian-themed town of Leavenworth. This quaint town is nestled in the Cascade Mountains and offers plenty of outdoor activities, such as hiking, biking, and skiing. The town itself is full of shops, restaurants, and festivals, including the famous Oktoberfest celebration in the fall. Make sure to head into the local shops to try all the tasty beer and wine, pretzels, cookies, cheese, and more!
Drive to Mt. Rainier National Park
Say goodbye to the North Cascades and head on over to Mt. Rainier National Park. This is going to be a fairly long drive of 4-5 hours so give yourself time to kick back and relax. Depending on how early you arrive, you could potentially catch a sunset in the park!
Days 6 & 7: Mt. Rainier National Park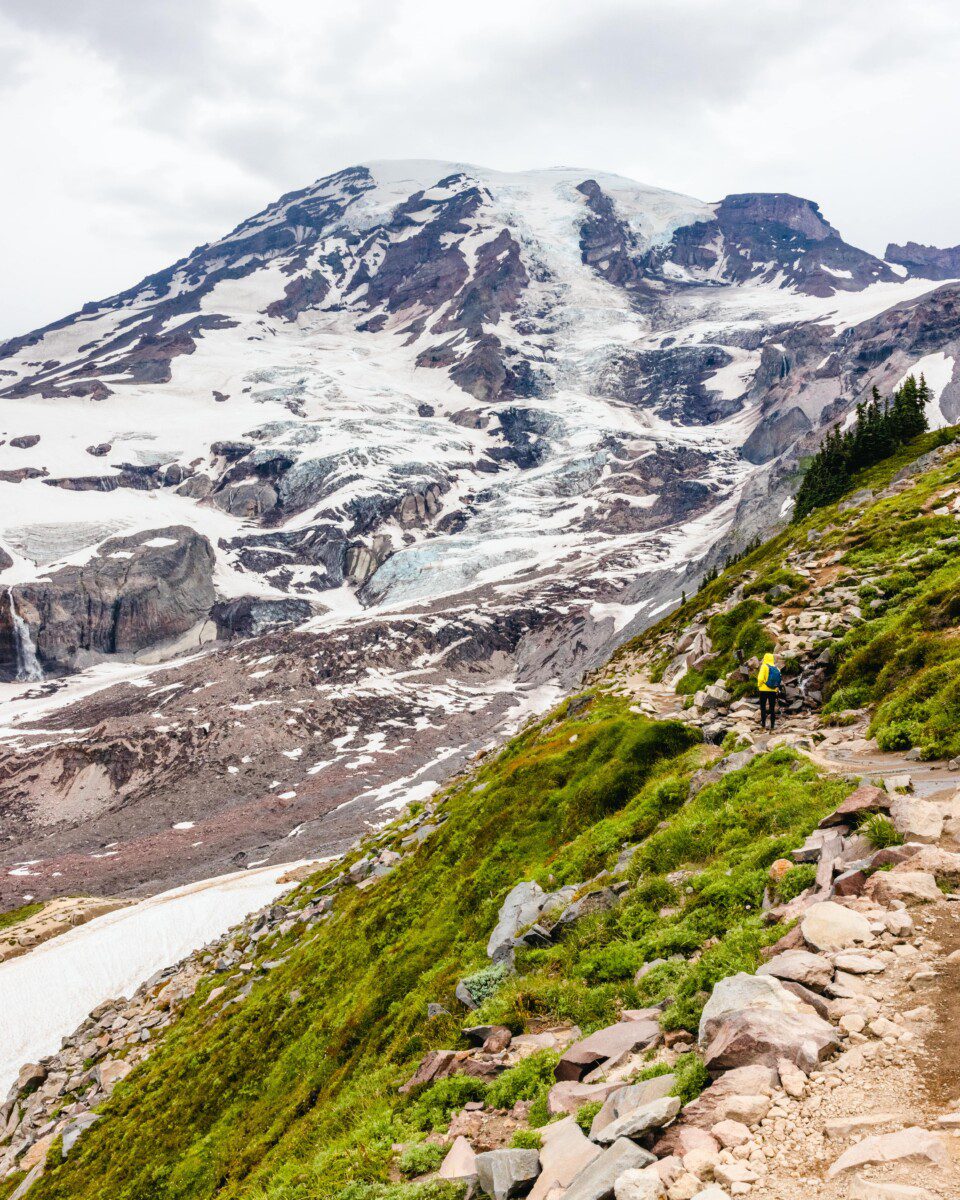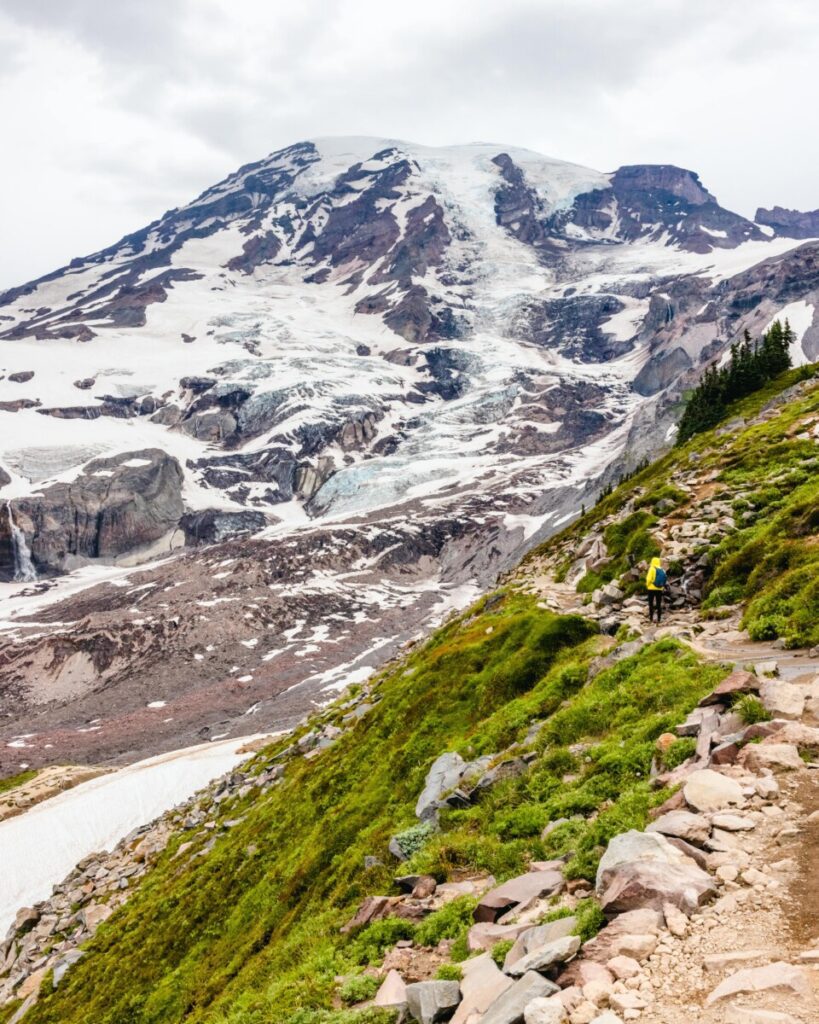 Next, it's time to pull out your National Parks pass again as you head to Mount Rainier National Park, one of the most stunning natural attractions in Washington. The park features snow-capped peaks, glaciers, alpine meadows, and waterfalls. We'd recommend spending one full day in the Paradise side of the park, and one full day in the Sunrise side to really see a lot of the park's highlights.
Paradise Area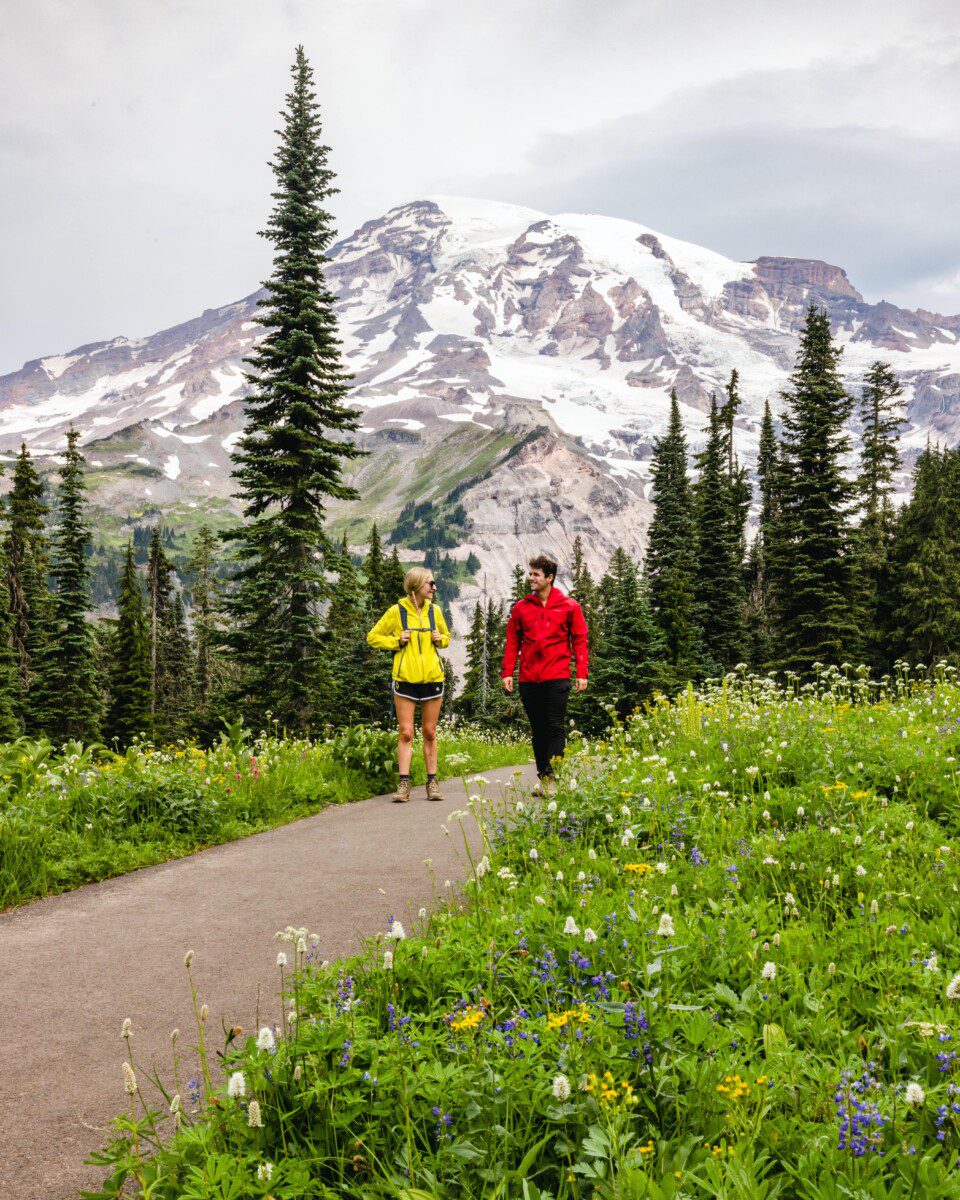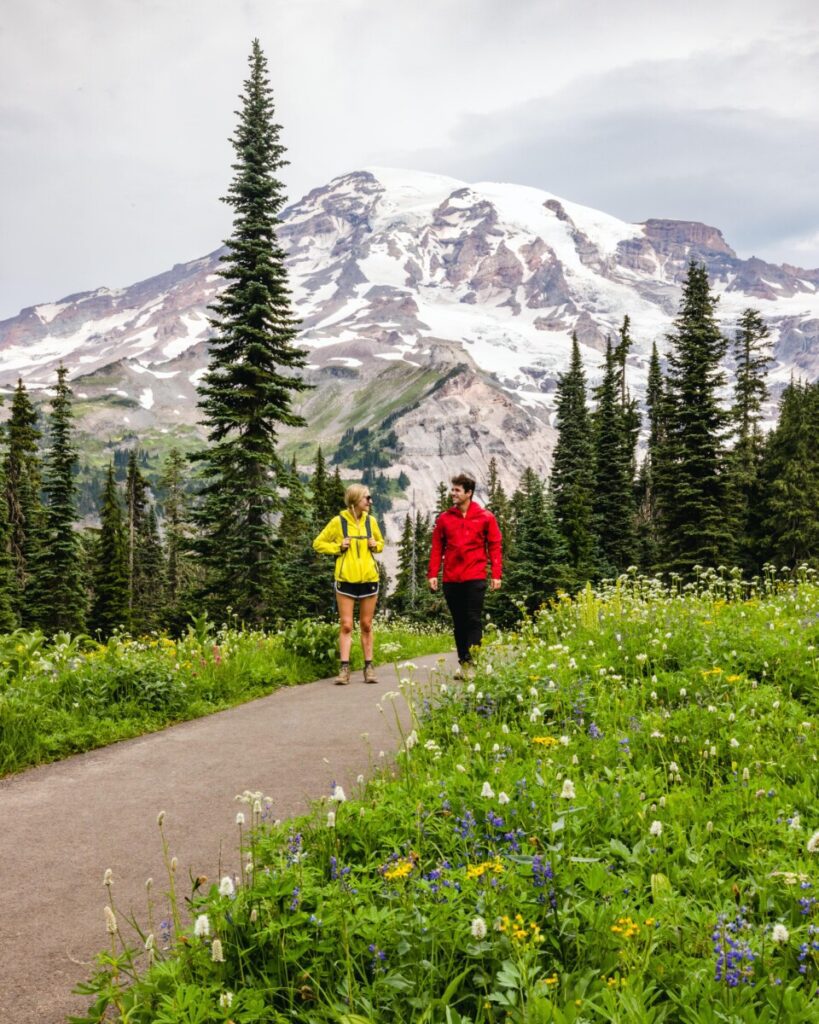 The Paradise side of Mt. Rainier is bound to take your breath away, especially if you visit during the summer. This area is located on the south side of Mount Rainier. Here, you'll be treated with tons of wildflowers during July and August, and epic up close views of the glaciers on Mt. Rainier. Make sure to check out the Nisqually Vista Trail or the Skyline Loop Trail for wildflower and glacier viewing. Other highlights on this side of Mt. Rainier National Park to check off your list include:
Reflection Lake at Sunrise
Narada Falls
Bench & Snow Lakes Trail
Pinnacle Peak Trail
Sunrise Area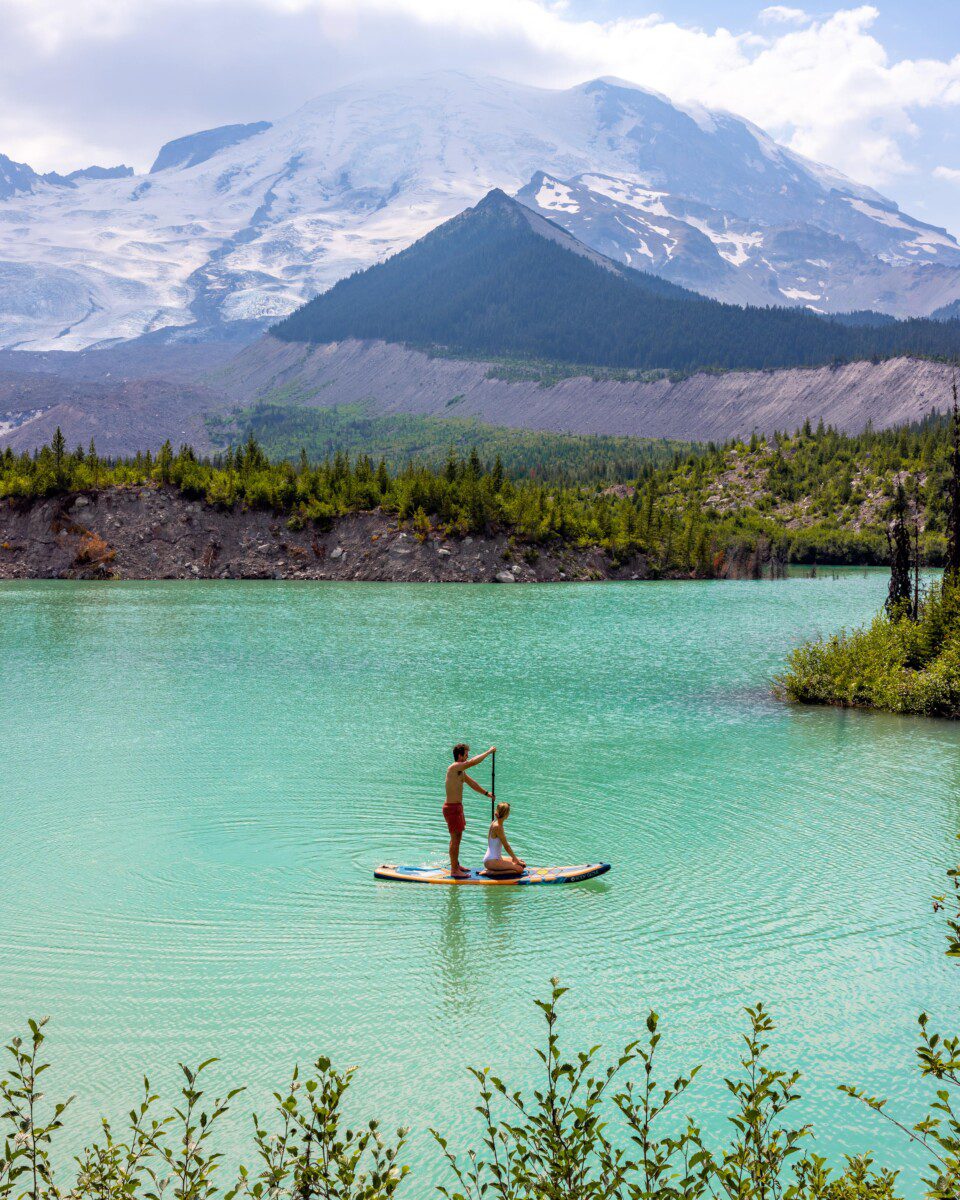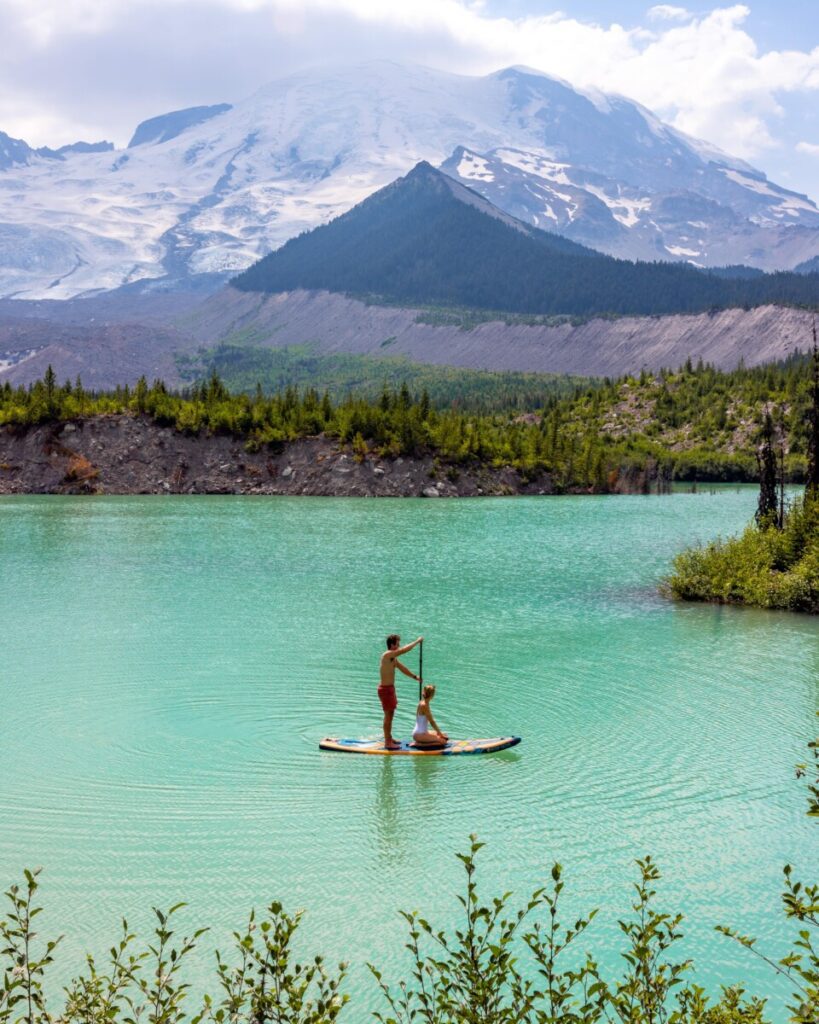 The Sunrise area of Mount Rainier National Park is located on the northeast side of the mountain. The Sunrise area is only open during the summer months, typically from late June to early October, due to heavy snowfall in the winter.
Little Tipsoo Lake at Sunrise
Emmons Moraine Trail
Fremont Lookout, Sourdough Ridge, OR Naches Peak Loop for Sunset
Tolmie Peak and Eunice Lake
Day 8: National Forest Near Mt. Rainier
Hike to High Rock Lookout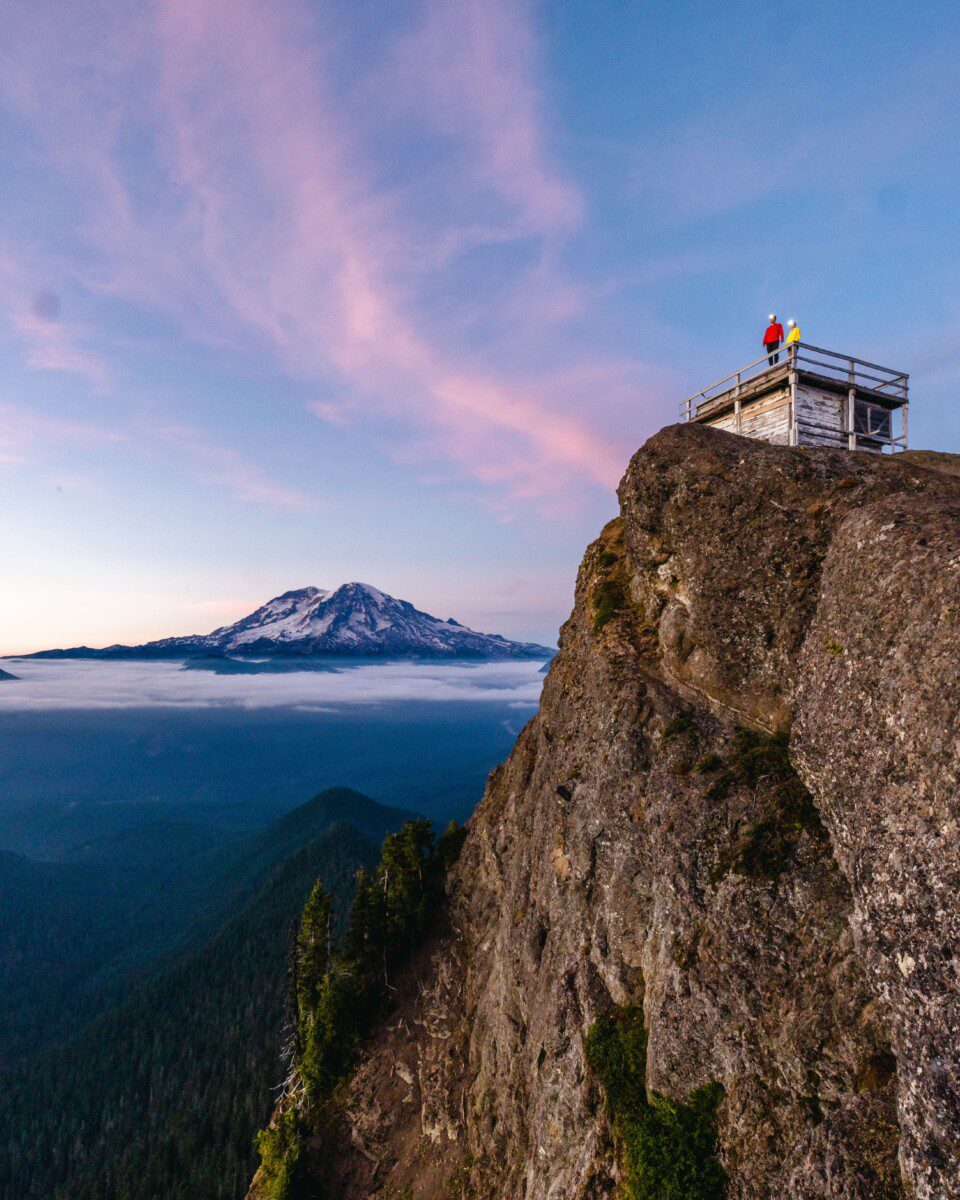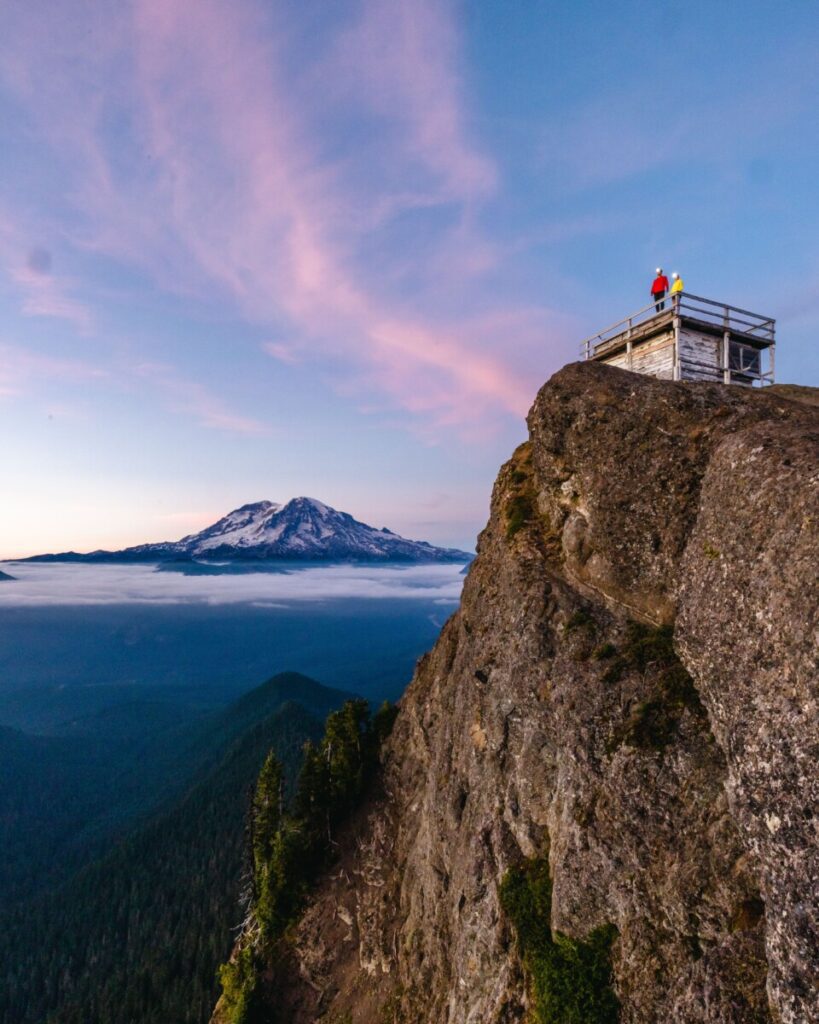 We loved hiking to High Rock Lookout for golden hour. In fact, we loved it so much we did it at both sunset and sunrise. However, you really only need to do it once and both times looked fantastic. We got treated to epic cloud inversions both times with incredible views of Mt. Rainier directly in front of you.
Teeley Creek Trail to Bertha Lake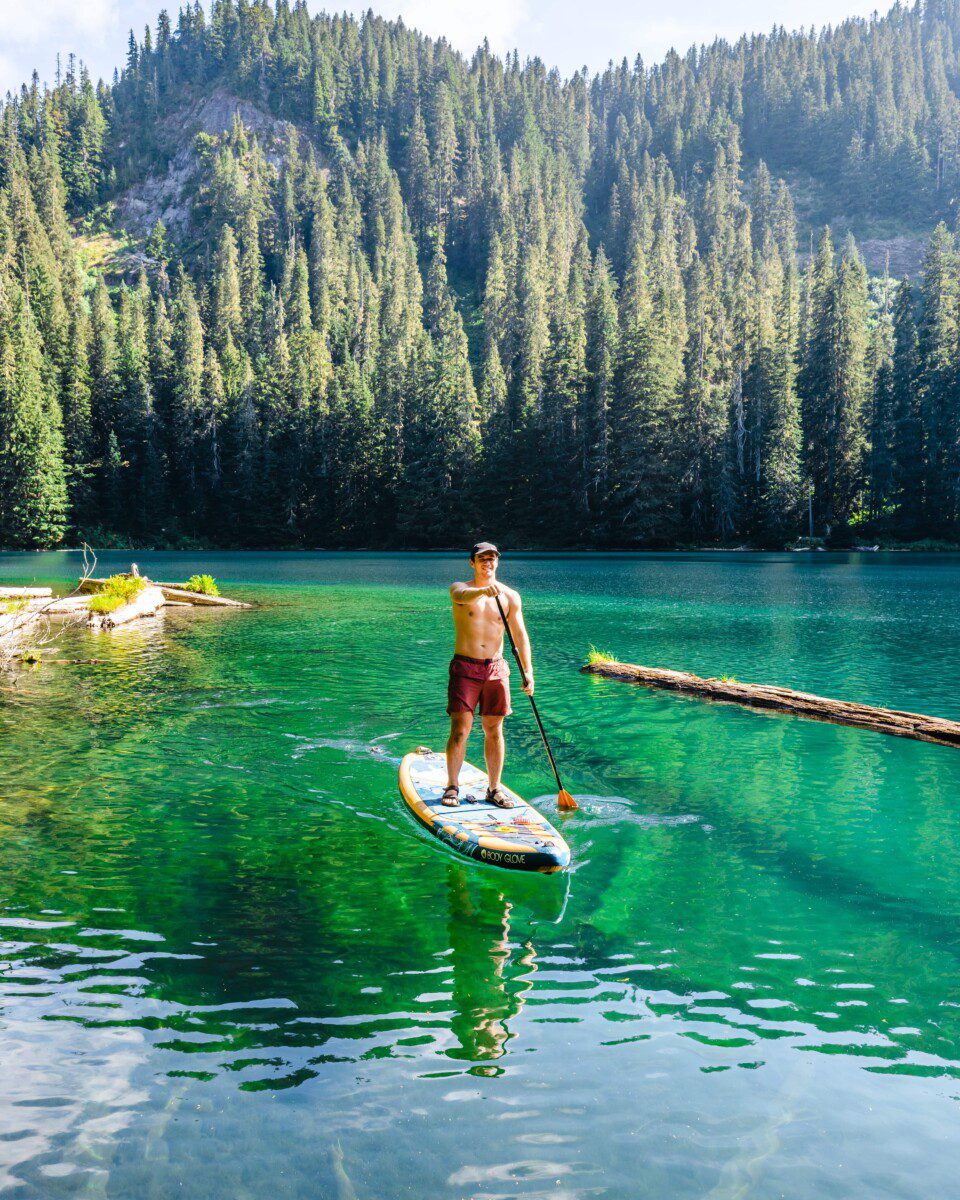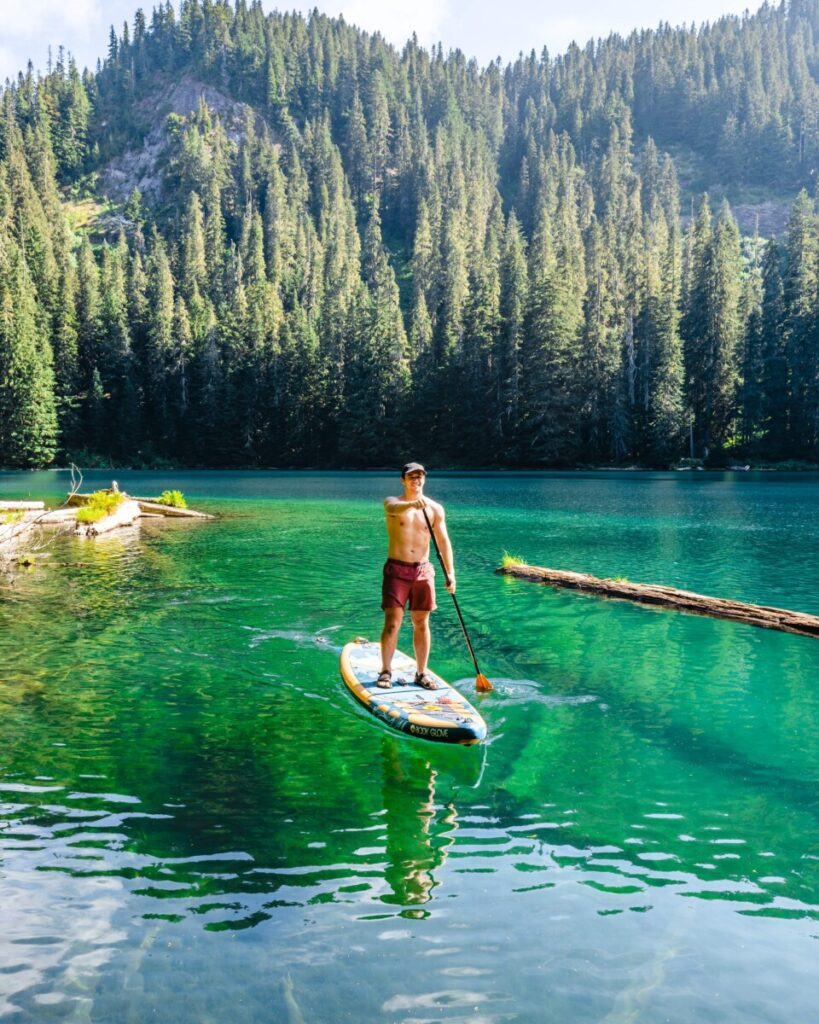 Day 9: Head Back to Seattle
After a 2-3 hour drive, end your Washington road trip back in the vibrant city of Seattle. Spend a day exploring the iconic landmarks like the Space Needle, Pike Place Market, and the Chihuly Garden and Glass exhibit.
Tip: Don't miss out on the coffee scene in Seattle. The city is home to some of the best coffee shops in the country, including Starbucks' first-ever location.
Ready to head out on a Washington Road Trip? We hope this 9 Day Washington Road Trip itinerary has helped with your planning. Let us know if you have any questions down below in the comments.