Ultimate Connecticut Fall Foliage Road Trip Guide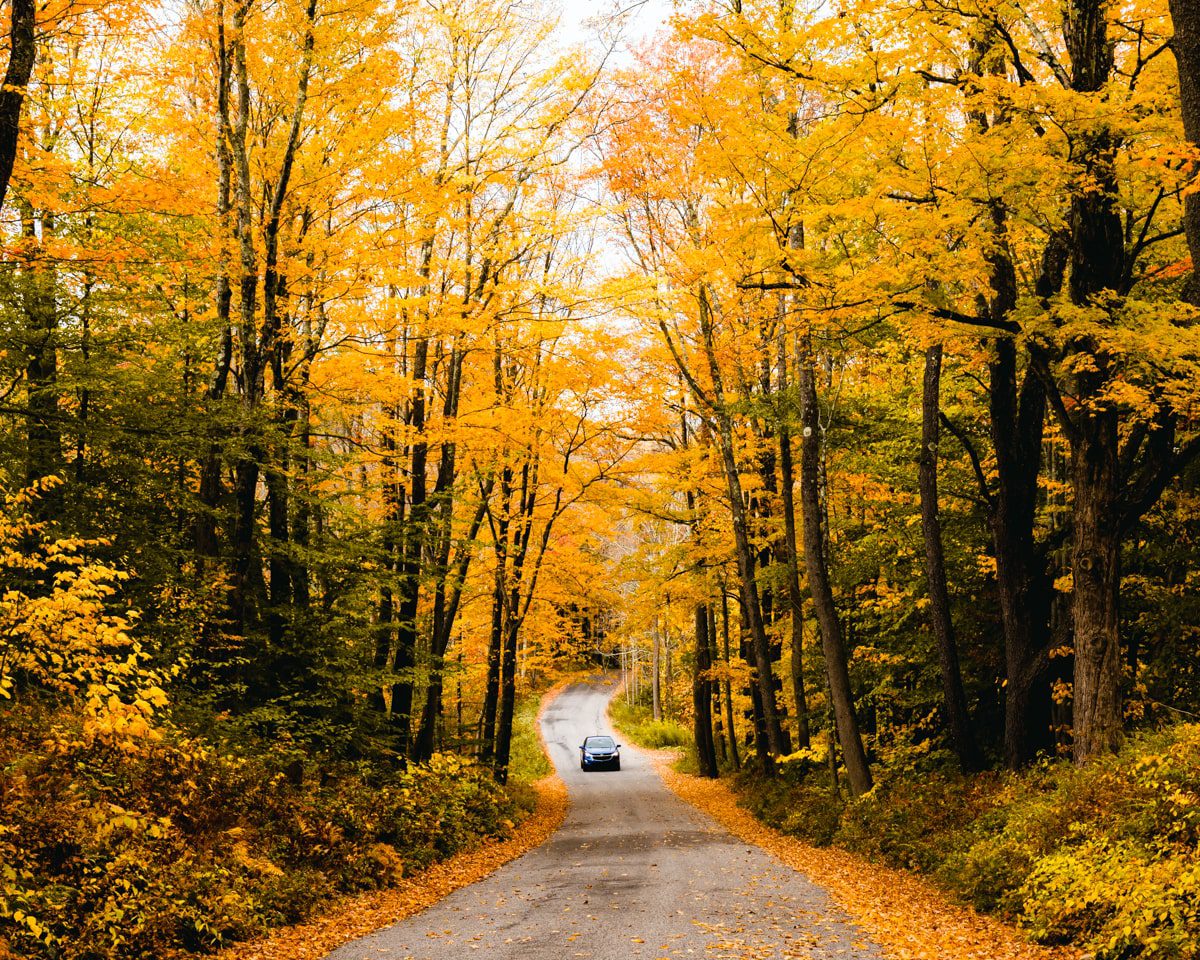 As the leaves begin to change and the temperatures start to cool, it's the perfect time to plan a trip to chase the fall foliage. Connecticut has some of the most stunning fall colors on the East Coast, making it the perfect place for a fall colors getaway.
We've chased fall foliage in the USA as travel photographers for the past 3 years now, and can honestly say Connecticut is so underrated. With fewer crowds than the rest of New England and equally as incredible colors, Connecticut is the perfect destination for those looking to take in all the vibrant leaves this year.
In this ultimate Connecticut fall foliage road trip guide, we're sharing our top Western Connecticut fall foliage hikes, viewpoints, bridges, and scenic drives.
Planning Your Connecticut Fall Foliage Road Trip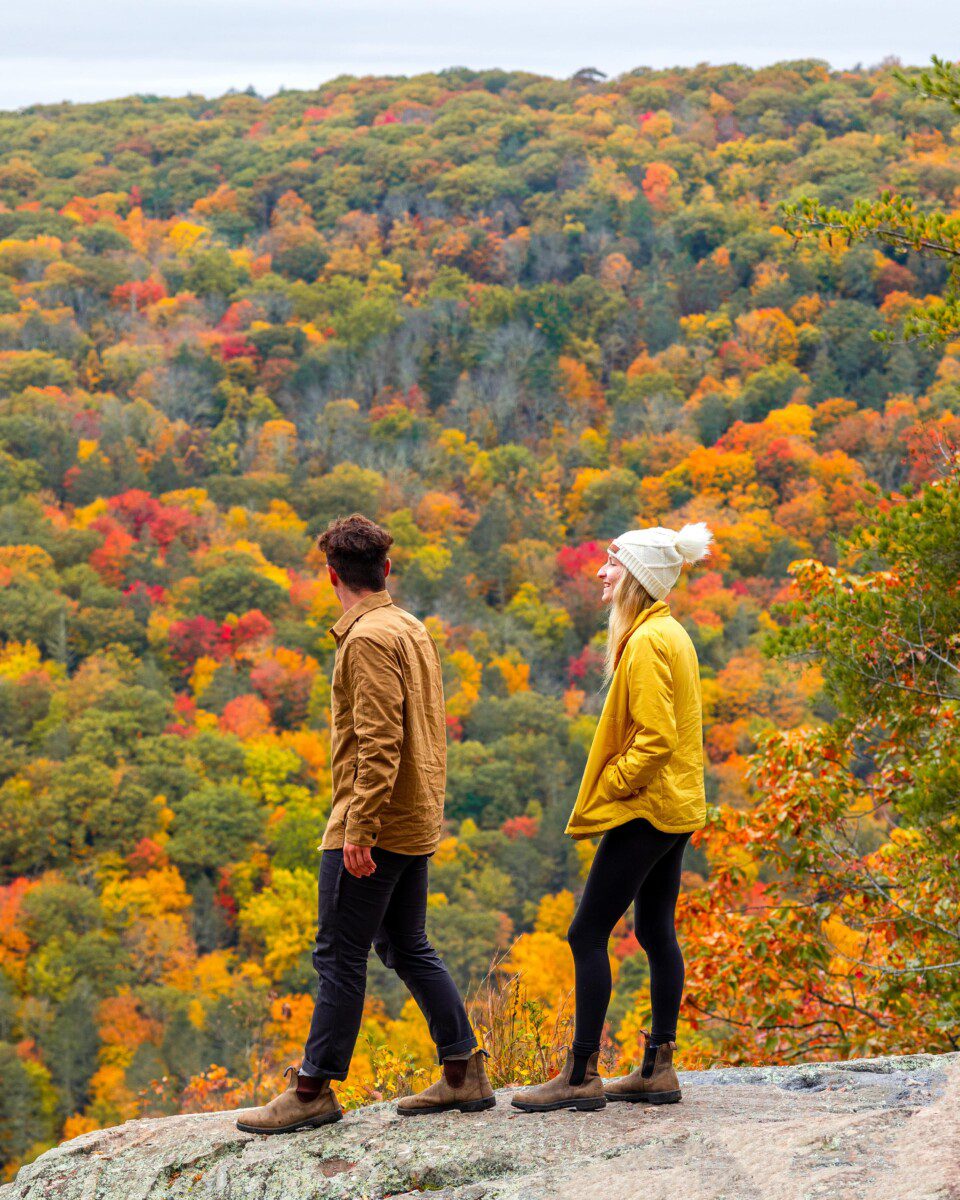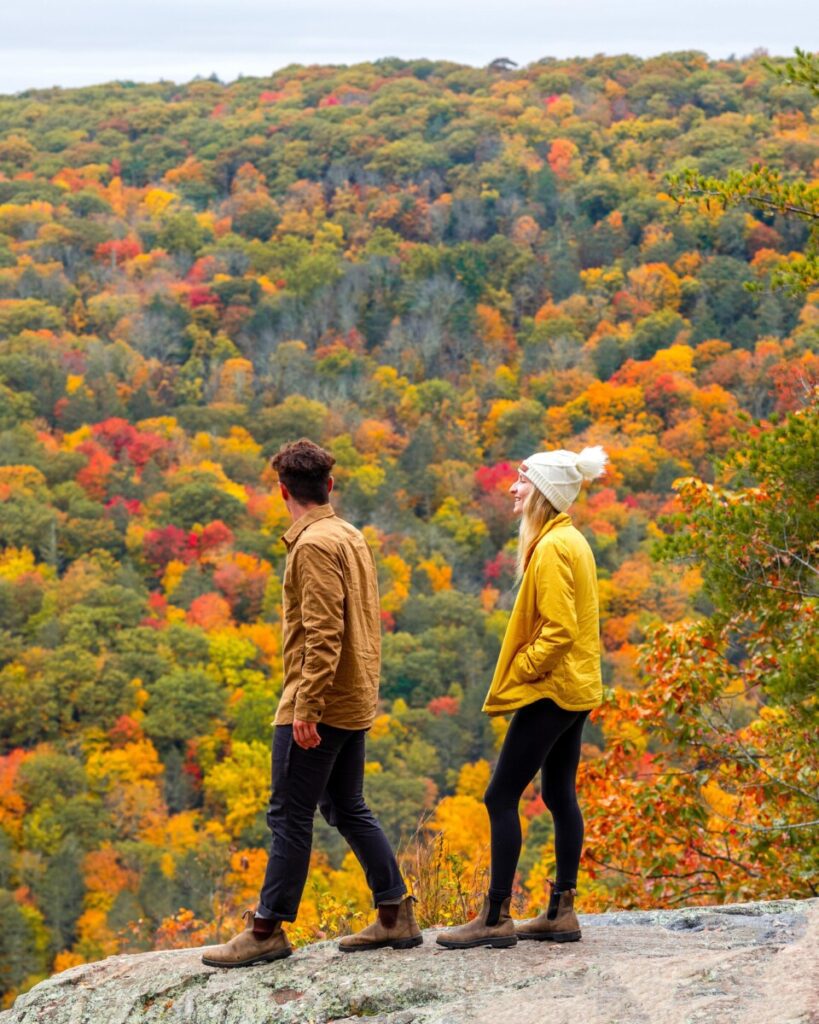 Before getting into the details, when heading to explore Connecticut this fall, please make sure to follow all the Leave No Trace principles to keep Connecticut beautiful! Stick to the trails, take your trash, keep wildlife wild, be fire aware, and share the outdoors respectfully. Especially during peak foliage season, the New England region sees a lot of crowds, so we can all do our part to keep the state as clean and preserved as possible for others to enjoy in the future. 
Here are our top tips for planning your own fall foliage road trip around the gorgeous state.
Best Time to Visit Connecticut for Fall Foliage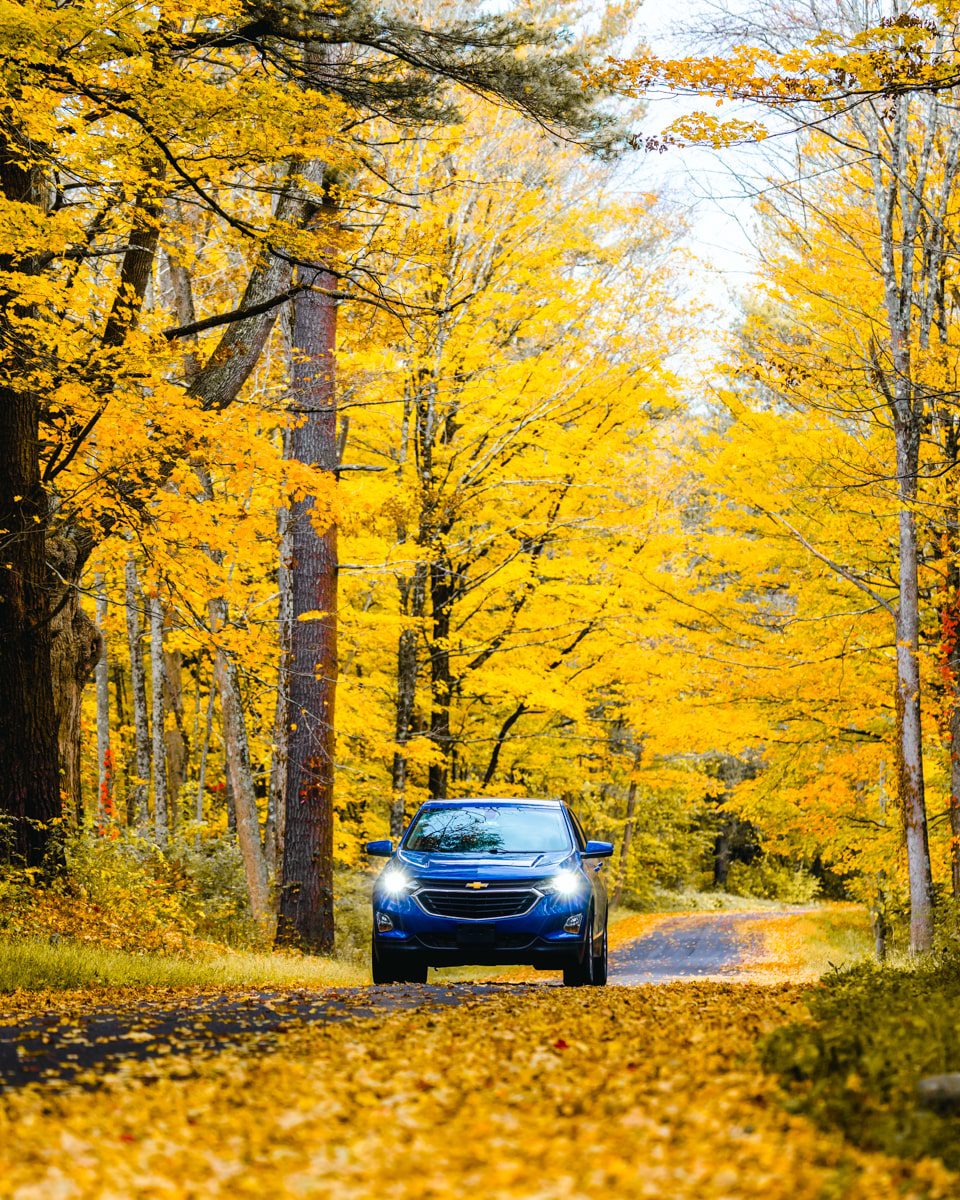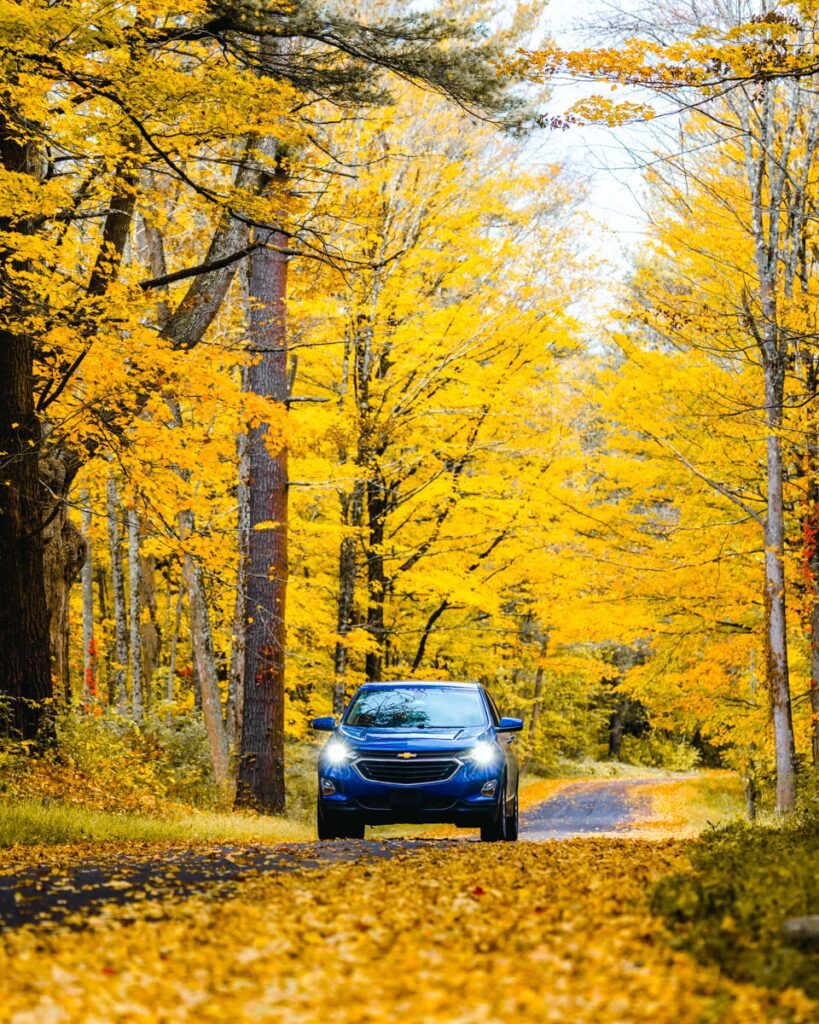 Historically, the best time to visit Connecticut for leaf peeping is mid-October to early November. Each year, foliage conditions do vary based on weather, drought, and storms, so it's important to consistently track the foliage before you go. The key to a perfect fall foliage road trip around this area of New England is to be as flexible as possible with your itinerary since peak season can come and go very quickly. 
Our biggest tip is to keep an eye on fall foliage trackers as they are updated each week, and to check on Instagram to see live updates from those visiting in the area in terms of color levels. The Connecticut Department of Energy and Environmental Protection offers a weekly update on the status of fall foliage throughout the state.
Leave Room for Leaf Peeping Spontaneity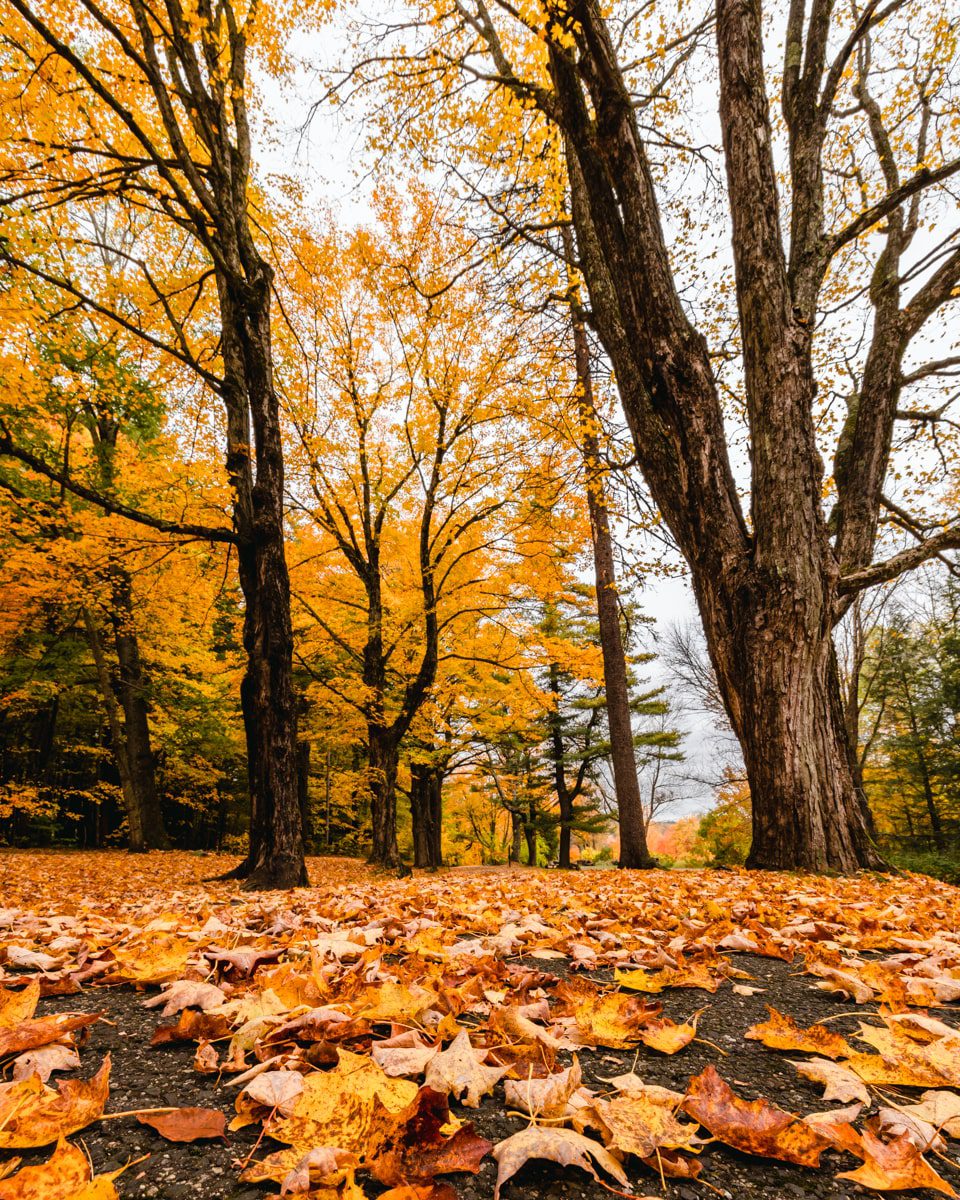 Make sure to leave time to explore random scenic byways, public roads, and/or lakes you may stumble upon! We found so many incredible pops of fall foliage color that we didn't originally have on our itinerary by intentionally getting lost and spontaneously following the colors as we encountered them.
How to Get Around Connecticut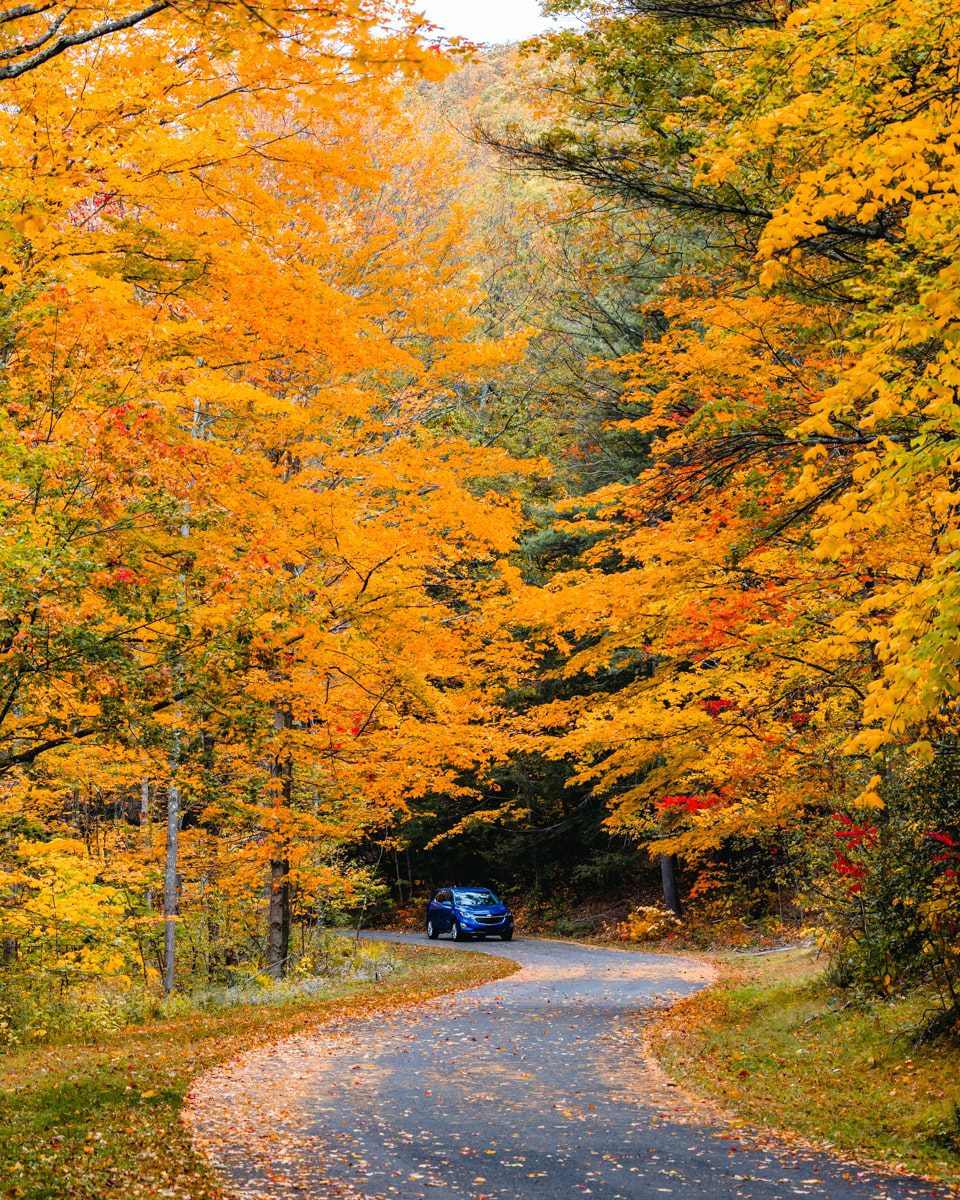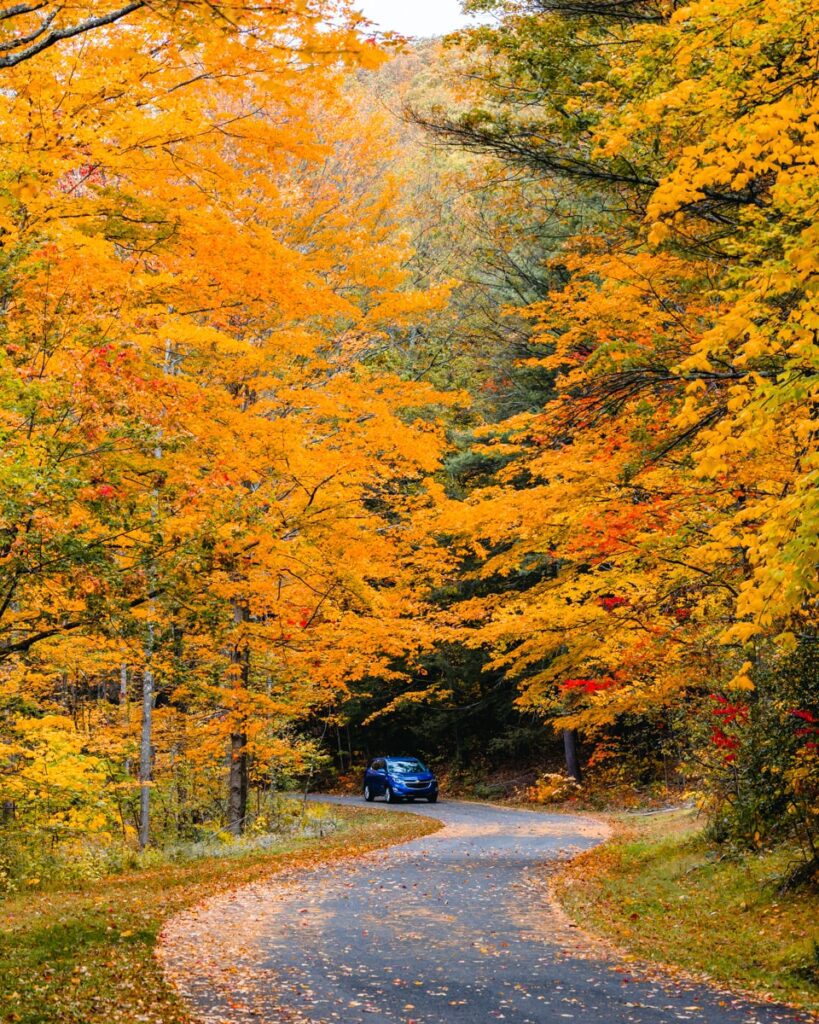 Although there is public transportation available, we'd highly recommend renting a car or Turo for your Connecticut fall foliage road trip. Having a car gives you the flexibility to adjust your plans if the fall colors aren't optimal in certain areas at particular times. 
Keep in mind that the New England region sees an incredible amount of people during the fall season, so making a car rental reservation in advance is definitely the move. We'd also recommend the same advice for booking accommodations – the earlier, the better!
Wildlife on Connecticut Fall Foliage Hikes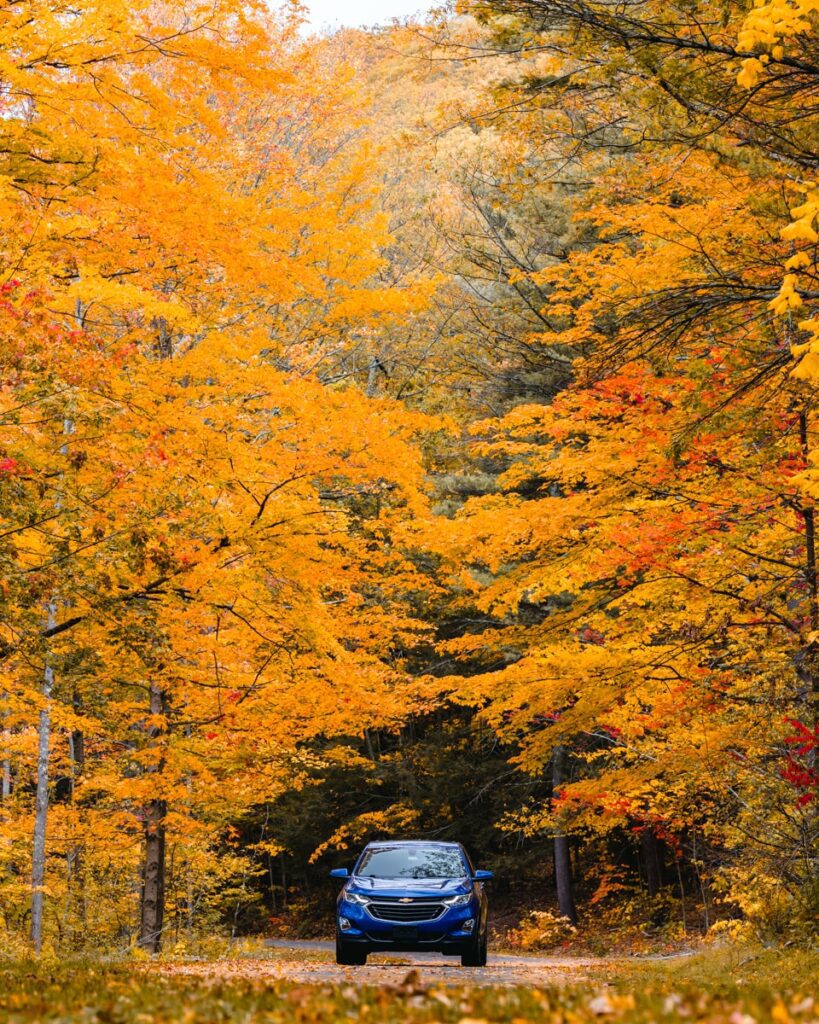 The north western side of Connecticut has a ton of wildlife. You will likely be hiking in bear territory during this road trip, so make sure to be bear aware and follow all recommended precautions while out in the forest. This means:
Know bear behavior: Learn about the behaviors and habits of bears in the area you will be visiting. This includes knowing what bears eat, where they live, and how they behave around humans.
Stay on designated trails: One of the best ways to stay safe around bears is to avoid them altogether. Stay on designated trails, make noise while hiking, and keep a safe distance from bears if you do encounter them.
Store food properly: Bears have a strong sense of smell and are attracted to food. Store food and garbage in bear-resistant containers or hang them from a tree at least 10 feet off the ground and 4 feet away from the trunk.
Use bear spray: Bear spray is a deterrent that can be used in case of a bear encounter. Keep it easily accessible and know how to use it before you need it.
Respect bear habitat: Avoid hiking or camping in areas where bears are known to be active, especially during mating season or when bears are raising their cubs.
Travel in groups: Bears are less likely to approach groups of people than individuals, so it's safer to travel in a group.
By being bear aware and taking these precautions, you can reduce the likelihood of encountering bears and stay safe in bear country.
Drone Photography Regulations in Connecticut
As photographers, it's important to note that Connecticut unfortunately strictly prohibits the operation of drones in all State Parks and State Forests. You may apply for a special use permit; however, don't plan on using your drone to capture the beautiful foliage in any of these regions.
You are able to use it throughout the state off of those state owned premises though as long as you have the proper certifications, licenses, and are following local regulations. Furthermore, for our top drone recommendations, check out our camera gear guide.
Best Ways to See The Fall Foliage in Western Connecticut
Scenic Leaf Peeping Drives in Western Connecticut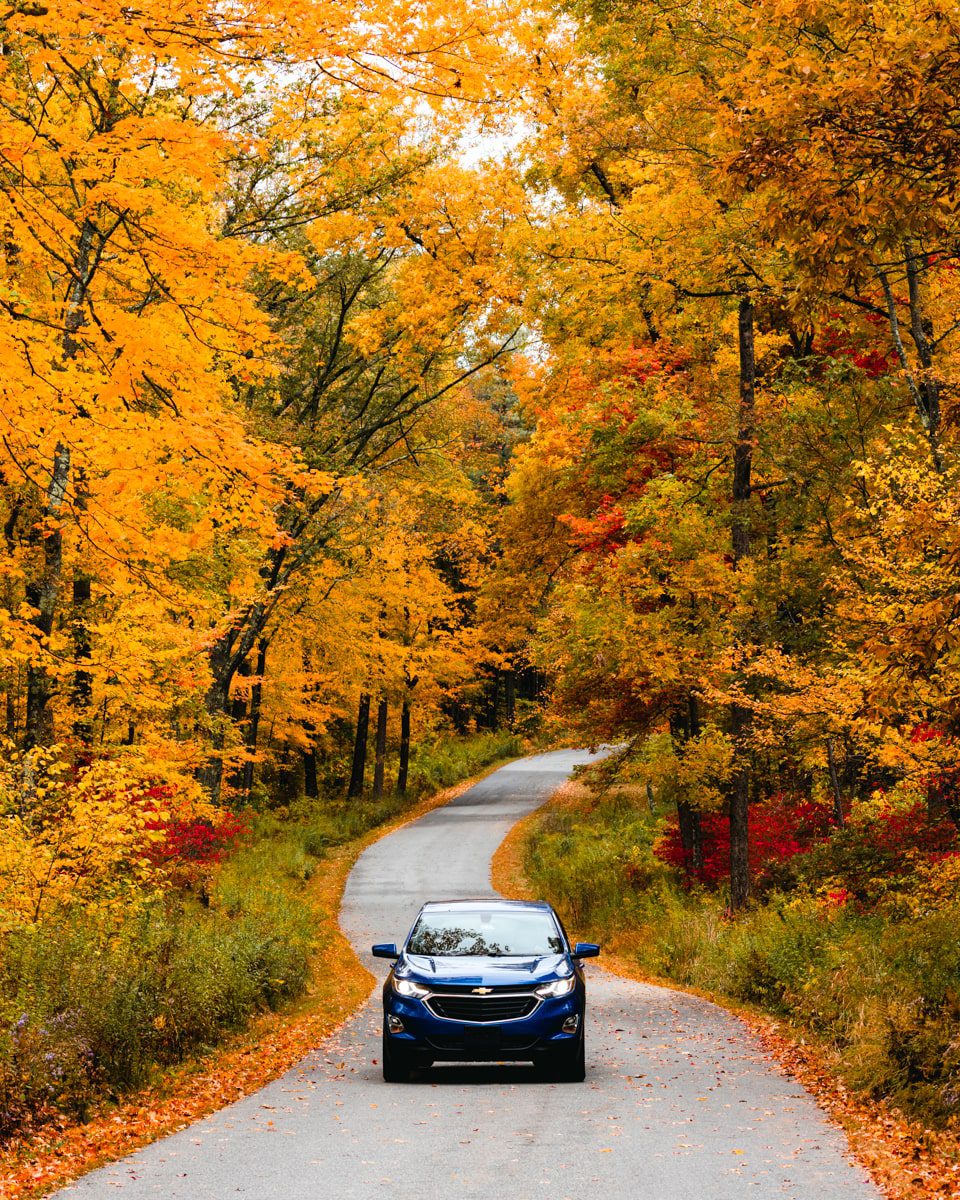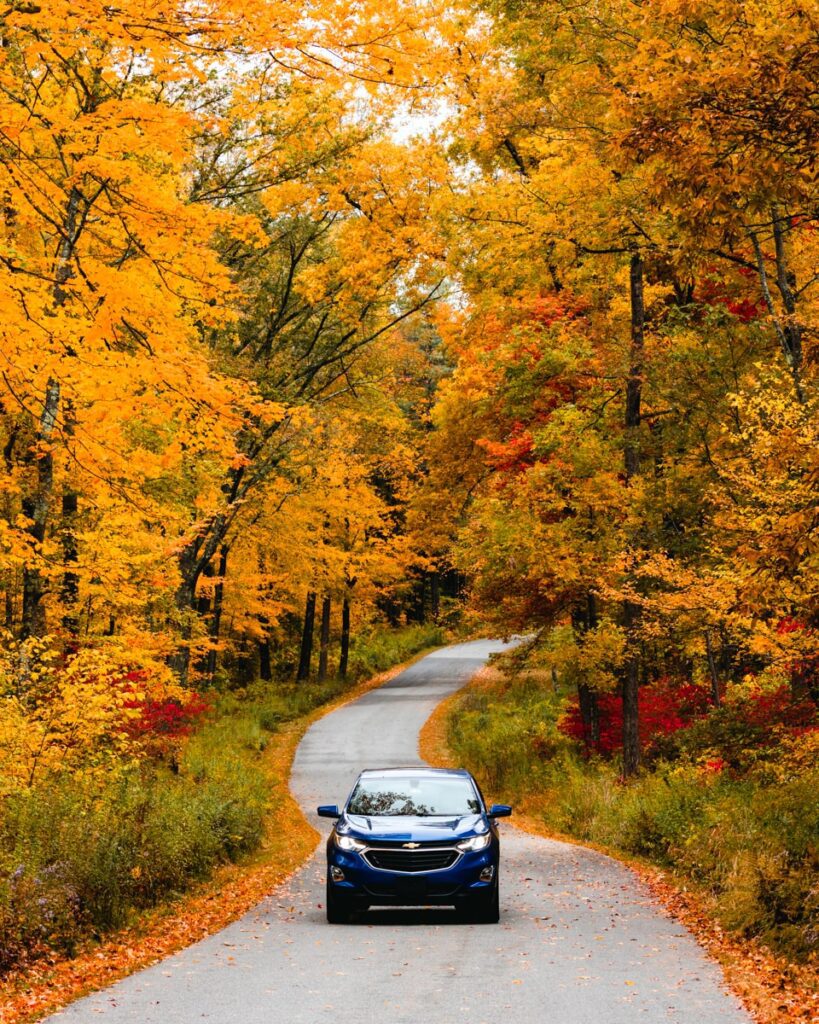 Western Connecticut is known for its stunning fall foliage, and there are many scenic drives that offer the perfect opportunity to enjoy the colorful autumn landscape. In our opinion, driving through Connecticut's various state forests is one of the best ways to catch the fall colors in action. Some of the forest roads have the best, most uncrowded and untouched views of the foliage. Mohawk State Forest and People's State Forest were two of our favorites for driving around and taking photos of the leaves. 
Here are some of the other top leaf-peeping scenic drives in Western Connecticut:
Litchfield Hills Loop: This scenic drive takes you through some of the most picturesque towns and countryside in the Litchfield Hills region. Start in New Milford and follow Route 67 through Bridgewater, Roxbury, and Washington. The drive offers stunning views of rolling hills and colorful foliage, as well as charming New England towns with historic homes and farms.
Mohawk Trail: This next scenic drive takes you through the rugged and scenic northwest corner of Connecticut. Start in Cornwall and follow Route 4 through Goshen, Litchfield, and Torrington. The drive offers stunning views of fall foliage, as well as historic sites and state parks.
Housatonic Valley Heritage Loop: This scenic drive follows the Housatonic River and offers stunning views of the autumn landscape. Start in New Milford and follow Route 7 north through Kent and Sharon. The drive takes you through quaint towns and countryside, and offers plenty of opportunities to stop and take in the scenery.
Best Hikes to See Fall Foliage in Connecticut
Connecticut is home to many state parks and forests that offer great opportunities for hiking and exploring. Something super unique to Connecticut's fall foliage hikes is how you can find some incredible leaf peeping along hikes to old abandoned towers and castles! We had never seen anything like this before coming from the West Coast. 
When heading out on these hikes, be sure to wear sturdy hiking shoes and bring plenty of water and snacks.
Haystack Tower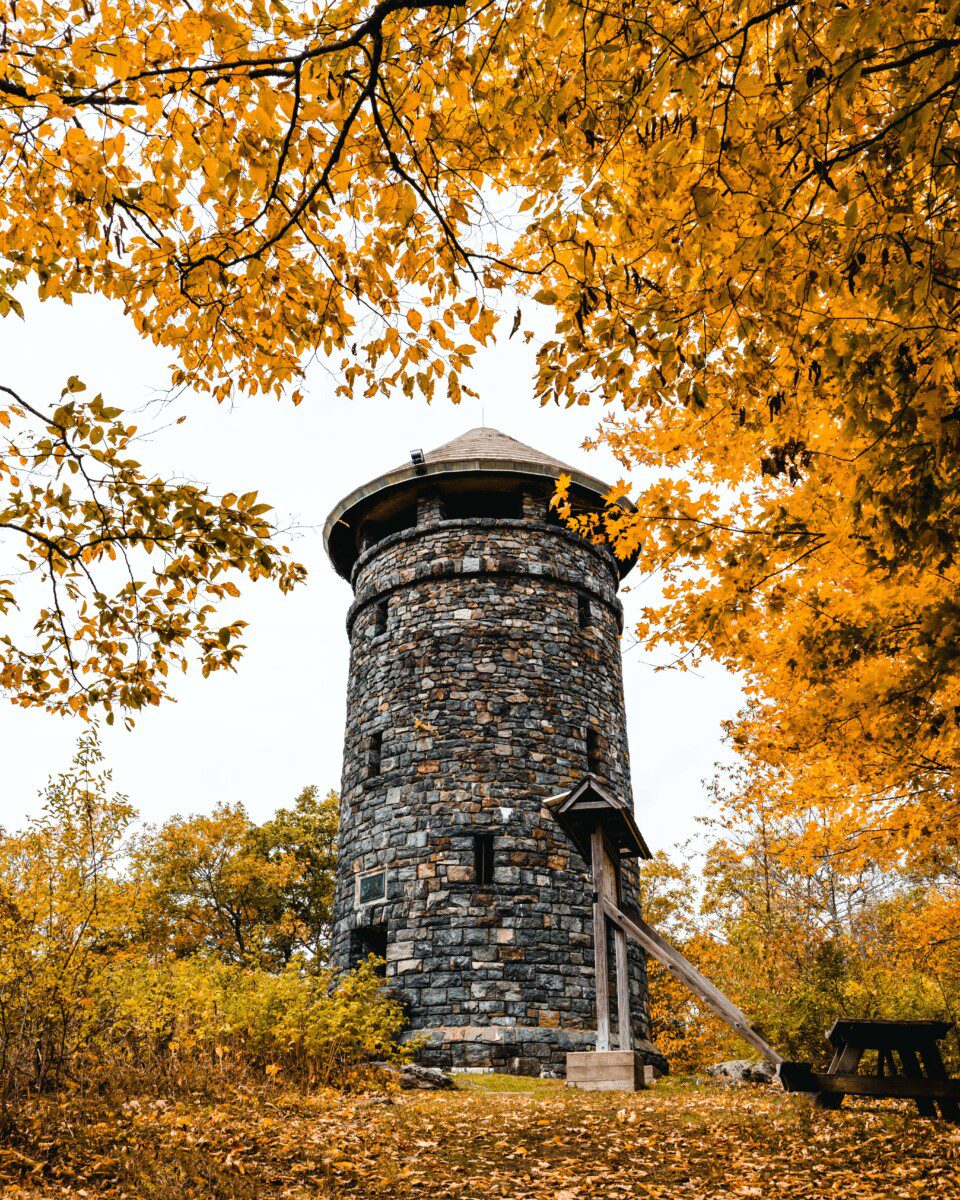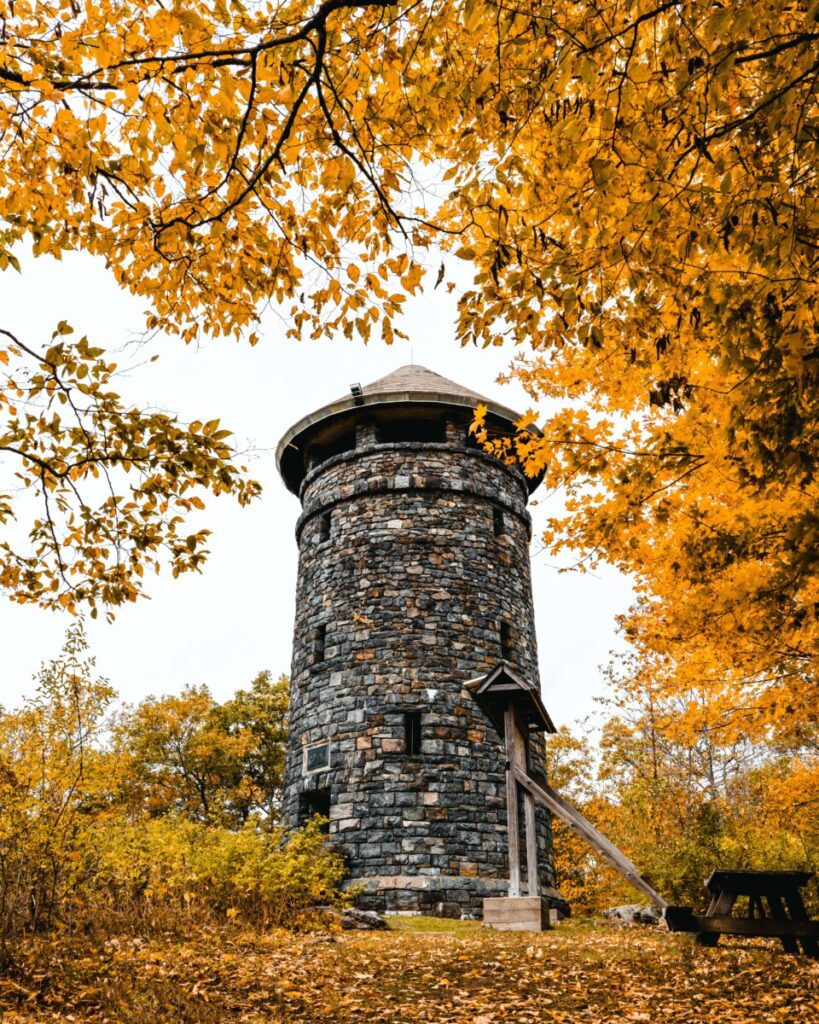 Enjoy a short scenic walk through the fall colors up to Haystack Mountain Tower. After about a 10-20 minute walk, you'll reach Haystack Tower, which was built in 1929 as a fire lookout tower. The tower is 34 feet tall and offers 360-degree views of the surrounding countryside, including the Berkshire Mountains to the north and the Connecticut River Valley to the south.
The Haystack Tower Trail Yellow Loop is about 1.8 miles round trip with 505 ft. of elevation gain. We'd recommend this hike to anyone as it's fairly short and family friendly.
Mount Tom State Park Tower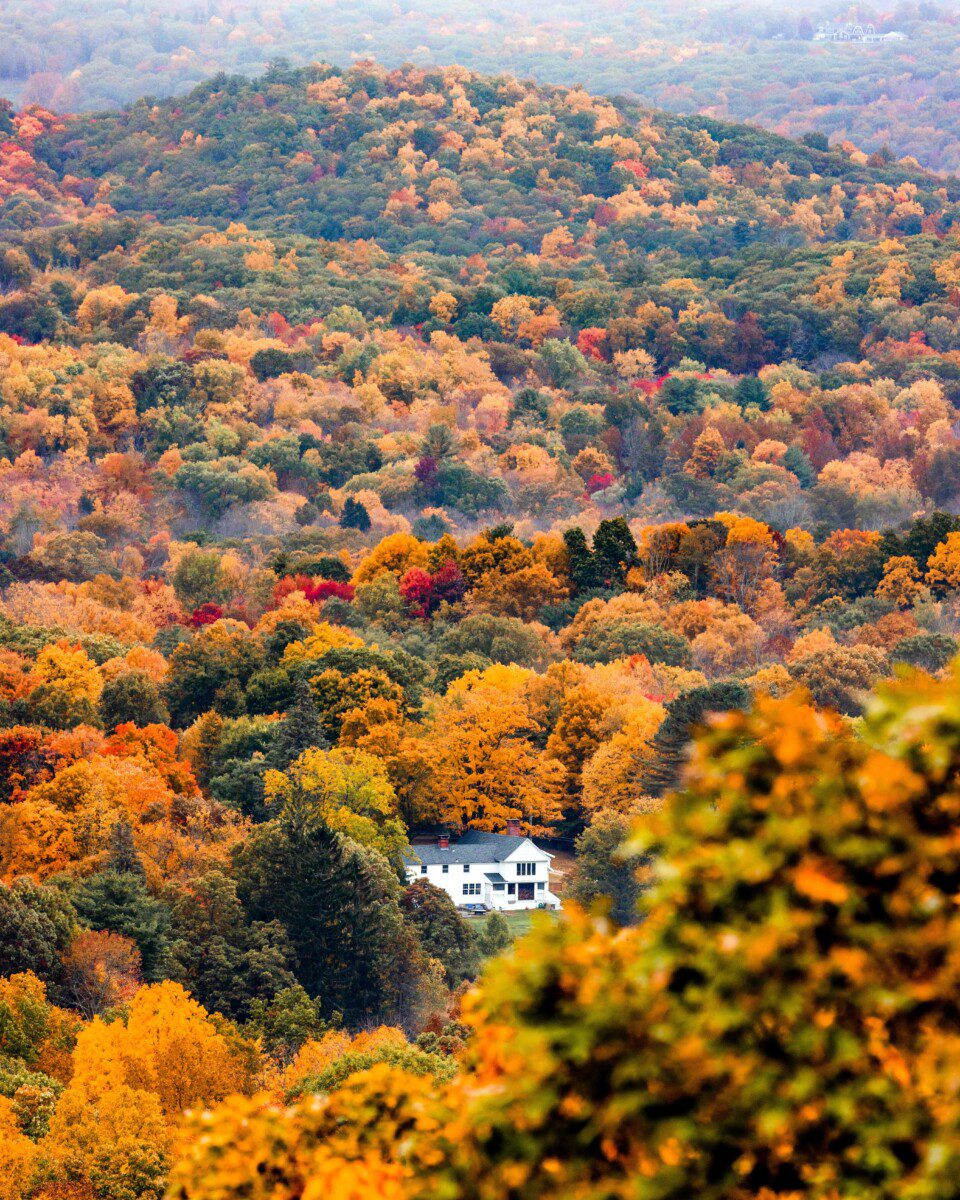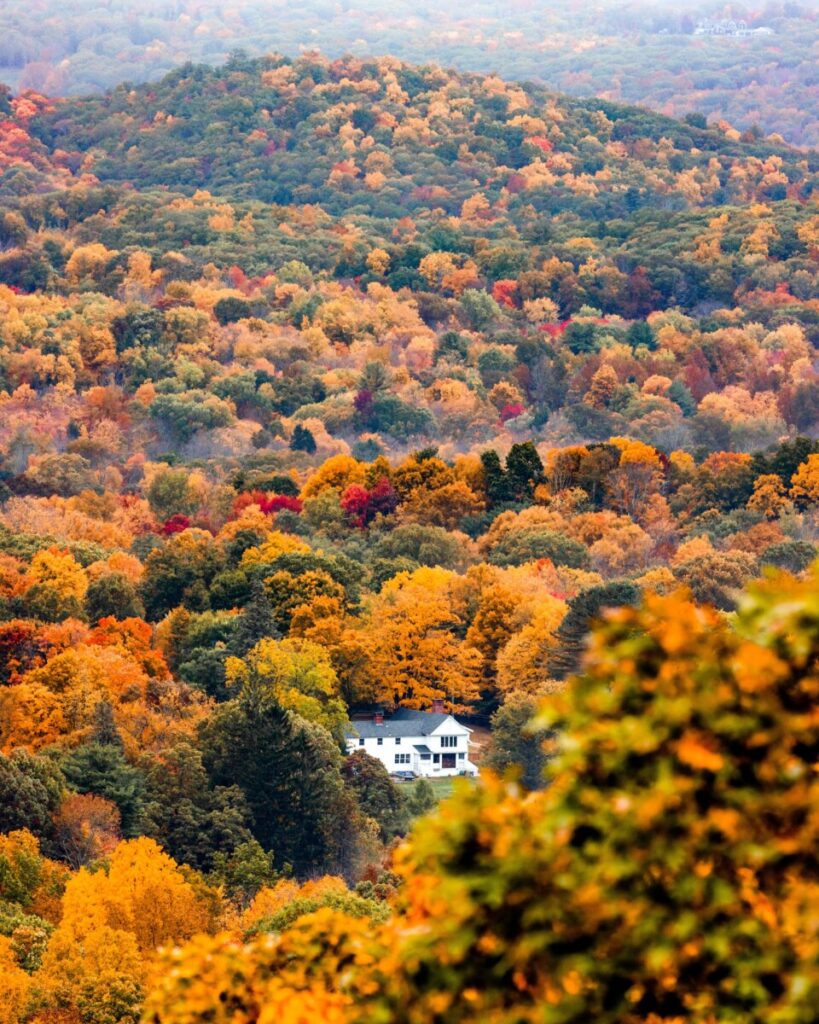 The Mount Tom Tower Trail was our favorite of the towers that we hiked to in Western Connecticut. It's a 1.3 mile out and back trail with 337 ft. of elevation gain. The Mount Tom Tower hike takes you up a small incline to overlook a gorgeous lake below. Once you reach the summit, you'll be rewarded with stunning panoramic views of the surrounding area. This region had great fall colors for mid-October.
Make sure to download the trail data ahead of time. When it is leaf peeping season, this trail can disappear as fallen leaves completely cover it and is slightly harder to follow. We'd recommend using All Trails or Gaia. Overall, it's a great hike for anyone looking for a rewarding view of the Connecticut countryside.
Castle at Talcott Mountain State Park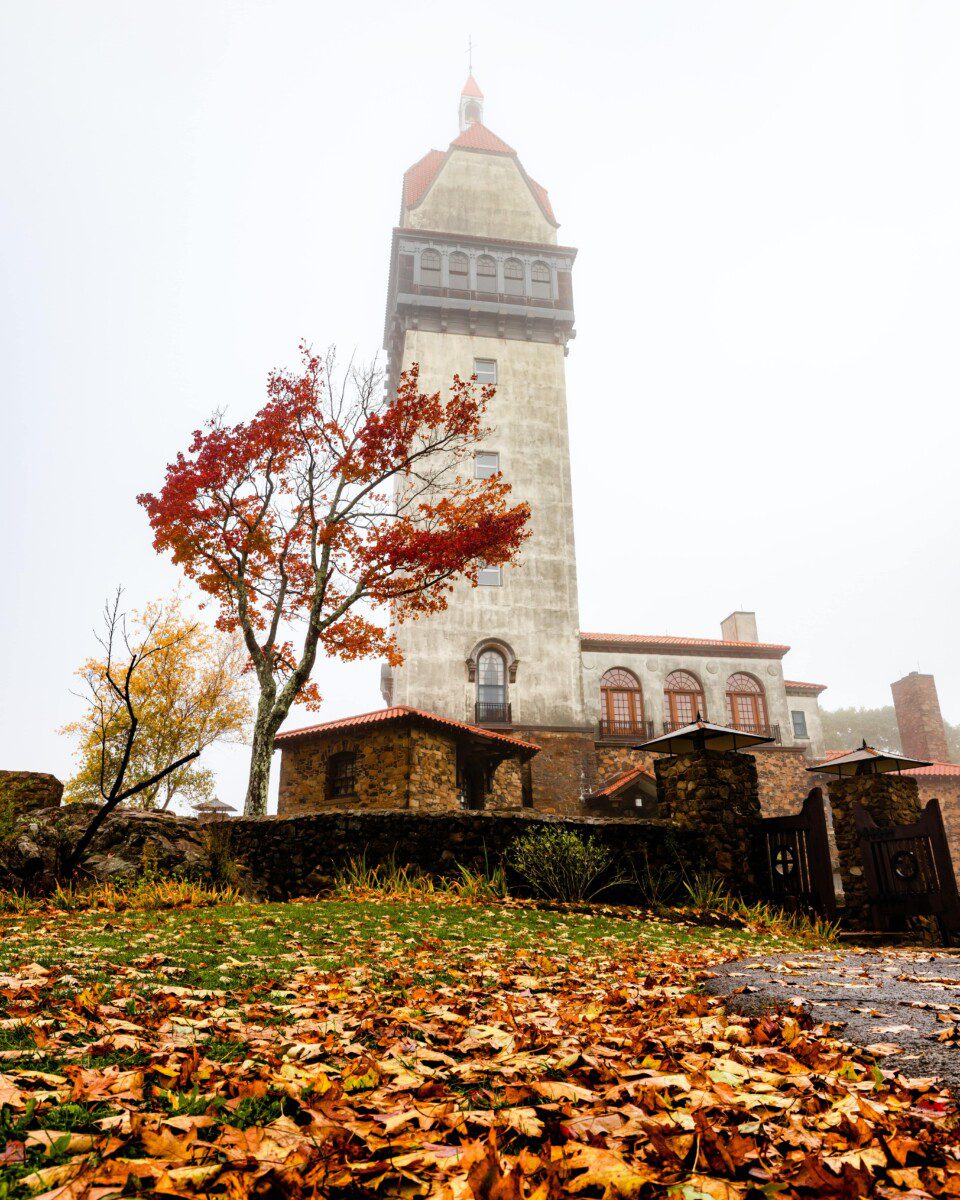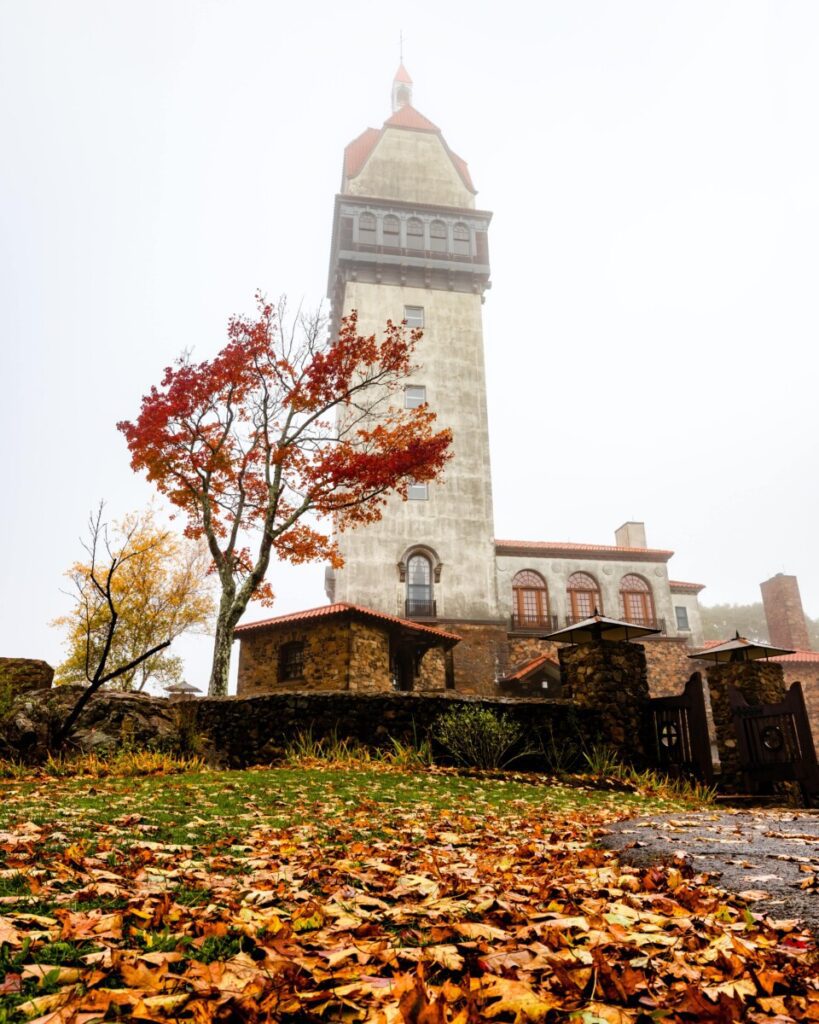 Talcott Mountain State Park is one of the most popular state parks in Connecticut, and for good reason. Hike up to Talcott Mountain's Heublein Tower by taking the Yellow Trail. Enjoy getting immersed in the beautiful foliage during the first half of the uphill climb on the hike. Once you reach the top of the trail, the tree line opens up for some incredible views of the hills all the way up until you reach the tower.
The hike is a 2.5 mile round trip loop hike with 245 ft. of elevation gain. Be aware that the hike starts with a fairly steep first half, but it flattens out considerably after the first mile.
Jessie Gerard Trail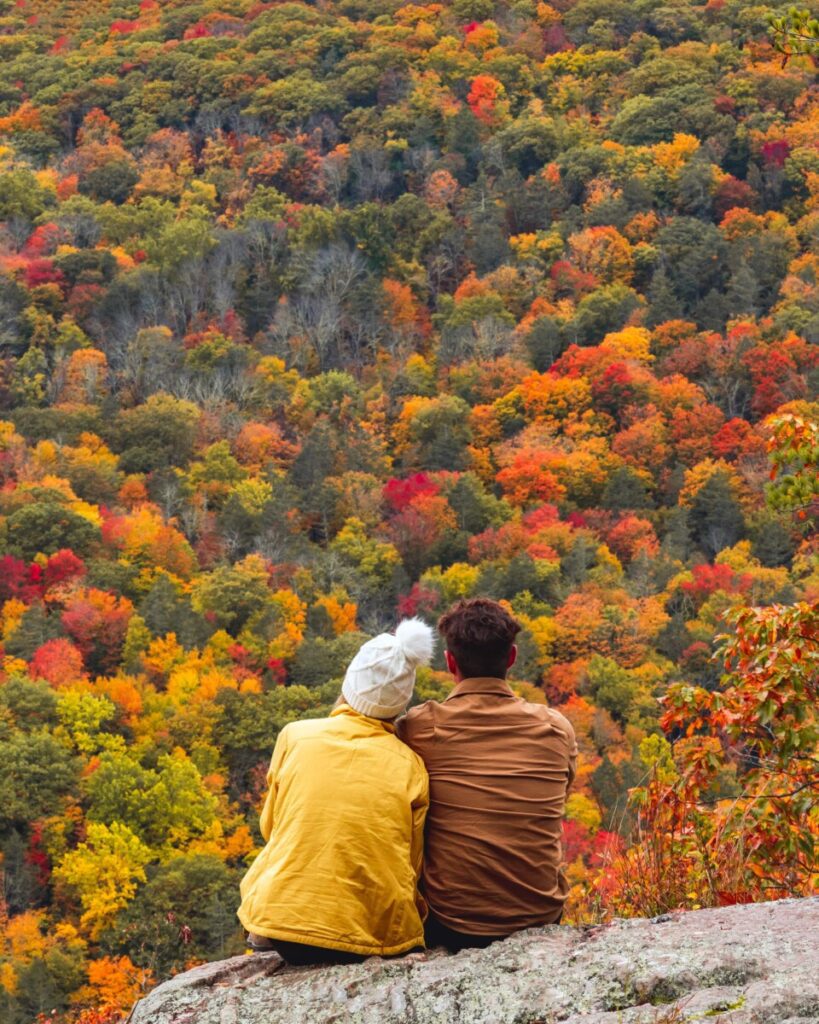 Located in the People's State Forest, the Jessie Gerard Trail is one of the best hikes in Connecticut for leaf peeping. Rated as moderate with some incline, the views up at Chaugham Lookout are unparalleled, especially if you catch it when the leaves are peaking!
Make sure to start the trail earlier in the morning since there is a limited amount of parking available. Also, make sure to wear proper hiking shoes and, if you like, bring hiking poles, since the trail is fairly slippery next to the flowing rivers.
Chauncey Peak Trail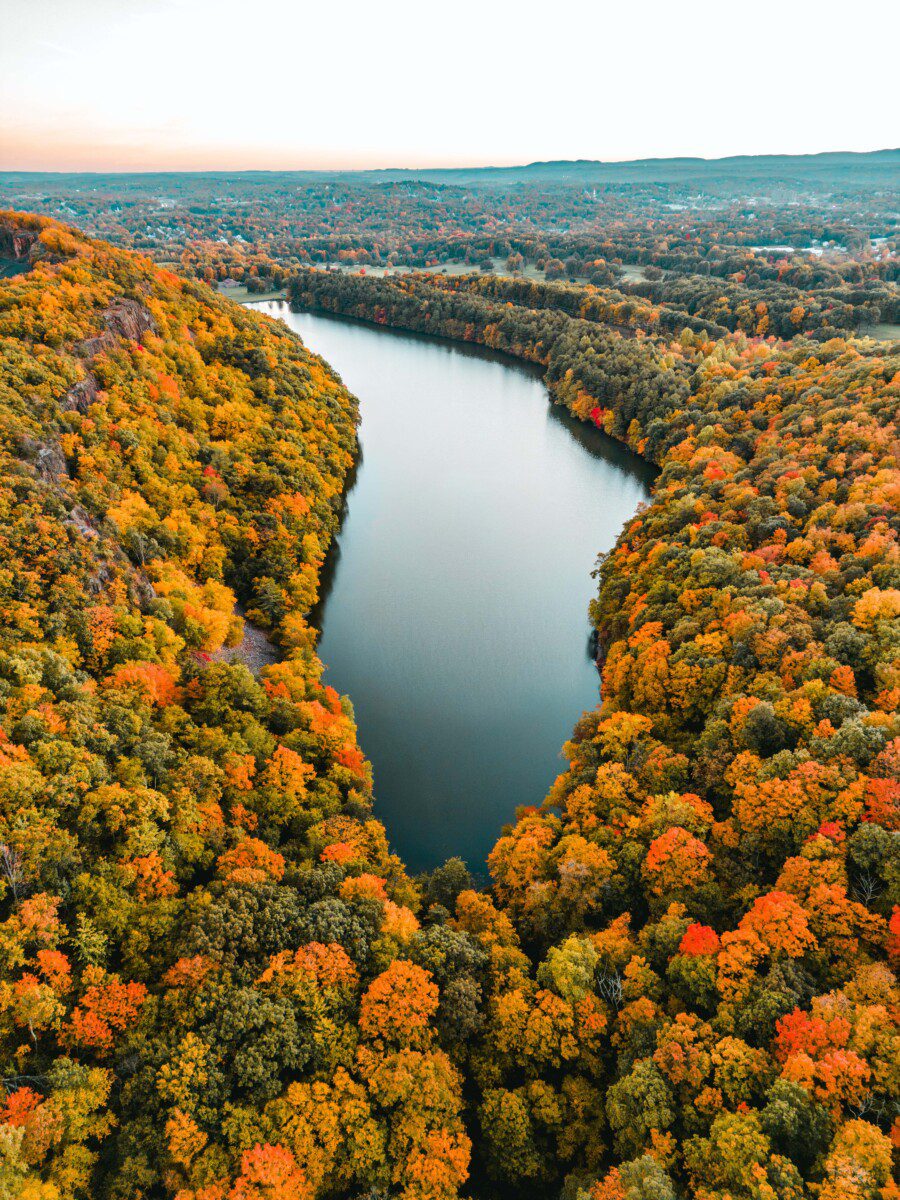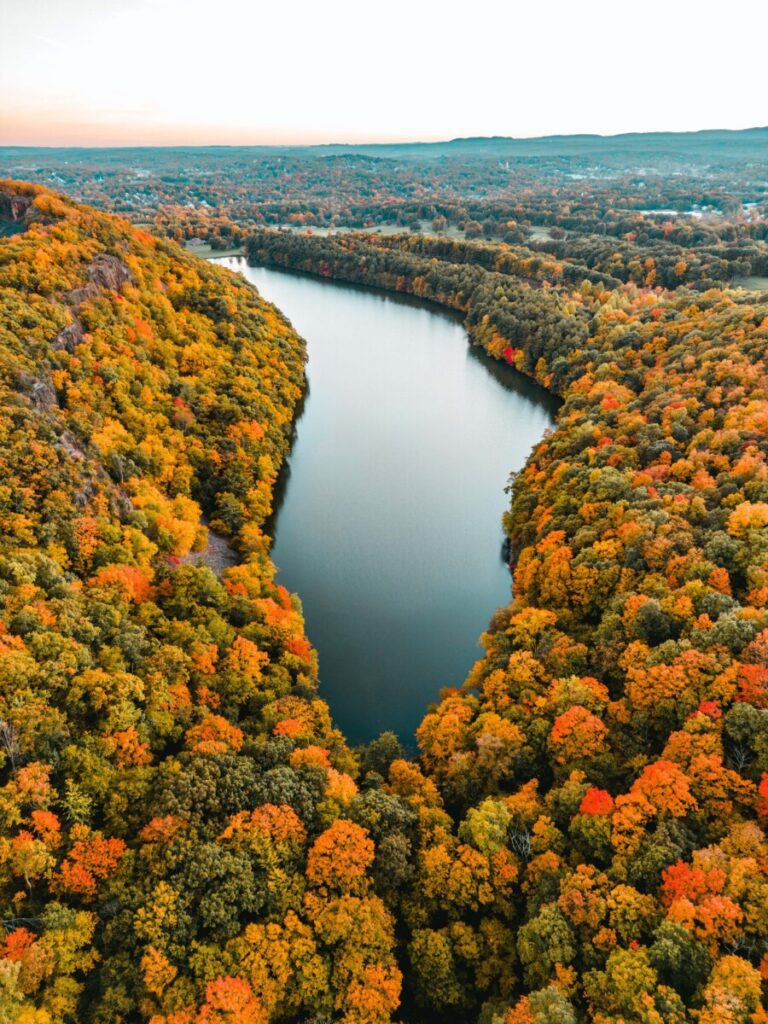 The Chauncey Peak Trail is a 2.2 mile loop that gives you stunning views above the tree line of the reservoir in Meriden. We'd recommend doing the trail counter clockwise to avoid having to go down the steeper rock walls, although this does mean that most of your elevation gain is in the beginning of your hike.
We'd recommend going at sunrise or sunset to capture the leaves here. We went at sunset and it was perfect for prime golden hour photos of the area. 
Macedonia Brook State Park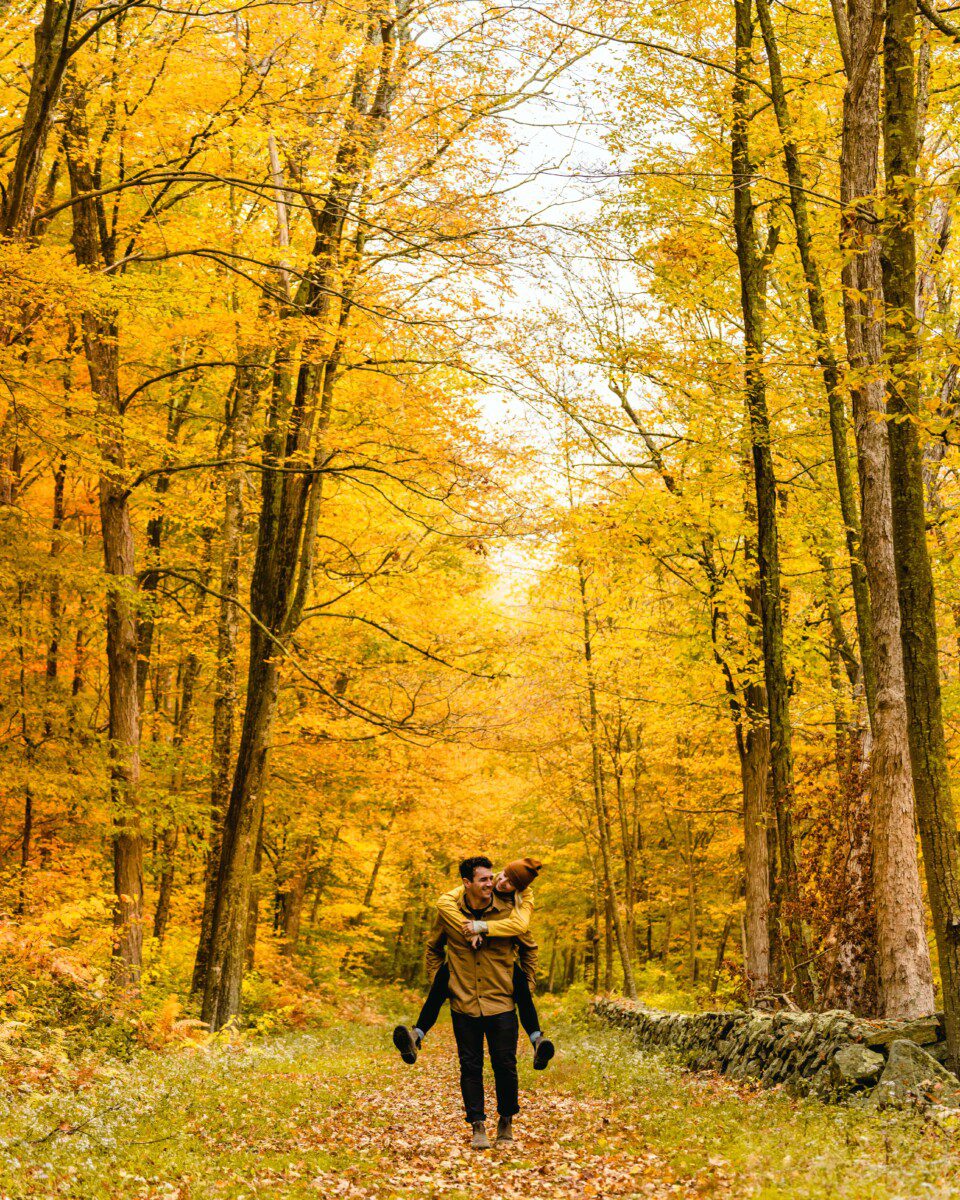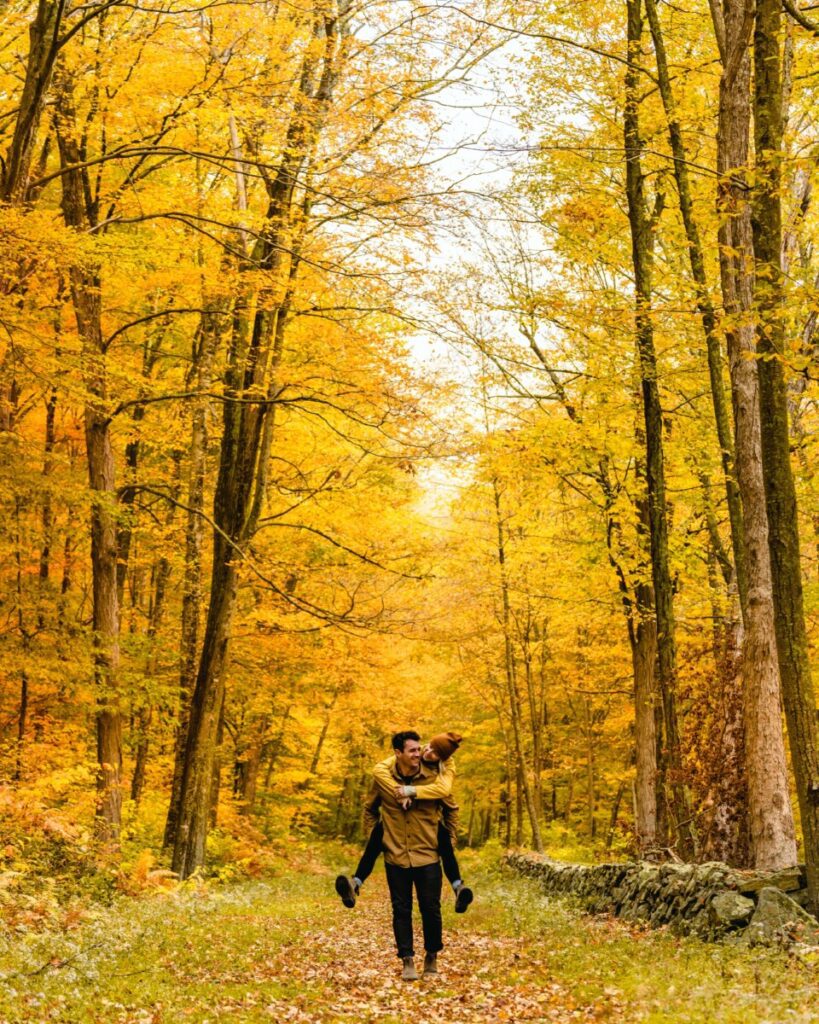 Macedonia Brook State Park in Connecticut is a great destination for viewing fall colors. The park boasts over 2,300 acres of forest, including a mix of hardwood and evergreen trees. There are several hiking trails throughout the park that offer scenic views of the surrounding hills and valleys, and the fall foliage can be particularly stunning.
Popular trails include the Blue Blaze Trail, which follows a stream through a hemlock grove, and the Cobble Mountain Trail, which offers panoramic views of the surrounding area. Additionally, there are several picnic areas in the park where visitors can relax and enjoy the fall colors.
Other Stops to Add to Your Connecticut Fall Foliage Road Trip Itinerary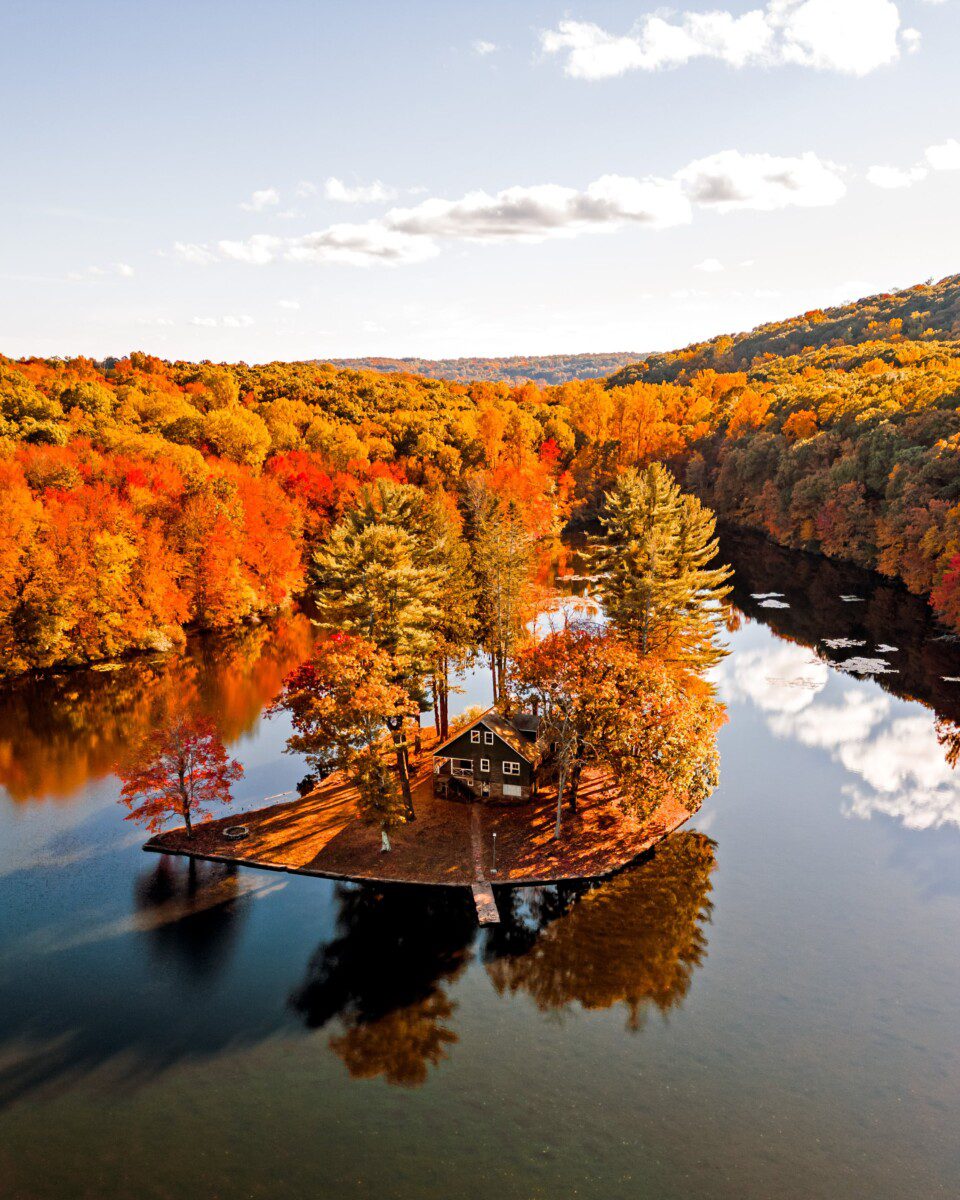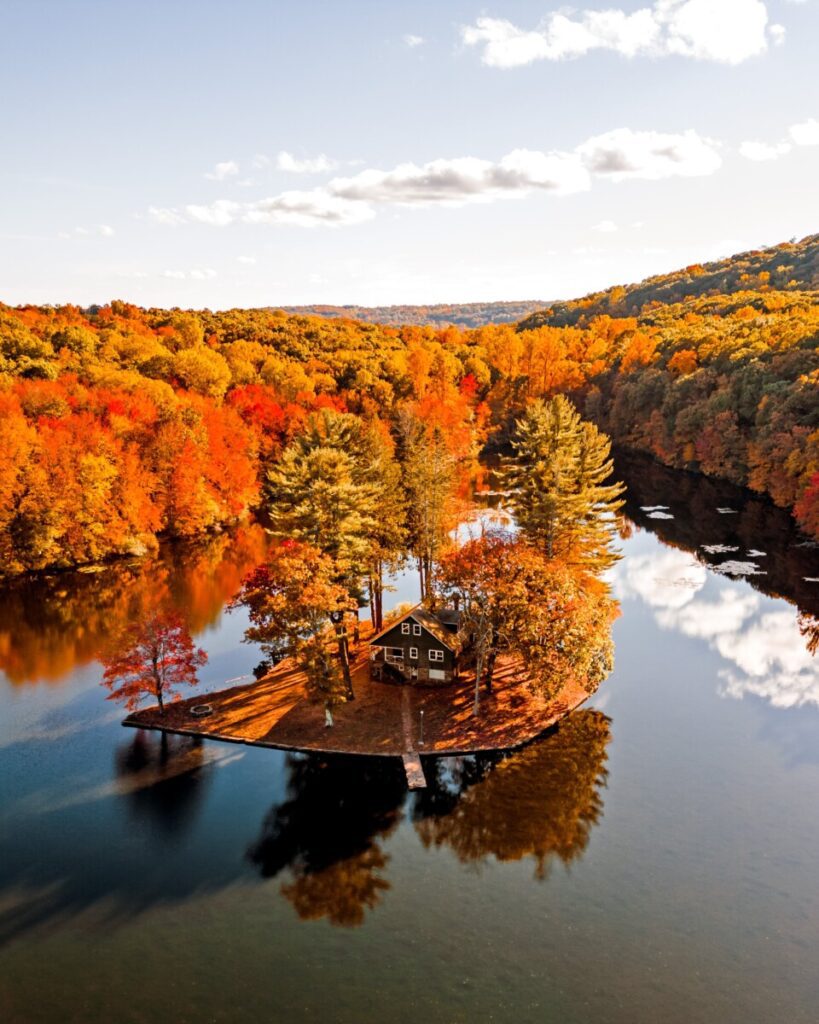 Matthies Memorial Park in Beacon Falls
This is one of the most unique places to see fall colors. There's an abandoned house in the middle of the lake here which makes for incredibly picturesque photos when the surrounding leaves are changing colors.
The Thoreau Bridge is a beautiful old 134 foot long suspension bridge in Hidden Valley Preserve. You can add it as a part of your hike to the Memorial Bridge following this trail. The bridge has inscriptions with famous quotes from the late author and is a hidden gem among the fall foliage lookouts in Connecticut.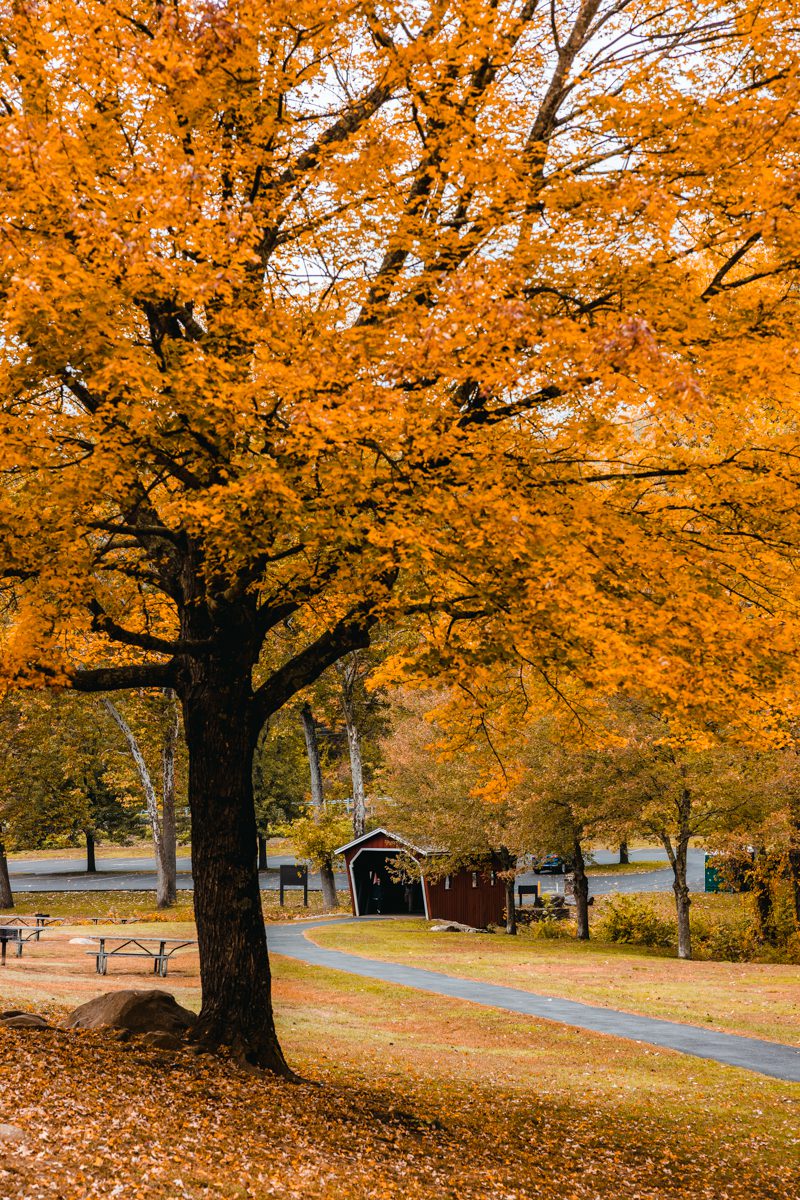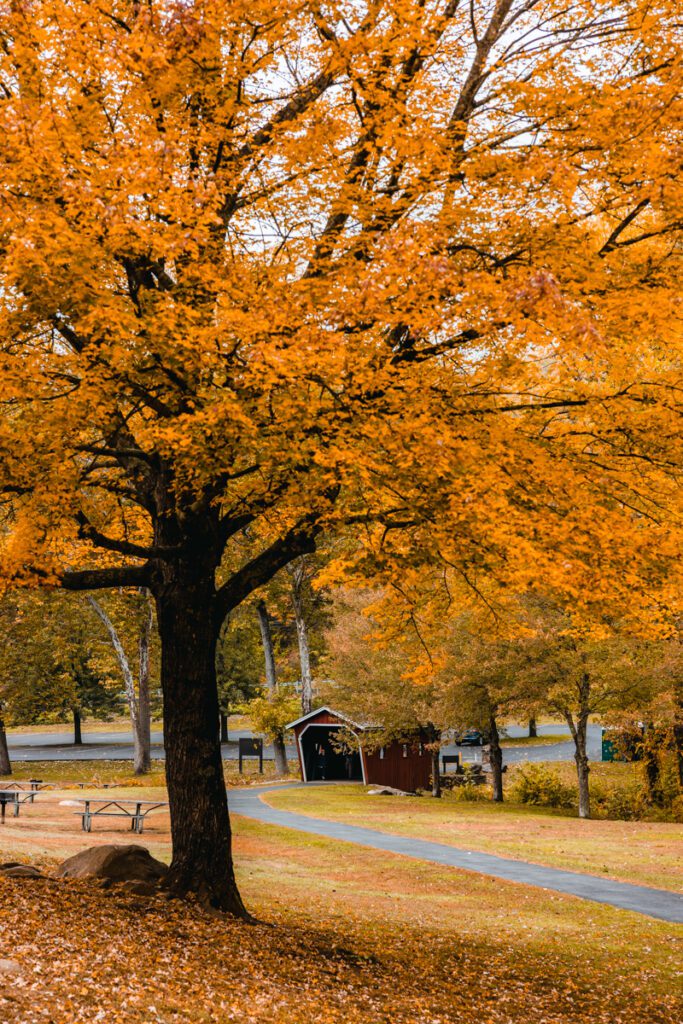 Bulls Covered Bridge
The East Coast is home to various covered bridges throughout the New England region. The Bulls Covered Bridge is right next to the Kent Falls State Park Area that was built back in 1842. It's one of Connecticut's few remaining functional covered bridges.
Lovers Leap Bridge
Lovers Leap Bridge is a very photogenic red lenticular truss bridge over the Housatonic River located in Lovers Leap State Park in New Milford, Connecticut.
Dennis Hill State Park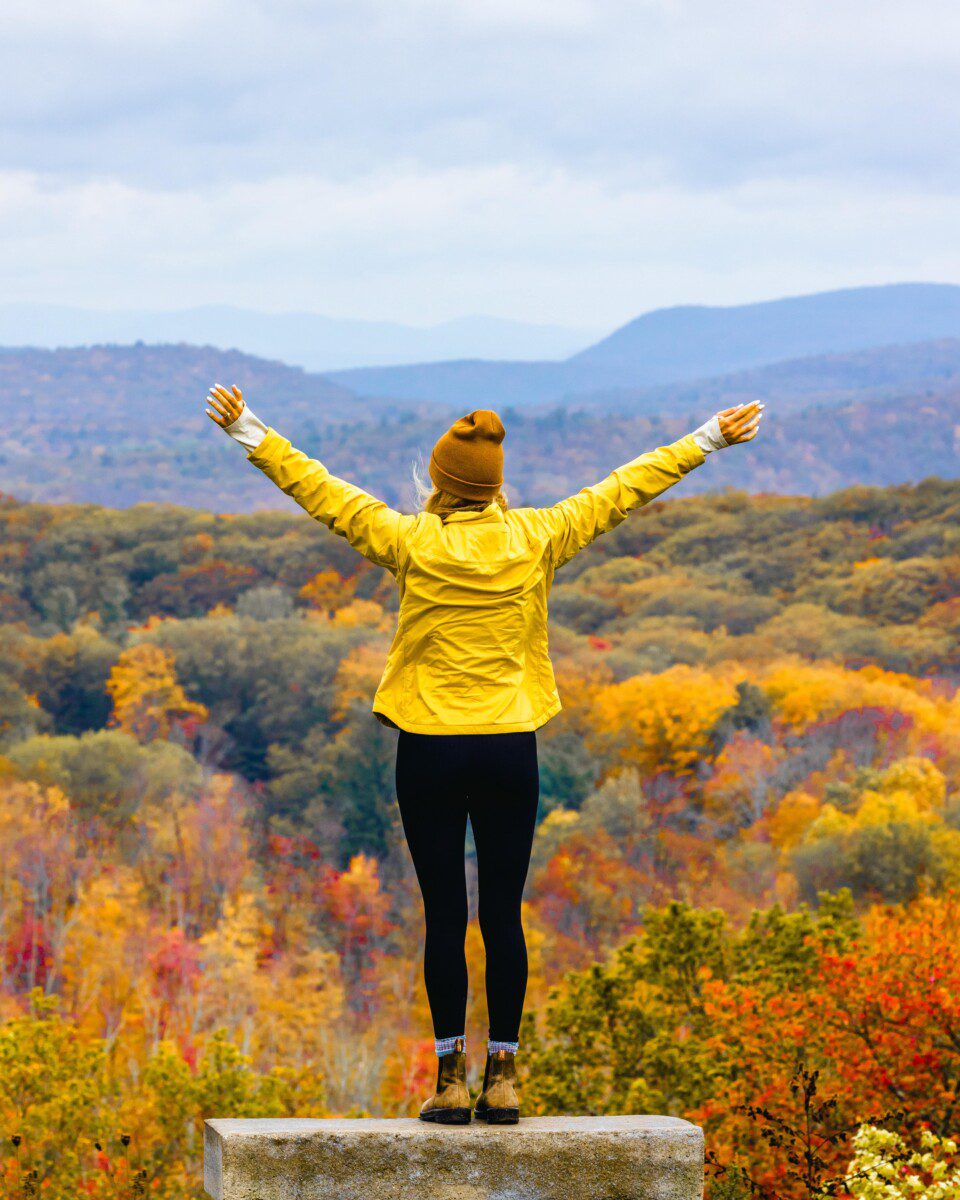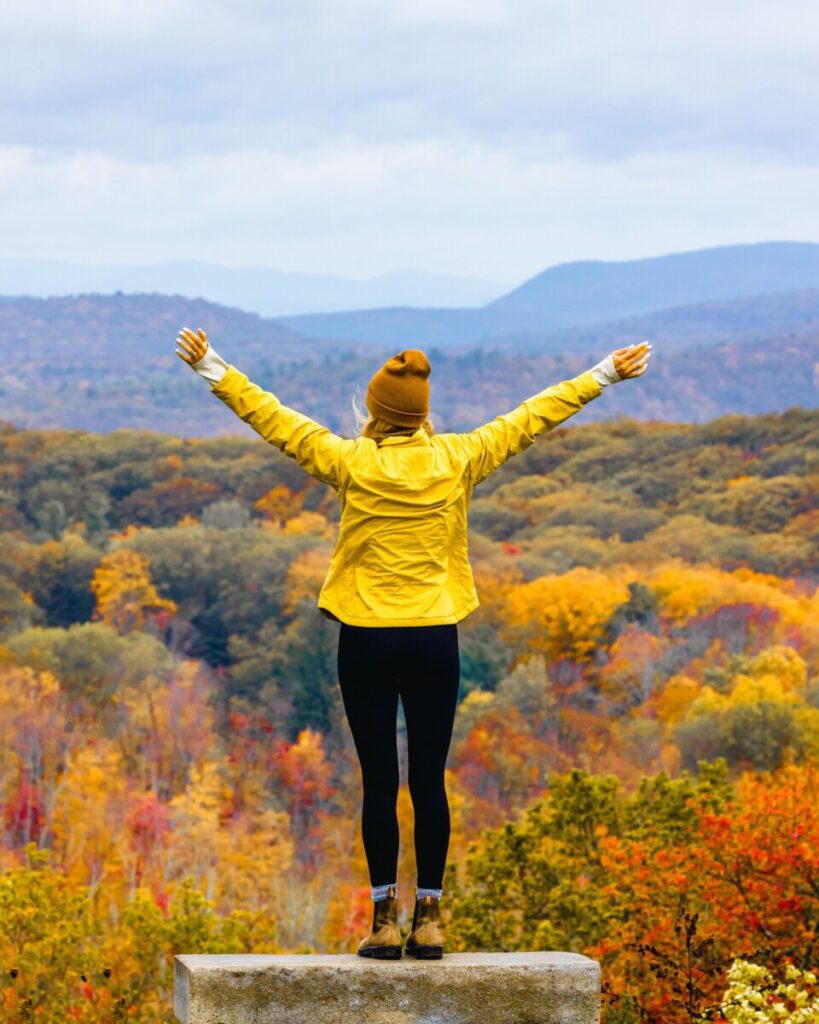 Dennis Hill State Park in Connecticut is a great spot for viewing fall colors. The park is located on a hilltop and offers panoramic views of the surrounding countryside, including the Housatonic River Valley and the Berkshire Mountains. You can also take a short walk to the summit for even more expansive views.
Finalizing Your Fall Colors Trip to Connecticut
Of course, there are many other beautiful hikes, scenic drives, and bridges in Connecticut to catch the changing leaves. However, if you only have a weekend or a few days, this guide is perfect for a quick road trip to see some of the highlights.
If you have more time to explore western Connecticut, you can add on hikes such as the Sleeping Giant Trail, Bear Mountain, Rattlesnake Cliff, Castle Craig and more hidden gems around the area to extend your leaf peeping adventure.
Overall, you should definitely add a Connecticut Fall Foliage Road Trip to your bucket list. Enjoy getting immersed in the beautiful yellows and reds. For more information on planning your fall colors activities, check out CTvisit for more fall trip planning resources. Planning on visiting the rest of New England for your fall colors road trip? Check out our leaf peeping guide to New Hampshire too!