Ultimate Guide to Visiting Havasupai in 2023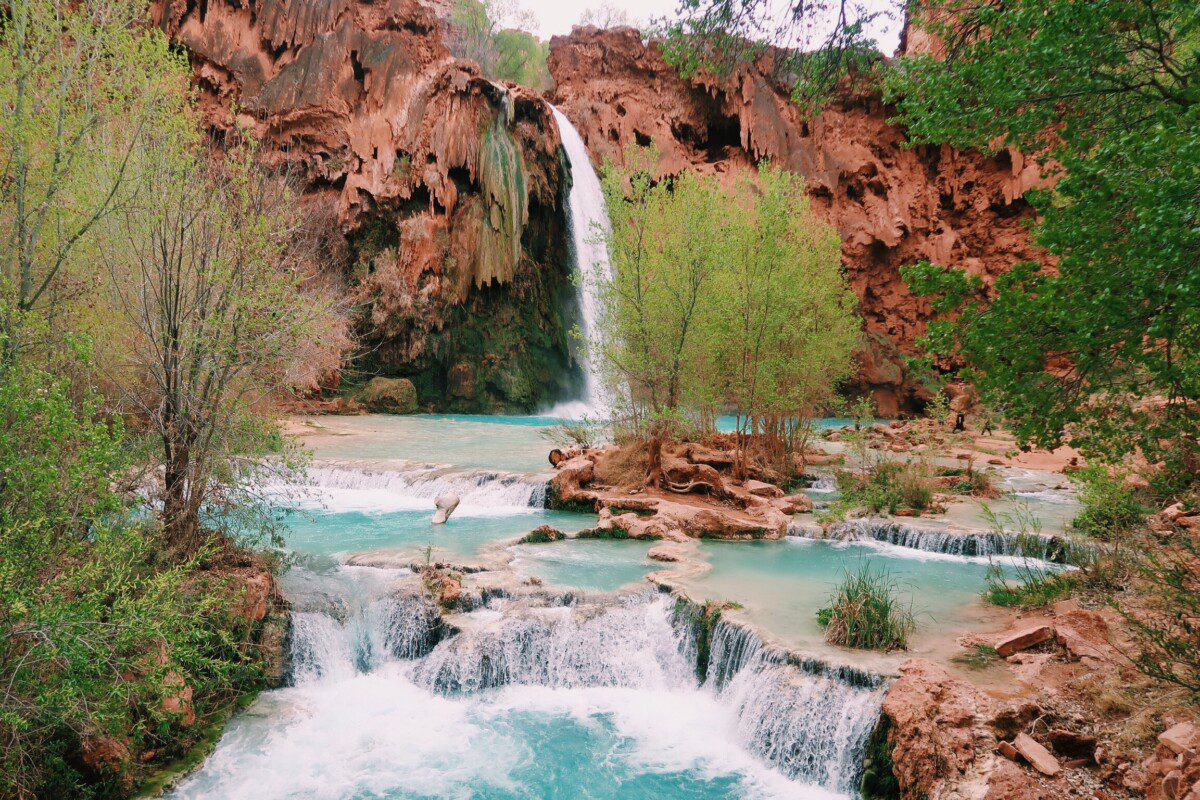 Havasupai, located in the Grand Canyon, is a beautiful oasis that beckons hikers and backpackers from all over the world. Known for its crystal-clear turquoise waters and stunning waterfalls, Havasupai is a dream destination for adventure seekers who want to experience the natural beauty of the canyon.
Stephen and I had the pleasure of visiting Havasupai back in March of 2019. It was our first backpacking trip together and we have sense backpacked hundreds, if not thousands, of miles together. Seeing this bucket list destination in Arizona should be on everyone nature lover's to do list at least once.
If you're planning on backpacking to Havasupai, this ultimate guide to visiting Havasupai in 2023 will go over everything you need to know to make your adventure a success. This year looks a bit different in terms of the planning process due to it's first year reopening since COVID-19, so let's get into it!
What to Know Before You Go to Havasupai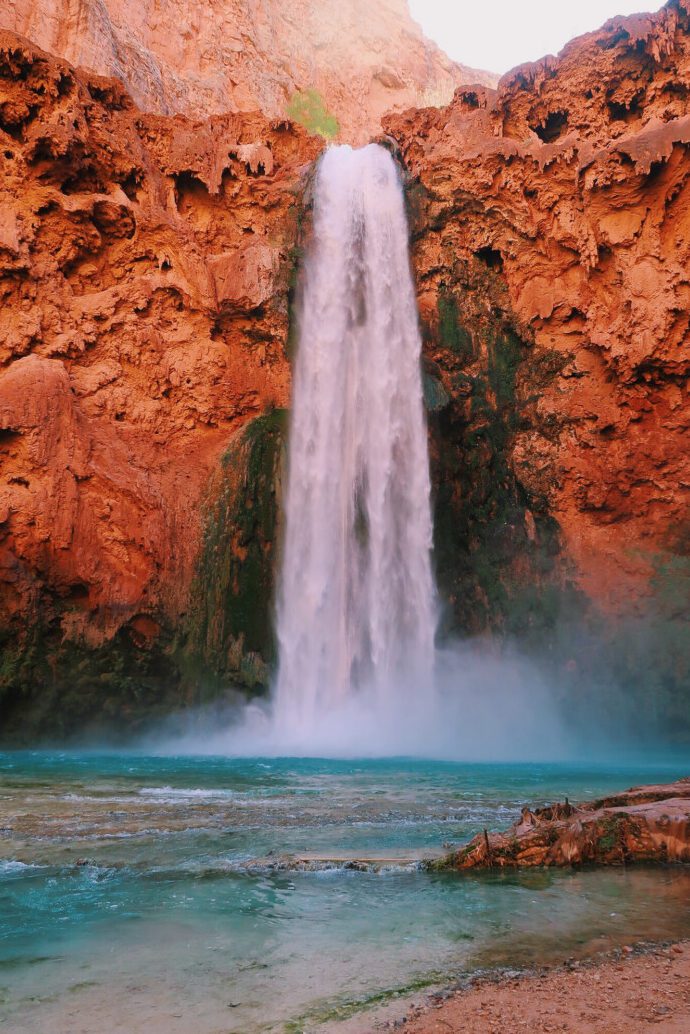 The History of Supai, Arizona
The Havasupai, which means "people of the blue-green water," are a Native American tribe that has lived in the Grand Canyon region for over 800 years. The tribe has a rich cultural and spiritual history that is deeply connected to the land and the waterfalls that are found throughout the area.
In the 19th century, the Havasupai people were forced to deal with a number of challenges as European settlers and miners began to move into the Grand Canyon region. The Havasupai were forced to relocate several times, and their traditional lands were taken from them by the United States government. In the 1970s, the Havasupai successfully fought to regain control of their traditional lands and established the Havasupai Indian Reservation.
The Indian Reservation is home to some of the most gorgeous waterfalls in the United States. For years, the Havasupai Tribe has graciously allowed backpackers from all over the world onto their land to witness the incredible nature of the turquoise waters in their backyard.
Best Time to Visit Havasupai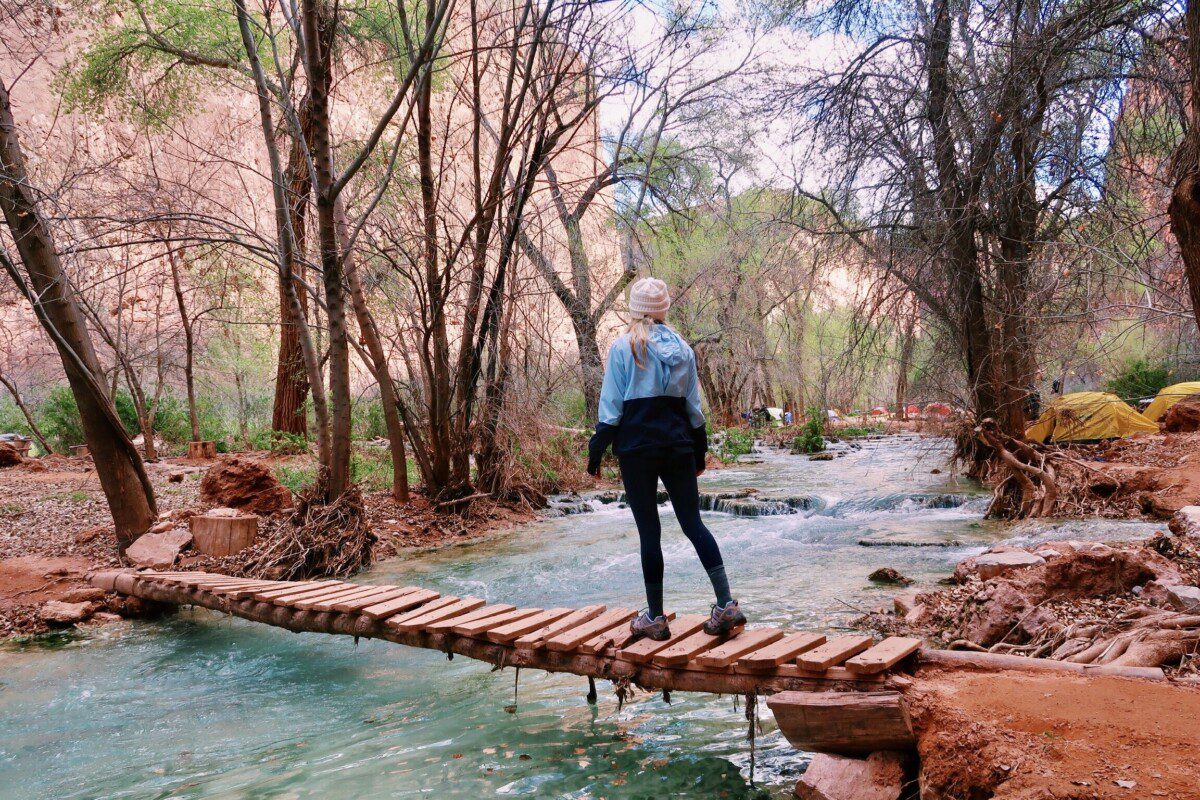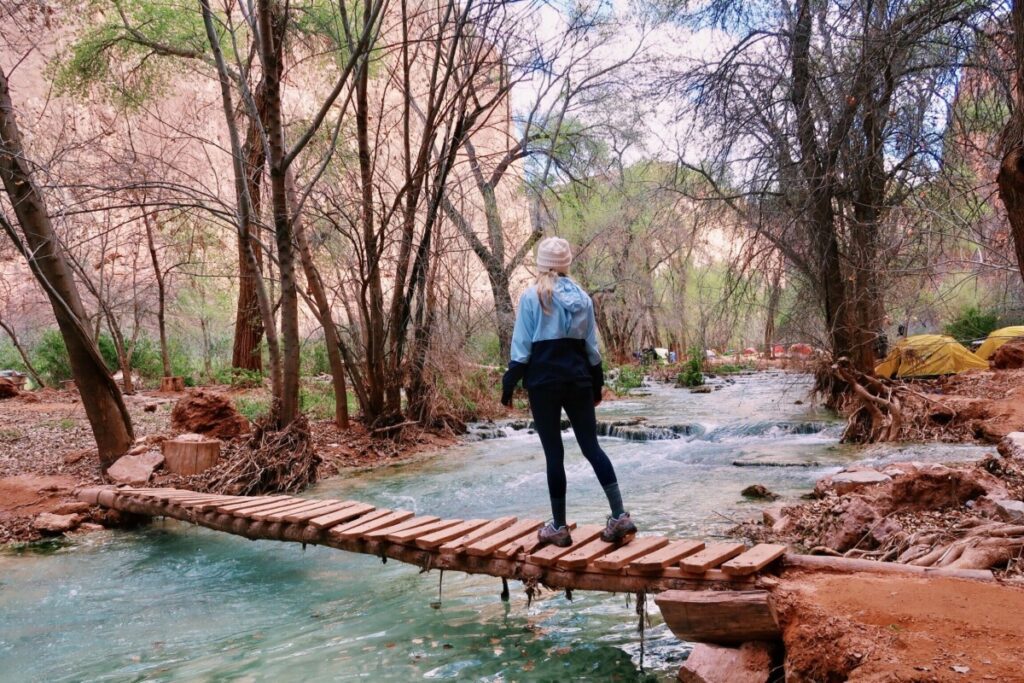 If you want to experience the best weather in Havasupai falls, you have to plan ahead when booking your permits. The top time to visit Havasupai is during the shoulder seasons, from March to May and from September to November. During these months, the weather is mild, with daytime temperatures ranging from the 70s to 80s°F (20s to 30s°C) and cooler nights. The weather is generally dry, with less chance of rainfall, and the waterfalls are flowing well from the winter snowmelt. However, this time is also the most sought after date range for permits.
In contrast, the summer months from June to August are very hot in the Grand Canyon, with daytime temperatures often exceeding 100°F (38°C). This can make hiking and camping in the area more challenging, especially for those who are not used to the desert heat. We never recommend hiking when it's that hot due to heat exhaustion and heat stroke risks. Moreover, there is an increased risk of flash floods, which can be dangerous and unpredictable.
If you do end up with reservations in the middle of summer, we'd recommend only hiking into the village at sunrise or sunset to prevent heat related illnesses and injuries.
Winter months, from December to February, can also be challenging, with cold temperatures and snow on the ground, which makes hiking difficult. Some parts of the trails may be closed during the winter season due to snow or icy conditions.
No matter which time you choose, Havasupai has plenty to explore year round with proper packing and training.
Getting Permits to Havasupai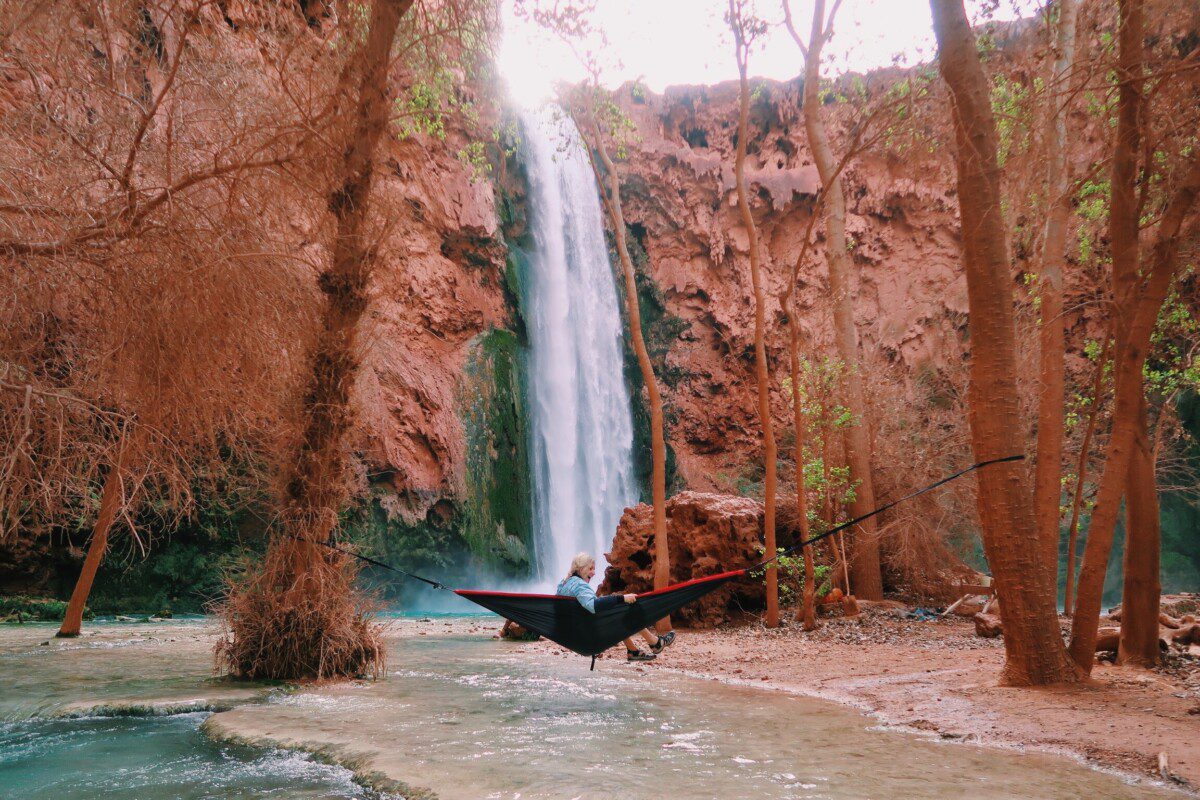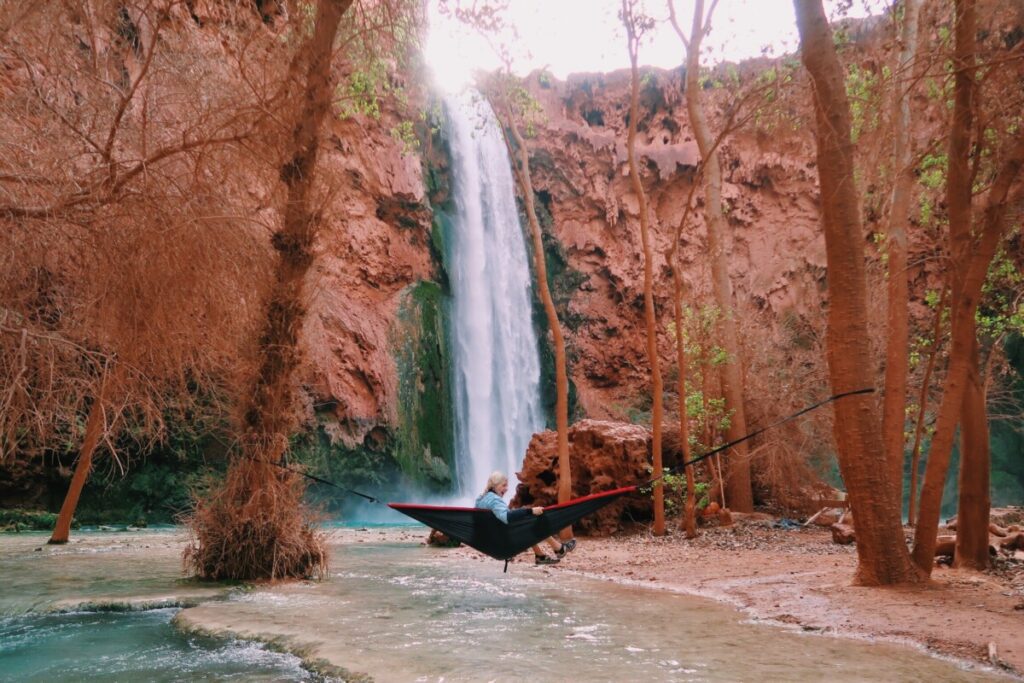 Since Havasupai has grown in popularity to the point of potential overtourism pre-covid, there are permit systems in place in order to gain access to the beautiful area.
Before you start planning your trip, check the availability of permits on the Havasupai Reservations website. Permits for Havasupai Falls are limited, and they sell out quickly, especially during the peak season (March to May and September to November). New cancellations are uploaded on the website everyday at 8am.
Typically, permits for Havasupai are released every year on February 1st at 7am PST. It's an extremely stressful process since the server often crashes and reservations go as quick as the Taylor Swift Ticket debacle on Ticketmaster in 2022. You'll need to have an account made ahead of time on their site as well.
However, in 2023, unlike prior years, they are not issuing any new permits. This is due to the incredible backlog of permits from the past few years over closures related to COVID-19. Previous year's permit holders have priority of using their old permits this year over their exact same dates.
So, how can you get a permit to backpack Havasupai in 2023 then?
Great question. The only way to get a permit to the beautiful turquoise waterfalls this year is by scoring a permit from the cancellations and transfers page.
Havasupai's Cancellations & Transfers Page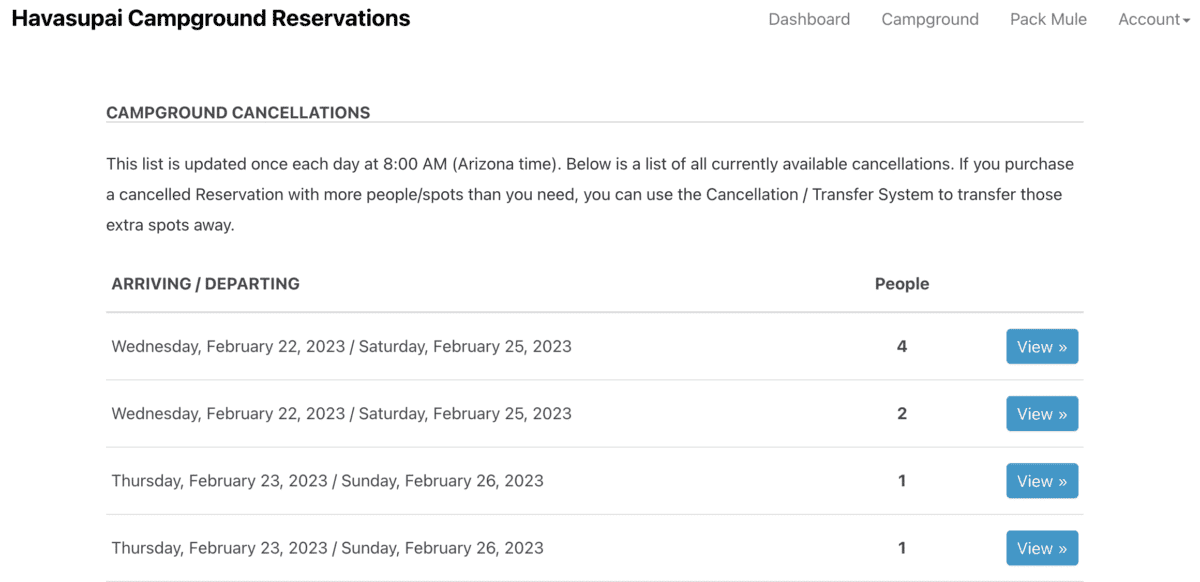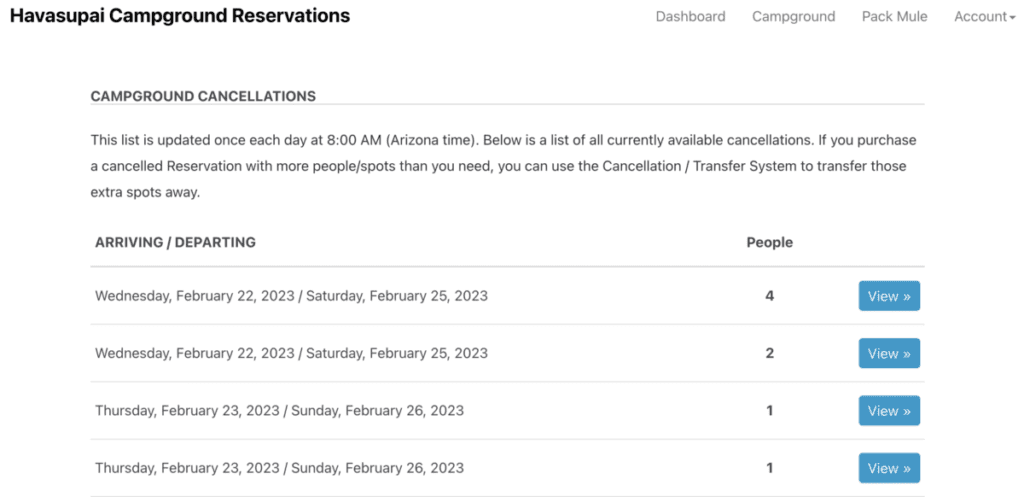 The cancellations and transfers page is essentially a re-sale marketplace for overnight permits. The tribe doesn't issue refunds, so the best way to get your money back from a previous purchase is to sell your permits via this site. To prevent 3rd party reselling, this page simply transfers the reservation between two parties in the event the original permit holder can no longer use their permits.
This way is actually how Stephen and I have gotten permits both in 2019 and in 2020 (yes, we still have held on to permits from 3 years ago to use this year.)
In order to make a reservation from this page, you'll need to have a registered account on the tourism website. Also make sure to have your credit card ready, as you'll need to pay for the permits and camping fees at the time of booking.
Every day, cancellations are released in the morning at 8am Arizona time, so it's important to hop on the site right when they are released to get first dibs on upcoming cancellations.
What To Do Once You Book Your Havasupai Permits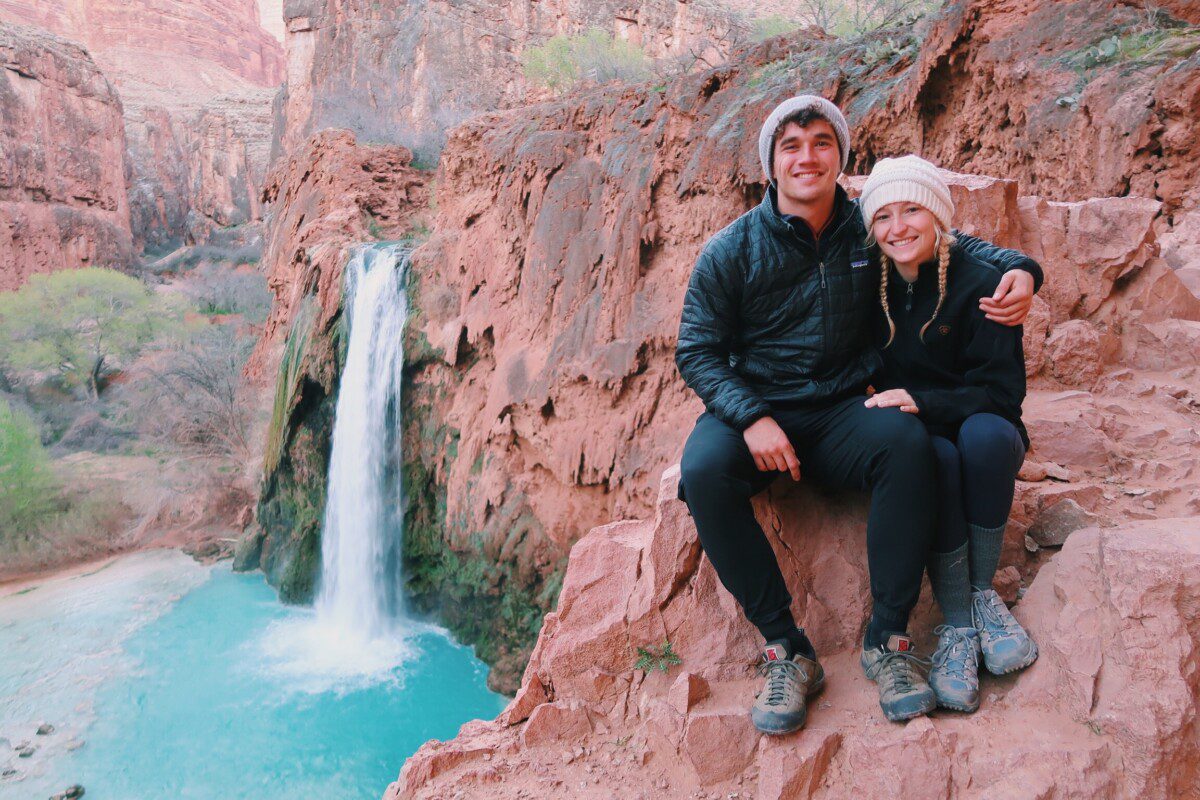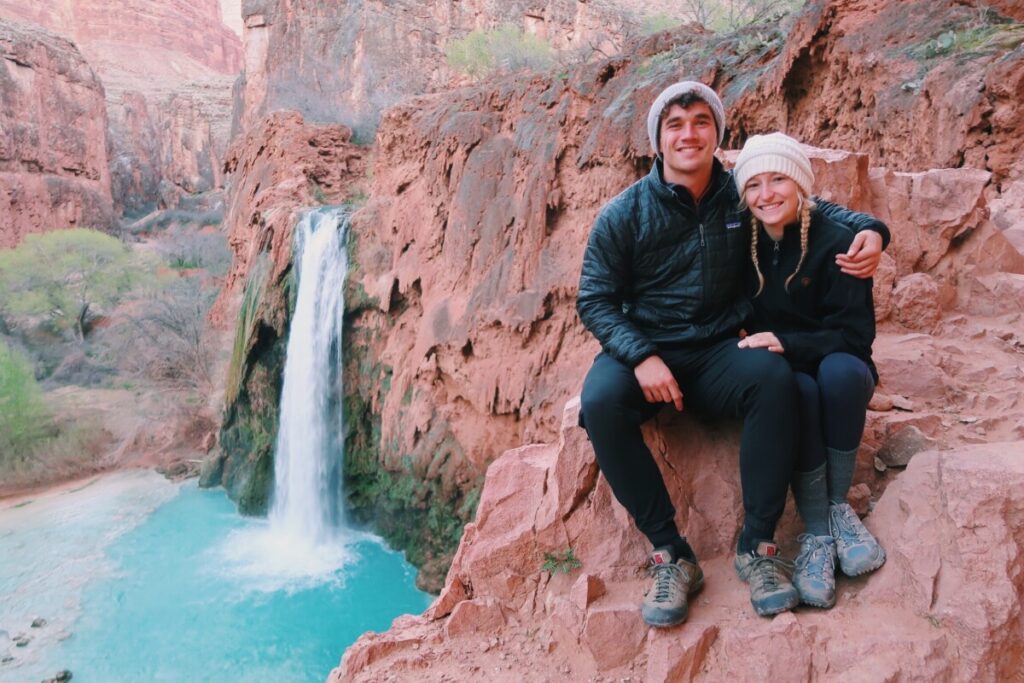 After booking your permits, you will receive a confirmation email or letter from the Havasupai Reservations office. Make sure to read it carefully, as it will contain important information about your trip, including your permit details, camping locations, and rules and regulations.
It's important to note that backpacking to Havasupai is a popular activity, and permits can sell out months in advance. So make sure to plan your trip well in advance and book your permits from the transfers page as soon as possible to avoid disappointment.
2023 Permit Check In Process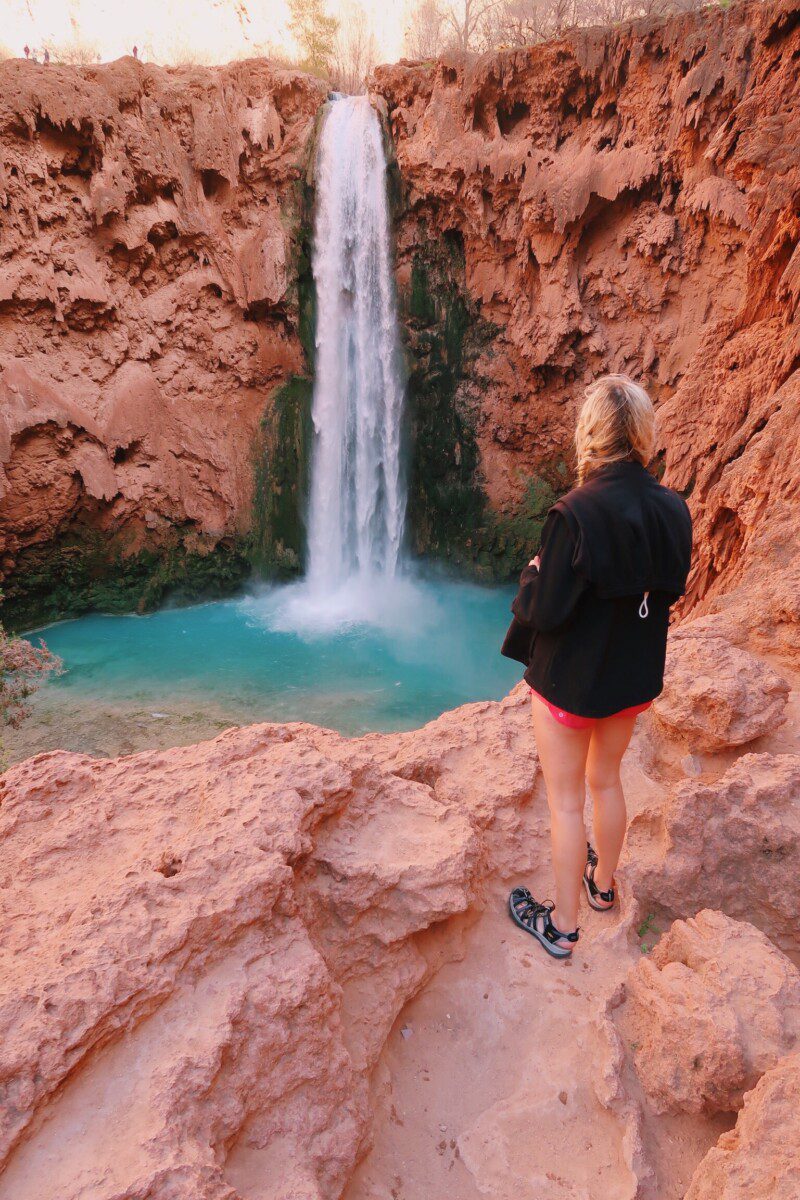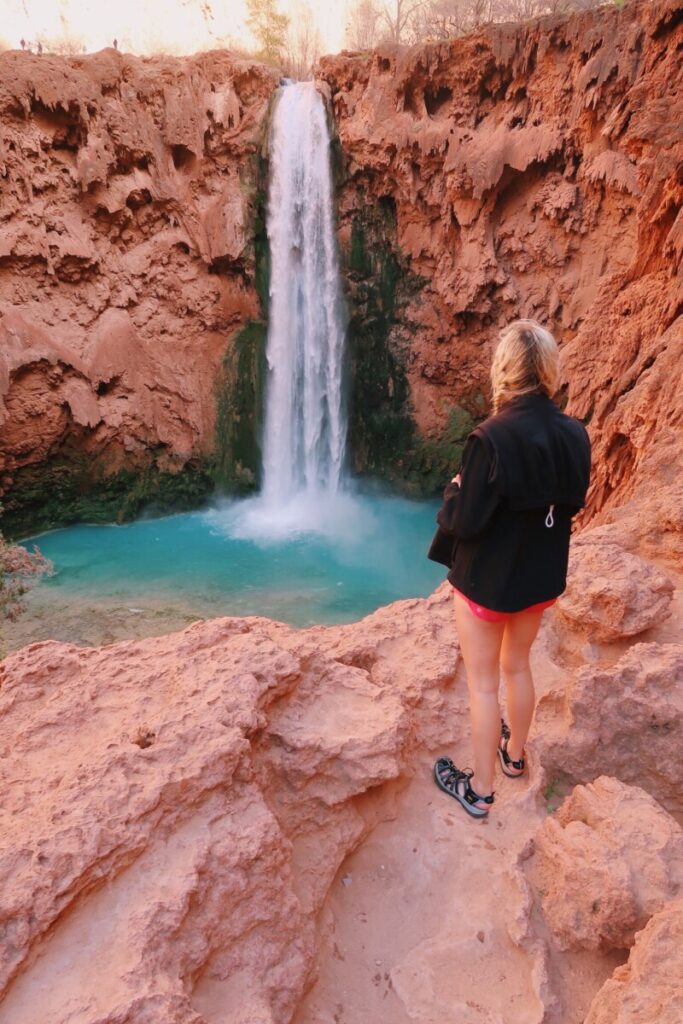 Unlike years prior where check in occurred close to the campsites, check-in for all permit reservations will now take place at Grand Canyon Caverns Inn. If you are a trip leader, you'll have to check-in for all members of your group. You can do this beginning the day before your arrival date and no later than noon on the first day of your reservation.
Failure to properly follow the new check in protocols will result in your reservation being cancelled without a refund or chance to reschedule.
The trip leader will need to provide photo ID to receive all permits, wristbands, bag tags, and an entrance form, which will need to be completed and shown to the Havasupai Reservation boundary checkpoint staff. These documents are necessary to be allowed to enter the Havasupai Reservation boundary checkpoint, approximately 5 miles from Hilltop (the trailhead).
How to Get To The Havasupai Trailhead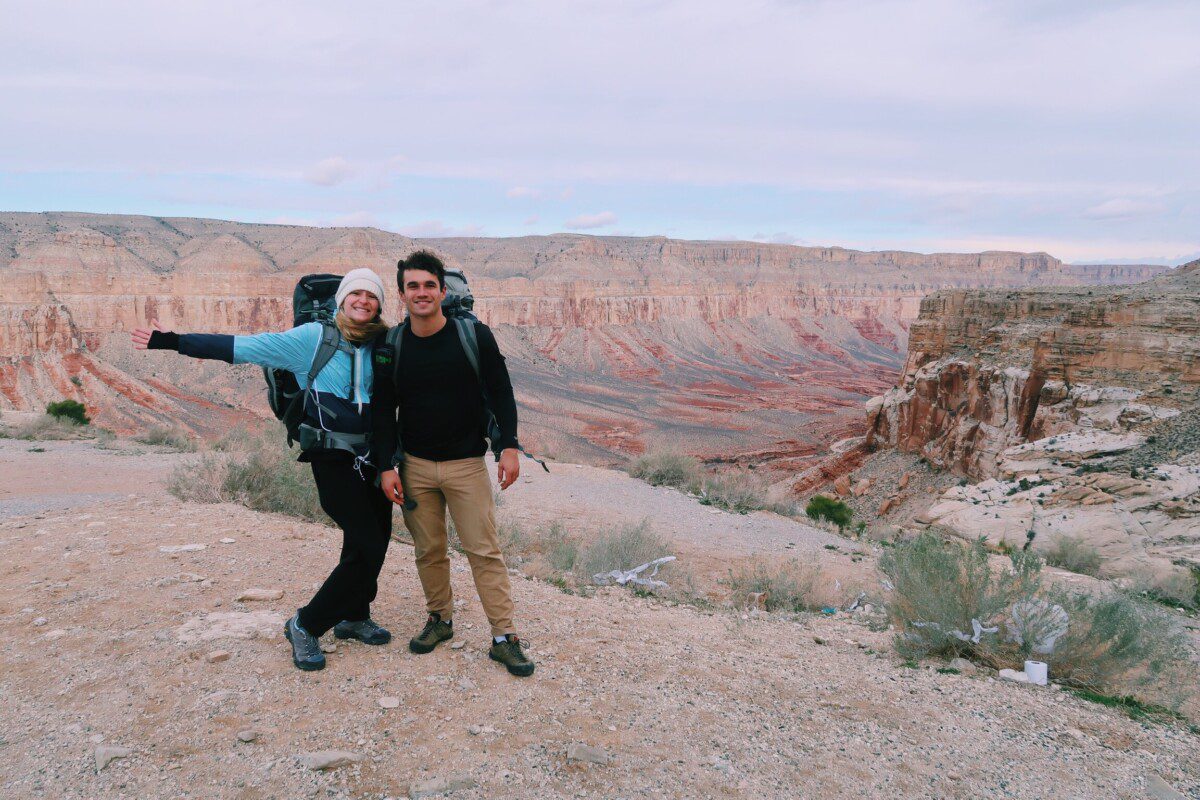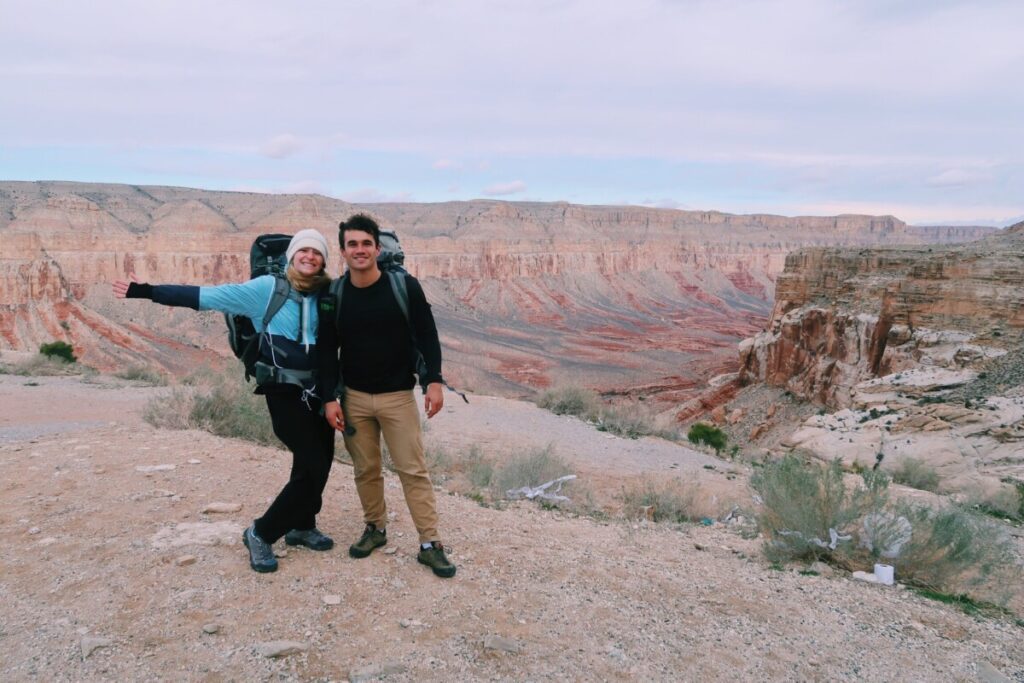 Getting to the Havasupai trailhead requires a bit of effort, as the trailhead is located deep within the Grand Canyon.
The trailhead for Havasupai is located at Hualapai Hilltop, which is a small parking area and trailhead located on the Hualapai Reservation. The closest town to Hualapai Hilltop is Peach Springs, which is about 70 miles away.
If you're flying into the area from abroad, you'll want to fly into either the Las Vegas or Phoenix airports. From there, you'll have to rent a car and make a couple hour trek over to the canyon.
Once you arrive at Hualapai Hilltop, you'll need to park your car in the designated parking area and start hiking down the trail from there, where you'll descend 2000 feet into the Grand Canyon.
Understanding Leave No Trace
Havasupai is a pristine wilderness area, and it's important to respect the environment while you're there. Make sure to pack out all of your trash, use a portable toilet, and leave no trace behind. Respect the wildlife and avoid disturbing any plants or animals that you encounter.
For more information on how to leave no trace, check out the official guidelines here.
Training for Backpacking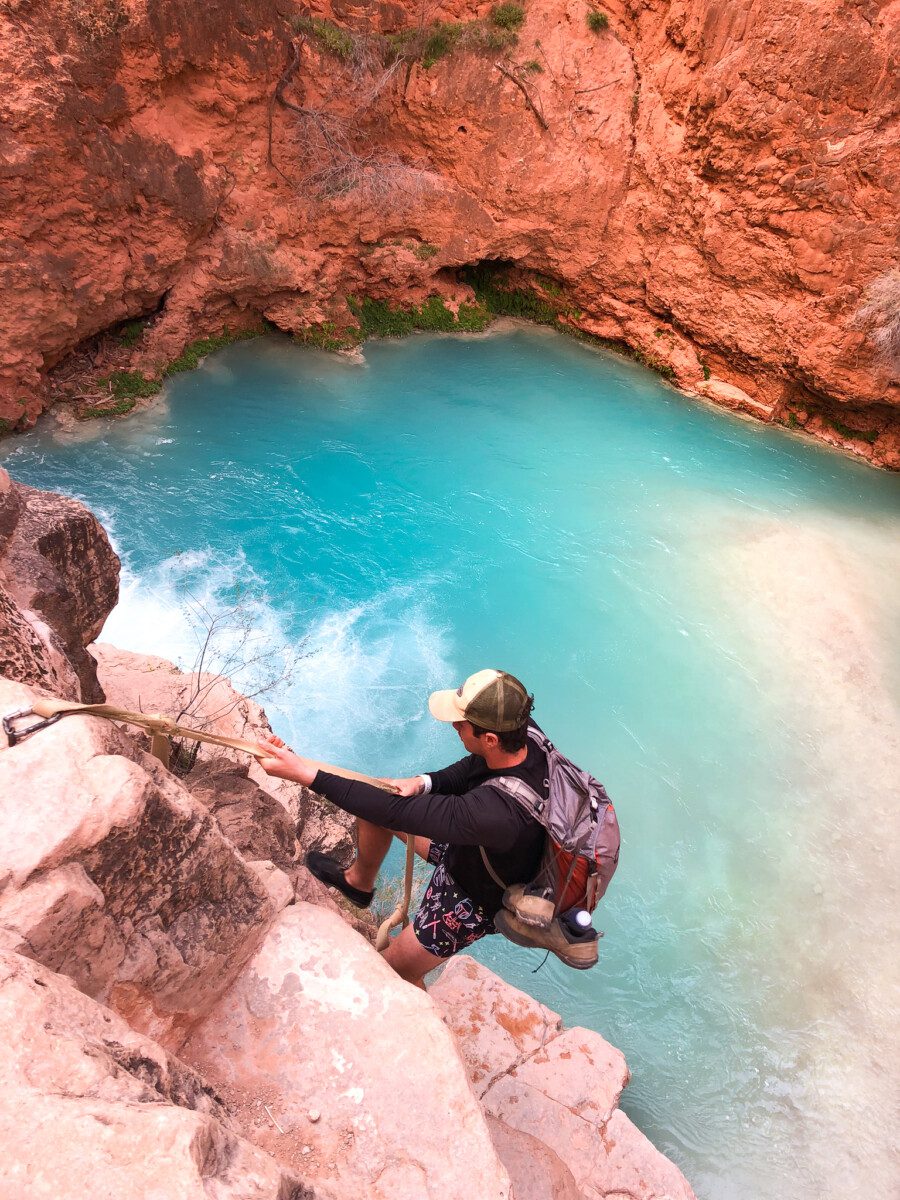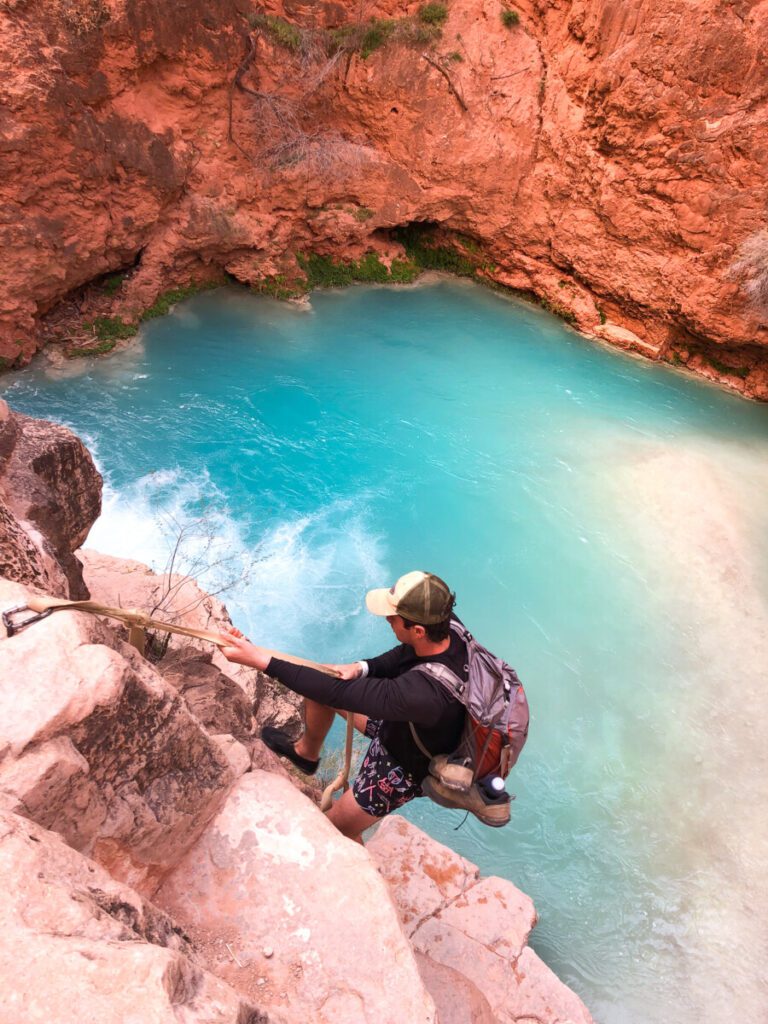 Backpacking to Havasupai is not for the faint of heart. You must be comfortable carrying 30-45lbs during the 10-mile hike in and out of the Grand Canyon through the village of Supai. Make sure to train for the trip by hiking with a fully loaded backpack and getting in good physical shape.
It's important to note that the trail can be strenuous and the weather in the canyon can be unpredictable, so it's important to be prepared with appropriate gear, including plenty of water, snacks, and warm layers for cooler temperatures at night.
There is a way to get to the village without hiking via helicopter. However, it's not a reliable option as members of the tribe have first come first served use over room in the helicopter. It may not be running everyday either. Additionally, it's a large extra fee to take in and you'll still have to hike an additional 2 miles from where it lands. We also don't recommend utilizing the mules to help you carry in your stuff – you should be able to carry everything within your group's packs.
What to Pack for Havasupai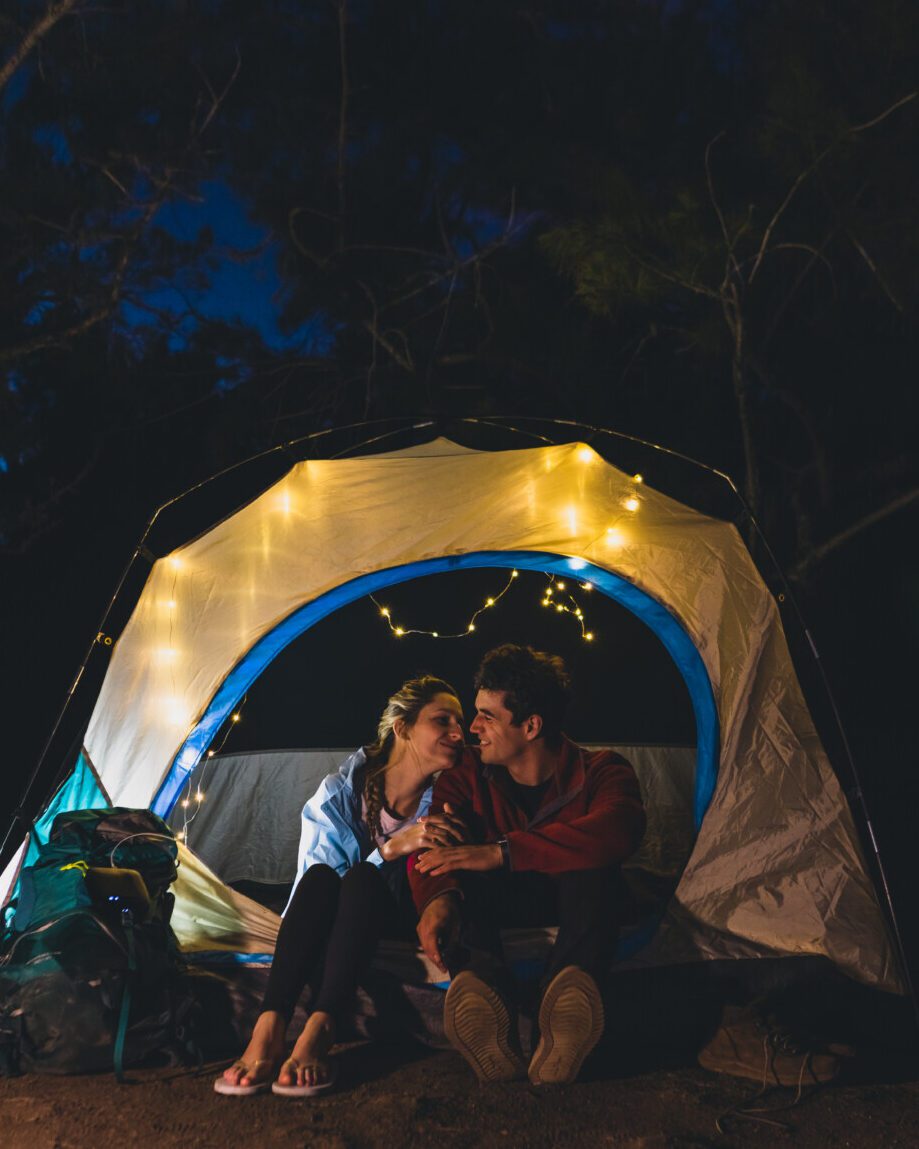 When backpacking to Havasupai, you'll need to pack all of your gear and food for the entire trip. Make sure to bring a comfortable and durable backpack, a lightweight tent, a warm sleeping bag, and a stove for cooking your meals. Don't forget to bring plenty of water, as the only water source is the Havasu Creek. Here's a more extensive list of clothing & gear we'd recommend for backpacking into Havasupai:
Clothing:
Gear: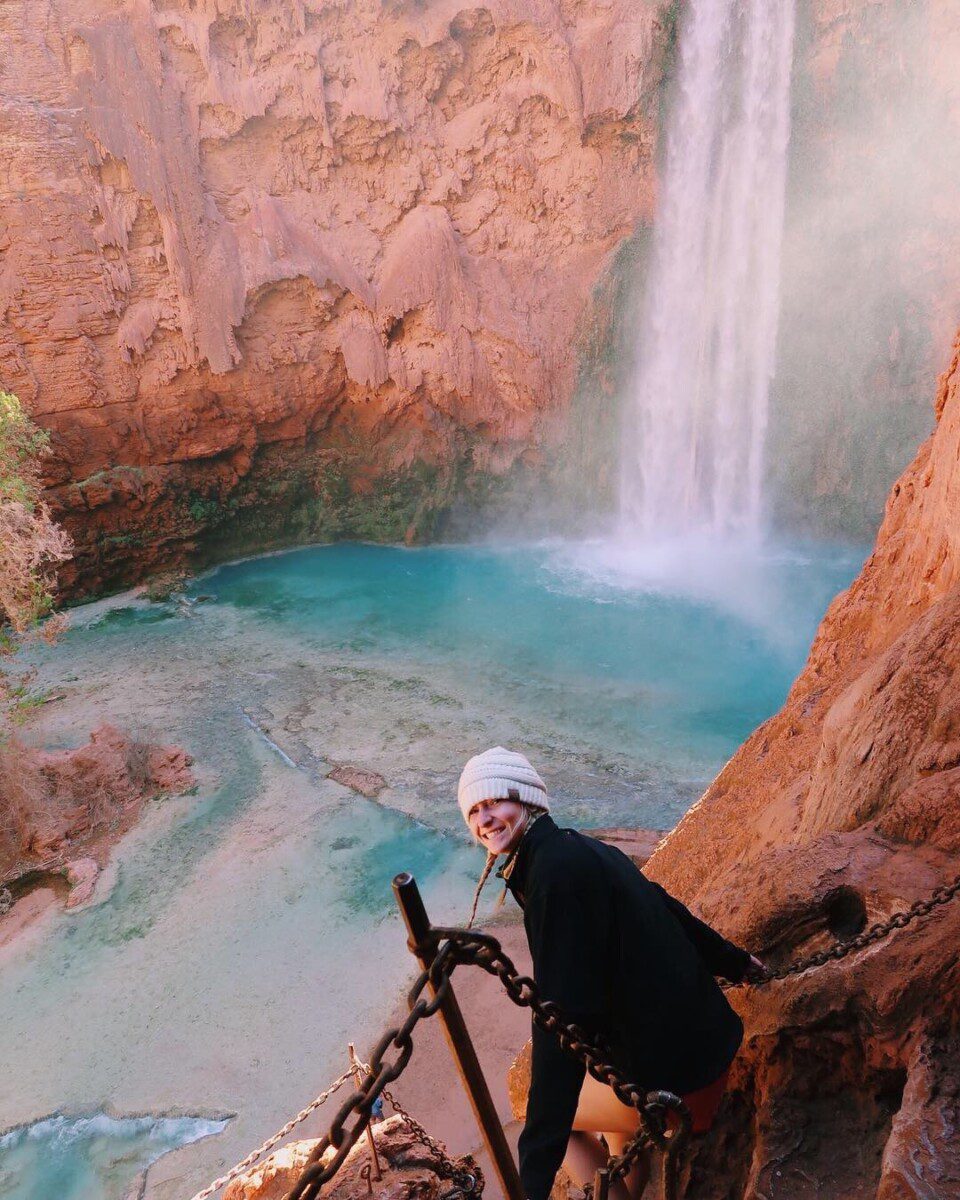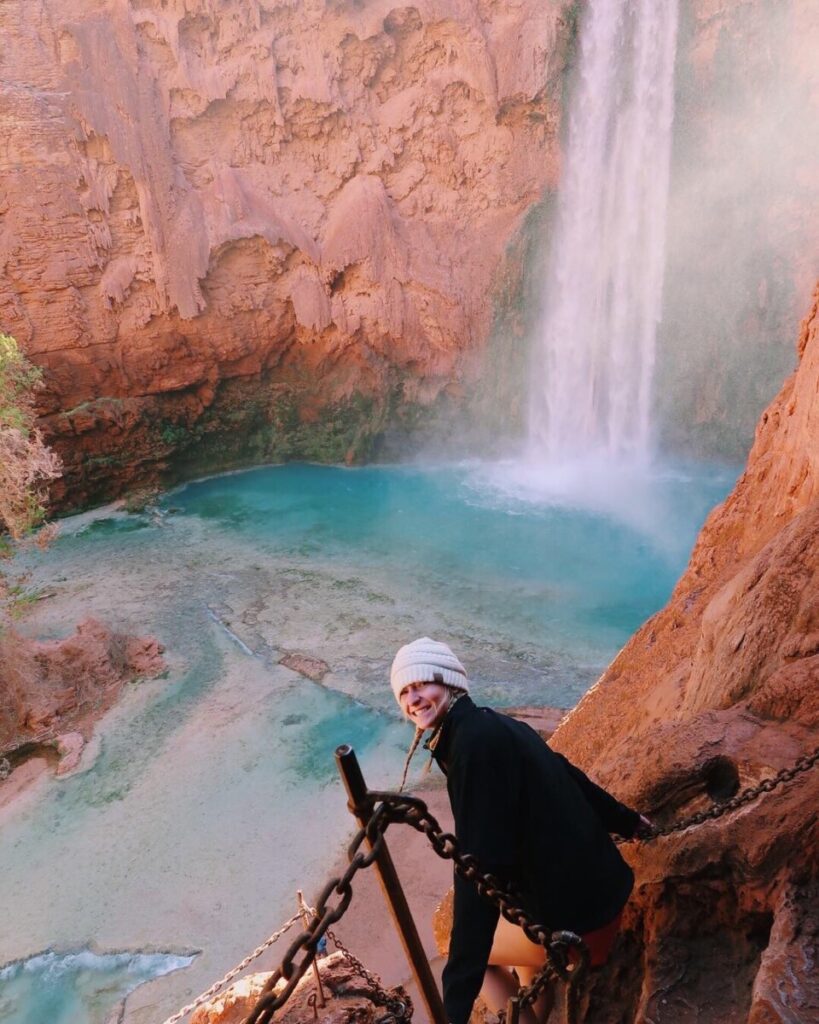 Miscellaneous:
Sunscreen, sunglasses, and hat to protect against the sun
Insect repellent to keep bugs at bay
Personal hygiene items, including toilet paper and hand sanitizer
Lightweight towel for swimming in the waterfalls
Camera or phone to capture the stunning views and memories
Cash for purchasing food and supplies in Supai if you desire
Covid Face Mask for entering village stores
For a more in depth packing list for backpacking, sign up for our Backpacking Gear Checklist freebie!
It's important to pack as light as possible while still bringing all of the necessary gear, as you'll be carrying your backpack with you on the trail. Make sure to also double-check the weather forecast before you go and adjust your packing list accordingly.
Admin Items You'll Need to Be Sure to Bring:
A printed copy of the email confirmation of your campground reservation (or at least a screen shot of it on your phone)
Write down (or take a photo of) the license plate number of your vehicle at the trailhead – you will need it when you check in
Your government issued Photo ID
Your health insurance information in case something goes wrong
Backpacking Havasupai
Havasupai Hike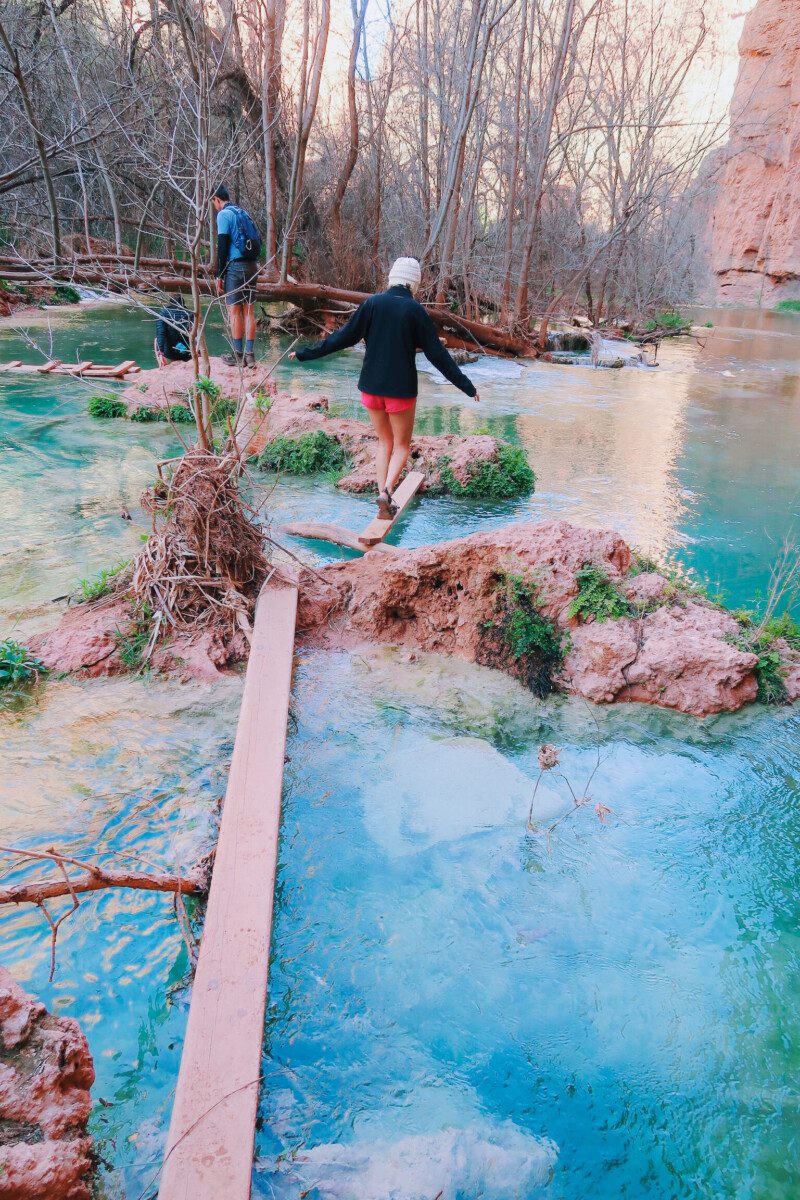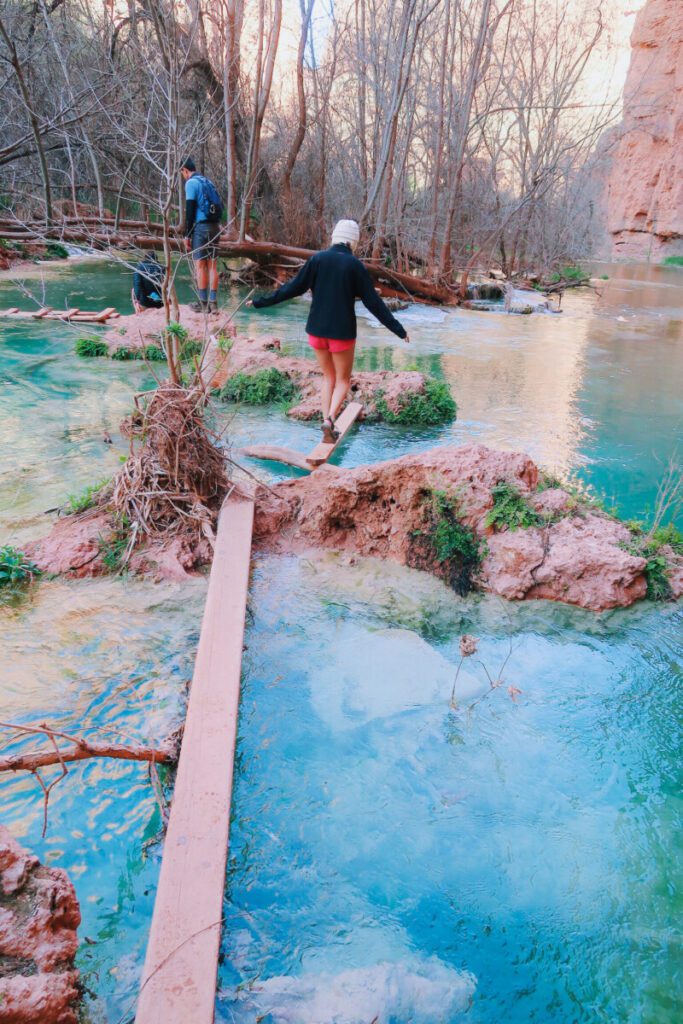 The trail to Havasupai Falls is fairly lengthy at 10 miles going one way towards the camping area. However, as avid hikers and frequently active people, we thought the Havasupai hike going in was honestly fairly easy. Aside from the initial descent from the hilltop, the elevation gain is pretty minimal. However, you'll just want to make sure you've trained your endurance to have no problems doing 10 miles.
That being said, the elevation gain you'll experience on the way out of the Havasupai Falls area is a butt kicker. The last two miles are incredibly steep and difficult, especially if done in the middle of the day. For this reason, we'd recommend starting your hike out as early as possible. That way, you can hopefully ascend out of the Grand Canyon with less heat beating down on you.
Back in 2019, we left around 6:30 am so that we wouldn't be hiking out in direct, harsh sunlight the entirety of our way out. It took us about 4-5 hours to get back to the lot. It will all feel worth it when you get to the top and see the amazing view of the Grand Canyon once more.
Camping in Havasupai Falls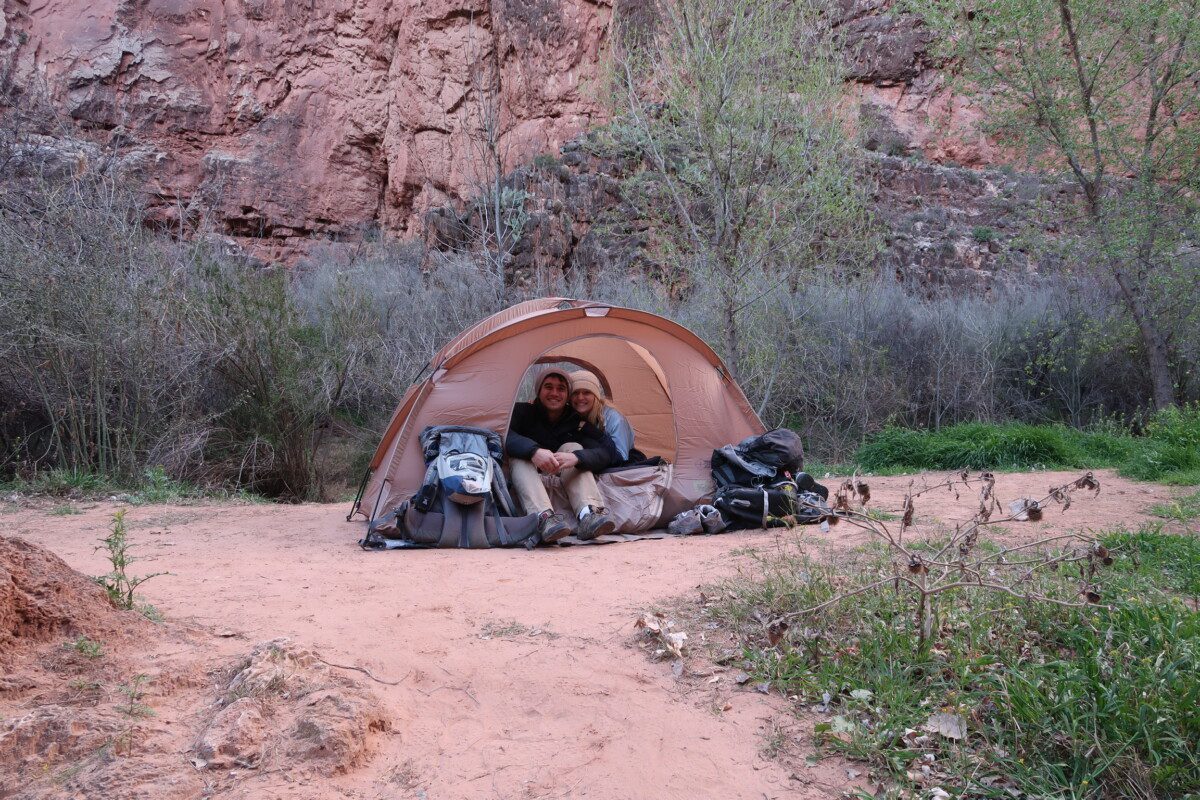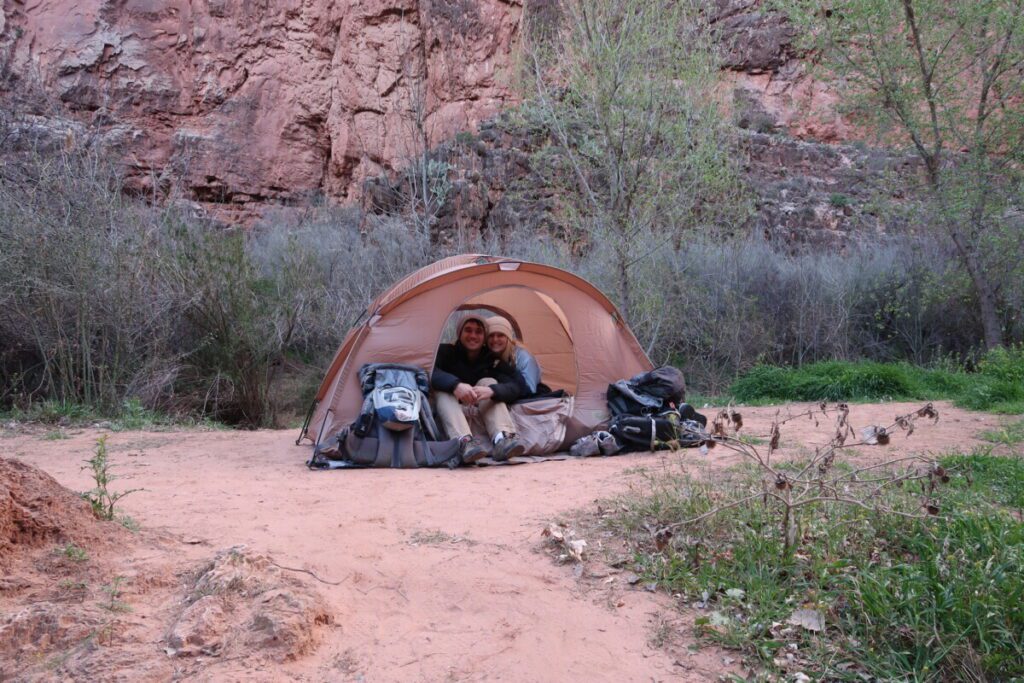 Camping is the only way to stay overnight in Havasupai, and there are several options in the area.
Once you get past the ranger station, you can set up camp anywhere on the map between miles 9 & 10. Try to find a spot that isn't too close to other campers. The mile of camping options consists of around 300 campsites that can accommodate up to 4 people per site. Each site has a picnic table, fire pit, and access to drinking water and bathrooms
Last time we went, we found a lovely spot to set up our tent toward the 3rd outhouse. We picked it so we still had some privacy despite the longer walk and river crossing to get to our camp.
Exploring the Havasuapi Waterfalls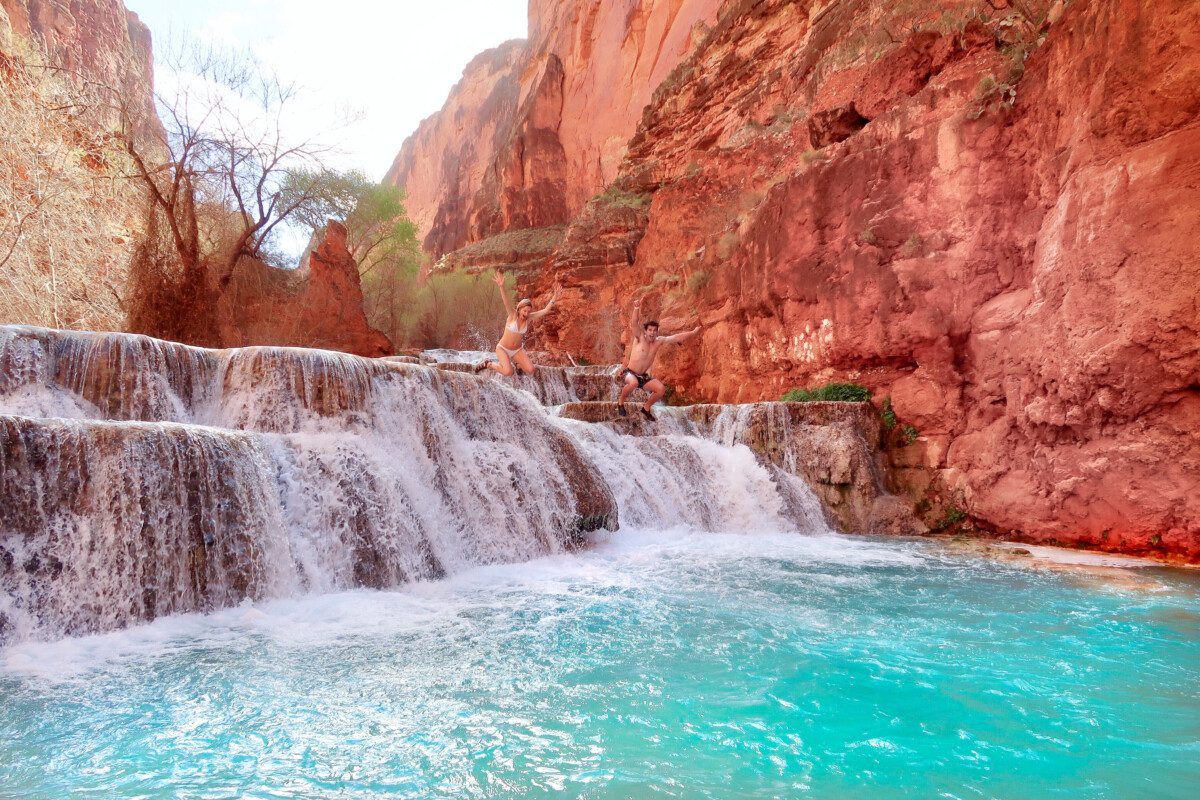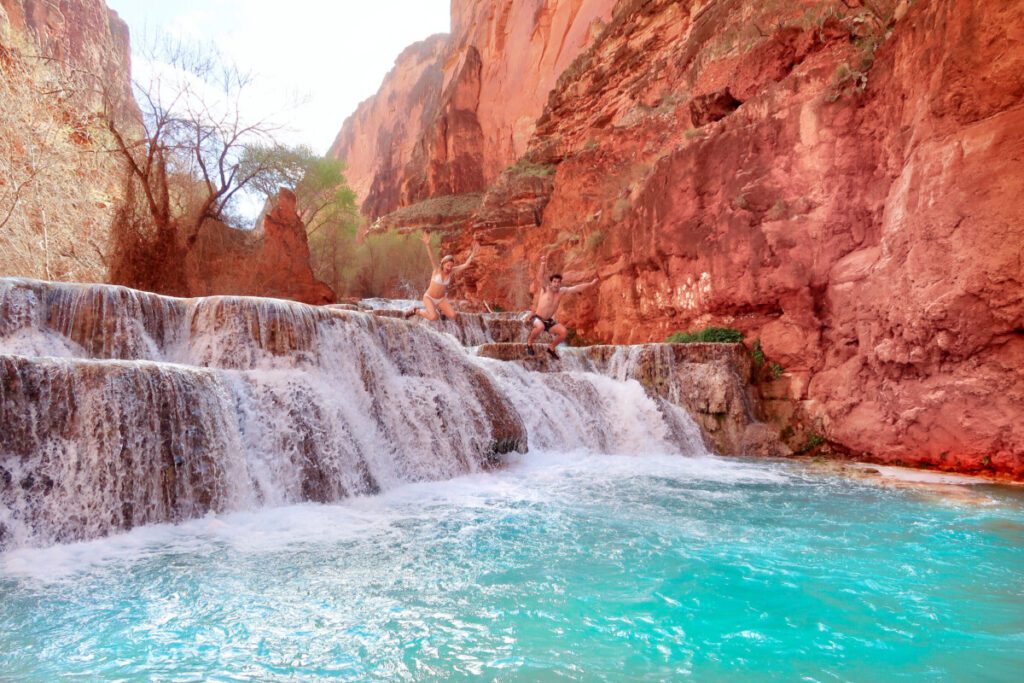 Once you arrive in the village, take some time to explore the area. There are several beautiful Havasupai waterfalls to visit, including Havasu Falls, Mooney Falls, and Beaver Falls. You can also hike to the Colorado River, which is a stunning sight to see.
Little Navajo Falls
Navajo Falls is the first waterfall you'll encounter on the trail to Havasu Falls. It is a multi-tiered waterfall that used to be the most prominent waterfall in the area before a flash flood in 2008 caused it to change course. Navajo Falls is still a beautiful sight to see, with its cascading water and lush green surroundings.
50 Foot Falls
Fifty Foot Falls is the least visited of the Havasupai waterfalls, but it is still a beautiful sight to see. As the name suggests, it is a 50-foot tall waterfall that drops into a large pool below. It is located a few miles downstream from the main Havasu Falls area and requires a bit of a hike to reach.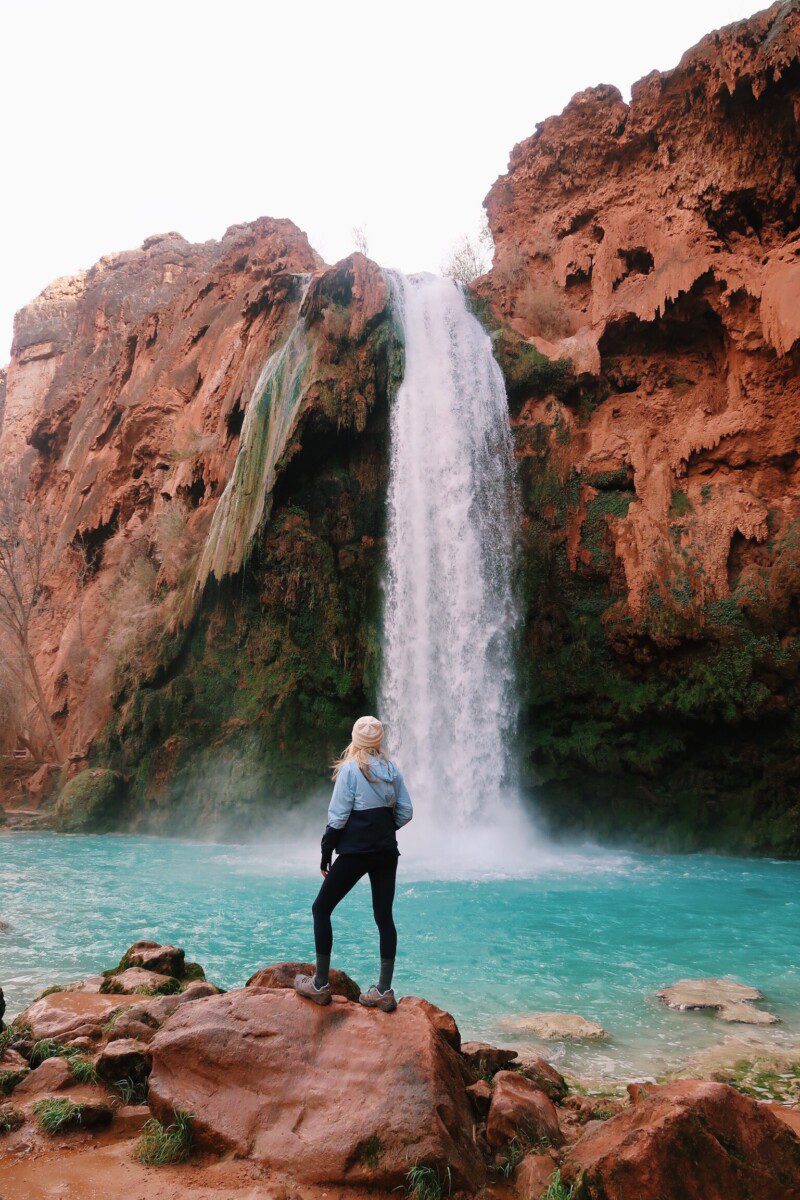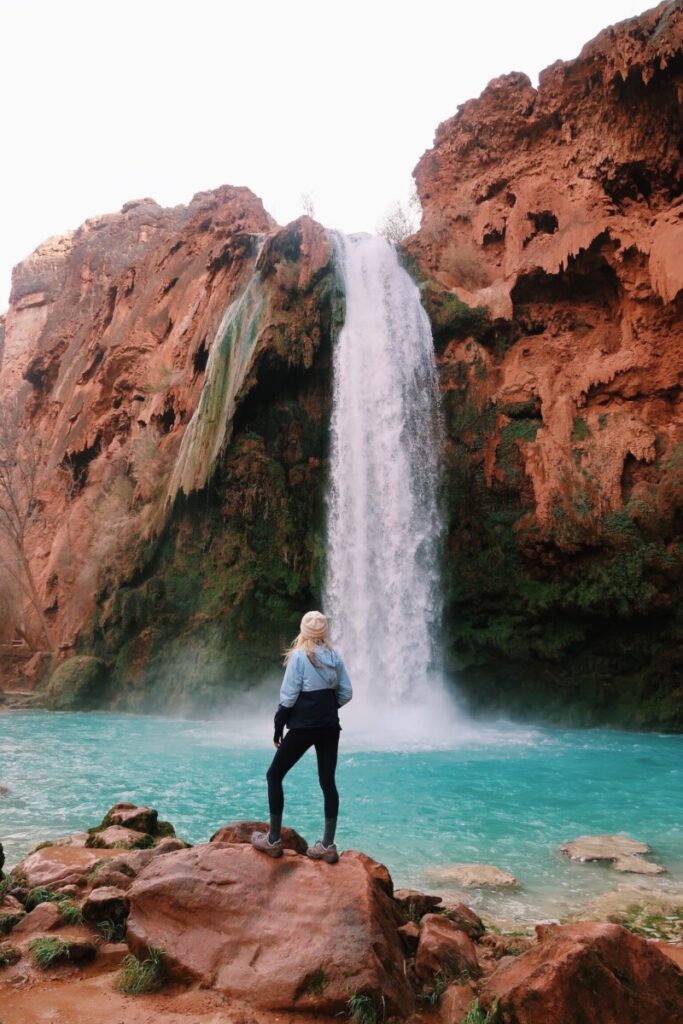 Havasu Falls
Havasu Falls is the most famous waterfall in the area, and for good reason. It is a 100-foot tall waterfall that drops into a beautiful turquoise pool below. The water is incredibly clear, and the contrast between the blue-green water and the red rocks that surround it is breathtaking. This waterfall is one of the most beautiful waterfalls in the world.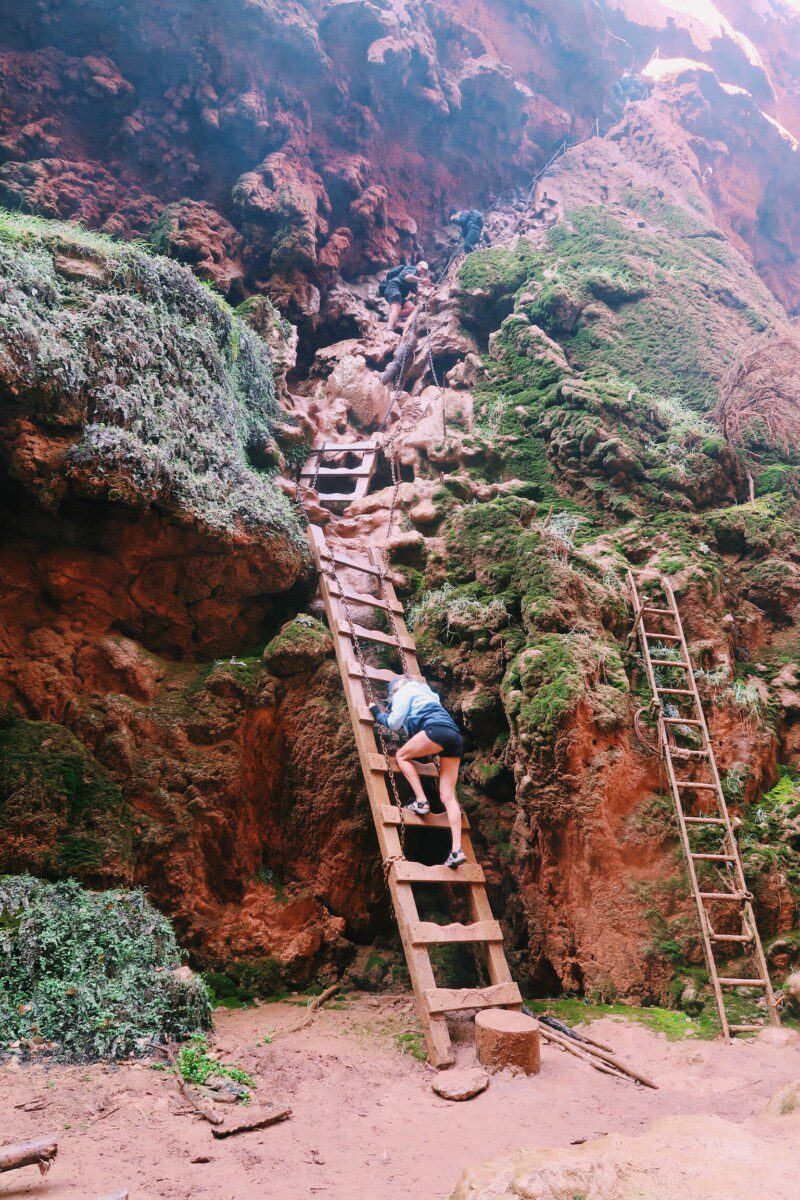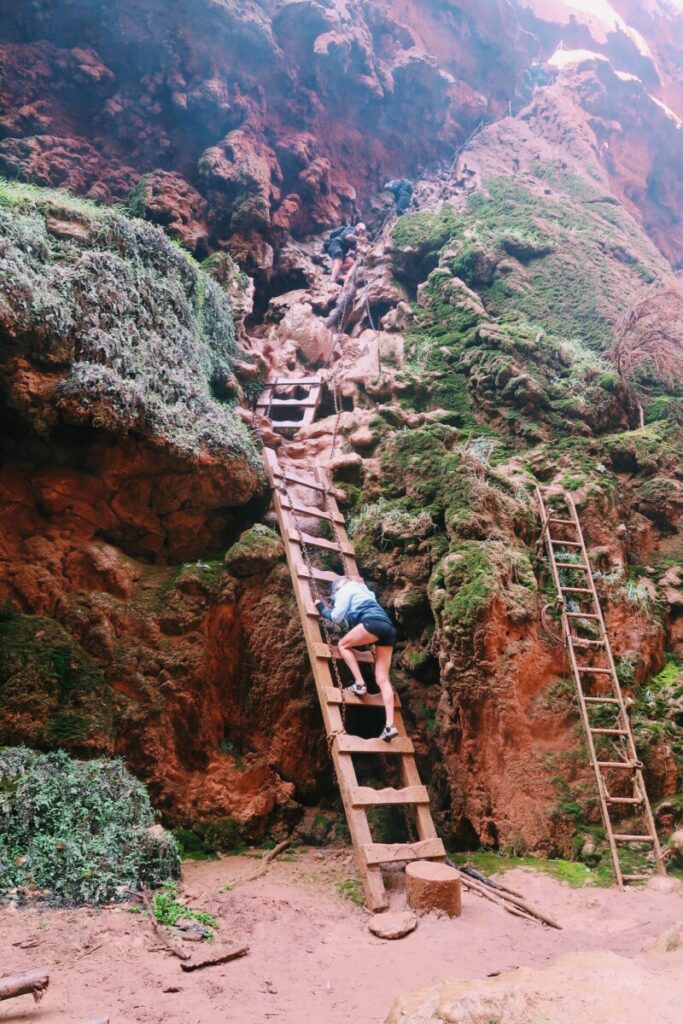 Mooney Falls
Mooney Falls is a stunning 200-foot waterfall that requires a bit of a trek to get to. To reach the base of the falls, you must climb down a steep and narrow rock staircase with the help of chains and ladders. The effort is worth it, as the view from the bottom is incredible.
Beaver Falls
Beaver Falls is the furthest downstream of the Havasupai waterfalls, and it requires another long day hike to reach. The hike takes you through beautiful canyons, across streams, and through thick foliage. Once you arrive, enjoy a series of smaller cascading waterfalls and pools that are perfect for swimming and relaxing.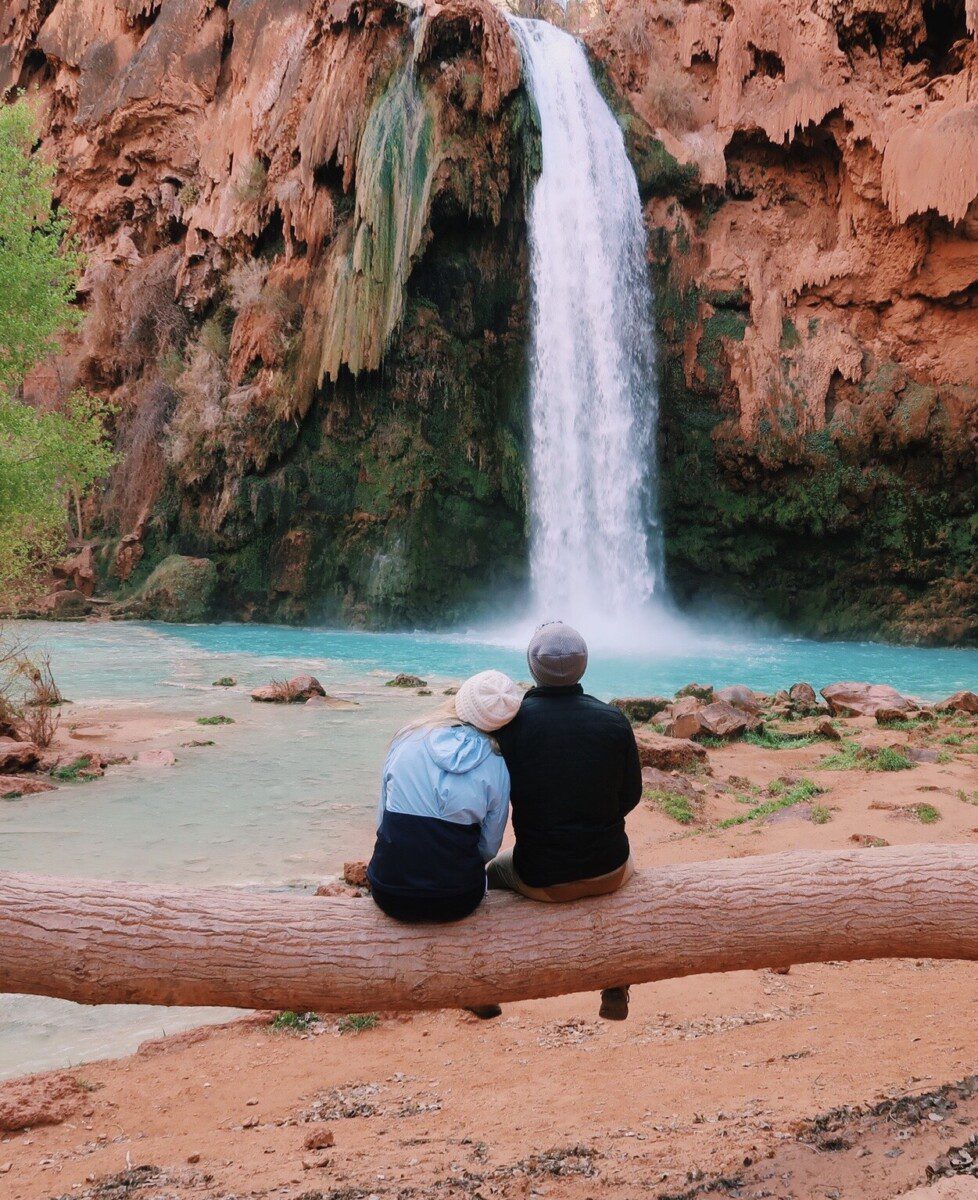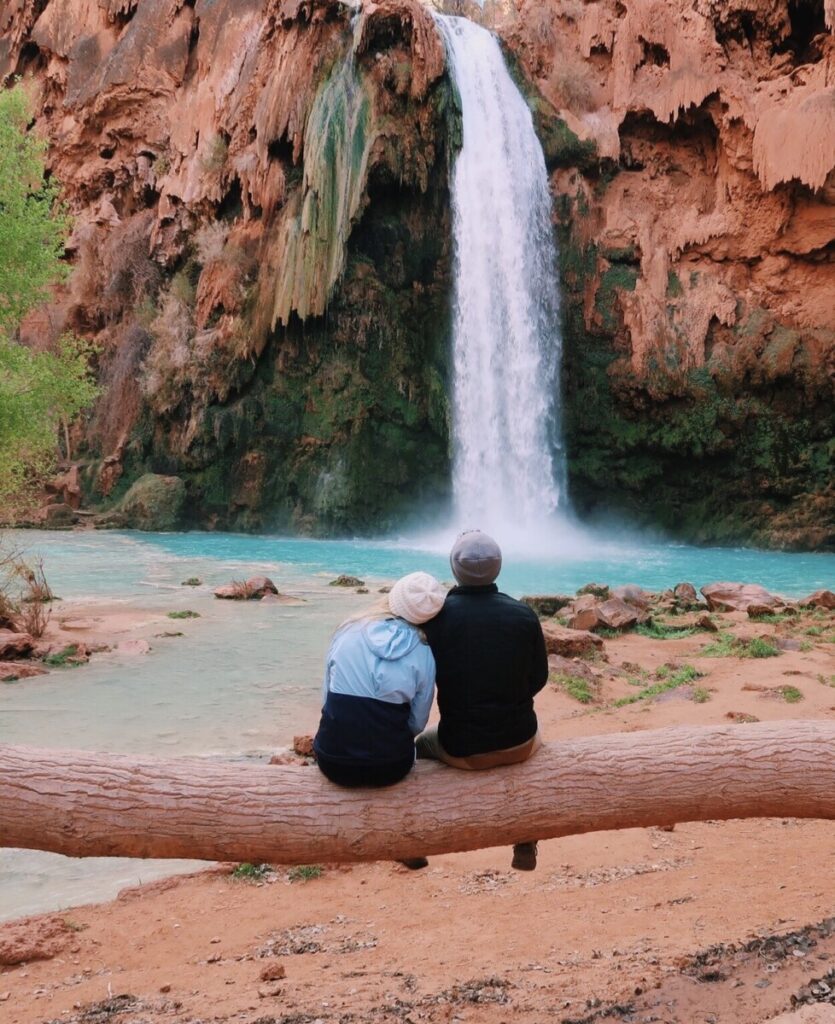 Still, have some questions about visiting Havasupai? Below are some of the frequently asked questions about visiting:
Q: How long can you visit Havasupai for?
A: Every permit issued is only for 4 days and 3 nights. You cannot arrive early or stay later. On your final day of your reservation, you must start hiking out no later 2 pm. There is no day hiking without a permit allowed.
Q: Can you car camp at the Hilltop Parking area to get a head start on your hike into Havasupai?
A: No, camping of any kind is not allowed.
Q: Are there still COVID Protocols in Havasuapi in 2023?
A: No vaccinations or tests are currently required to hike in. However, the Tribe requires all visitors wear a mask while in Supai Village and in all public areas including the store and the café. Make sure to bring your own mask.
Q: Are you allowed to have campfires at Havasupai?
A: No, Campfires are NOT permitted in campground. 
Ready to Backpack Havasupai in 2023?
In conclusion, backpacking to Havasupai is an adventure of a lifetime. With proper planning, training, and respect for the environment, you can experience the beauty of this stunning oasis in the Grand Canyon. So pack your bags, hit the trail, and prepare for an unforgettable adventure in Havasupai!