How to Have the Best Trip to Abu Dhabi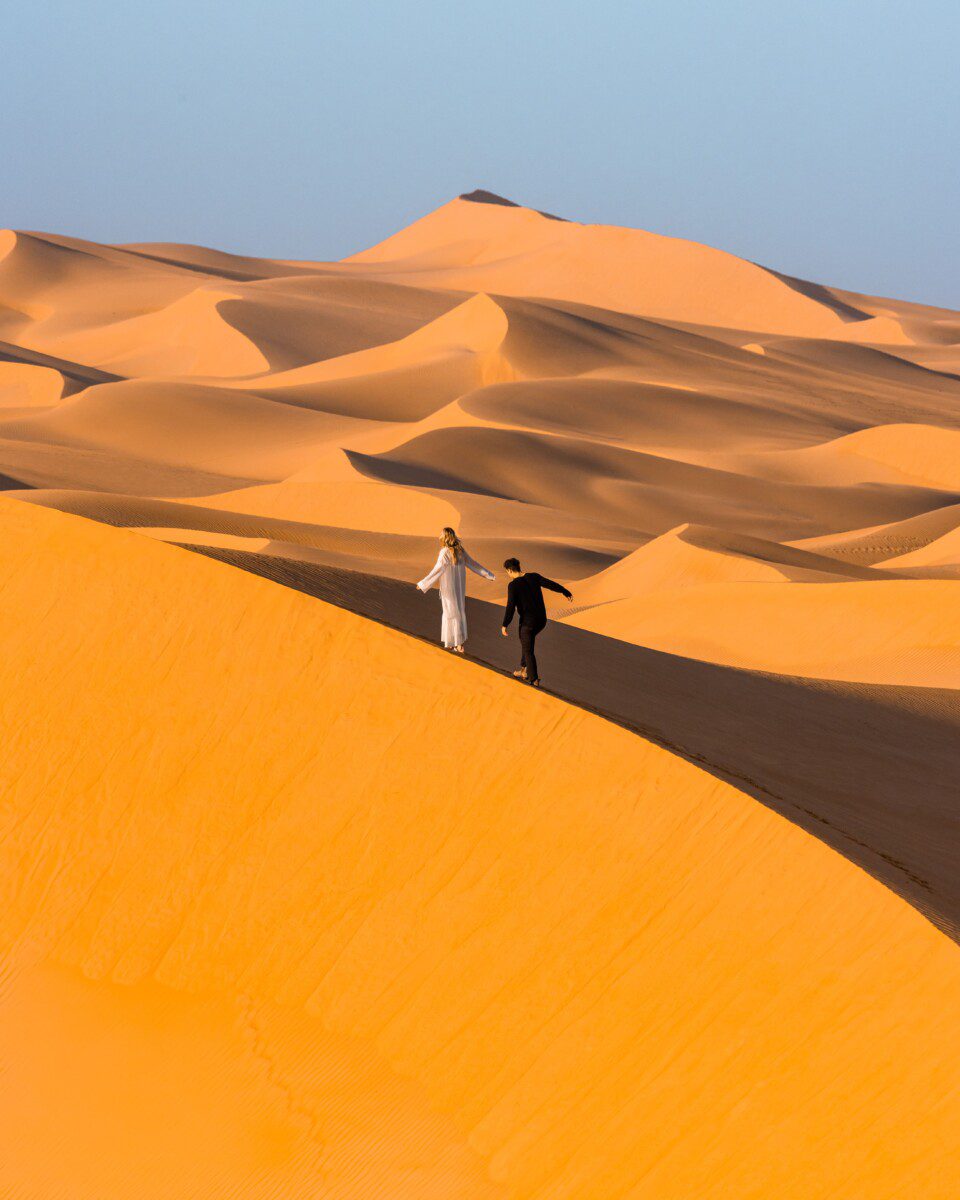 Abu Dhabi is known as one of the safest and most beautiful cities in the Middle East. There is so much to do and see in Abu Dhabi and we were completely blown away during our trip. Everyone we met or encountered was incredibly sweet and showed us lots of hospitality. We believe that Abu Dhabi is a great introduction to the Middle East for anyone who's hesitant about going or if you're a woman who's traveling alone.
Here we'll guide you through our favorite spots and activities in Abu Dhabi and the surrounding areas. We know that planning a trip to another country can be stressful and knowing what areas are worth putting on your schedule is very essential. We want to make sure you have the best visit possible and get to see as much of Abu Dhabi as you can.
Best Things to Do in Abu Dhabi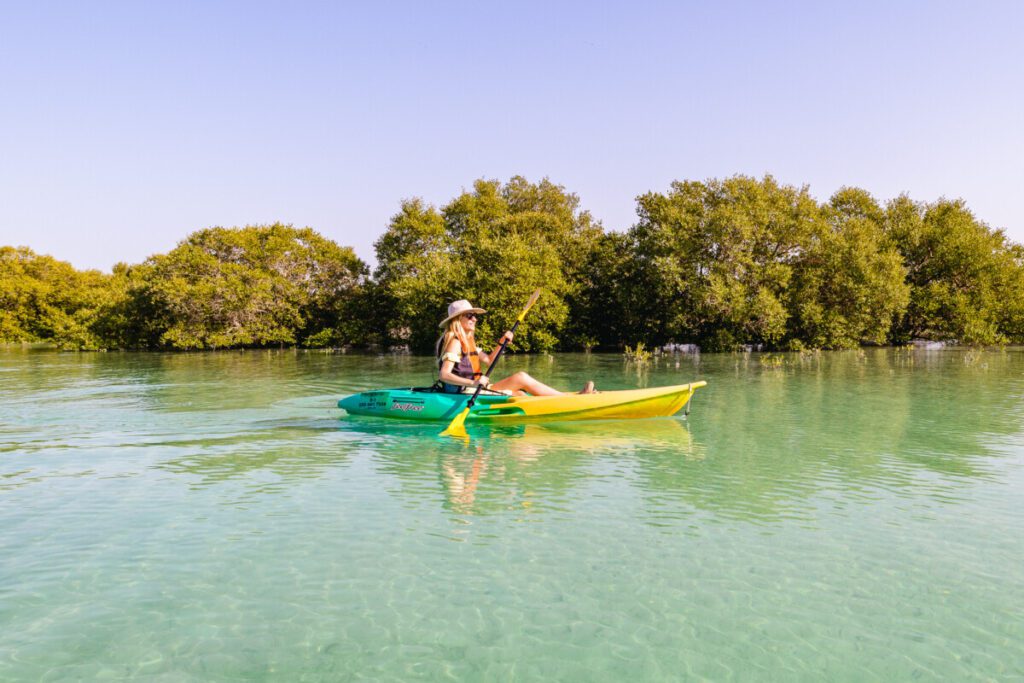 Kayaking in the Mangroves
The Mangroves are some of the main natural wonders of Abu Dhabi. Jubail Mangrove Park has gorgeous turquoise water that flows in from the sea during certain times of the day. We recommend going on a kayak tour here. The tours themselves are between $24-$35 U.S. dollars and they take you all throughout the Mangroves. There is also a nice boardwalk you can walk along to explore the different areas.
Go During High Tide
Since the water flows in at different times of the day, we recommend keeping track of the tides and going during hide tide. When we first arrived, there wasn't any water but after an hour and a half, everything was covered in water.
How To Get There
When going to the Mangroves, make sure to set up your credit card in an app for a taxi service. They do have Ubers that can take you to the Mangroves, but they will not come back to get you once you're done. If you don't set up your card in the taxi service app ahead of time, you'll have to use cash.
Best Time To Go
The best time to visit this location is during sunrise or sunset. Due to our schedule we had to come midday, but it was still gorgeous. No matter what time you go, you'll have amazing views and be able to see lots of wildlife like crabs and many kinds of birds.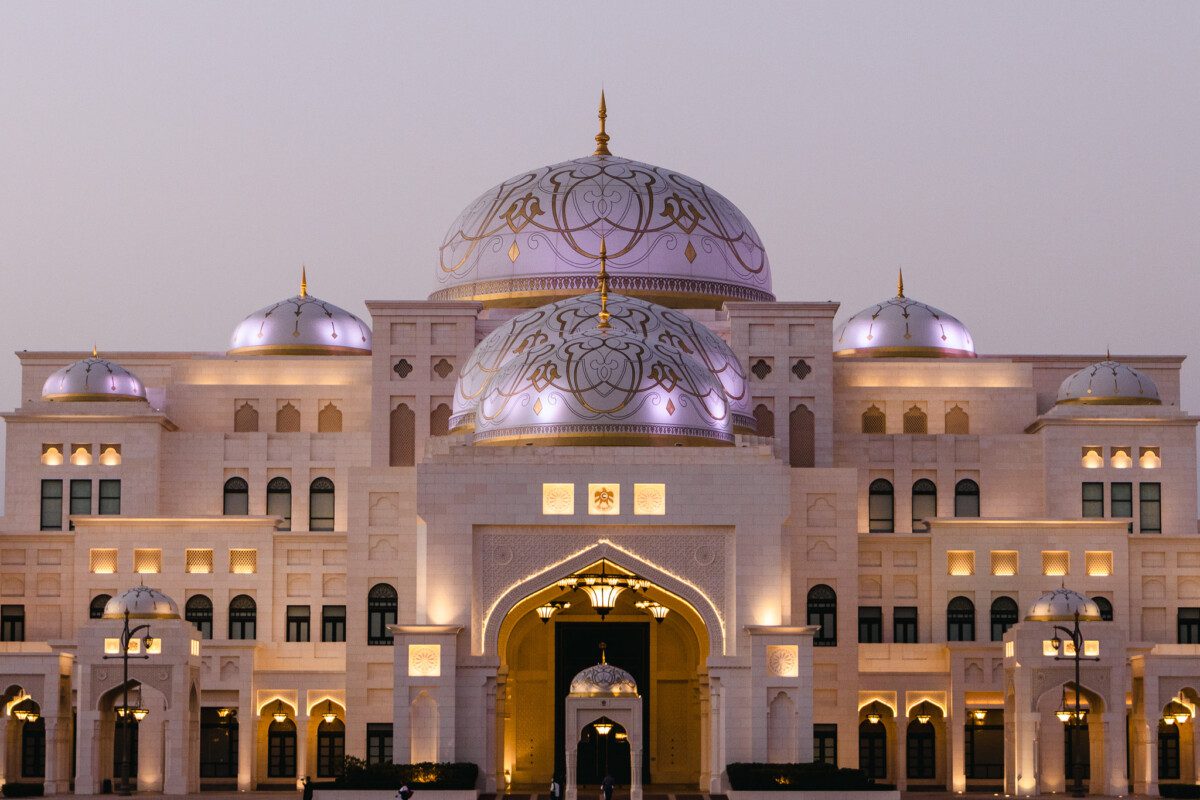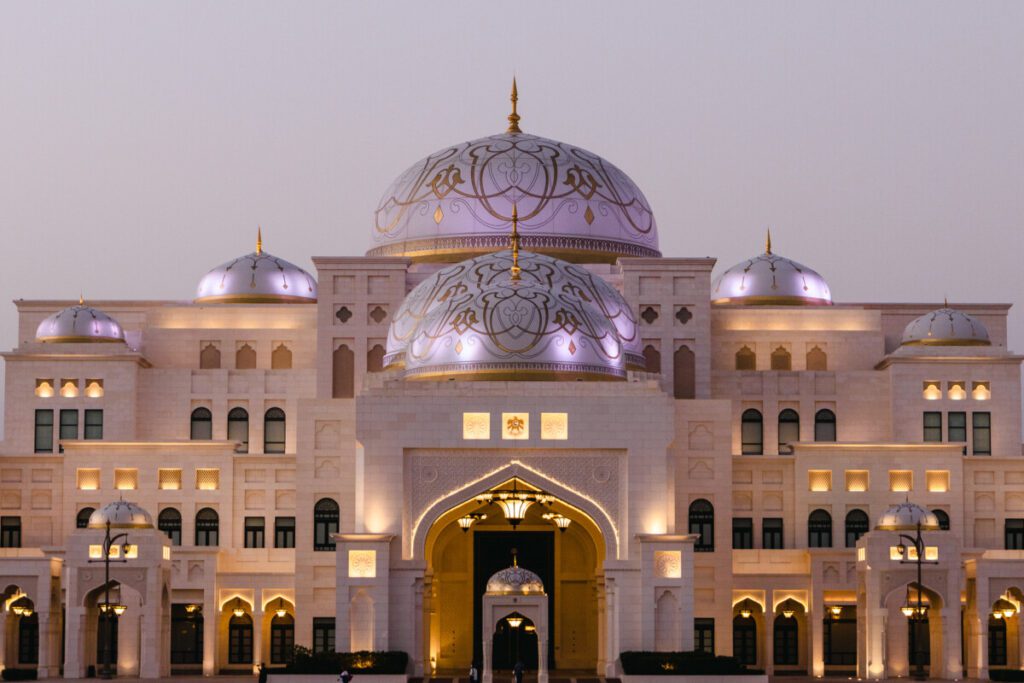 Visit Qasr Al Watan
Qasr Al Watan is one of the most beautiful pieces of architecture in Abu Dhabi. It's a very popular palace and we recommend staying here for a few hours. This area had some stunning architecture not only on the outside but on the inside as well. They have gorgeous gold sculptures, and the palace is completely decorated in beautiful mosaics and chandeliers. We recommend at minimum spending an hour outside and an hour inside.
Dress Code
There is a dress code to enter so keep that in mind. They ask the women to wear long sleeves where your shoulders and legs are covered. Men simply need to wear long pants. It's important to be respectful of the culture here and when in doubt, research what you can and can't wear before you go.
Photography Restrictions
You can't bring a tripod to Qasr Al Watan. When we came here, they took our tripod and our microphone before we could enter. They do have a check in area for any items you might bring that they don't allow, and you can pick them back up once you leave. So, if you want to photograph this area, keep in mind you'll have to do it handheld style.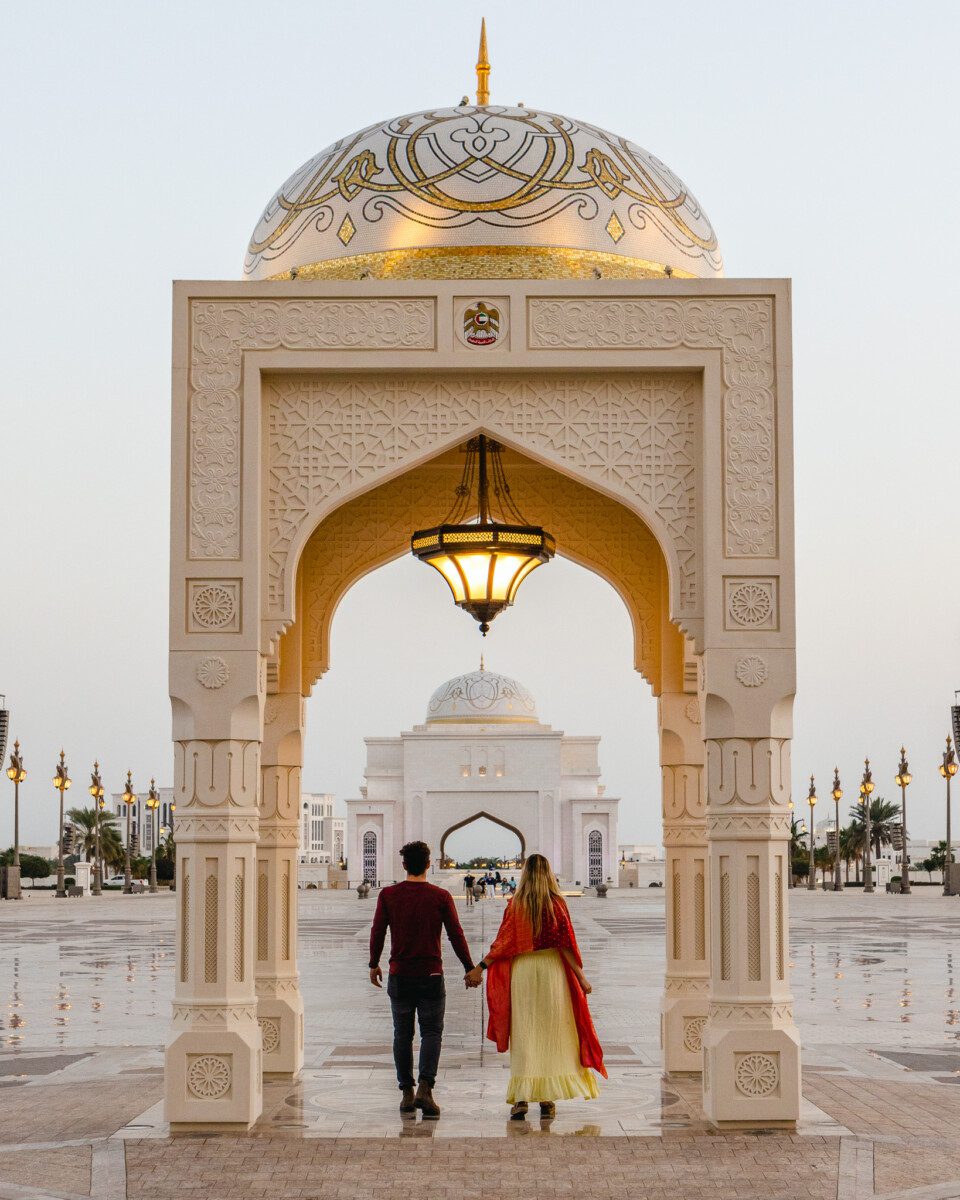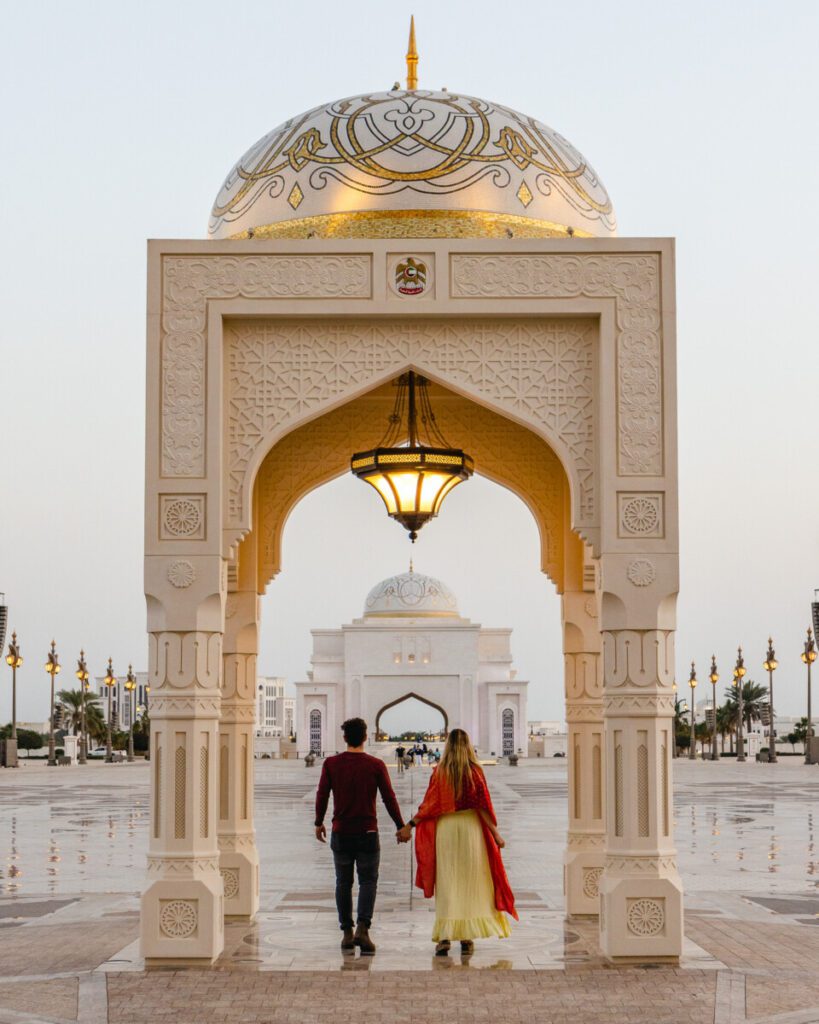 Nighttime Light Show
If you visit later in the afternoon, we recommend staying for the palace in motion light show. This is great if you're traveling with family or kids. It's only on certain days so be sure to do some research before you go. They do a light history show that projects on the palace detailing the history of Abu Dhabi. We were able to get hot chocolate from the gift store and take it outside and watch the incredible lights. The light show is part of your ticket so there's no additional cost to watch.
What The Significance Is
Qasr Al Watan is also known as the "Palace of the Nation". It was opened to the public in 2019 as a way to learn and celebrate the history of the UAE culture. It's also used by the country's supreme council and federal cabinet.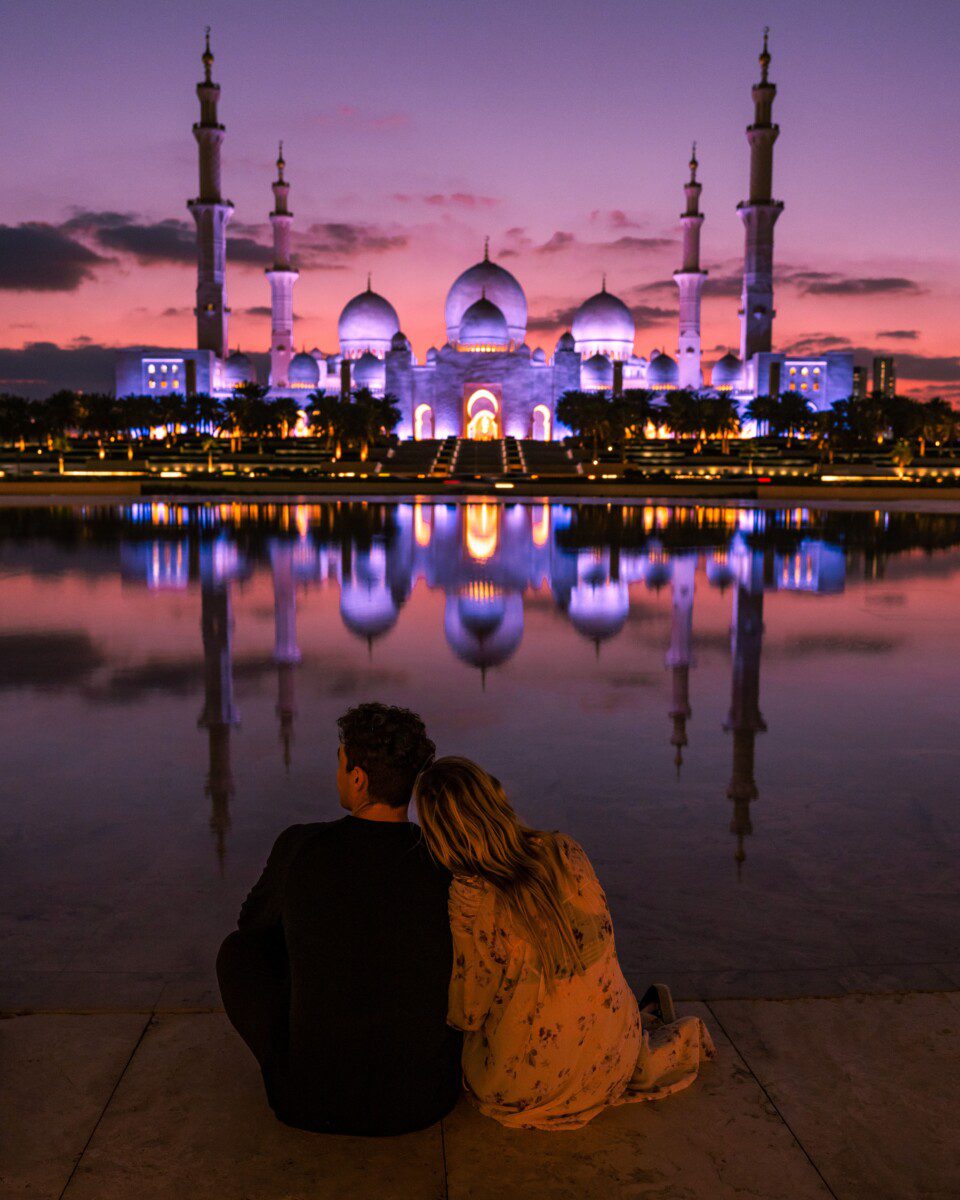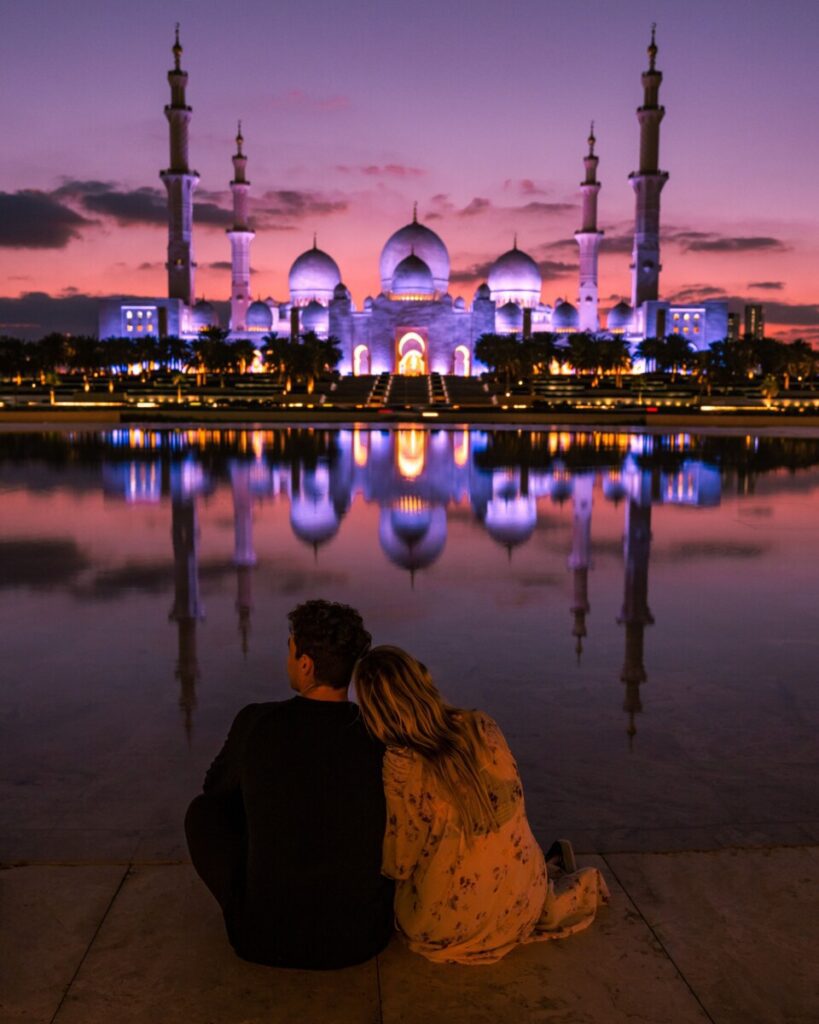 Visit The Grand Mosque
The Sheik Zayed Grand Mosque was one of our favorite spots in Abu Dhabi. The architecture here was unbelievable and left us speechless. There isn't a fee to enter the Mosque, but they do have restrictions on what you can bring in.
Photography Restrictions
Tripods are allowed here, but you can't bring a camera lens that's over 70 to 200 millimeters in length. If you bring a camera with you, we recommend not flashing it around to everyone. People are skeptical of cameras in Abu Dhabi in general and will usually ask what you're using it for, whether that be professionally or personally.
In order to keep the flow of traffic smooth, there are only certain spots you can take your camera out. These areas are marked on the floor with signs that say, "take photos here". It's important to respect these rules as there are tons of security guards watching you and they will approach you if you don't follow the rules.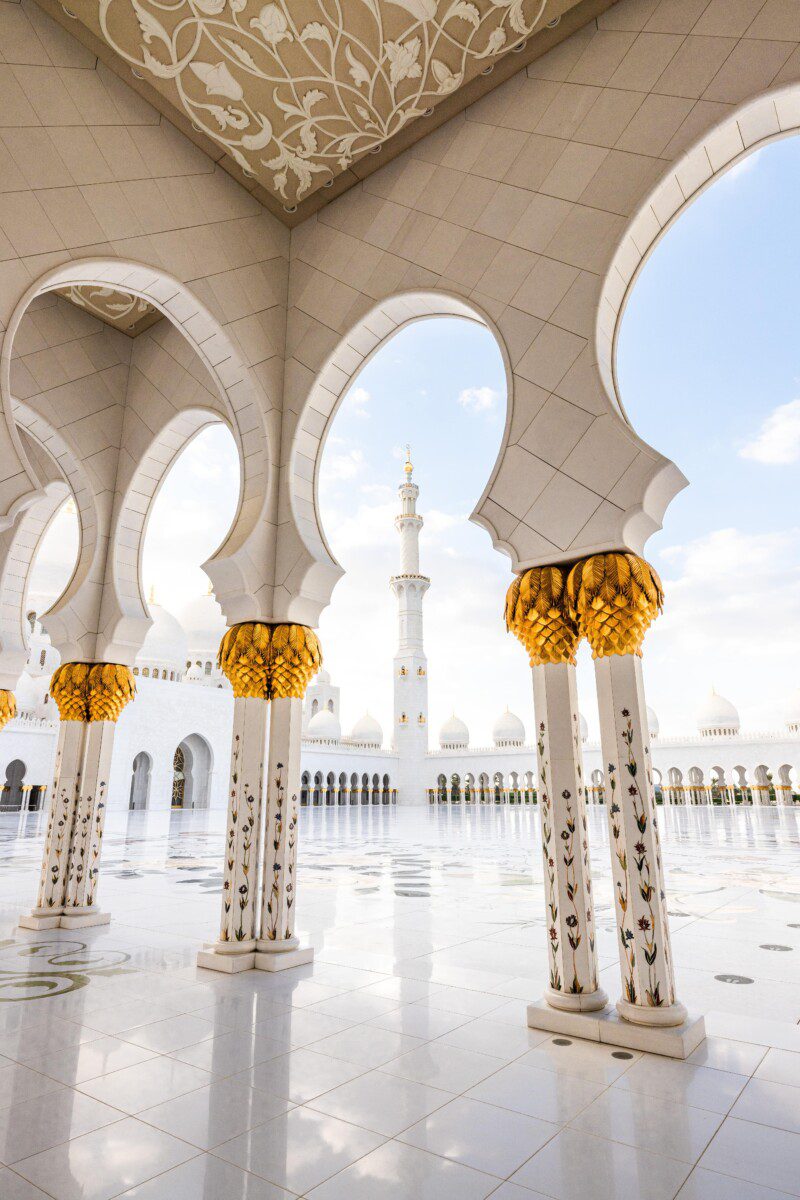 Dress Code
As a woman, in order to enter the Mosque, you have to have all of your hair covered, your shoulders, and your legs, essentially everything except your face. So, you will need to purchase an abaya and robe either before your trip or before you enter the Mosque. They do have sales right outside the Grand Mosque, but they will try to rip you off so make sure you play hard to get when negotiating. Again, it's important to remember that you're in another country and you need to respect their culture and customs.
Cultural Significance
The Grand Mosque is an active Mosque for Muslims and is the biggest place of worship in the UAE. It's known for being the resting place for the Founding Father of the UAE, which is why it's named Sheik Zayed Grand Mosque, in remembrance of him.
If you want to learn more about visiting the Grand Mosque you can check out their website here.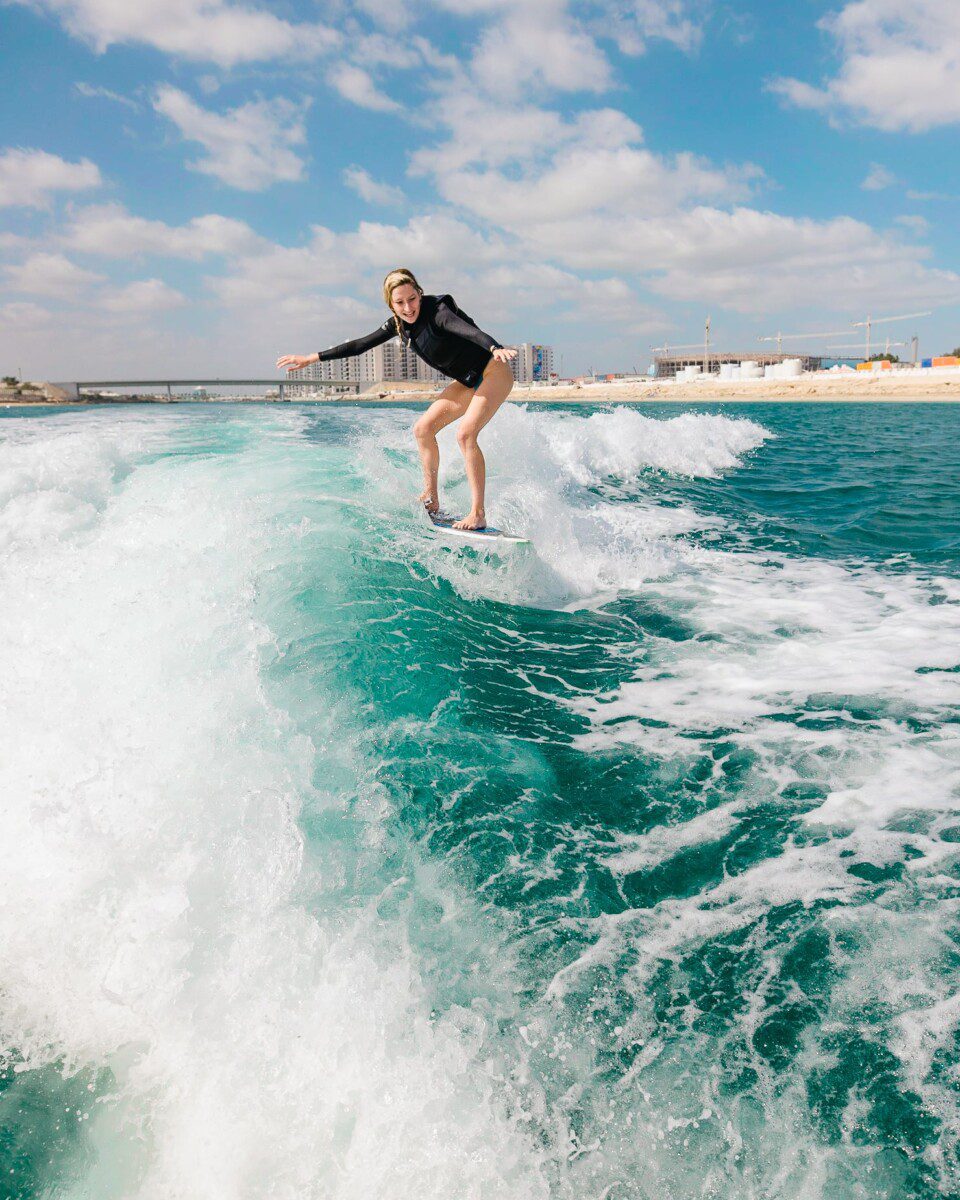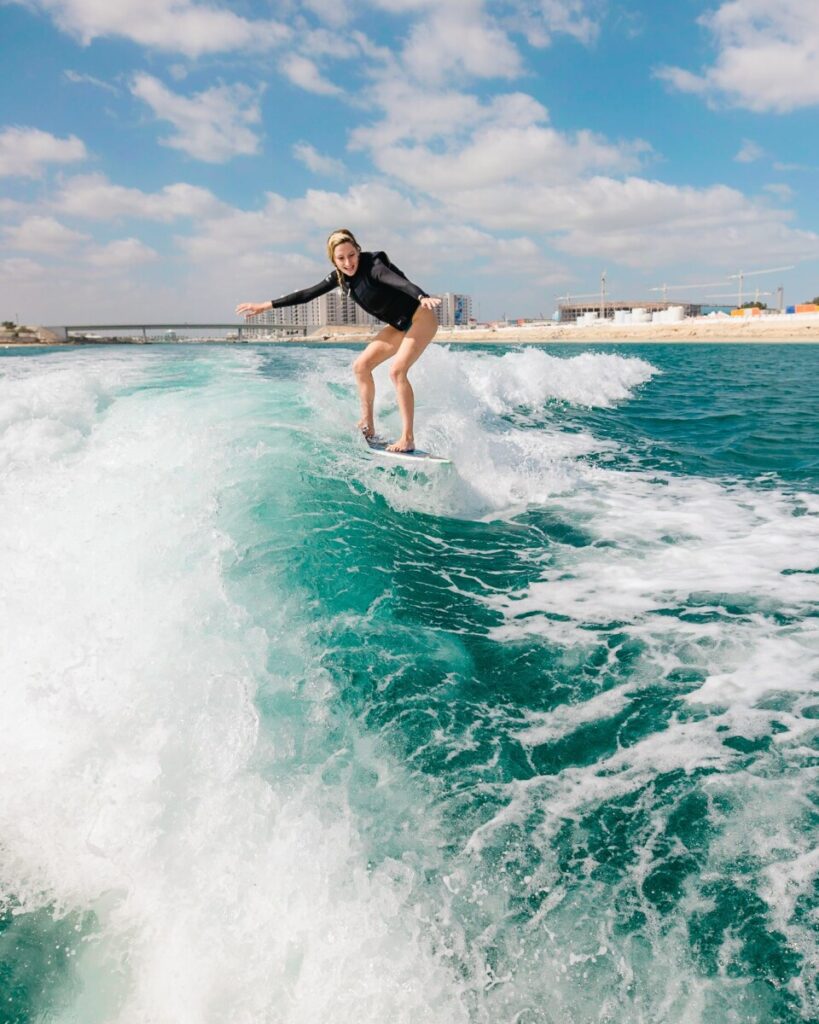 Wake Surfing in Yas Marina
We got the opportunity to wake surf with Wake surfing Abu Dhabi on our trip and we highly recommend it to anyone in the area looking for some fun. Neither of us had ever wake surfed before and due to the incredible coaching and support from the workers, we were both able to stand up and let go of the rope. It was such a fun experience, and the water was at a perfect temperature. They offered us water and snacks and gave us wetsuits to keep our top halves warm. This is definitely a must-do while in Abu Dhabi.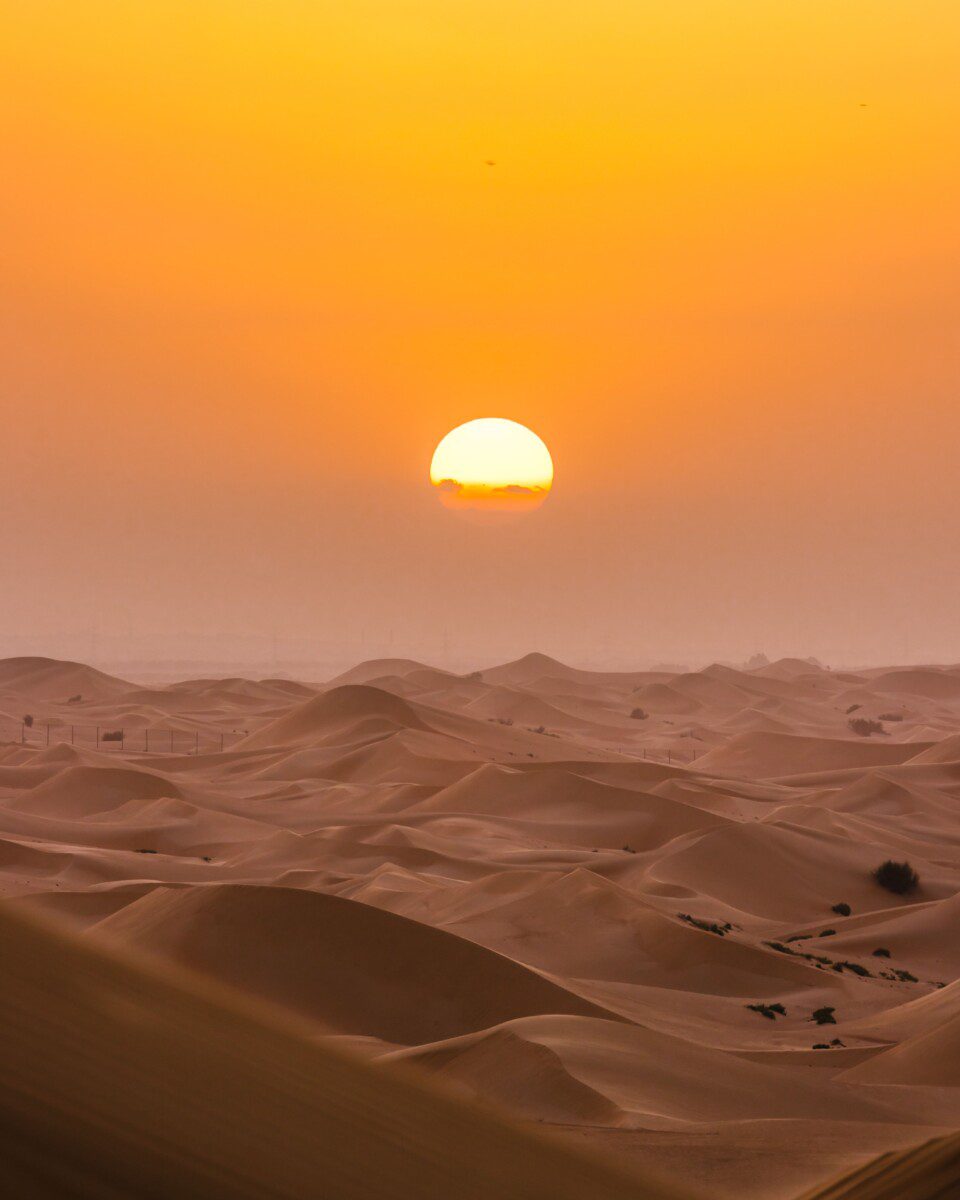 Head Out on A Desert Safari
A desert safari is one of the most popular things to do while visiting Abu Dhabi. It was one of the most fun off roading experiences we've had so far. It does get a little crazy going straight down on the steep parts of the dunes, but it was so incredible.
Emirates Desert Safari Tour
We did our tour through the Emirates Desert Safari Tour, and we highly recommend using them. They do hotel pick up and drop off, which was extremely helpful, and it was about 80 U.S. dollars for the whole experience.
What To Expect
The tour itself started at 2pm and we didn't get back to our hotel until 10pm. It's definitely an all-day adventure so be aware of that when planning your schedule. There are tons of activities in their camp area such as dune basing, camel riding, dune buggy riding, sandboarding, hanging out with falcons, and even dressing up in their traditional attire. If you do want to ride the dune buggies, be sure to bring cash along with you, otherwise you won't be able to ride them. We made that mistake and were super bummed we missed out on that. Overall, we believe the cost is 100% worth the experience you get.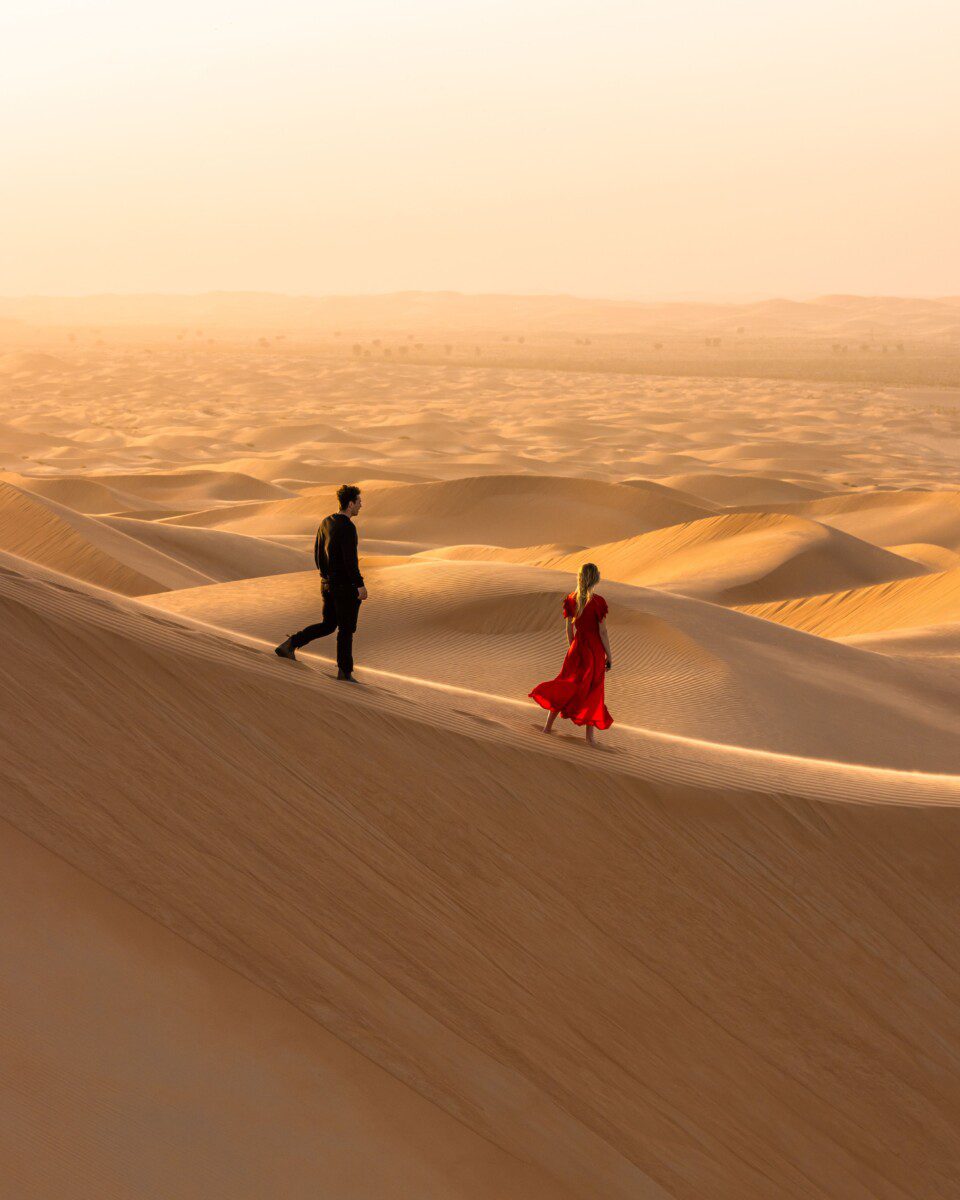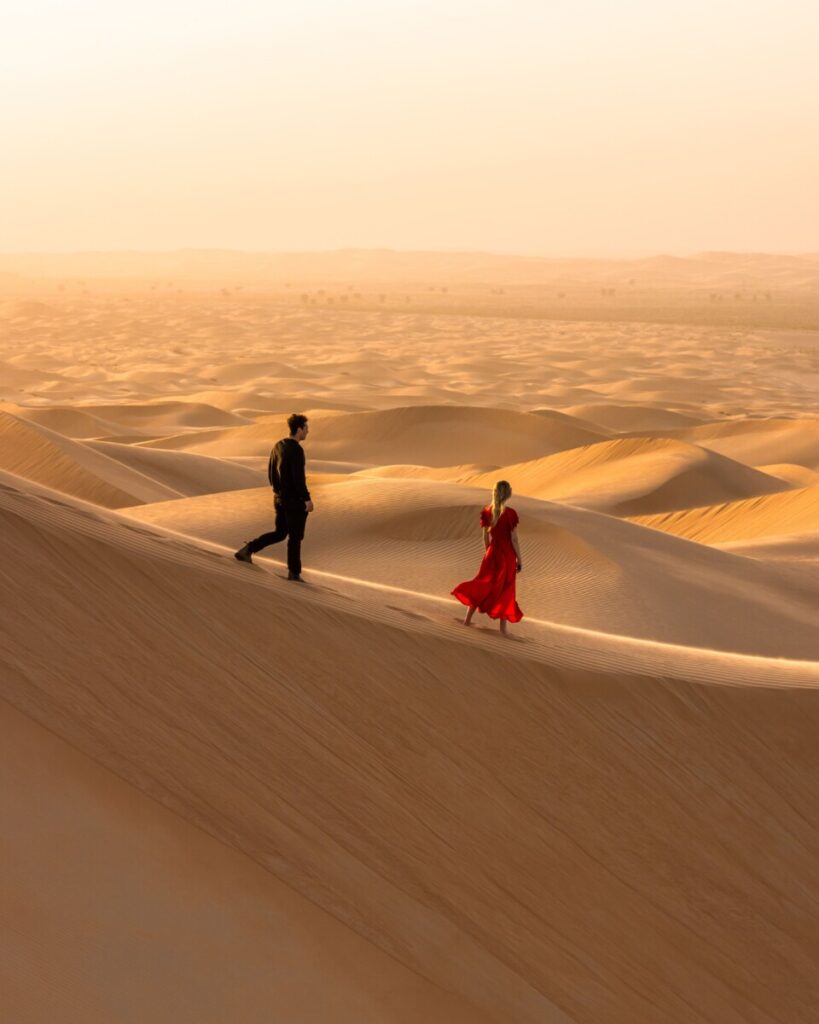 Visit Telal Resort Al Ain & Explore the Sand Dunes
About an hour from Abu Dhabi are the Telal Dunes. Here you can enjoy camel rides, archery, horseback riding, sandboarding, and ziplining. We stayed a night at the Telal Resort Al Ain and the dunes were just right outside our villa we stayed in. The dunes were beautiful and had so many fun activities. If you have some extra time to make your way out there on your trip, we highly recommend it.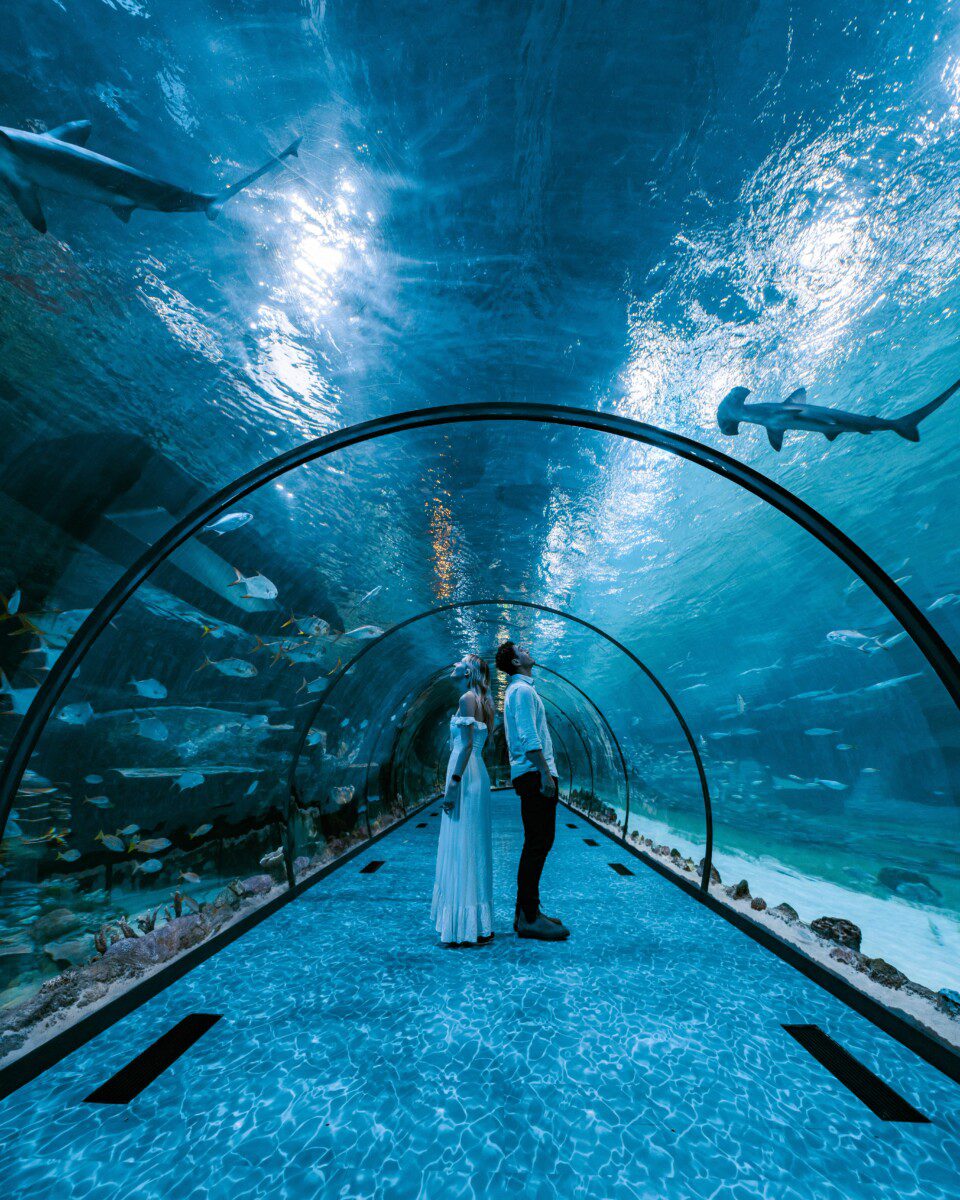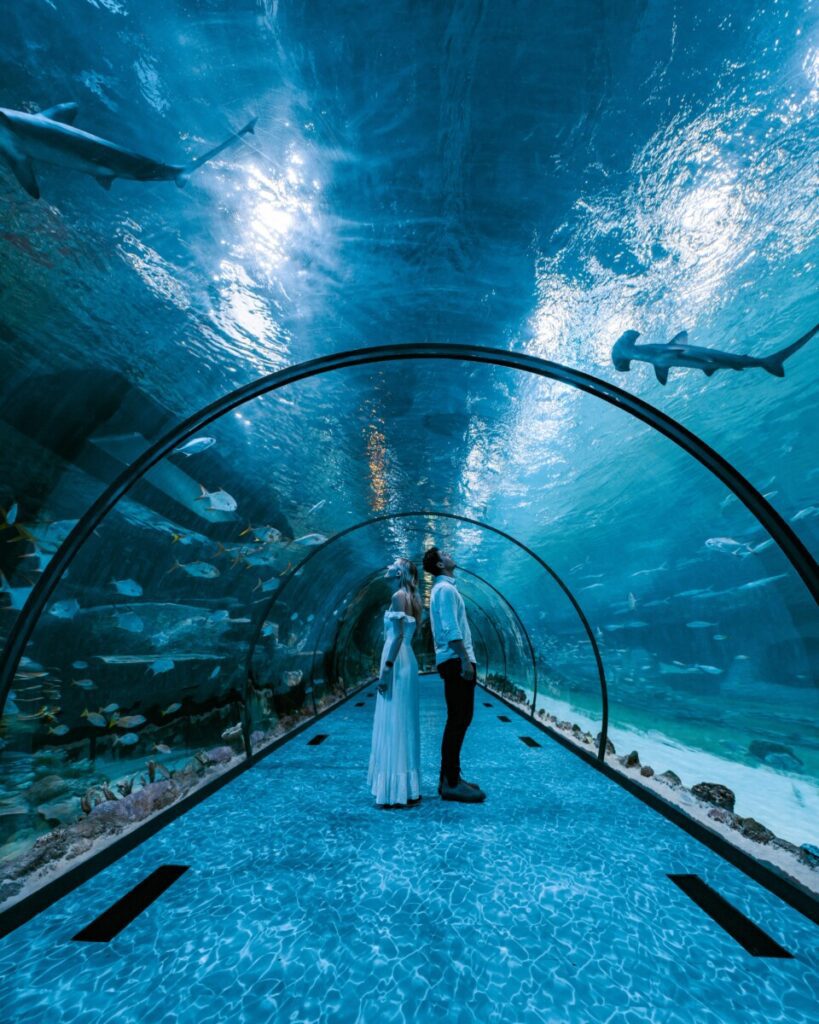 Check Out the National Aquarium
The National Aquarium is brand new and opened in 2022. It was the most amazing aquarium we've ever been to and blew the aquarium in Monterey, CA away. We got to see some fish we had never seen before and a lot of species from the Amazon and Indo-Pacific oceans. 
Each room you enter has a different theme such as forest or arctic, which made it extra fun. There were tons of sound effects and lots of learning opportunities. You can click on the tablets or scan the QR code on your phone to learn about the fish in front of you and really immerse yourself into the experience. The price to get in was also fairly inexpensive at $28. It was an incredible experience, and we can't recommend it enough.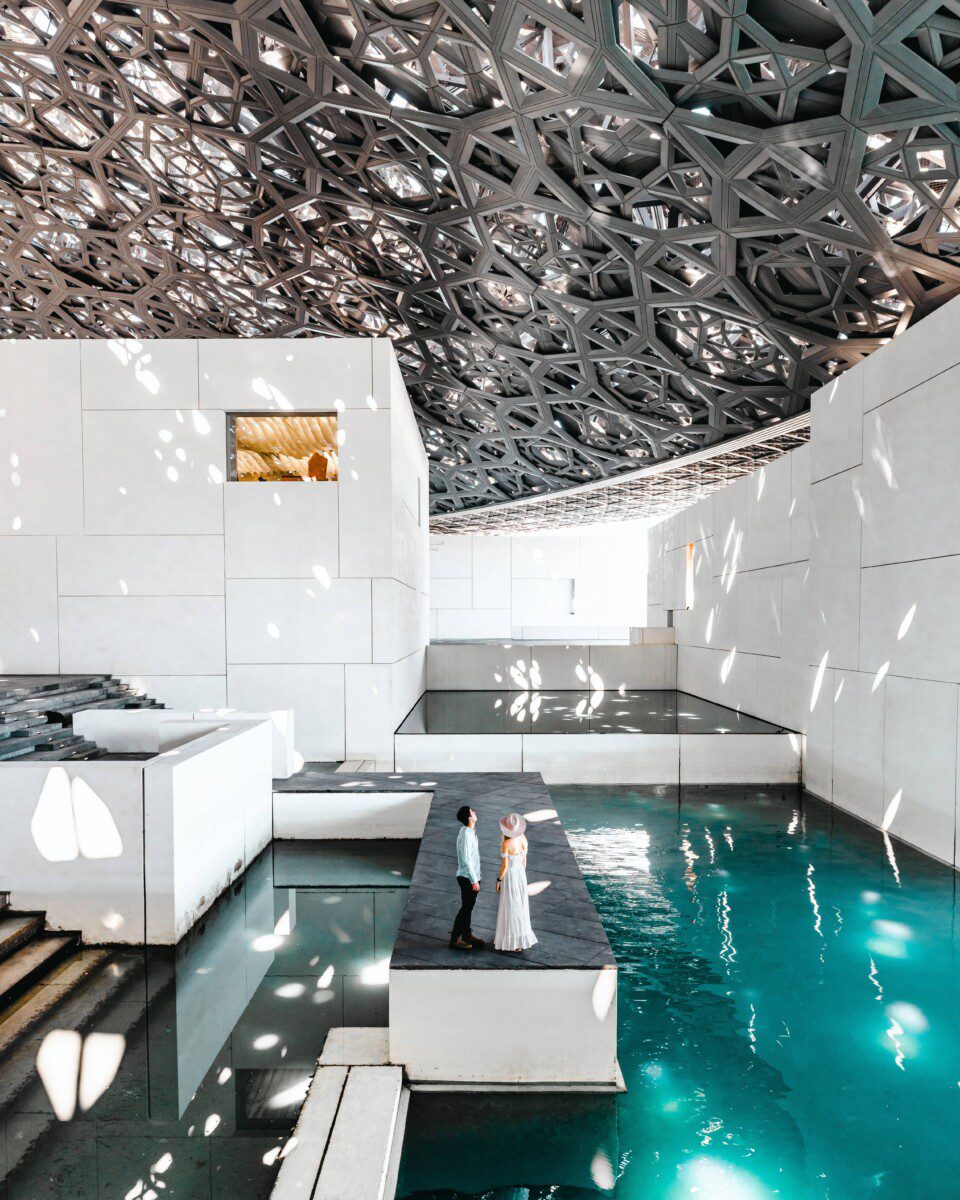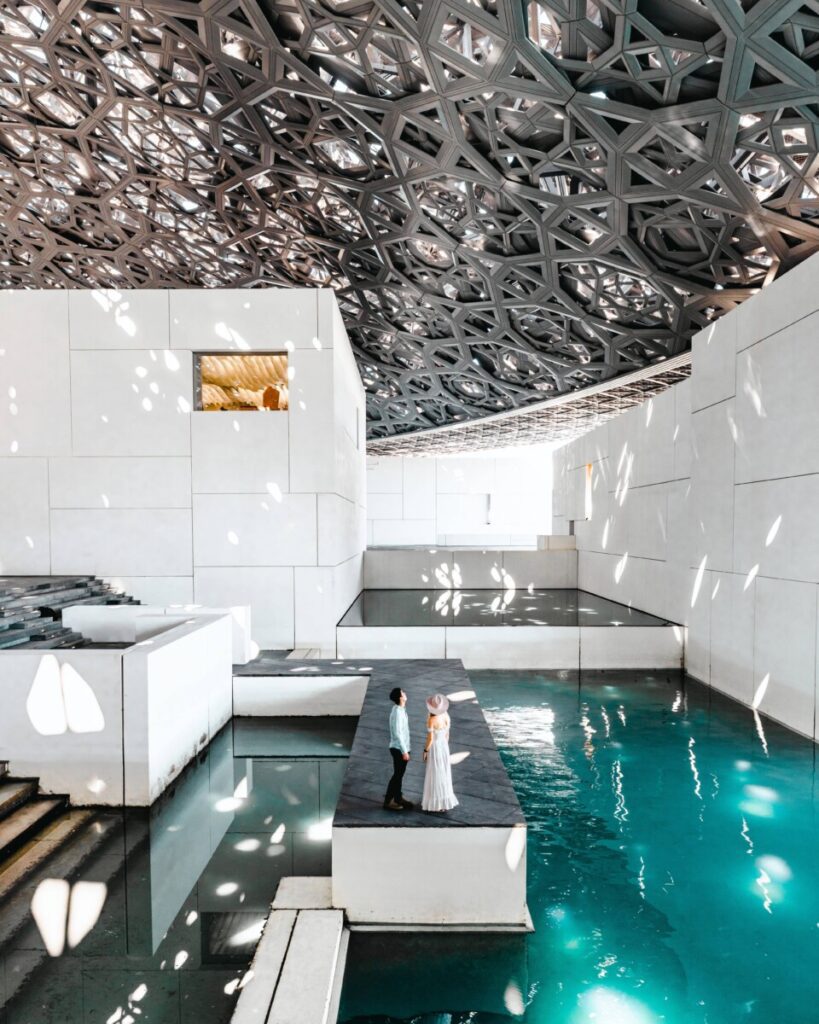 Immerse Yourself in the Louvre
The Louvre Abu Dhabi is so fun to explore. It's a beautiful area and has tons of different exhibits. The main exhibit is all about sculptures and had some really cool mummy statues, tons of pottery, and lots of history behind the Chinese, the Roman, and the Middle Eastern countries. It's definitely a lot smaller than the Louvre in France but we still highly recommend going if you're in the area.
It's about $10 U.S. dollars to enter and that gives you entrance to the exhibits the whole day. Our favorite part of the Louvre was the architecture with the dome. It was stunning to walk through, and you can see it when you drive into Abu Dhabi. If you can get there on a sunny day, the light shining through is so pretty to witness.
Relax at Soul Beach
Soul Beach is the newest beach to the city of Abu Dhabi. It opened in 2020 and is a little over half a mile long. It's located on Saadiyat Island and does have a fee to enter. If you go during the week, it costs around $13 U.S. dollars and if you go on the weekend, it's about $20. The entrance fee also includes your own sun lounger and a parasol. One of the cool parts about this beach is each bed has its own QR code that you can scan and get access to tons of food and drinks. And they deliver it all right to your seat. There are lots of restaurants around and this is definitely an up-and-coming area.
Plan Your Trip To Abu Dhabi
As you can see, Abu Dhabi is full of beauty and amazing activities. You definitely won't be bored during your trip here. We hope this blog helps to ease your stress of planning your visit to the Middle East and encourages you to add Abu Dhabi to your future travel bucket list. Let us know if you've visited the Middle East and what your favorite activities are in that area of the world.
If you're looking to do travel photography on your trip to Abu Dhabi, check out our Creative Process blog to see how we get our amazing shots.