Exploring Jordan's Most Beautiful Highlights in 4 Days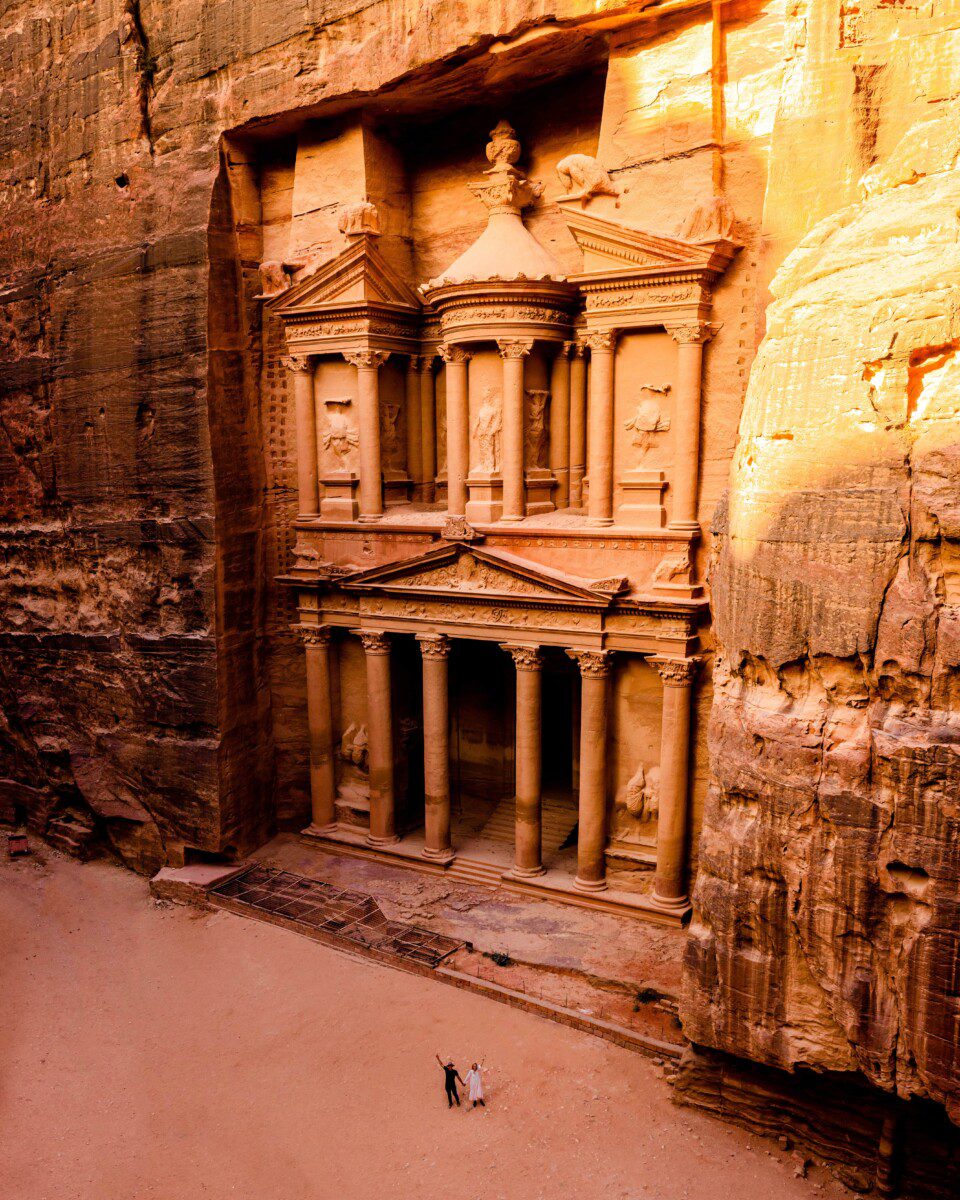 Jordan is a country that is rich in history and culture that offers a diverse array of experiences for the adventurous traveler. This beautiful country is home to many must-see attractions, including Petra, one of the New Seven Wonders of the World, Wadi Rum, a desert valley known for its unique rock formations, and the Dead Sea, the lowest point on Earth and a popular destination for its healing properties.
When we visited Jordan for the first time, we were absolutely blown away. From ancient ruins to stunning desert landscapes, here's our 4-day itinerary that will give you a taste of the best that Jordan has to offer.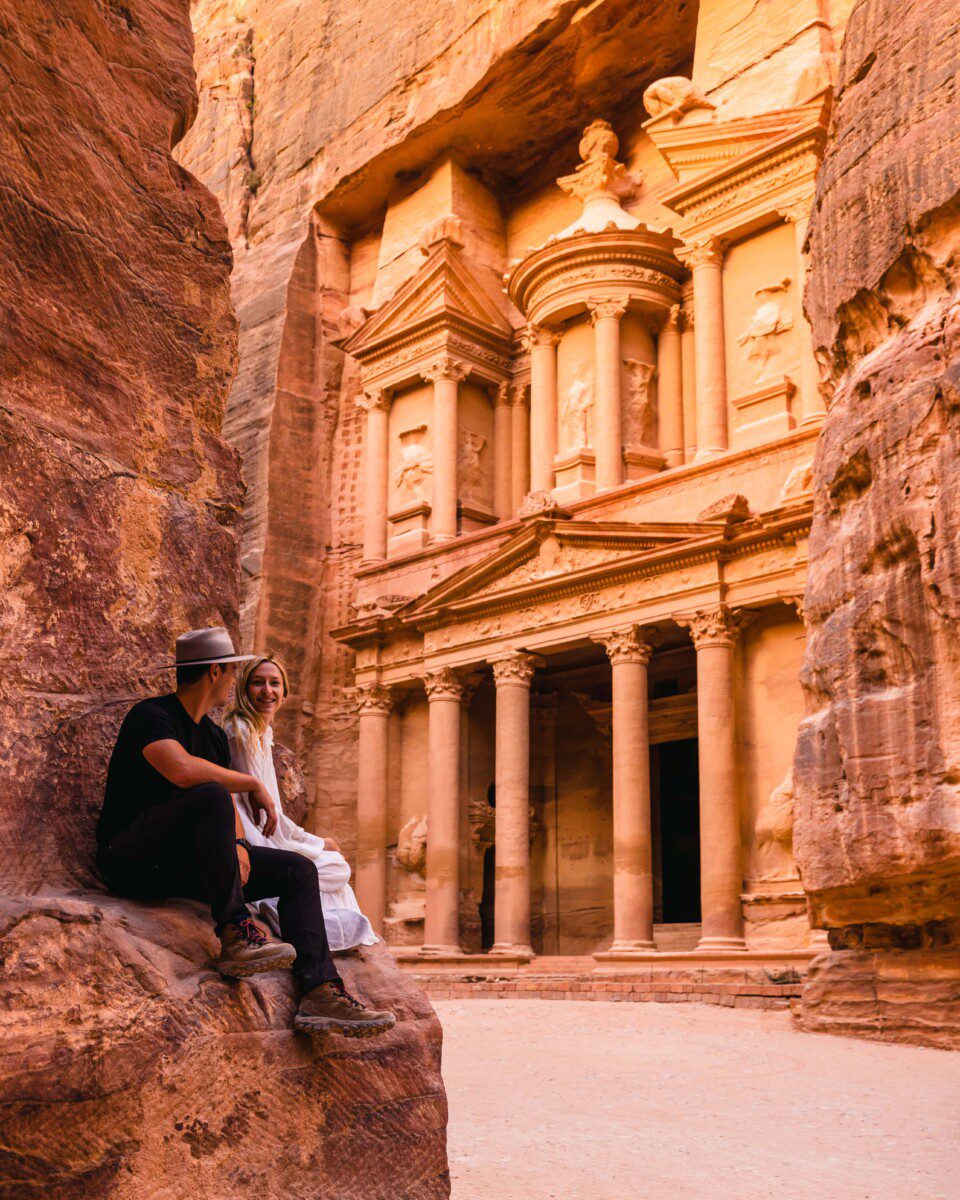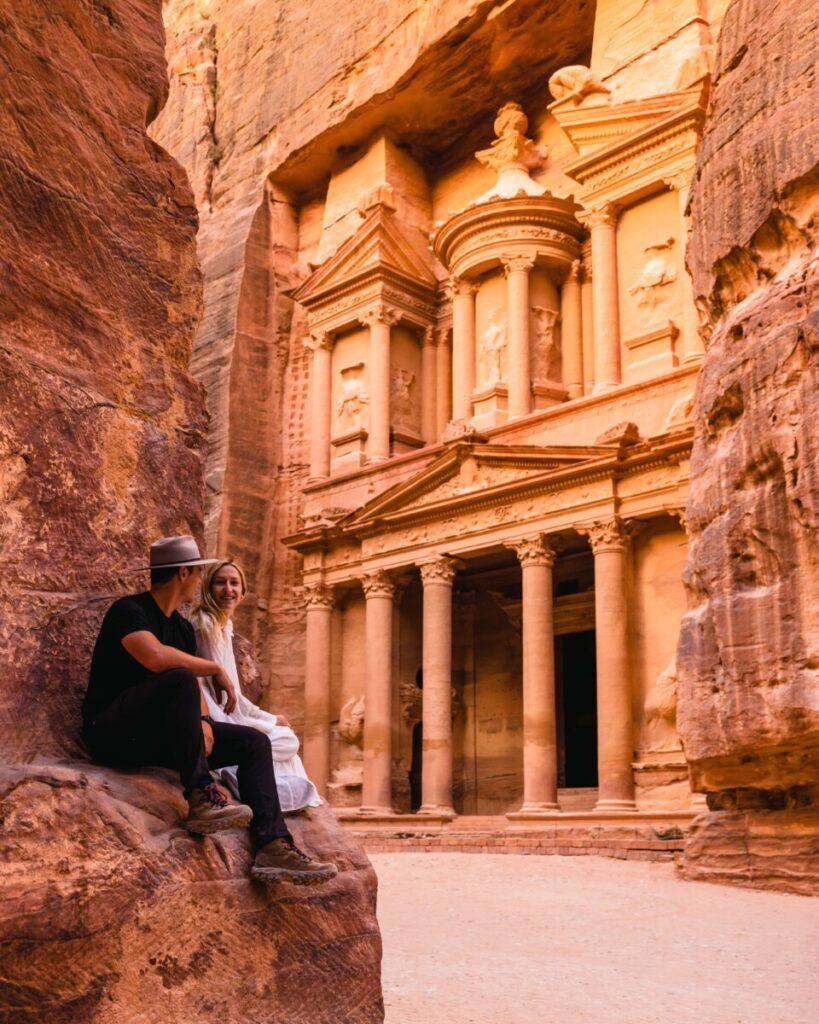 Things to Know Before Visiting Jordan
When planning a trip to Jordan, there are a few things to consider before you go:
Visa Requirements
Citizens of most countries can obtain a visa on arrival in Jordan. However, it's best to check with the Jordanian embassy or consulate in your country before you leave to confirm the requirements. We decided to do a Visa on Arrival when we landed in Jordan and it was a pretty seamless process. It does cost money so make sure to have credit card or cash handy when you land at the airport. If you purchase the Jordan Pass, know that your visa fees are already included in the price of your pass!
Best Time to Visit Jordan
The best time to visit Jordan is in the spring (March to May) or fall (October to November) when the weather is mild and comfortable. Jordan has a dry desert climate, with hot summers and mild winters. The temperatures in the summer time get to be incredibly hot and humid, so we'd avoid going from June-September if you are hoping to do any outdoor activities.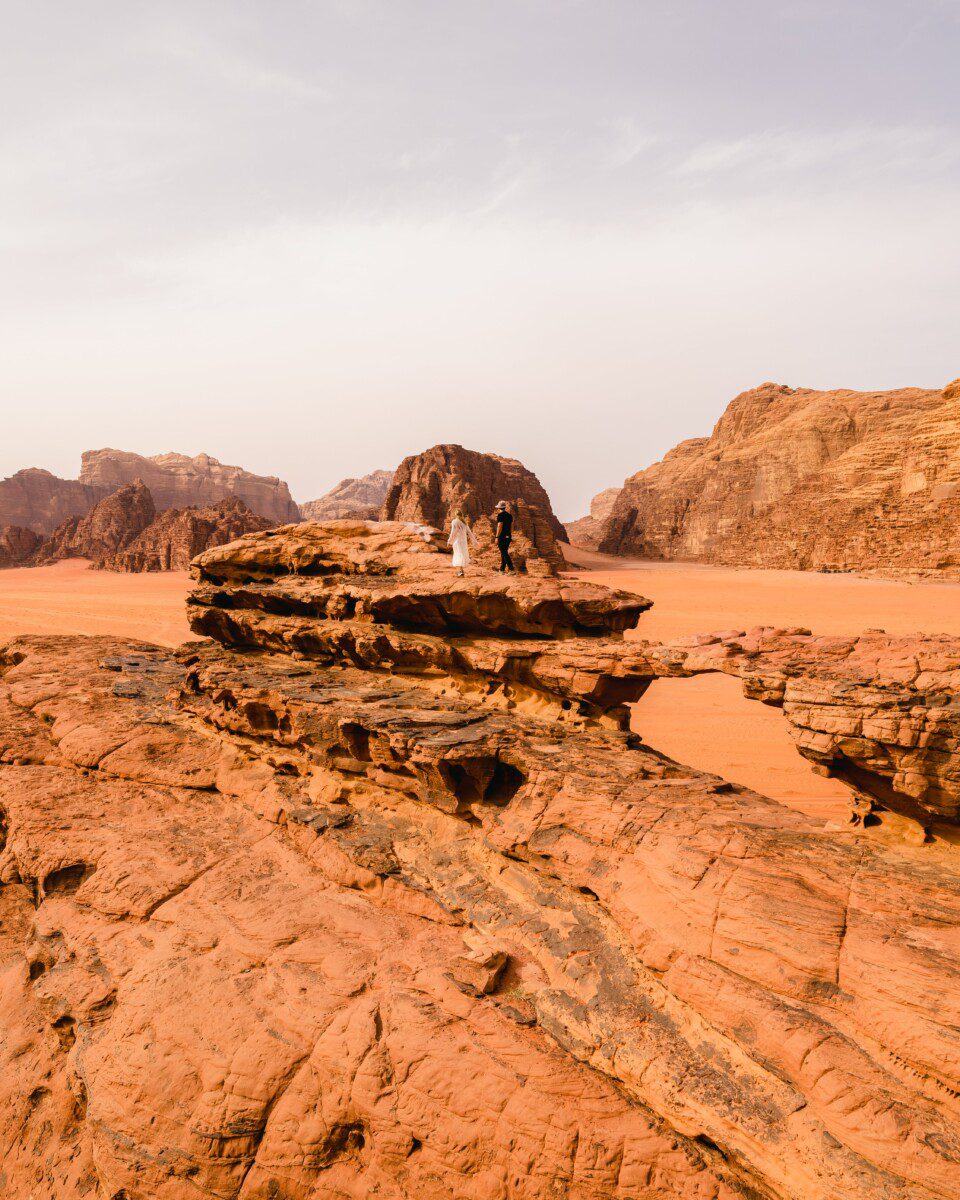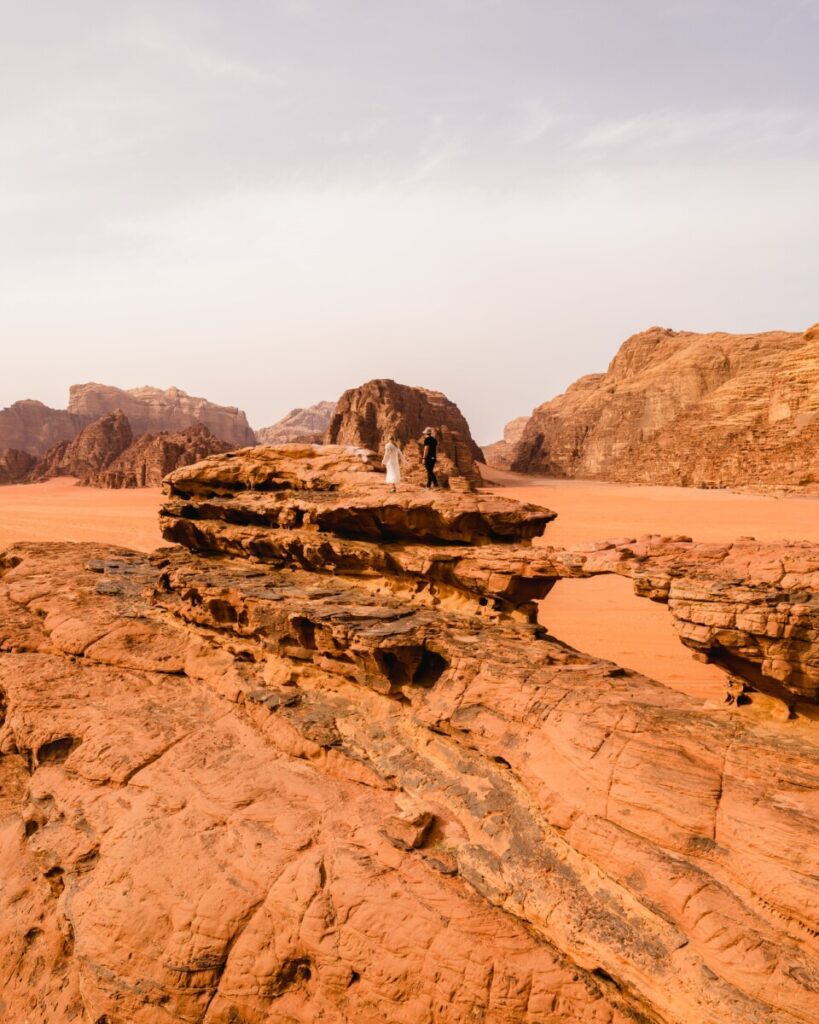 Transportation
Jordan has a well-developed infrastructure, and it's easy to get around by car, taxis, Uber, bus, or train. Renting a car is a great way to explore the country, but keep in mind that traffic can be heavy in the larger cities.
When we visited Jordan in 4 days we opted to hire a private guide and driver via Get Your Guide. That was the best decision since we could relax and really take in the country on our road trip around Jordan while getting a true local experience with our private guide. Jordan has a rich and complex history, culture and a lot of its sites are remote, so we think it is best to hire a guide to help you navigate around, especially for Petra and Wadi Rum.
Safety in Jordan
Jordan is generally considered a safe country to visit, but it's always a good idea to stay informed about local events and to take the usual precautions to ensure your safety before visiting. We felt super safe our whole trip and would argue it's one of the safest countries to travel to in the Middle East.
That being said, the only things to really keep an eye out for are scams. There are a ton of Bedouins in popular sites like Petra that will try to take advantage of your wallet. Make sure to haggle or be firm if you don't want a service since vendors can be quite persistent.
Other Things to Know About Jordan
Language: Arabic is the official language of Jordan, but many people speak English, especially in the tourist industry.
Currency: The official currency is the Jordanian Dinar, but US dollars and Euros are widely accepted. We'd definitely recommend pulling out local currency for guides, tips, and shopping.
Religion: Jordan is a conservative Muslim country, it is important to dress modestly and to be respectful of local customs and traditions.
Day 1: Amman to Petra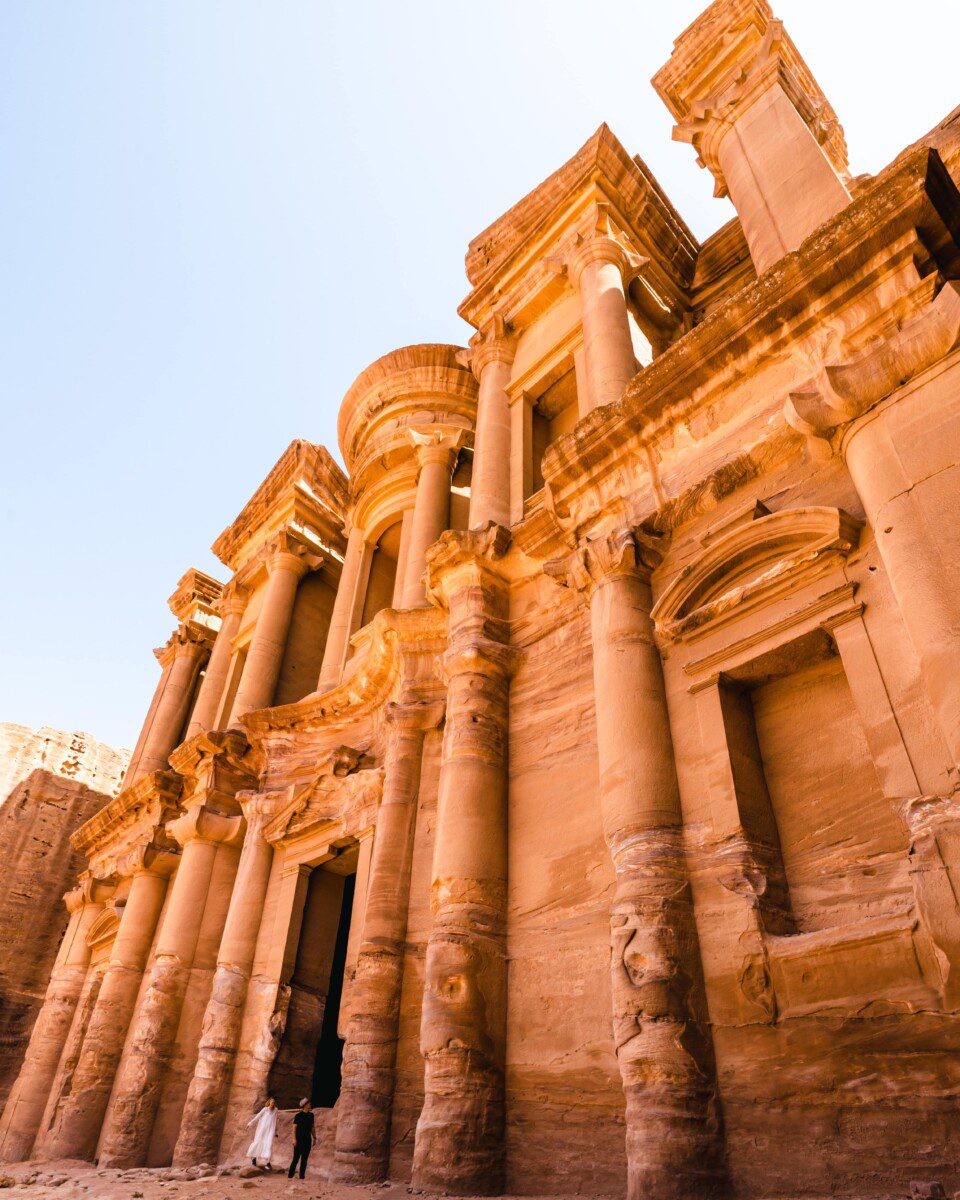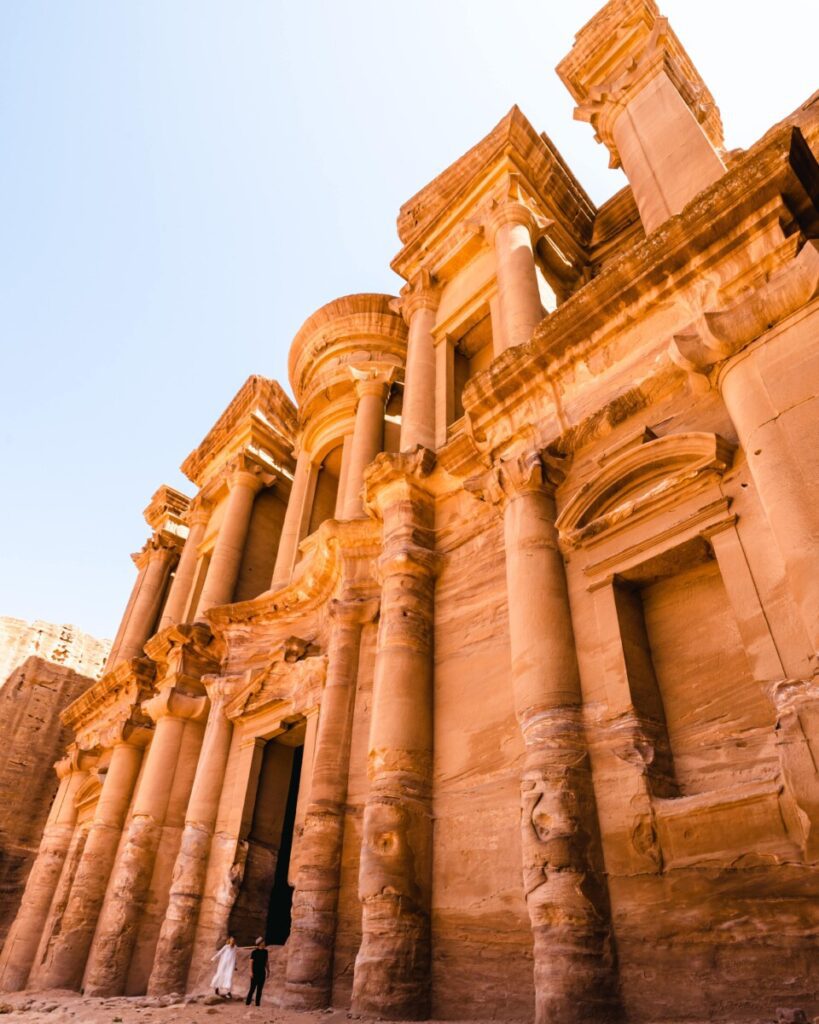 Upon arrival at Queen Alia International Airport in Amman, you'll want to make the most of your first day in Jordan by exploring the capital city. Amman is a bustling city that offers a mix of modern and traditional experiences.
First, visit the Roman Theater, one of Amman's most famous landmarks. The theater, which dates back to the 2nd century AD, was used for performances and public gatherings. It is now one of Amman's most popular tourist attractions and is a great place to start your visit to the city.
Next, head to the Citadel, located on a hill in the heart of Amman. The Citadel offers panoramic views of the city and is home to several ancient ruins, including the Temple of Hercules, the Umayyad Palace, and the Byzantine Church.
For lunch, try one of Amman's traditional eateries, such as Al Quds or Hashem, both of which offer delicious traditional Jordanian food. We loved the falafel dishes at Hashem.
Explore the Ancient City of Petra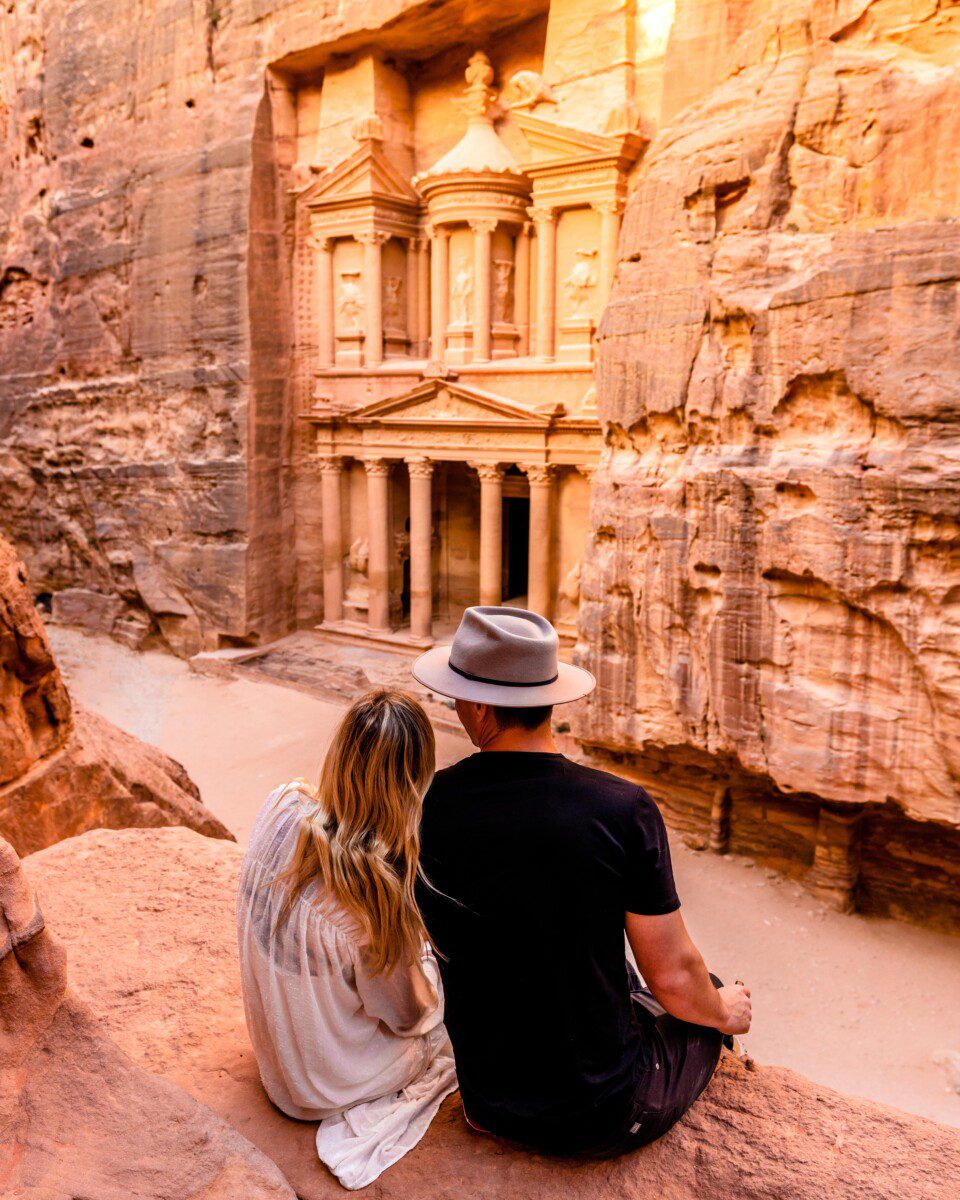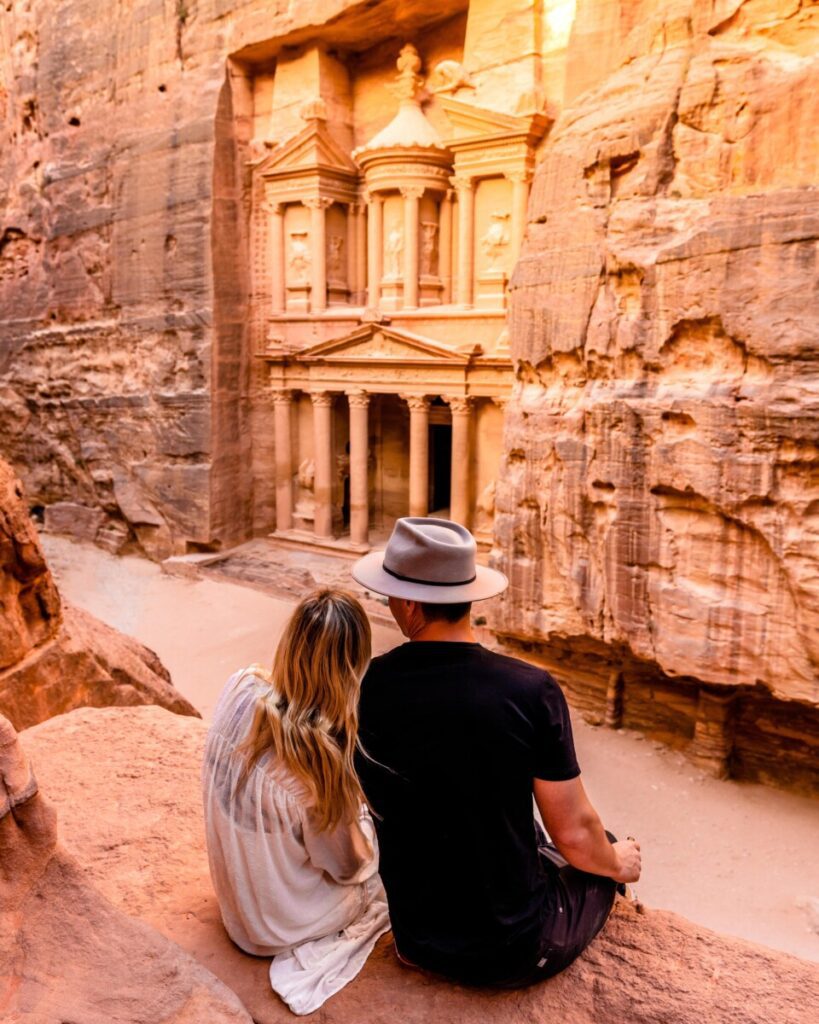 After exploring Amman, start heading towards the ancient city of Petra, a UNESCO World Heritage site and one of the New Seven Wonders of the World. The city, carved into the rock, is a stunning example of Nabataean architecture and engineering. It's Jordan's most famous tourist attraction.
Things to Know Before Visiting Petra
Shoes: Bring a comfortable pair of walking shoes! You will be doing a lot of walking to see the main sites in Petra.
Cash: Make sure to bring local currency if you're planning on eating or shopping within the monument. There are ATMs in the ticket office if you need them.
Animals: We'd avoid using the animals in Petra as they are not well taken care of and often abused.
Best Time to Go: If you want to avoid the crowds, heading into Petra right when it opens in the morning is the best way to go!
Camera: Make sure your camera batteries are charged, you'll want to take lots of photos! For our full list of camera gear we bring while we travel, check out our photography gear guide.
Scams: Some of the Bedouin people may tell you that you have to pay them to guide you to certain vantage points – this is false. There are signs in the Treasury to remind you. You are free to explore around without paying for photo spots.
Depending on how tired you are, you can either choose to start exploring Petra tonight or wait until the following morning. You can explore the city on foot, walking through the Siq, a narrow gorge that leads to the Treasury, the most famous monument in Petra. After visiting the Treasury, try taking a hike to the Monastery, another impressive structure.
For dinner, you can visit one of Petra's many restaurants, which offer traditional Jordanian cuisine or you can check out some of the local restaurants outside of the monument. For a unique experience later in the night, visit Petra at night and watch the Treasury lit up by candlelight.
Optional Add On: Petra at Night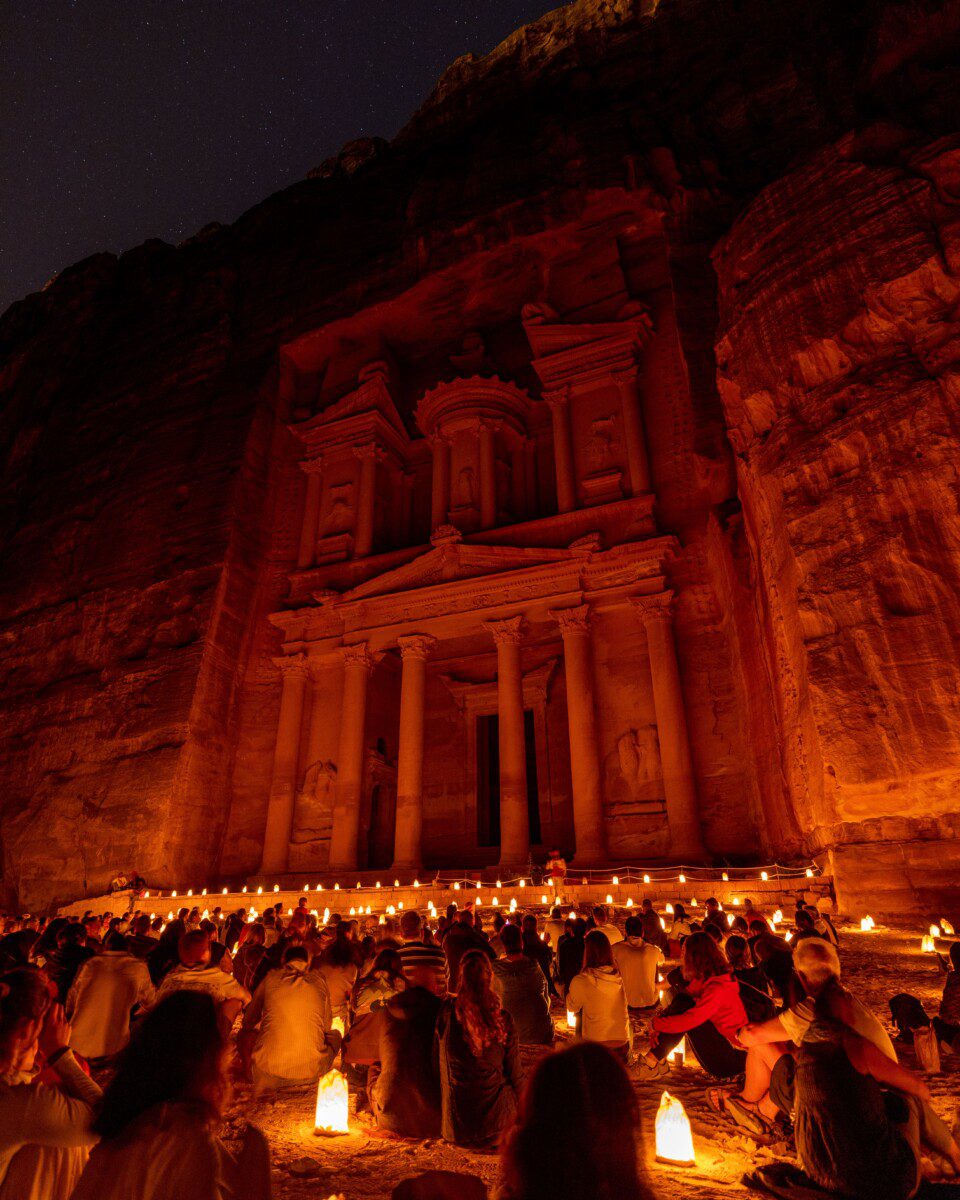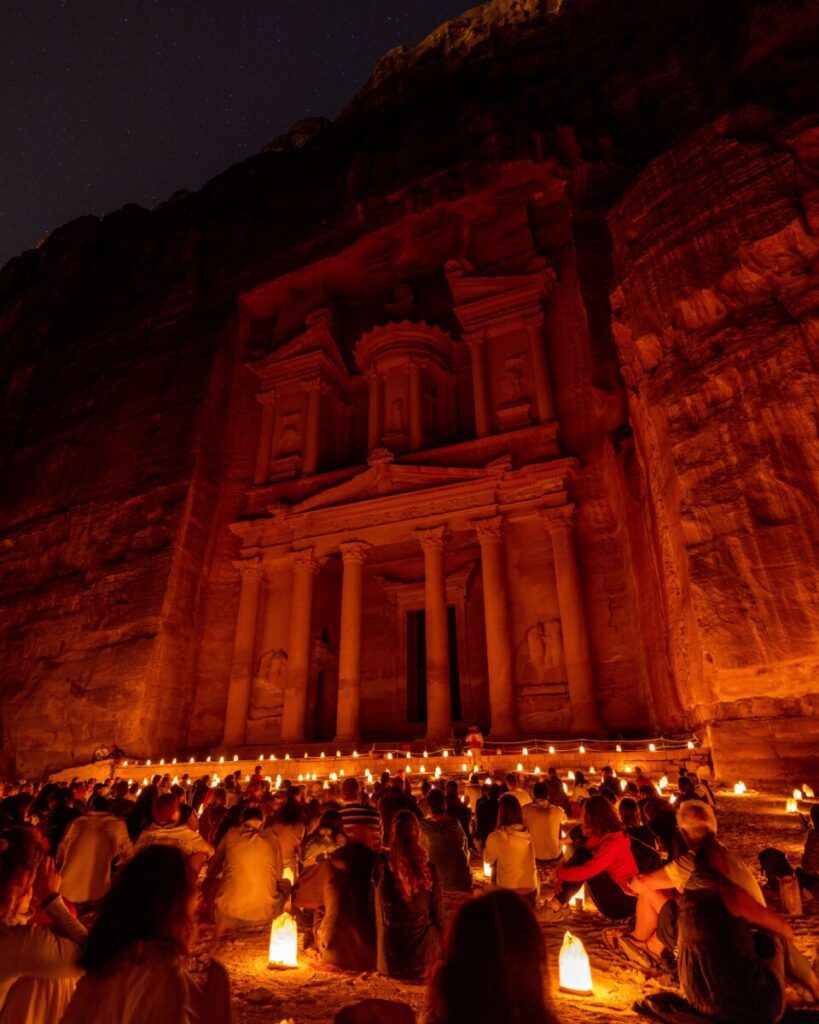 Petra at Night is a popular event where visitors can experience the ancient city of Petra in a magical and atmospheric way. The ancient city of Petra shines with over 1500 candles, creating a magical and memorable ambiance. Here are a few things to keep in mind when planning a visit to Petra at Night:
Timing: Petra by Night takes place every Monday, Wednesday, and Thursday evening from 8:30 pm to 11:00 pm. It's best to plan your visit in advance to ensure that you can attend on one of these nights.
Admission: This experience requires a separate ticketed event and it is not included in the regular Petra admission ticket.
Length of Tour: experience is a 1.2 km walking tour that starts from the Visitor Center and ends at the Treasury. The tour is lead by guides. It will take about 2 hours.
Dress: The temperature drops quickly after sunset, so we recommend dressing warmly as the night gets chilly.
Crowds: Since this is a very popular event, there can be huge crowds. It's best to plan ahead and arrive early to secure your spot.
Petra at Night Photography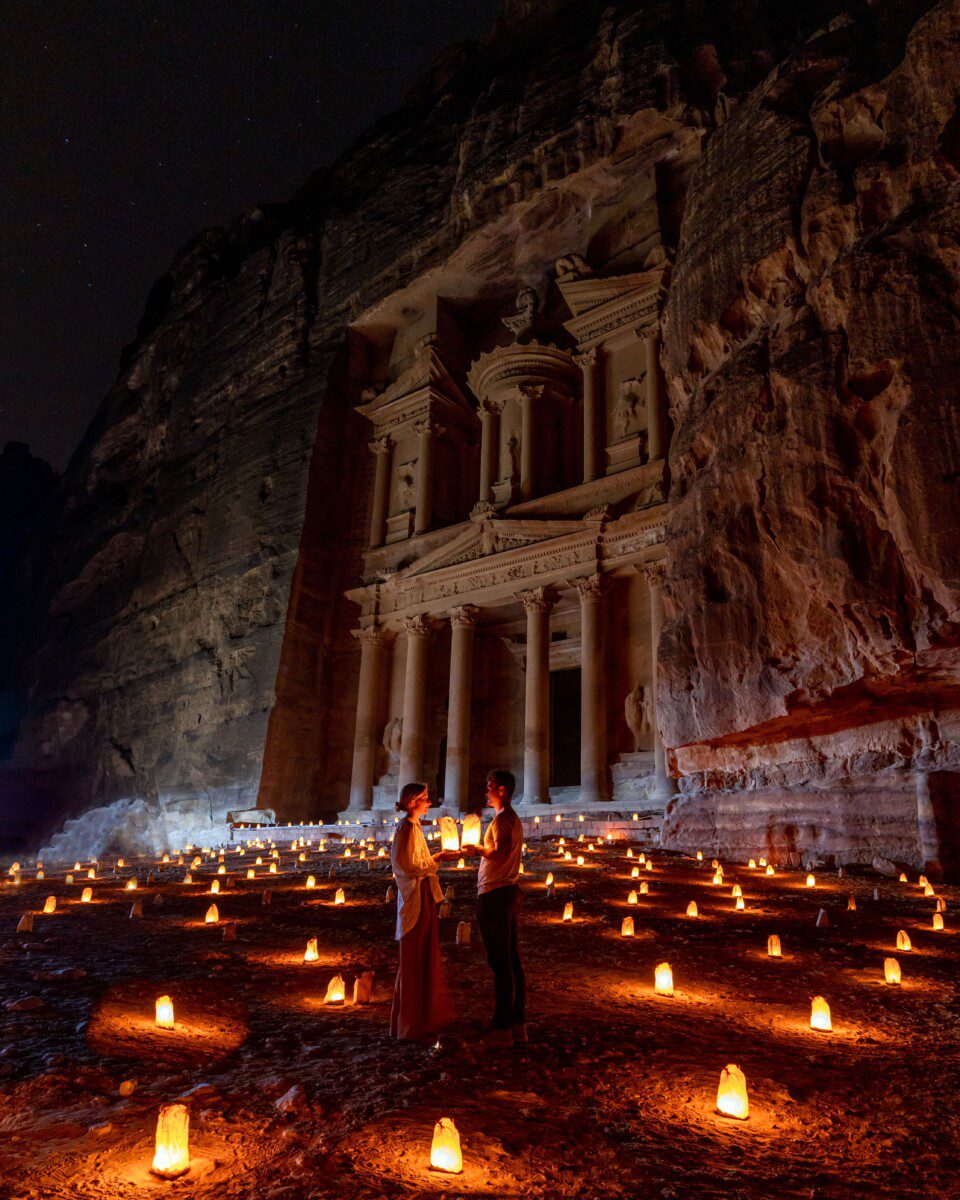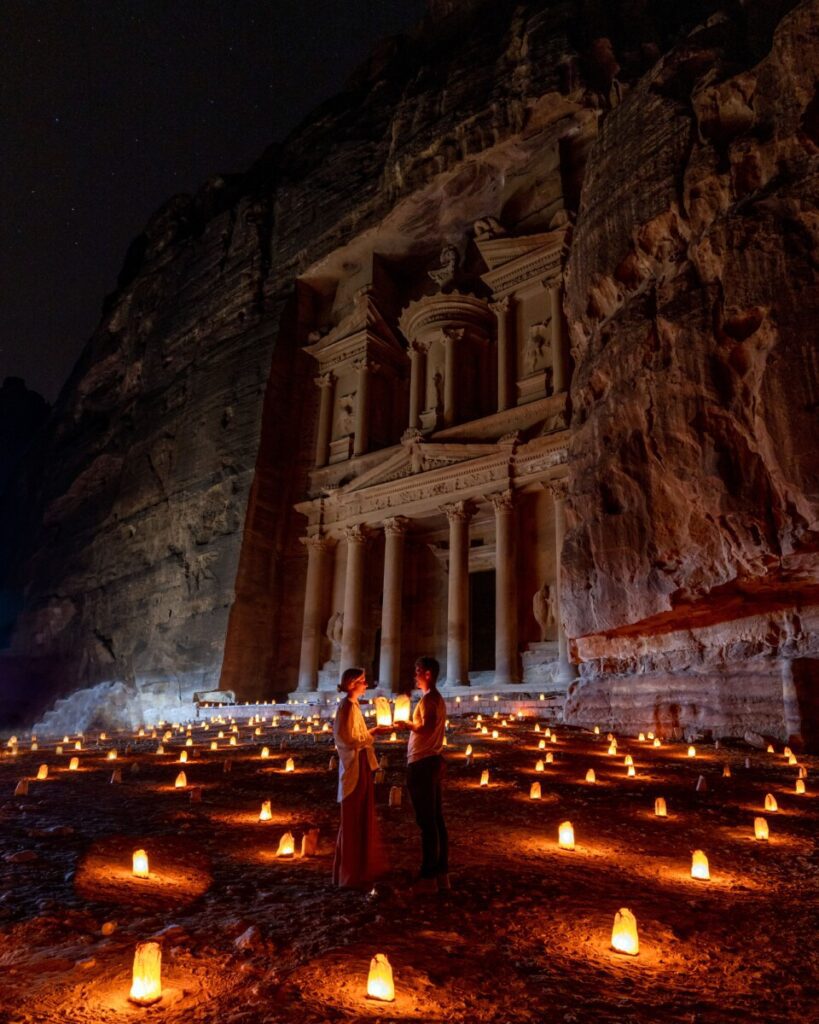 When it comes to photography at this event, there are a few things you need to know. Petra at Night is great opportunity for photography, the lighting and ambiance of the site is spectacular, but it is important to be respectful of other visitors and not use flash or other disruptive lighting during the tour.
If you want the best photos, try to be either the first or last people to be in the Treasury area so there are minimal people in the background of your photos. Check out our photography e-book for more tips on taking the best travel photos.
Overall, Petra at Night is a unique and unforgettable experience that allows visitors to see the ancient city in a different light and provide an opportunity for visitors to feel the magic and mystery of Petra's history and culture.
Day 2: Wadi Rum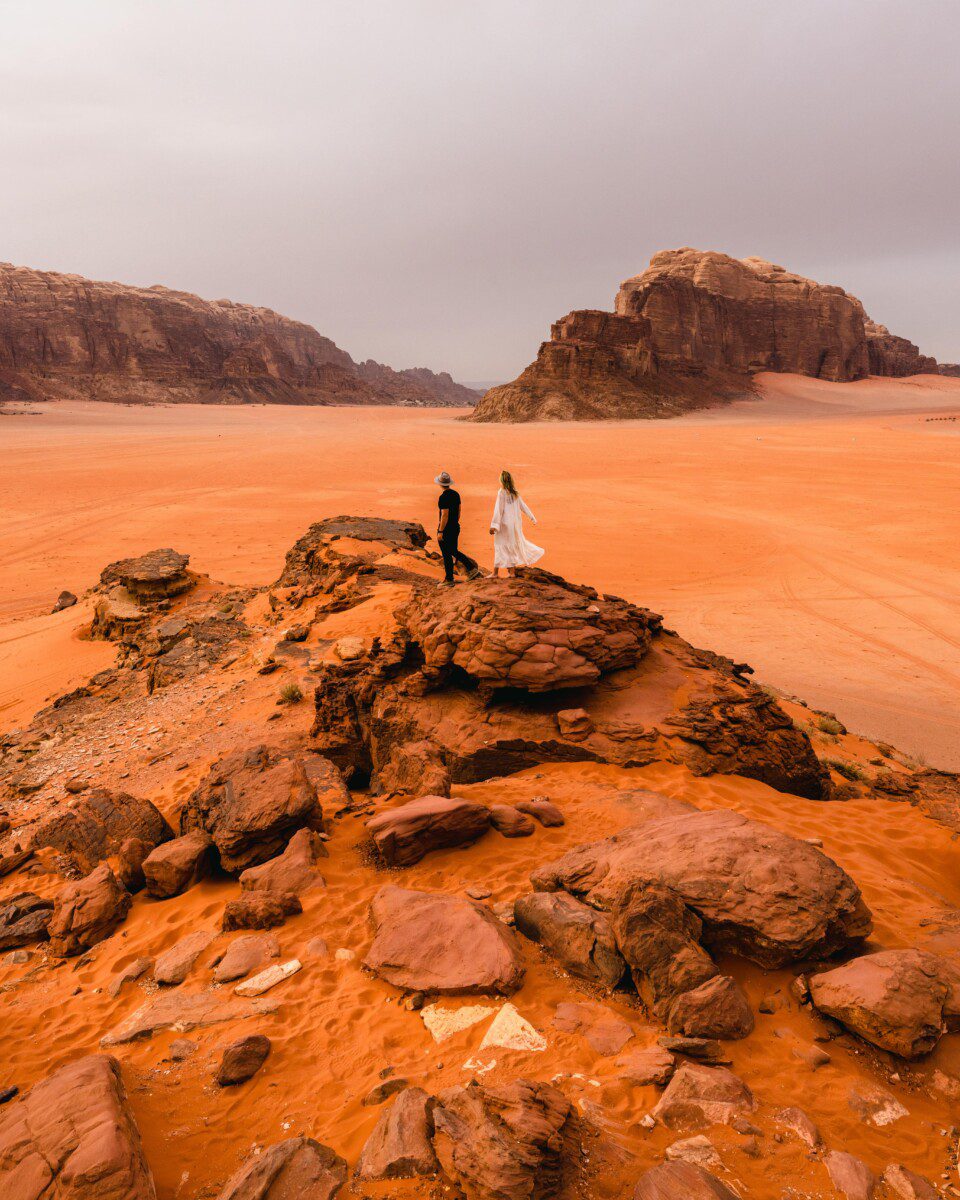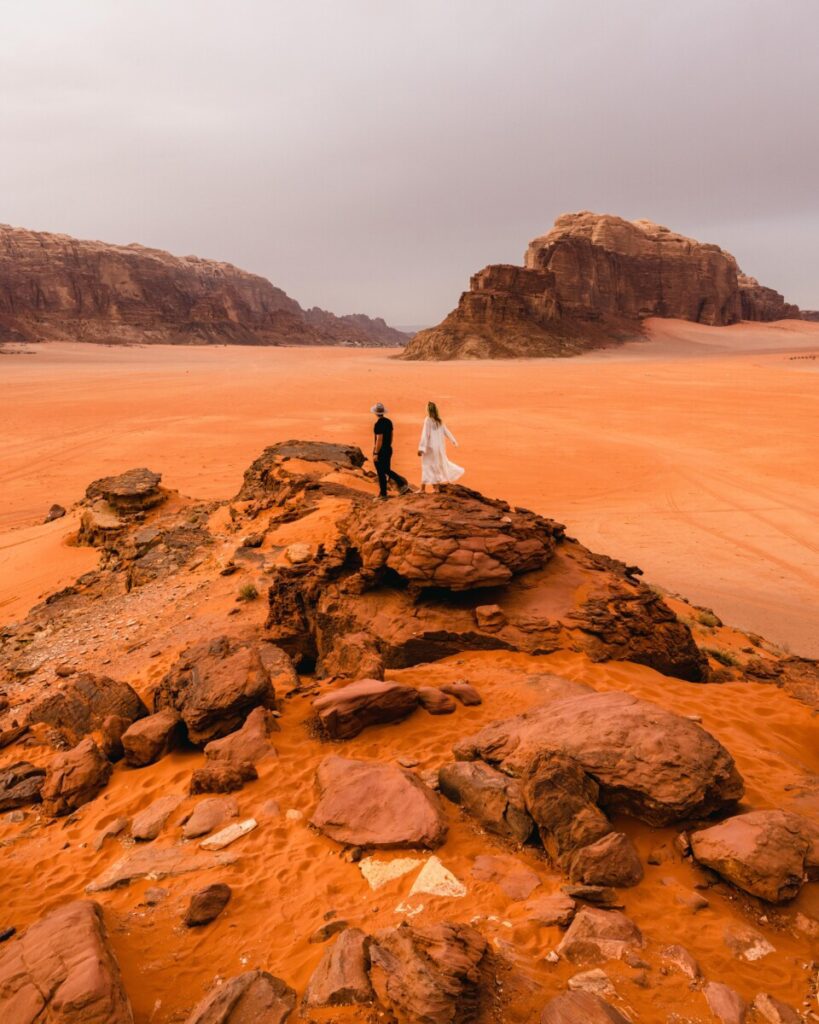 Start your morning by finishing up your visit to Petra. Check out the different viewpoints and perspectives you may not have seen the day before!
Then, start heading out to the beautiful desert landscape of Wadi Rum. Also known as the Valley of the Moon, Wadi Rum is a popular destination for adventure travel in Jordan. Kick off your time here with a 4×4 tour of Wadi Rum, visiting its most famous landmarks, including the Seven Pillars of Wisdom, the Lawrence's Spring, and the Orange Sand Dunes. A jeep tour is a great way to visit the rock bridges and sand dunes, and learn about the Bedouin culture that has thrived in this harsh environment for centuries.
At night, you can camp in a traditional Bedouin camp in the desert under the stars, and enjoy the tranquility and beauty of this unique landscape.
Wadi Rum is a unique and beautiful destination that offers visitors the opportunity to explore the desert landscape, learn about Bedouin culture, and enjoy a variety of adventure activities.
Day 3: Wadi Rum to Aqaba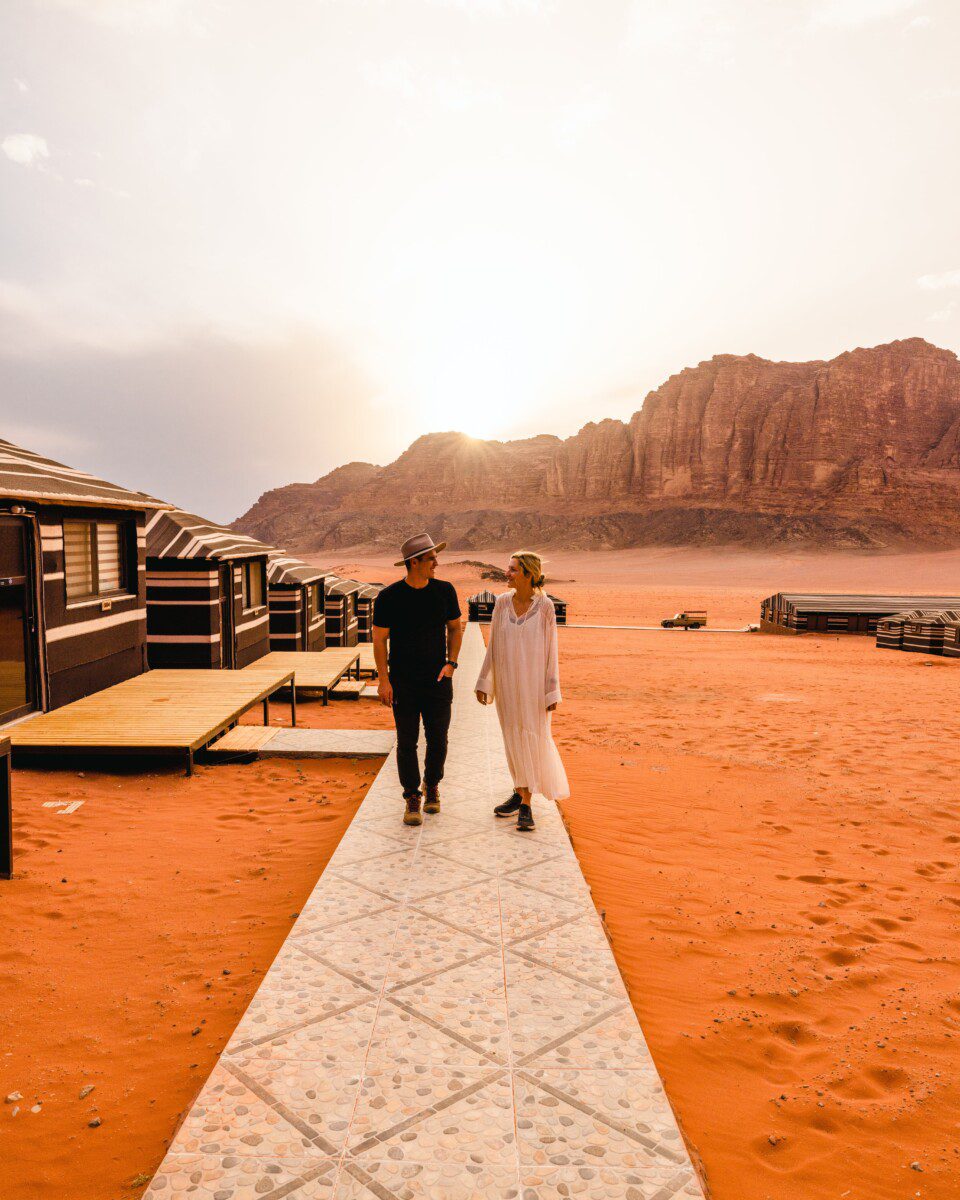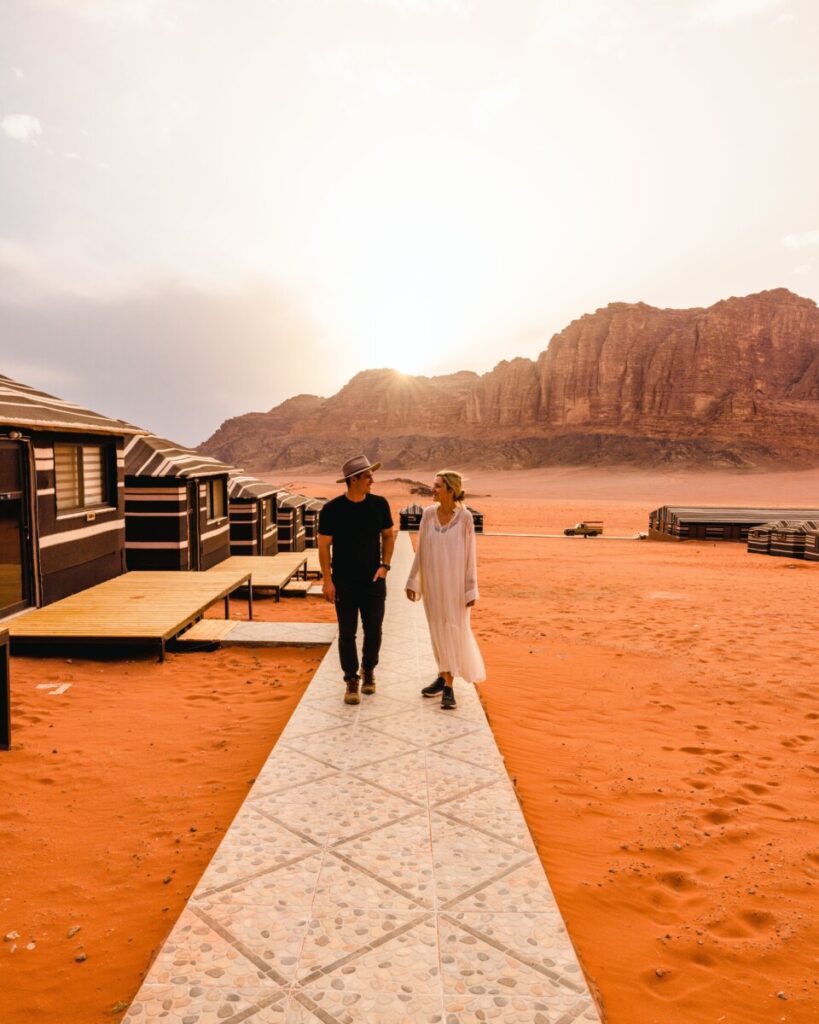 After a sunrise in the Wadi Rum desert, it's time to depart and head over to Aqaba. The city of Aqaba is located in the southern part of Jordan and is a popular destination for adventure and water-based activities. Aqaba is also a great place to relax and enjoy the sun, sea, and sand. Whether you're interested in adventure sports, wildlife watching, or just relaxing, Aqaba has something for everyone.
We took a glass bottom boat adventure around the harbor and had a great hour out on the water. You can also take part in other water activities out on the Red Sea! Aqaba is known for its clear waters and diverse marine life, which is why it's a popular spot for scuba diving and snorkeling too. Explore the Red Sea's coral reefs and see a variety of colorful fish, dolphins, and even turtles.
Day 4: Dead Sea & Return to Amman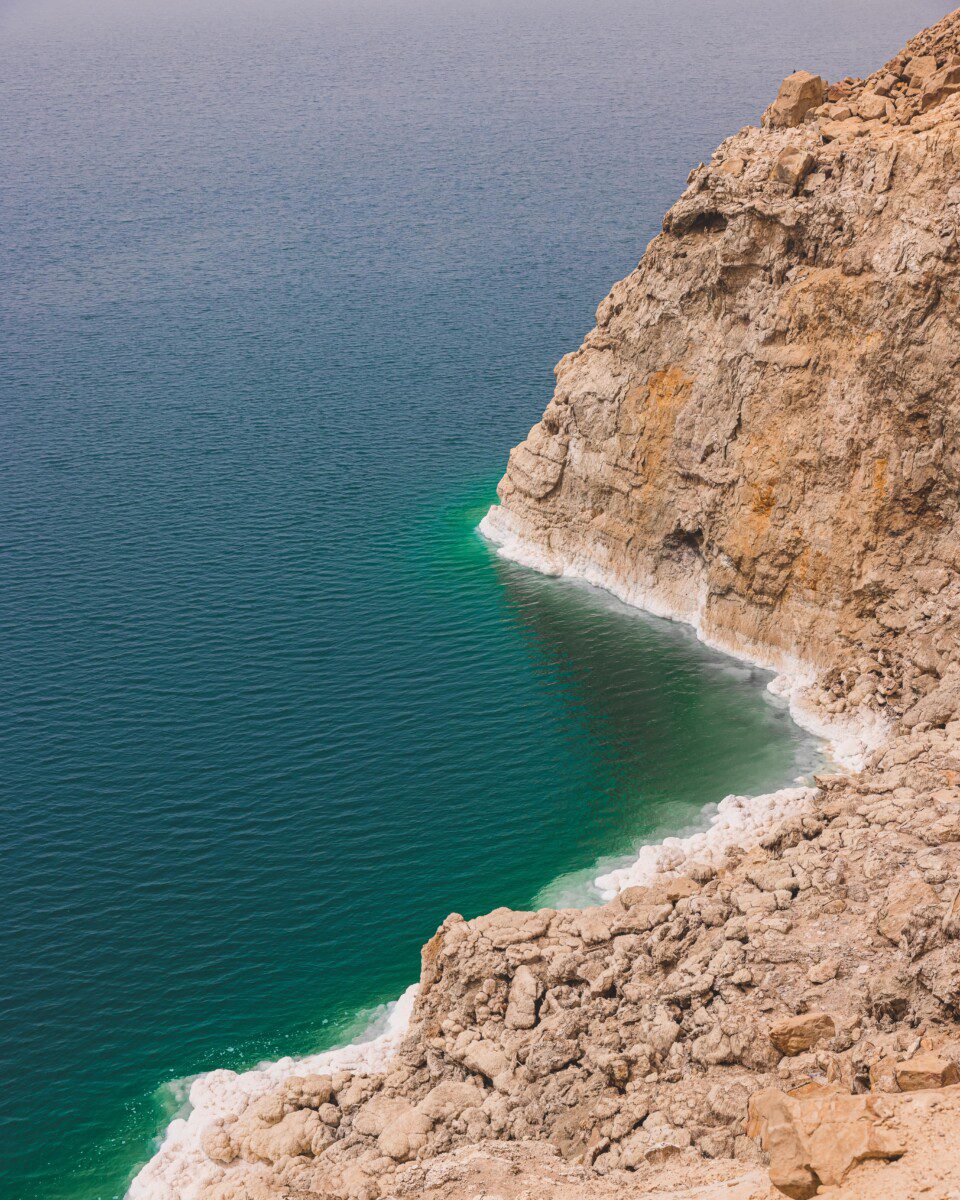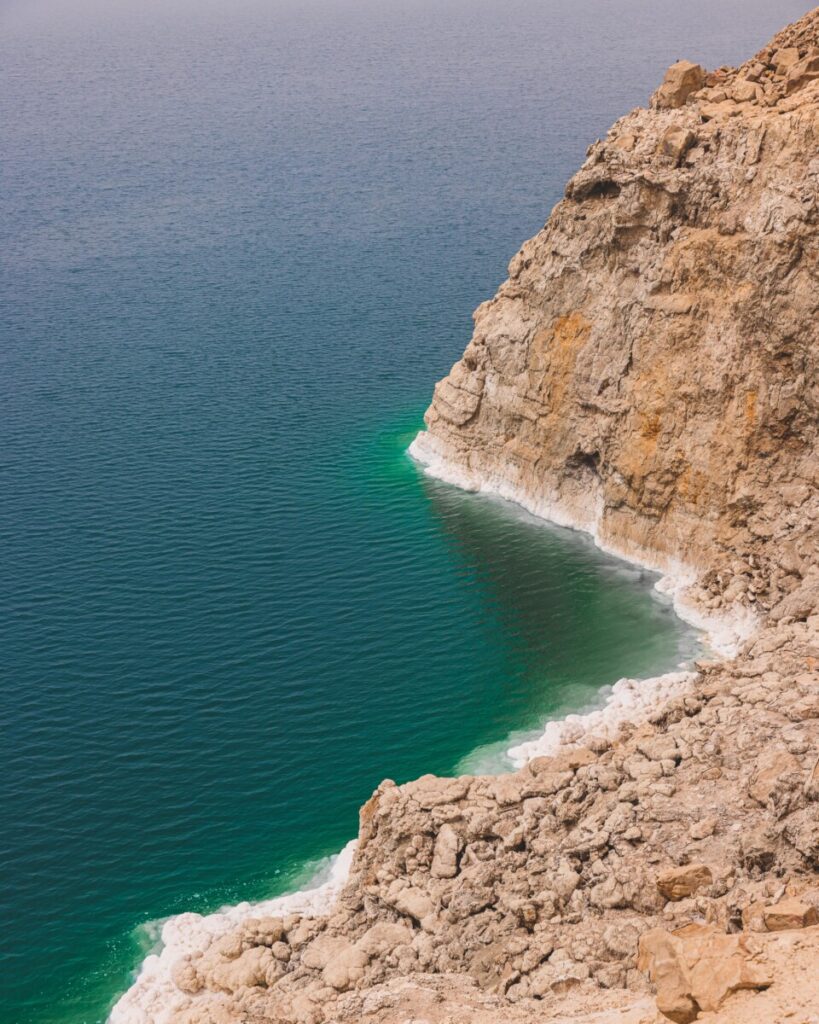 On your final day, head to the lowest point on Earth, the Dead Sea. The Jordanian side of the Dead Sea is a unique and interesting destination that offers visitors the opportunity to experience the healing properties of the water and the mud, as well as to enjoy the warm weather and the beautiful scenery of the Jordan Rift Valley.
One of the most popular activities in the Dead Sea is floating in its extremely salty waters. This unique experience supposedly has therapeutic benefits for the skin and body. Before heading in the water, cover yourself in the rich, therapeutic mud from the Dead Sea and relax!
Other Things to Know Before You Float in the Dead Sea:
Whatever you do, try not to get water in your eyes. It stings!
Don't shave before hand! We'd recommend avoiding shaving for at least 2-3 days prior.
Try not to stay in the water for too long – most go in for 5-10 minutes at a time.
Bring water shoes! The floor of the Dead Sea can be jagged and it's easy to misstep and cut your feet.
If you're looking to harness the mineral benefits outside of floating, you can try Dead Sea mud treatments at a local spa. Many of the resorts and spas in the area offer a range of treatments using the minerals from the Dead Sea, such as facials, massages, and body wraps.
There are also some great hikes in the Dead Sea region in Jordan. The area surrounding the Dead Sea has several hiking trails with breathtaking views, including the Dana Nature Reserve and the Wadi Mujib. We'd recommend hiring a guide for Wadi Mujib if you desire to go! It's views resemble a lot of the Southwest USA & Zion National Park's Narrows.
Ready to Visit Jordan?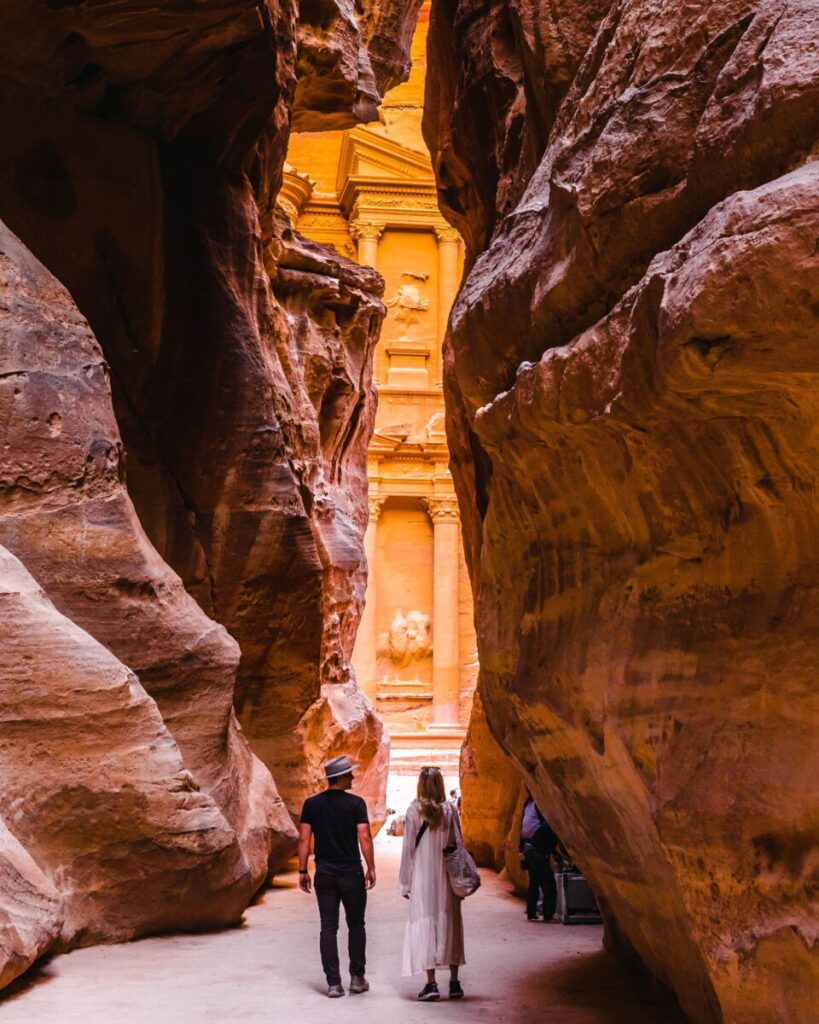 This 4-day itinerary only scratches the surface of what Jordan has to offer. If you have more time, consider visiting other sites such as the Little Petra, the Baptism Site, and the Amman Citadel. Jordan is a truly unique and special place, and you are sure to have an unforgettable experience here. For now, four days is a perfect amount of time to take in the highlights of this amazing country.
Looking for more adventures in the Middle East? Check out our top favorite things to do in Abu Dhabi, UAE!