2021 Holiday Gift Guide for the Adventure Lover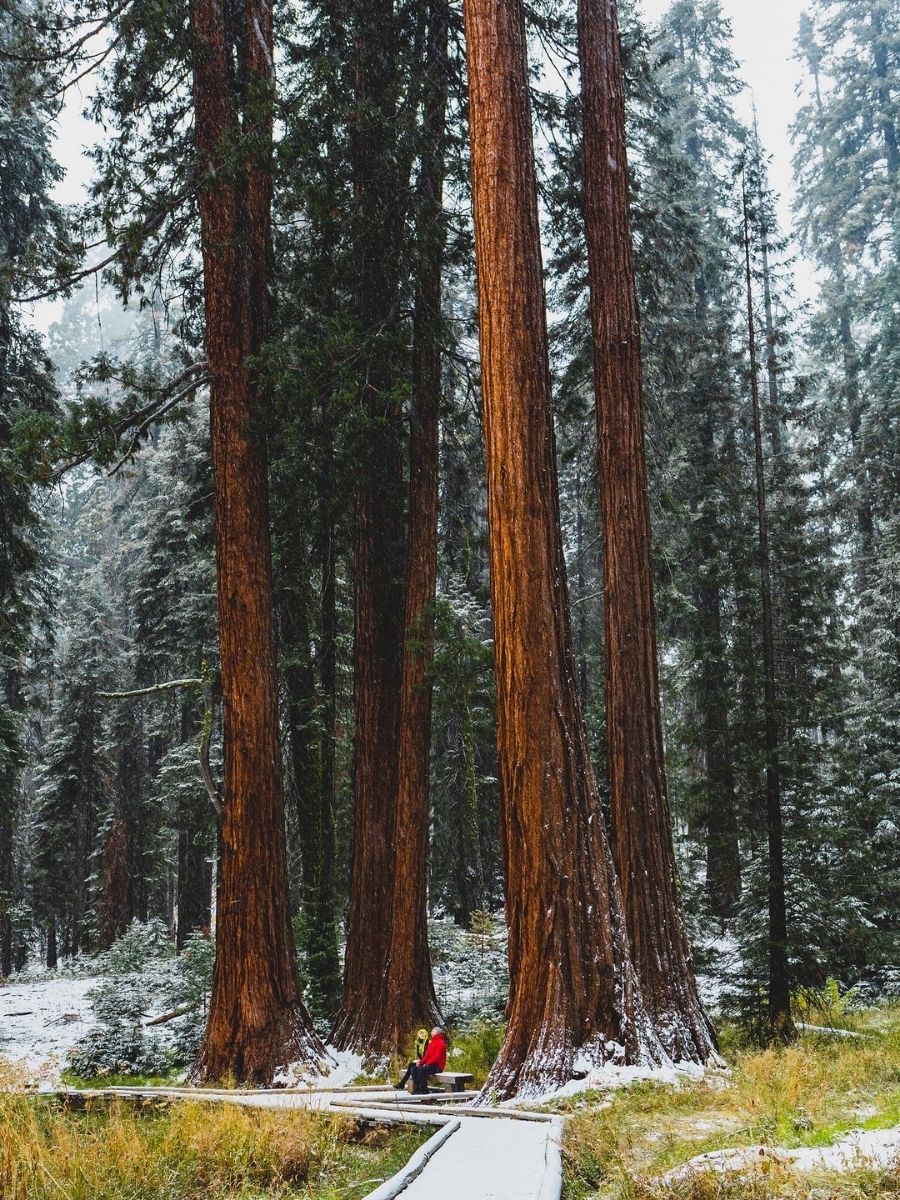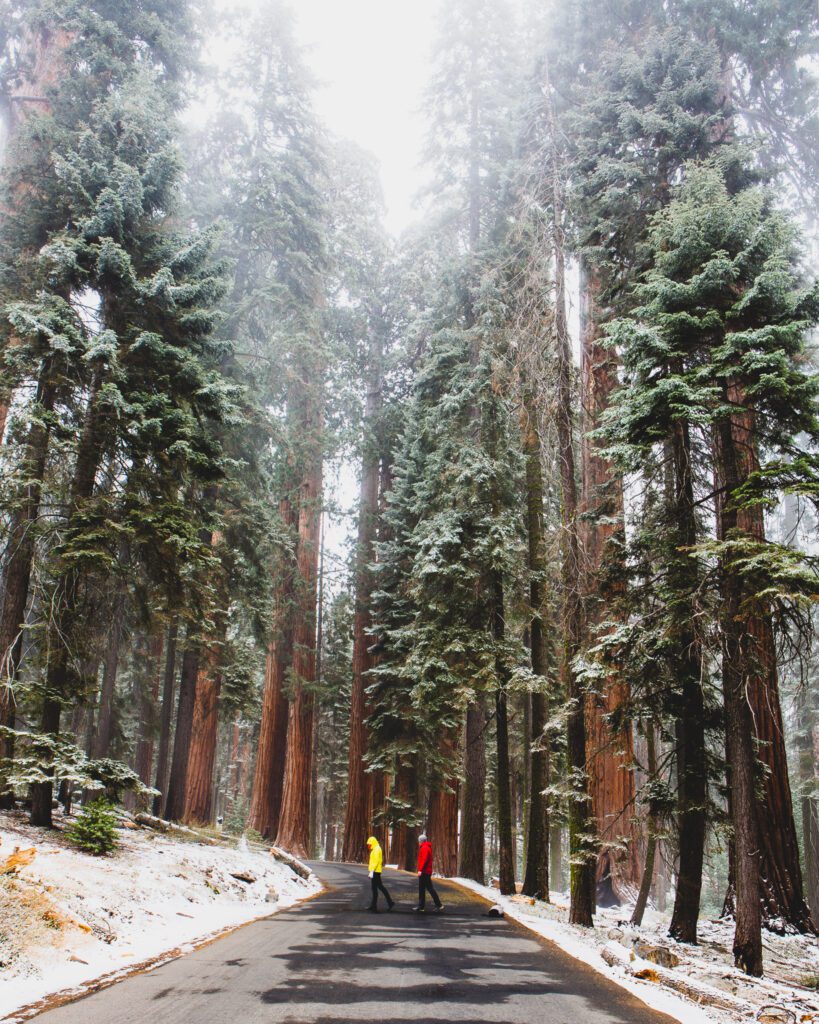 When looking for gifts for the adventurous, it can be pretty overwhelming with the amount of options out there. This 2021 holiday gift guide for the adventure lover is curated to inspire you with the most useful, cozy things your outdoorsy friends will love and use on every adventure. These are our favorite recommendations for campers, road trippers, van lifers, hikers, backpackers, and those that love spending time outside.
This guide features items from stocking stuffers for the adventure lover all the way up to big ticket items for the most luxurious gift givers.
Whether you're looking for gifts for a friend or family member, or maybe needing some ideas for your own holiday list, this adventure lover holiday gift guide will help you pick out something any outdoorsy person would love.
Disclaimer: Some parts of this holiday gift guide for the adventure lover also feature affiliate links, which means we get a small commission if you make a purchase (at no extra cost to you). It's one of the ways we can keep producing free guides and resources for our readers. Thank you for the support!
Stocking Stuffers for Adventure Lovers

humangear GoBites Uno Spork
A spork is a great gift for adventure lovers considering it's useful, it's small, and it's an item that's often forgotten or misplaced. We love this particular spork because it's lengthy for optimal use in dehydrated meals and it's very durable.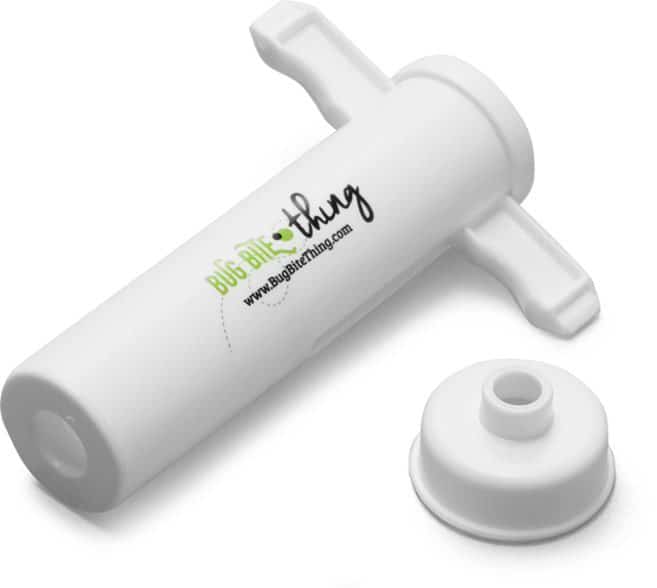 BUG BITE thing Removal Tool
If your friend or family member is a mosquito magnet, this is a fantastic stocking stuffer. Help provide future relief for those prone to bites with the Bug Bite Thing's anti-itching technology.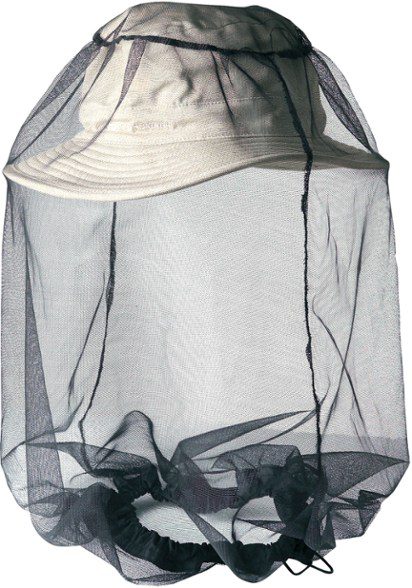 Sea to Summit Mosquito Head Net with Insect Shield
Another fantastic option for the mosquito prone, a head net is a great option for your outdoorsy friends that love to go hiking or backpacking in the mountains.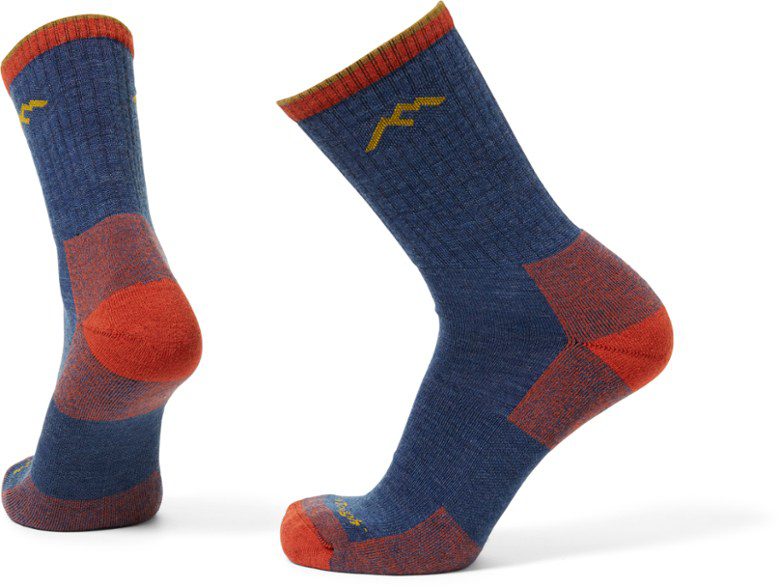 Darn Tough Hiker Micro Crew Cushion Socks
Darn Tough Socks are basically the only brand of socks we've been wearing while out hiking and adventuring for the past 3 years. They are Merino Wool socks and they are the best quality sock we've tested out made out of Vermont, USA. Our personal favorite models are the Hiker Micro Crews, but all of their socks are incredible quality and last for years without excessive wear and tear.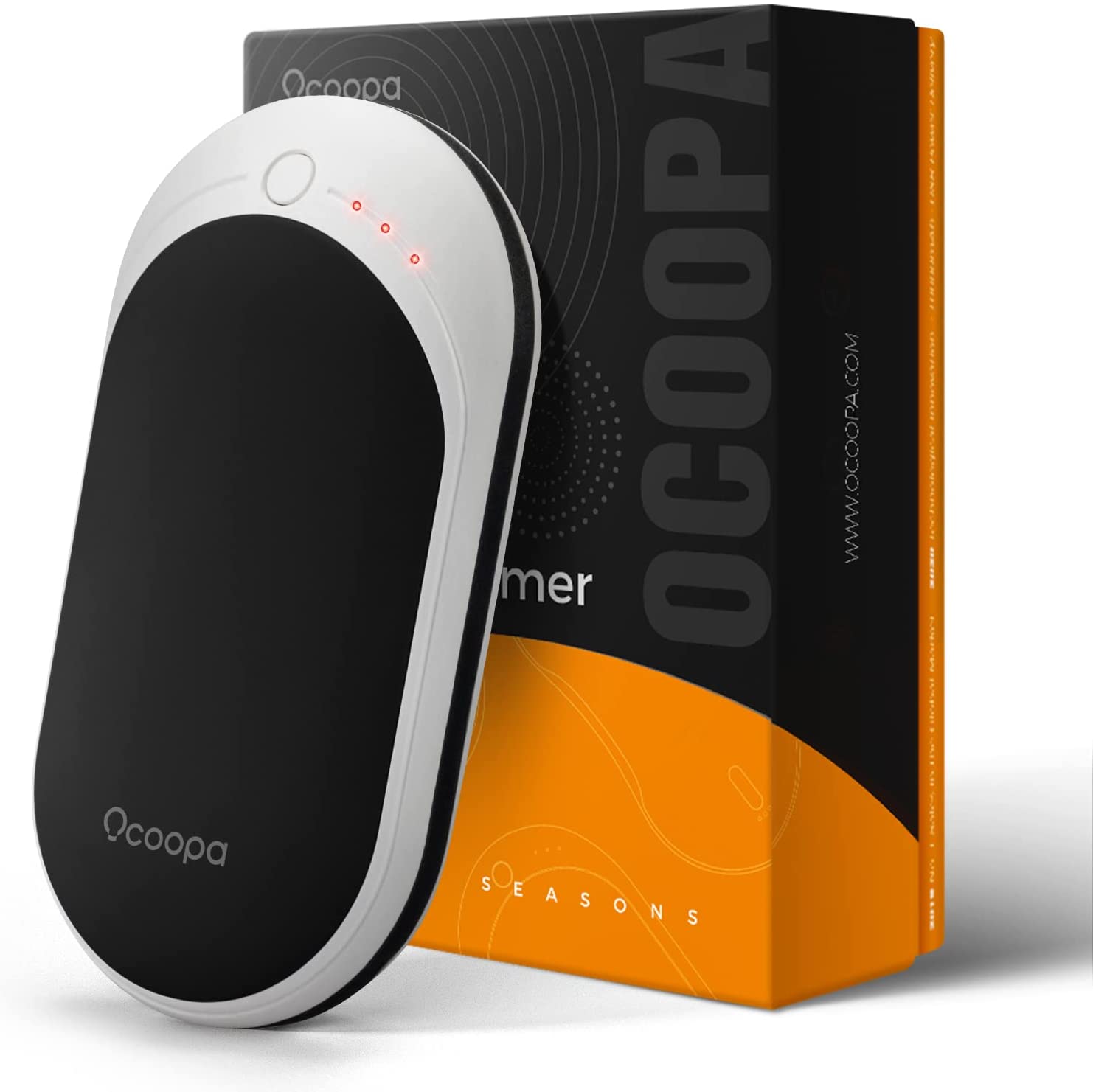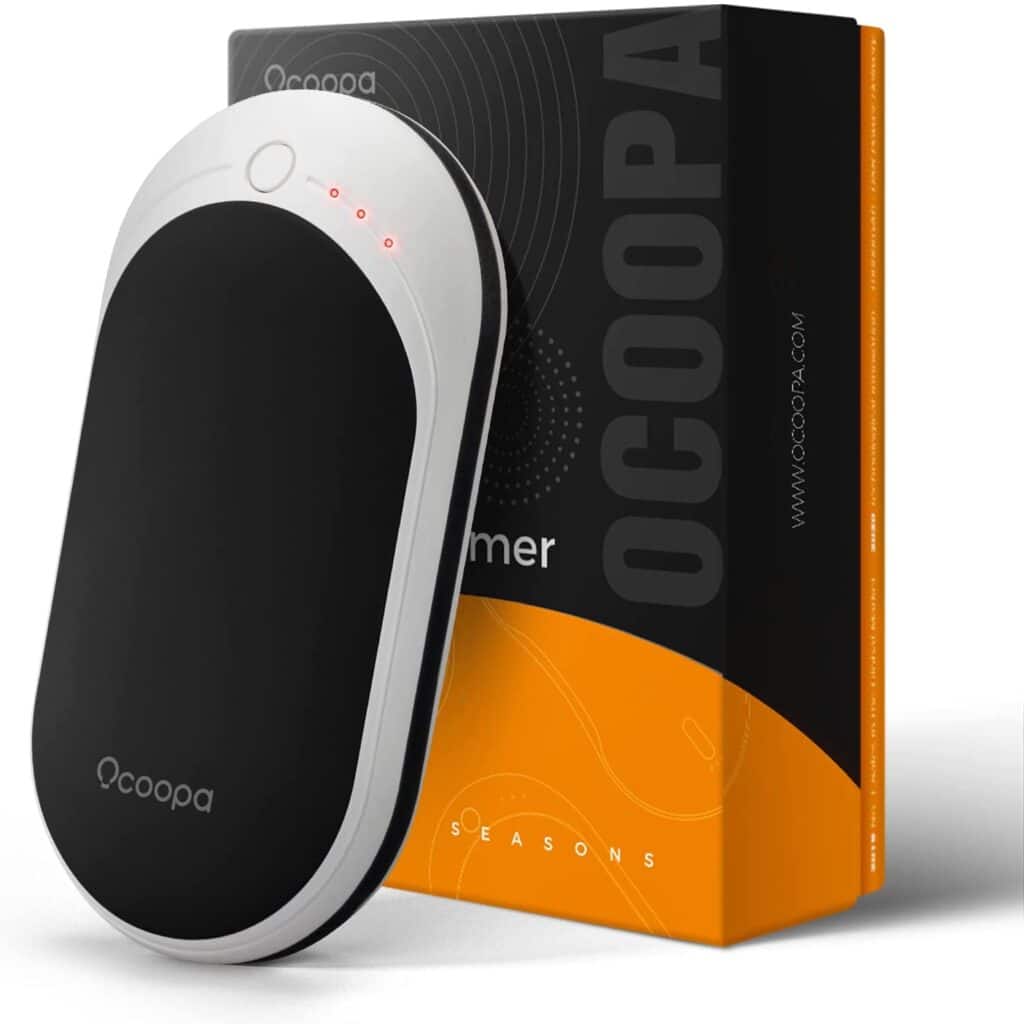 OCOOPA Rechargeable Hand Warmers
We used to only use single-use hand warmers, and once we discovered the Ocoopa Rechargeable Hand Warmers, they were game changers. We brought these to our winter trip to Canada and our hands have never felt warmer. They have different temperature control settings, last a few hours, and are easily rechargeable via USB.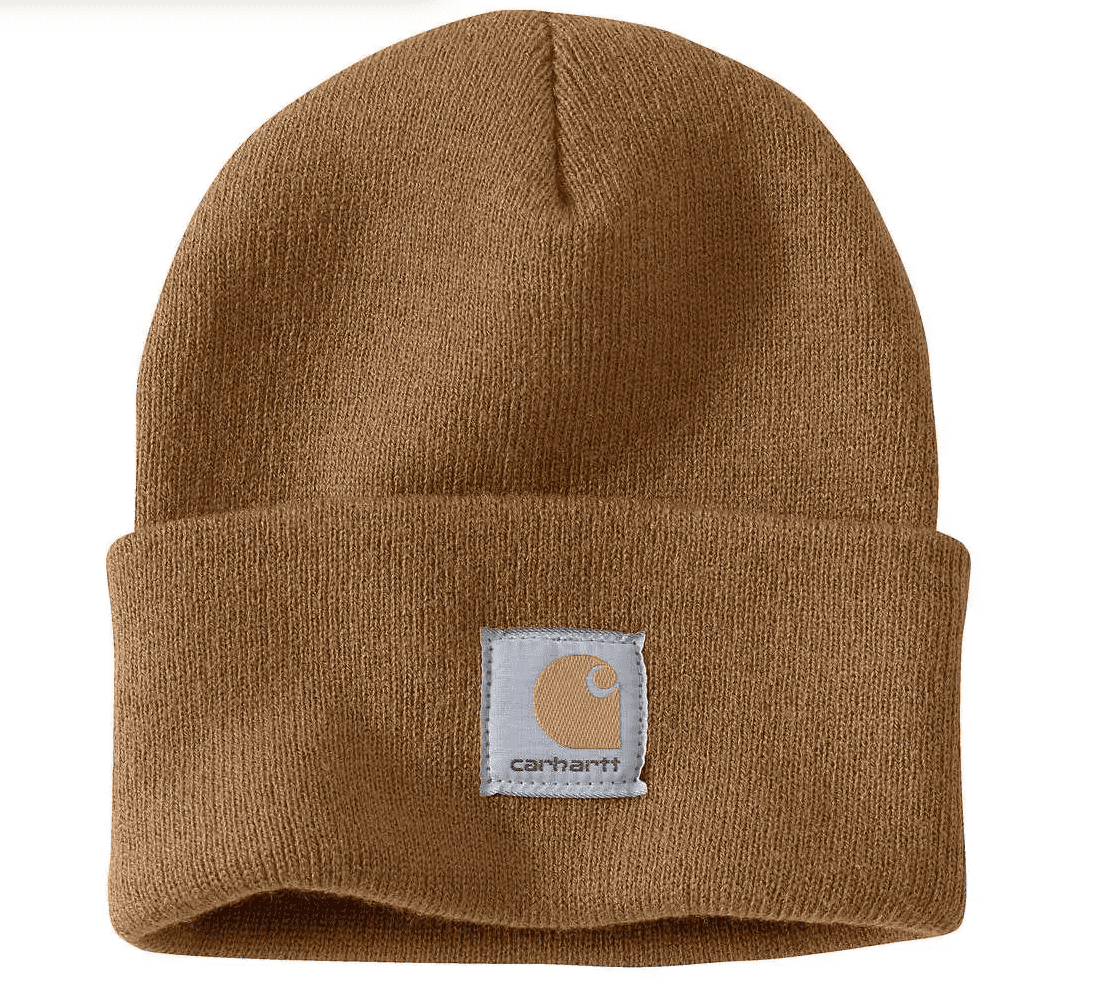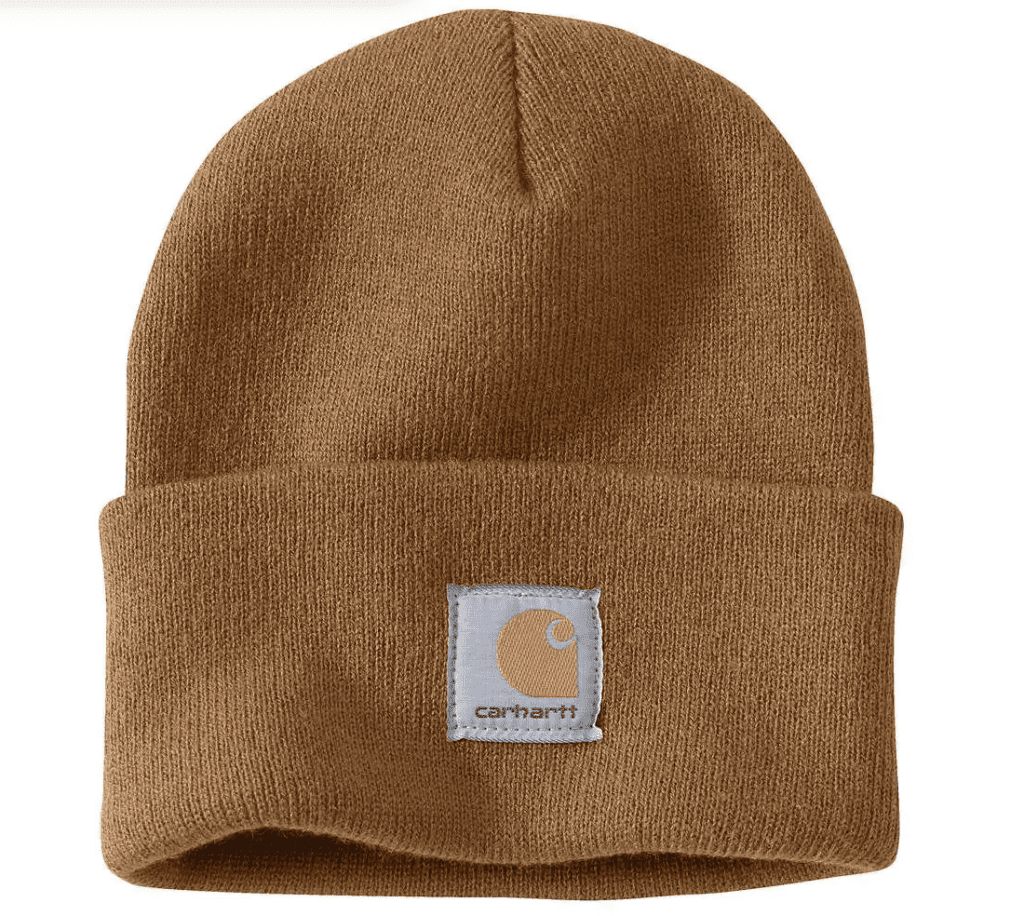 Pom Beanie
Who doesn't love a warm, cozy beanie? Our personal favorites are from LL Bean, Columbia, Carhartt and CC. Keep your adventure lover warm on their winter adventures and early sunrise mornings.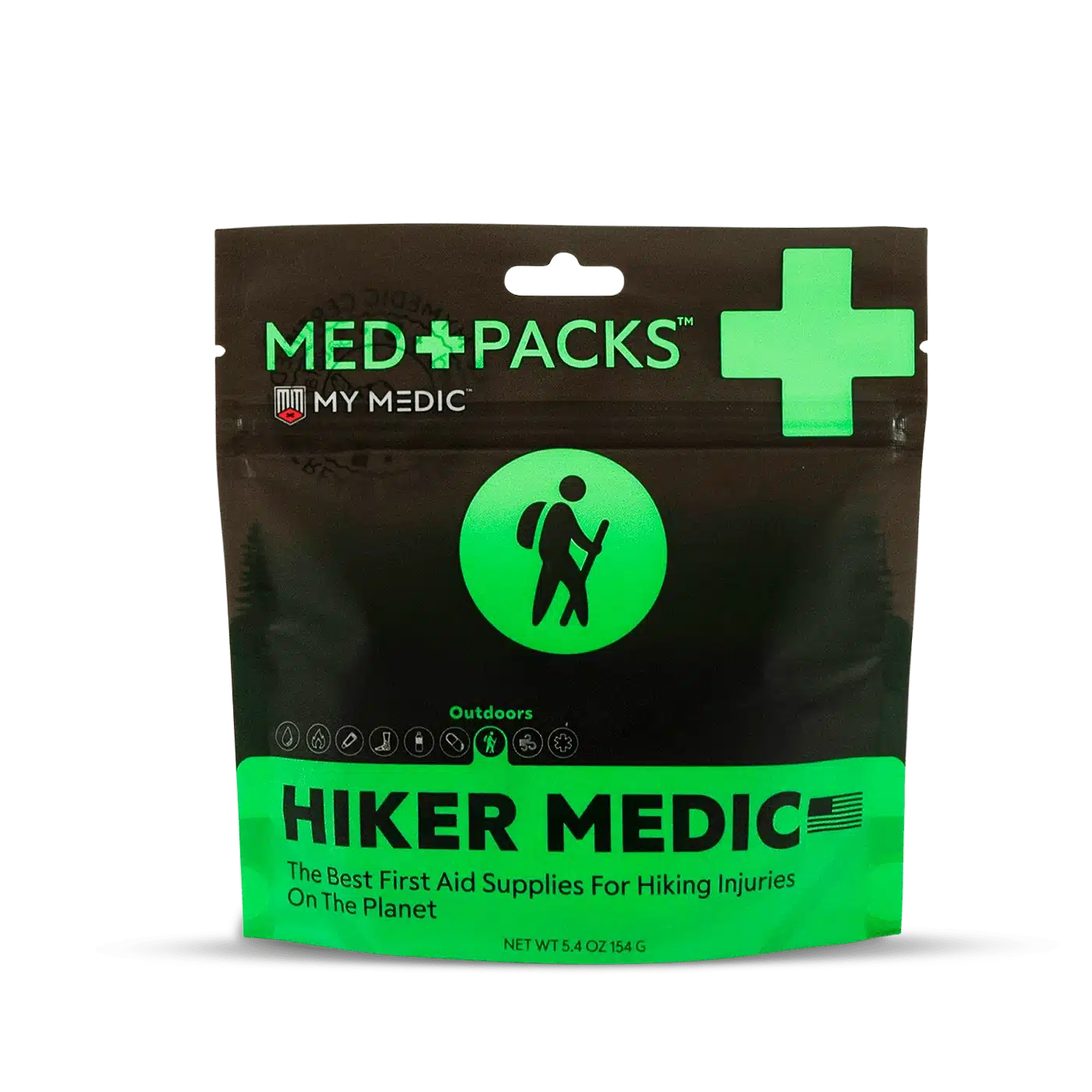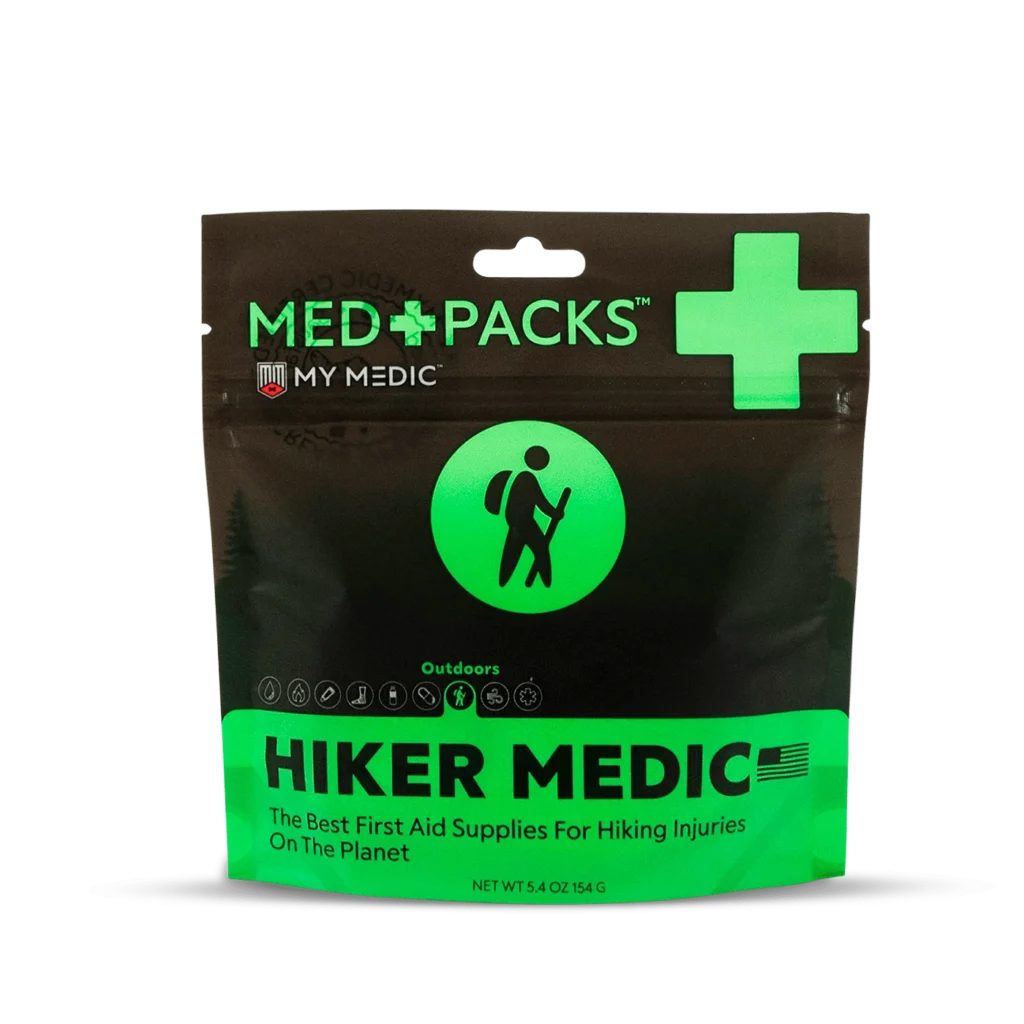 MyMedic Emergency Kit
It is super essential that everyone heading out into the wilderness has an emergency kit with them! An emergency kit is something nobody ever wants to spend their own money on, yet desperately should have. Treat your friends to some more peace of mind with a hiking emergency kit.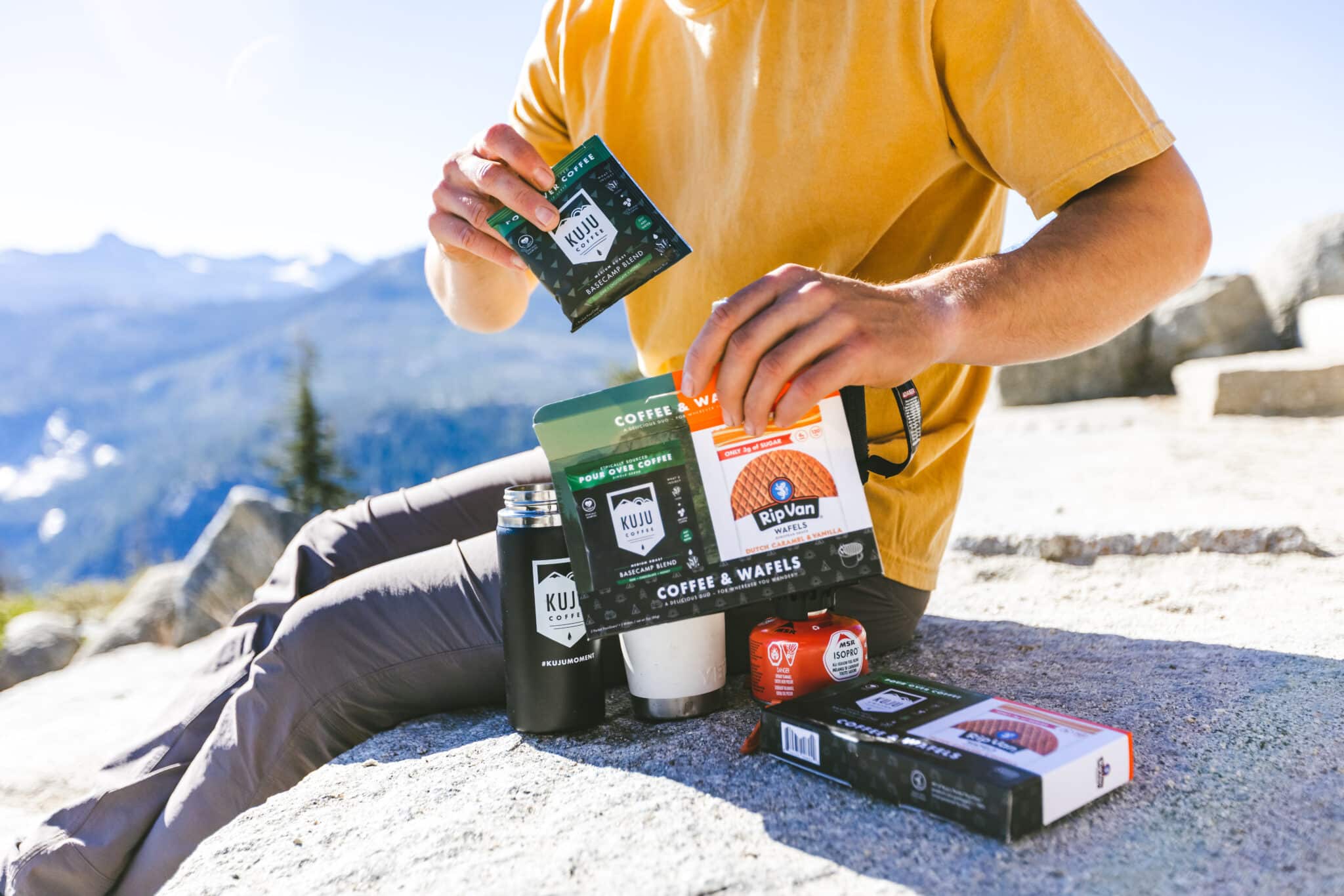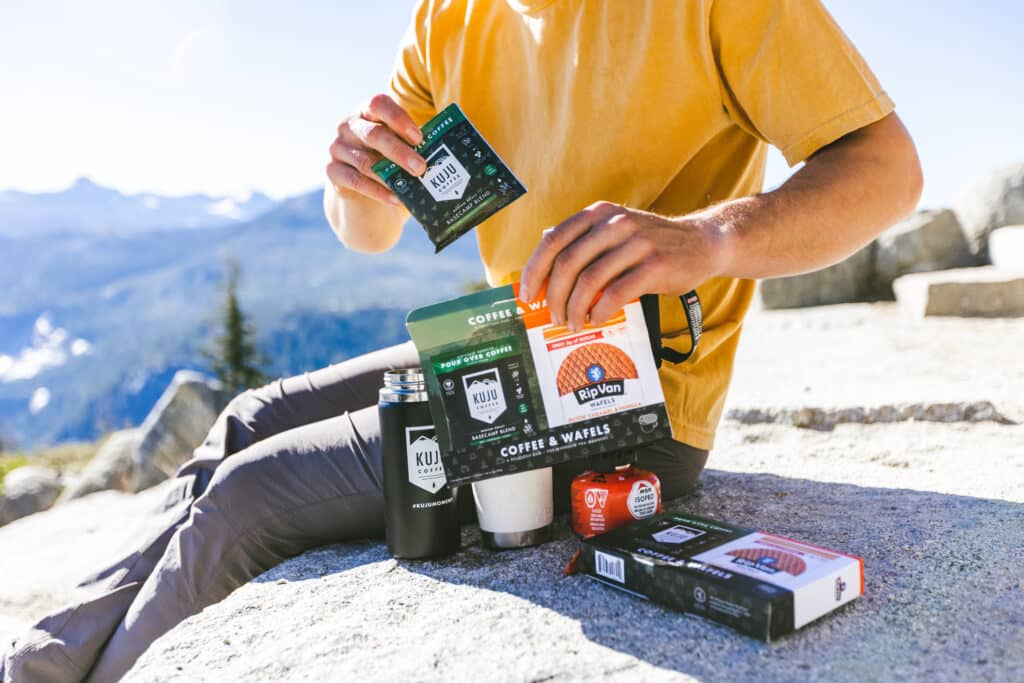 Kuju Coffee
This is our absolute favorite camp and adventure coffee ever. They have several different flavors of coffee pour overs, but our favorite is the Basecamp Blend. They also have a super cute gift set at REI that includes individual coffee pour packets with stroopwafels that are delicious. If you have a friend that loves good coffee but hates lugging around the equipment while outdoors, grab them a few pocket pour overs and they'll love you forever!
Best Holiday Gift Ideas for Outdoorsy People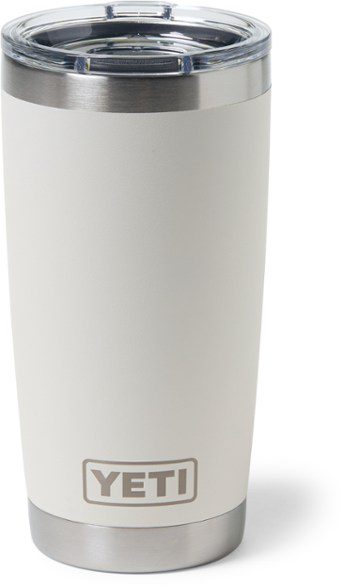 YETI Rambler Tumbler with MagSlider Lid – 20 fl. Oz.
Calling all coffee and tea lovers! The Yeti Tumbler is the perfect, timeless gift for those wanting a nice hot beverage while enjoying the outdoors. The insulation technology is amazing and keeps your drinks warm for hours. Pair this with some Kuju Coffee for the perfect matching gift set.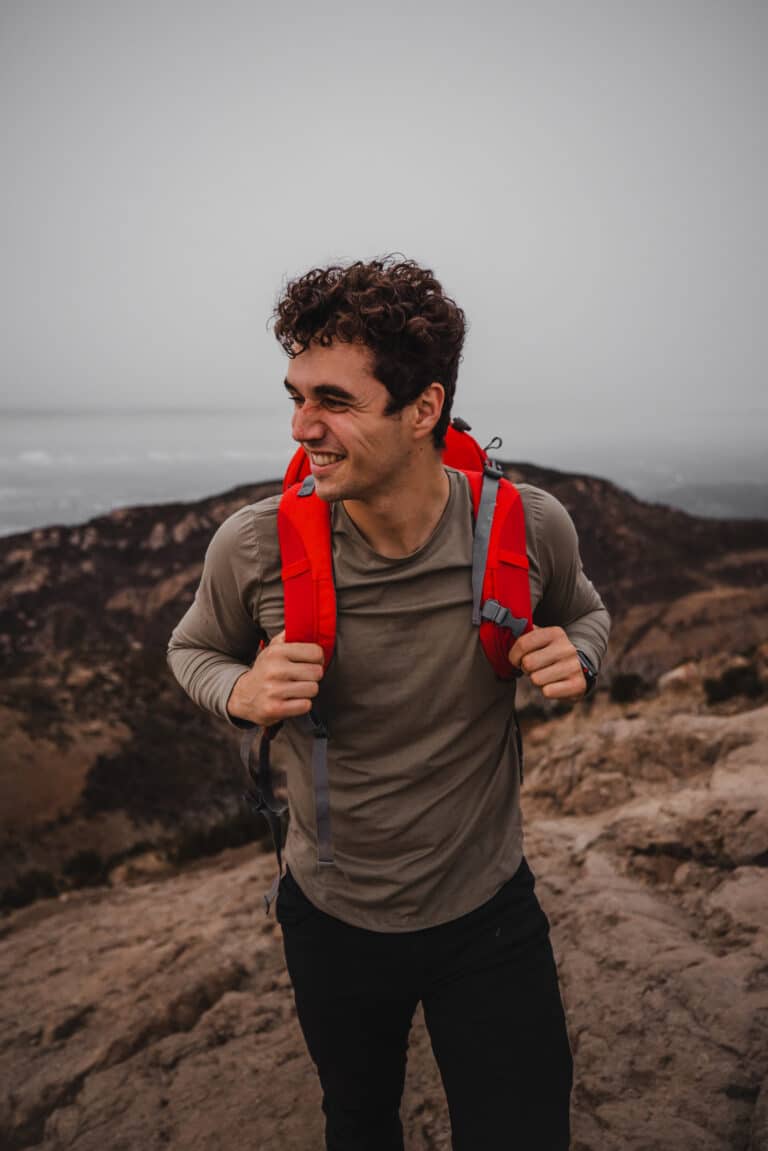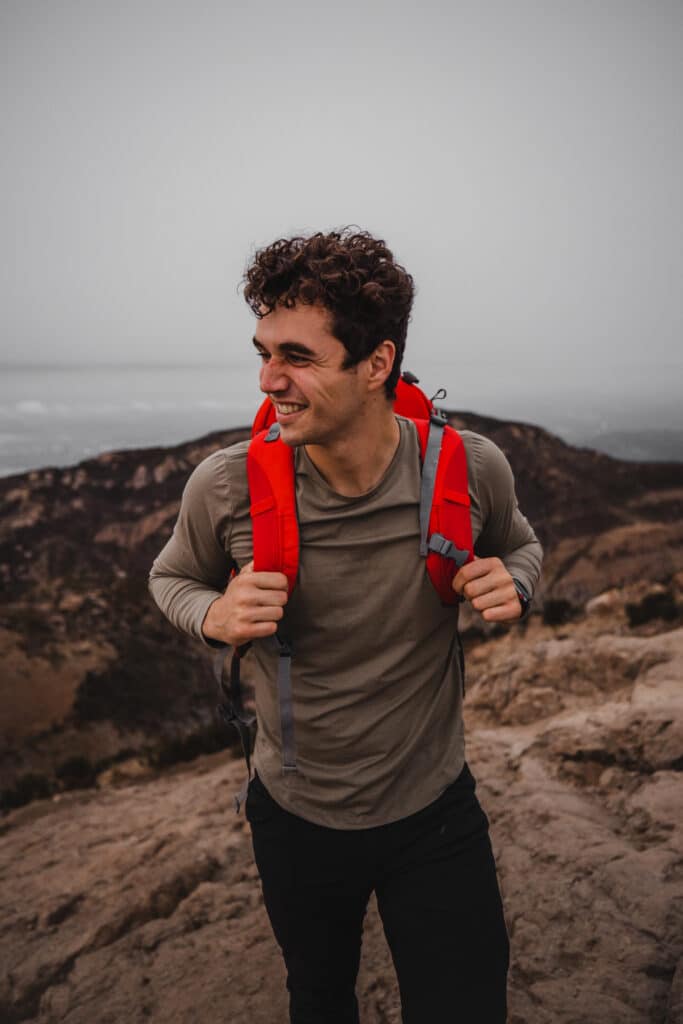 CUTS Shirts for Men
Cuts Shirts are Stephen's favorite travel shirts and for good reason. They are soft, comfortable, durable through all of our adventures, and of course, flattering. If you use the code THELOVERSPASSPORT at checkout you can also get 15% off your order.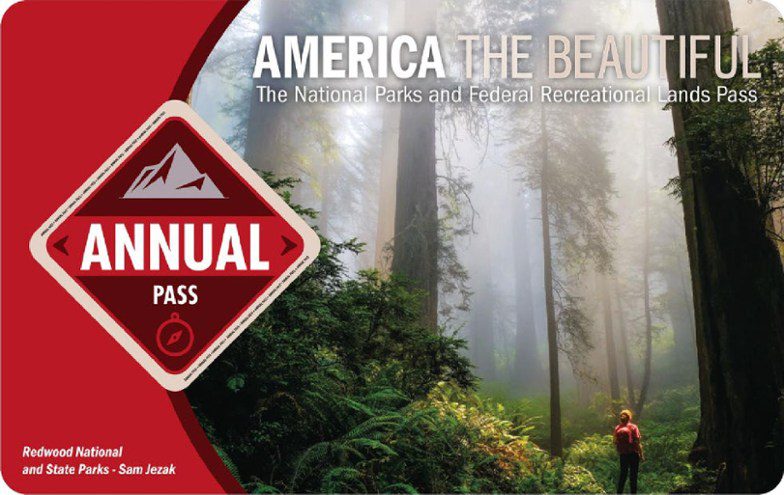 National Parks Pass – America the Beautiful Pass
If you're shopping for an experience lover, this is the ultimate gift for an outdoorsy person. Give the gift of access to all of America's National Parks for one year. This is our go to present out of our whole holiday gift guide for the adventure lover.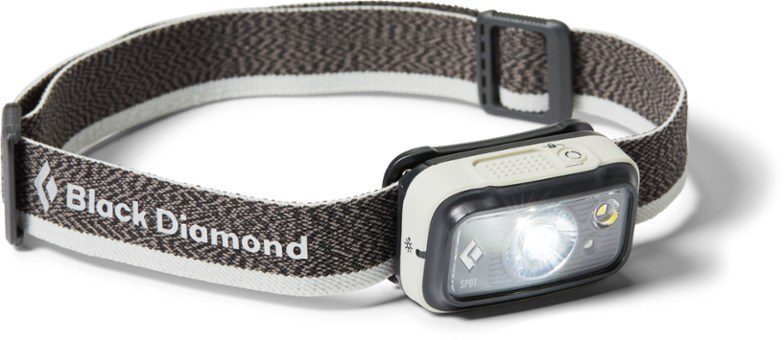 Black Diamond Spot 350 Headlamp
Calling all sunrise and sunset hikers! This is our favorite budget headlamp for adventures and is great for navigating the dark when hiking before and after golden hour.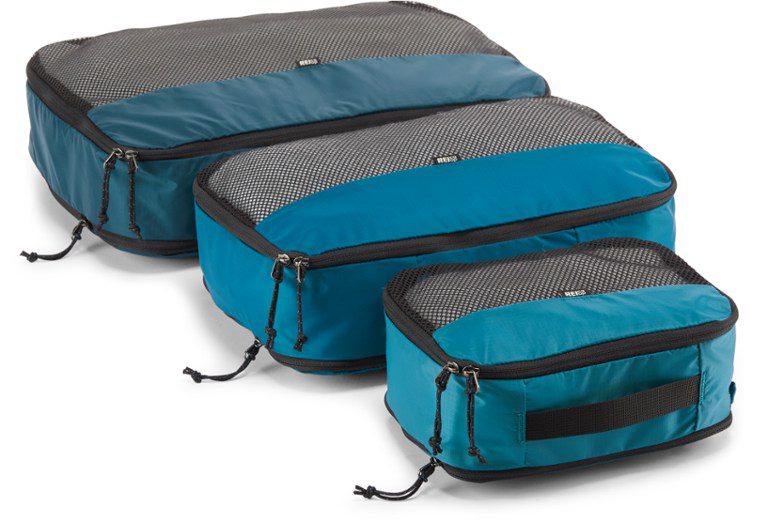 Packing Cubes
If your loved one is an avid traveler that could use some more organization, packing cubes are a great gift.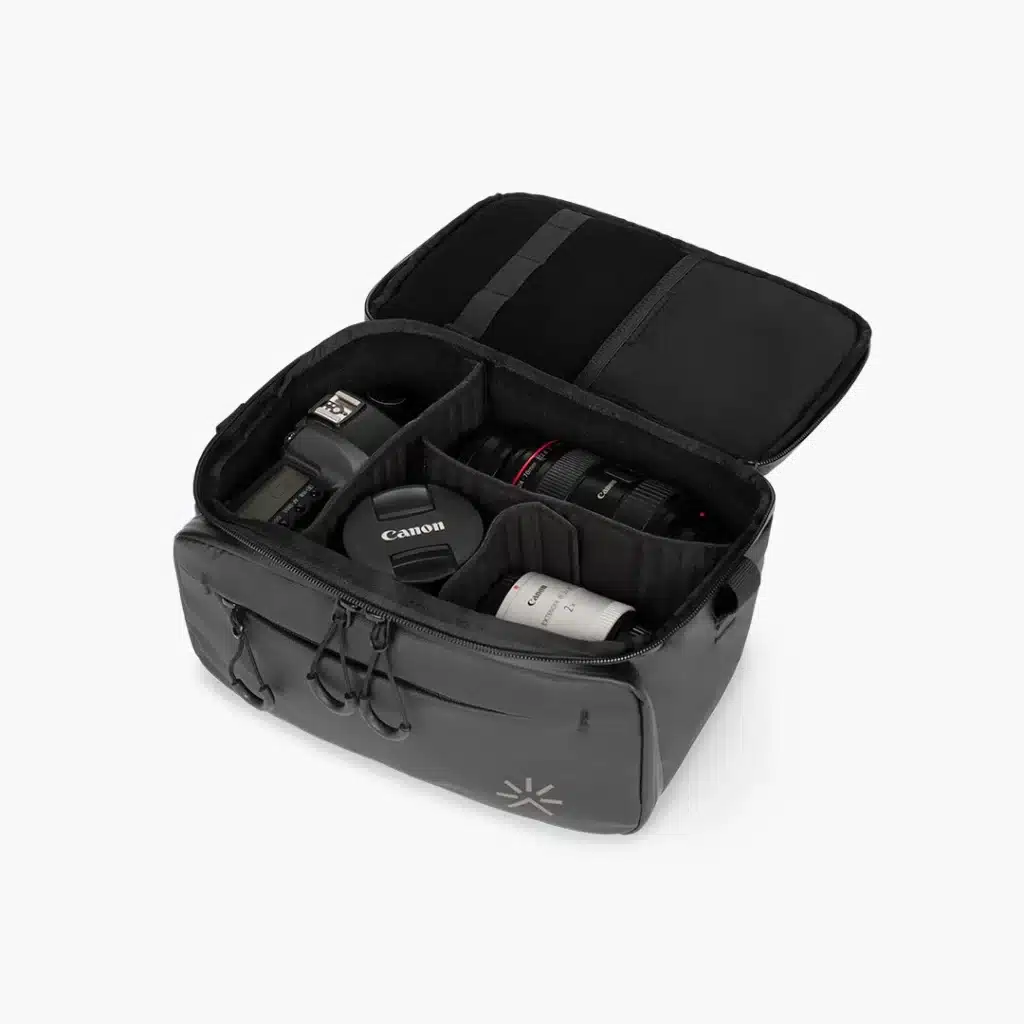 Tropicfeel Camera Cube
Shopping for an adventurer who loves photography? A camera cube is the perfect present to keep their gear cushioned and protected while traveling to avoid any large impact on their expensive gear. It also is great for luggage organization to make sure important SD cards, cords, lenses, and accessories aren't lost in a bigger bag.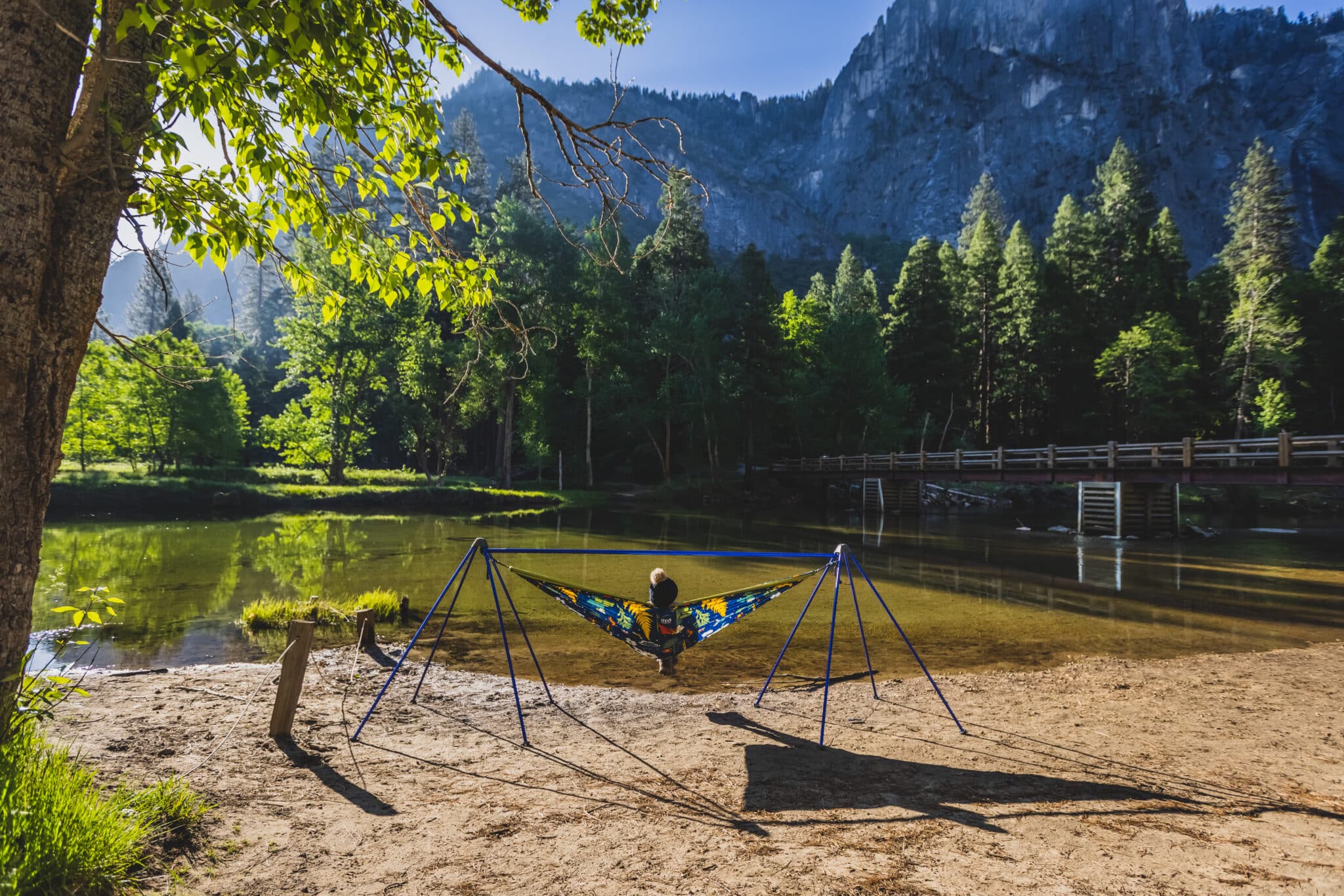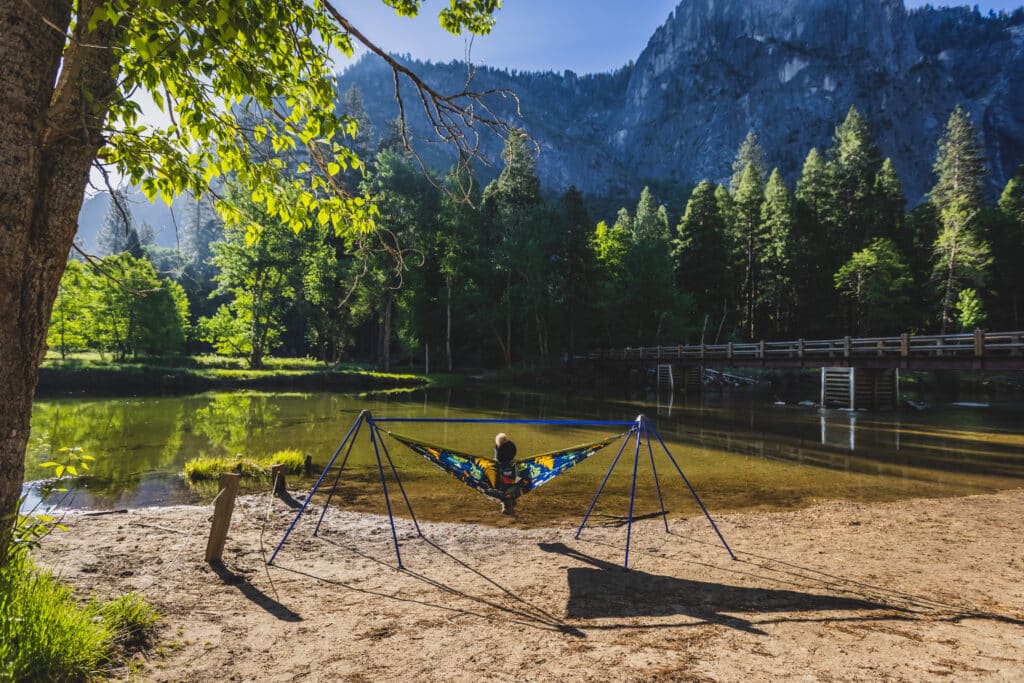 ENO Hammocks
ENO is one of the best hammock companies out there. Whether you want a single person hammock or a double hammock, they are lightweight and easily transportable for hiking and backpacking, as well as extremely comfortable. Make sure to also purchase a strap system for the hammock to be strung up as well.
Kahtoola MicroSpikes
If you have a friend or family member who loves spending time outdoors in the winter time, this is a fantastic option. MicroSpikes are great for those that like to hike in icy conditions, so that they have more traction and have less chances of slipping. Opt for some snowshoes or crampons if they tend to hike in powdery conditions instead.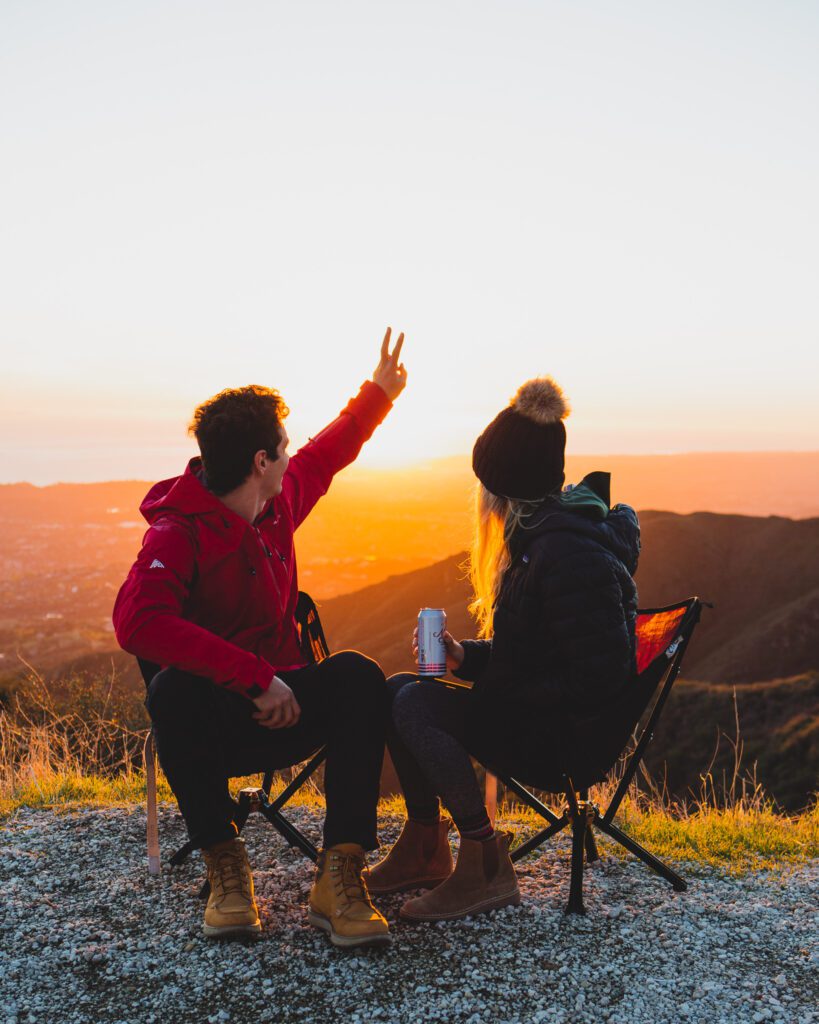 Cliq Camping Chairs
Everyone could use a quality camping chair. We've been using Cliq Chairs for the past two years and they are super convenient, especially for road trippers, van lifers, and overlanders concerned about space in the car. These pack down to the size of a Hydroflask and click open to form a cozy camp chair within seconds.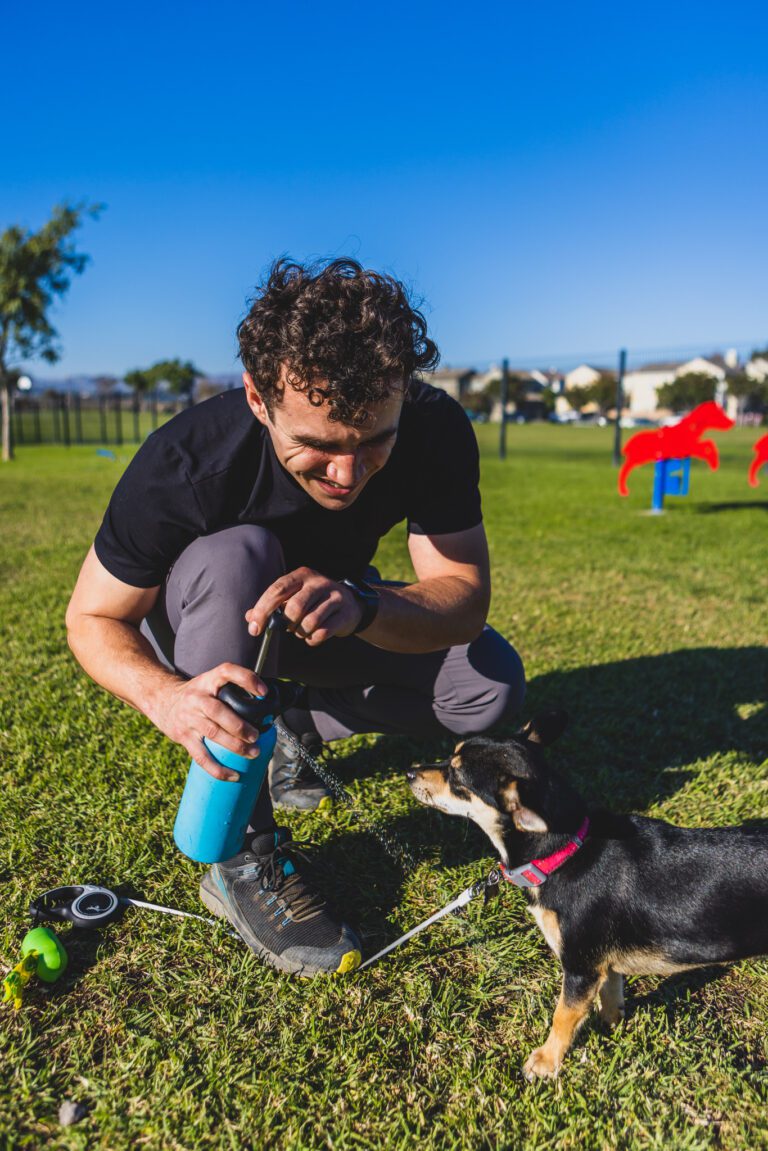 Rinsekit Water Bottle
The Rinsekit water bottle is a bottle that comes with two different sprayer nozzles and a pump that can help keep you cool on hotter hikes! It's also great for if you want to wash your face and hands while camping, optimal for doing dishes on the road, and great for your pet if you travel with an adventurous pup!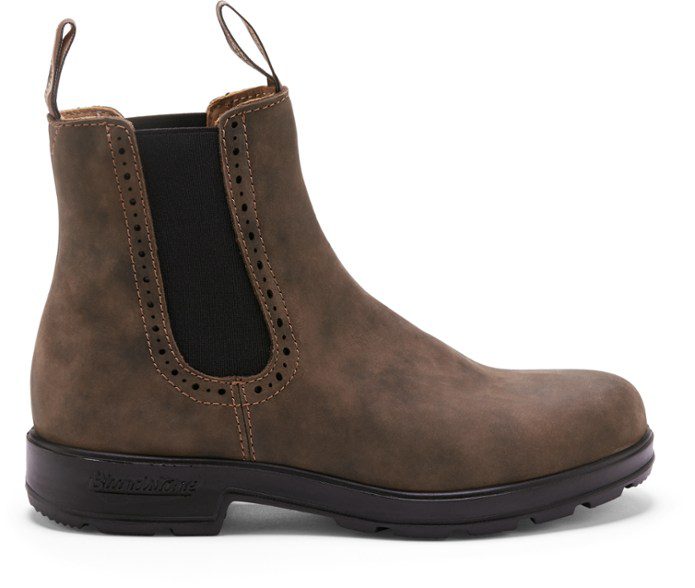 Blundstone Boots
The Blundstone brand is definitely a staple in the outdoor lover's wardrobe. They are cute and stylish, but also incredibly versatile as a street shoe to a hiking shoe. These are great for camping, road trips, short hikes, and day to day activities.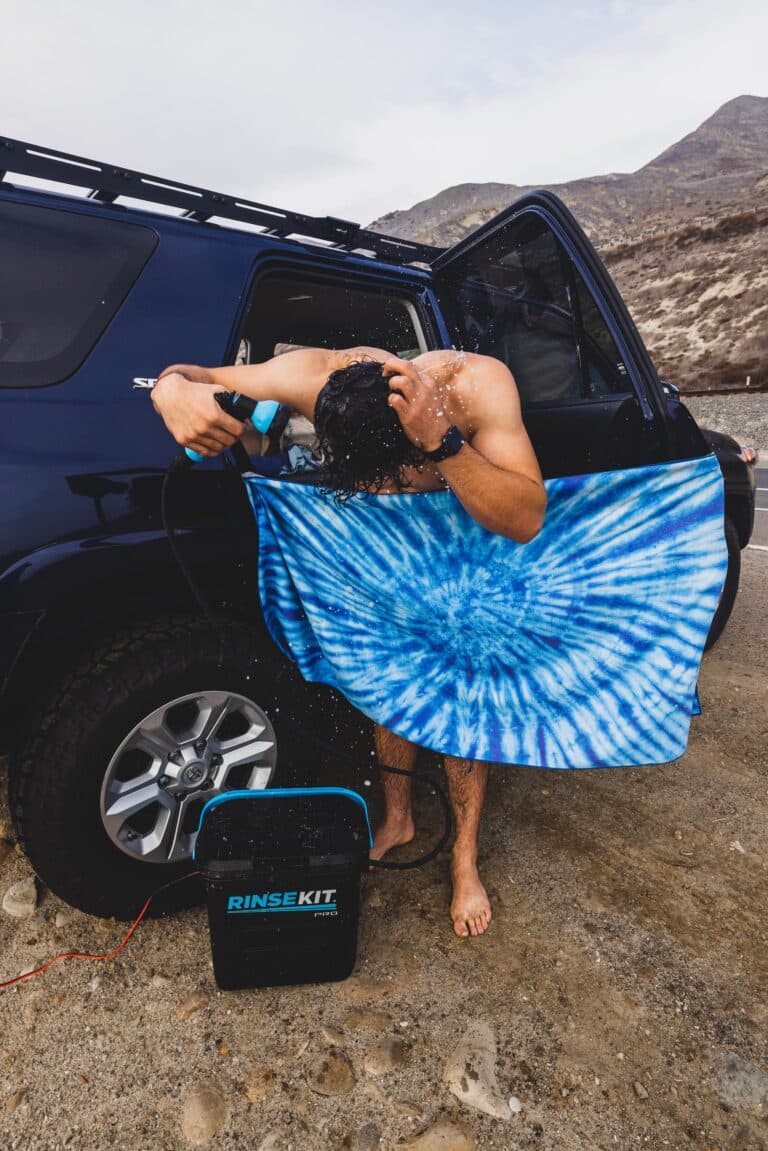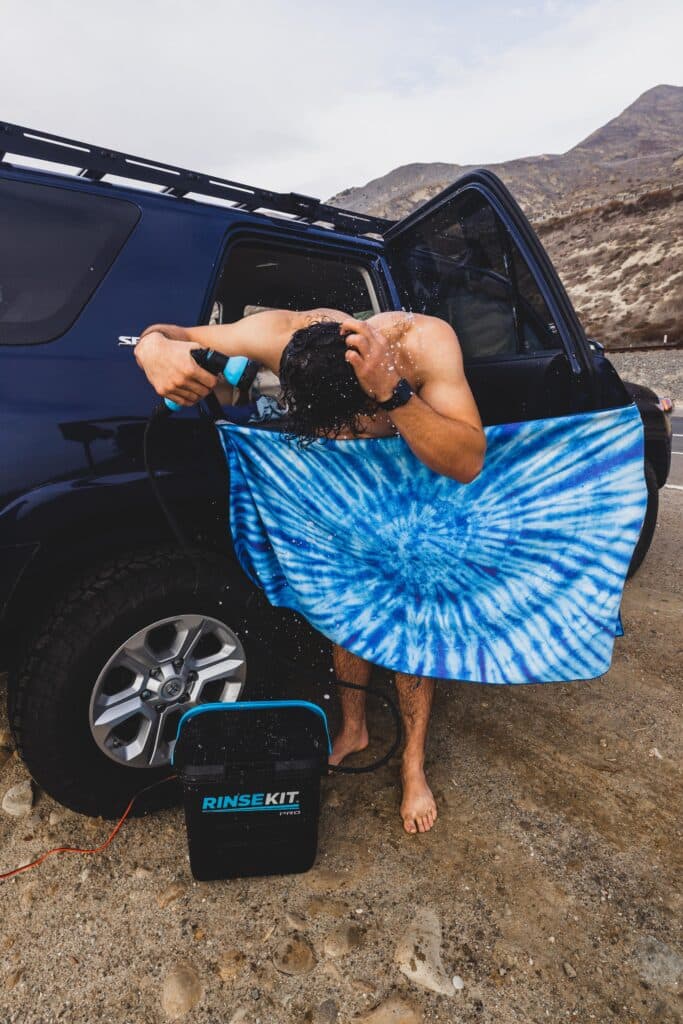 Rinsekit Pro Portable Shower
Calling all Van Lifers and Road Trip enthusiasts. The Rinsekit Pro (or Plus if you're on a stricter budget) is perfect for those who want to shower while on adventures where there may be no other access to showers or gyms. With potable water and a pressurized nozzle, enjoy a luxurious shower while camping.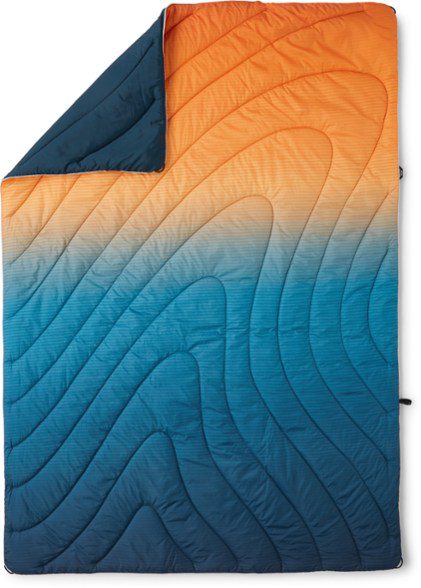 Rumpl Puffy Blanket
Blankets always make great gifts for men and women alike. The Rumpl puffy blankets are especially fantastic because they are ripstop so wear and tear isn't a huge issue, and they are extremely warm for winter adventures. They also have a huge variety of colors and patterns to choose from.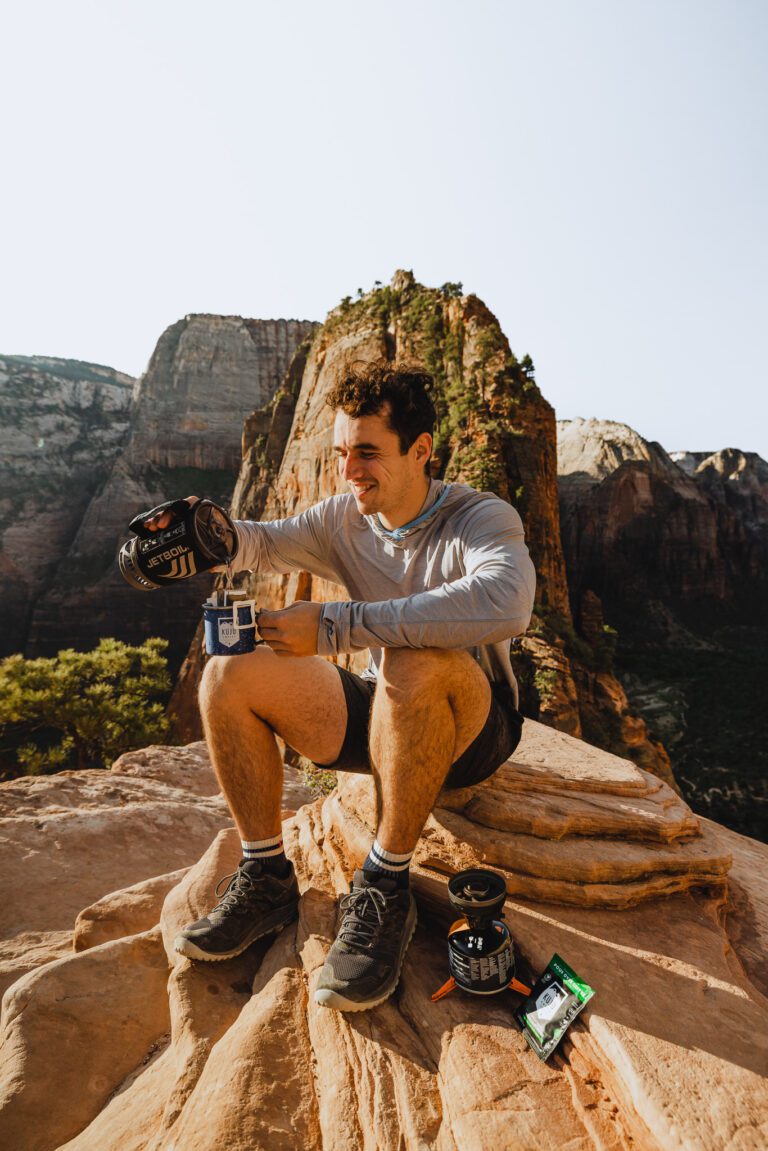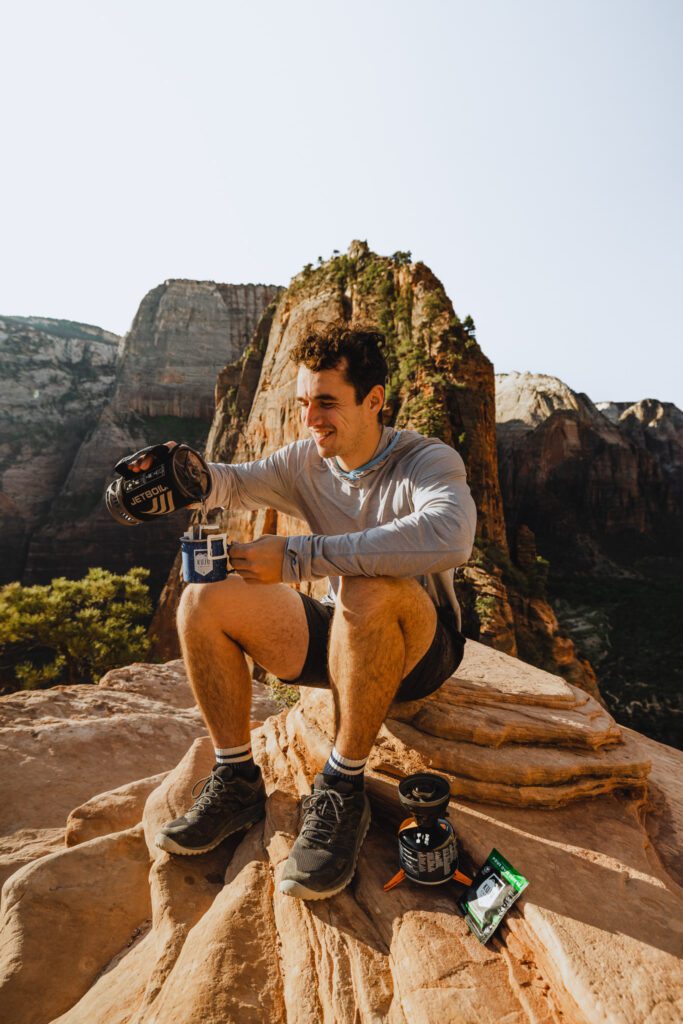 Jetboil Flash & Minimo Cooking Systems
The Jetboil Flash is a great cooking system for those that want to boil water in the backcountry for coffee, tea, or dehydrated meals. Note the flash is only for boiling water, not cooking food. The Minimo is fantastic for the chefs in the outdoors that want to cook while they are hiking and backpacking while keeping their gear lightweight. With the simple click of the ignite button, you'll have a working stove to cook and boil water in no time!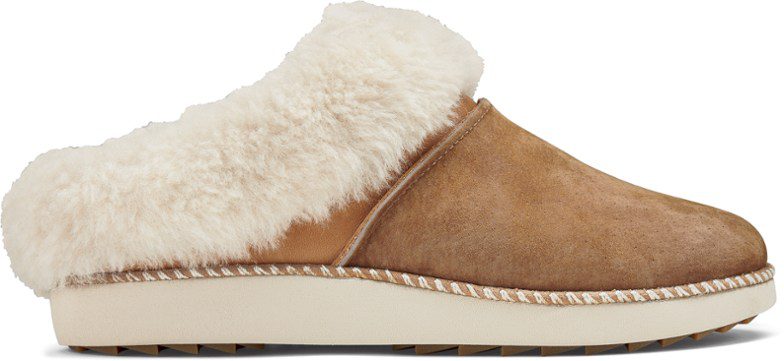 Olukai Slippers
In our opinion, slippers are another awesome unisex gift option, especially for staying cozy at camp. Olukai slippers are awesome because they have specific slippers for roaming and the outdoors as well as some specifically for the indoors. They have thicker, more comfortable soles and great traction, and they give back to Hawaiian nonprofits with every purchase.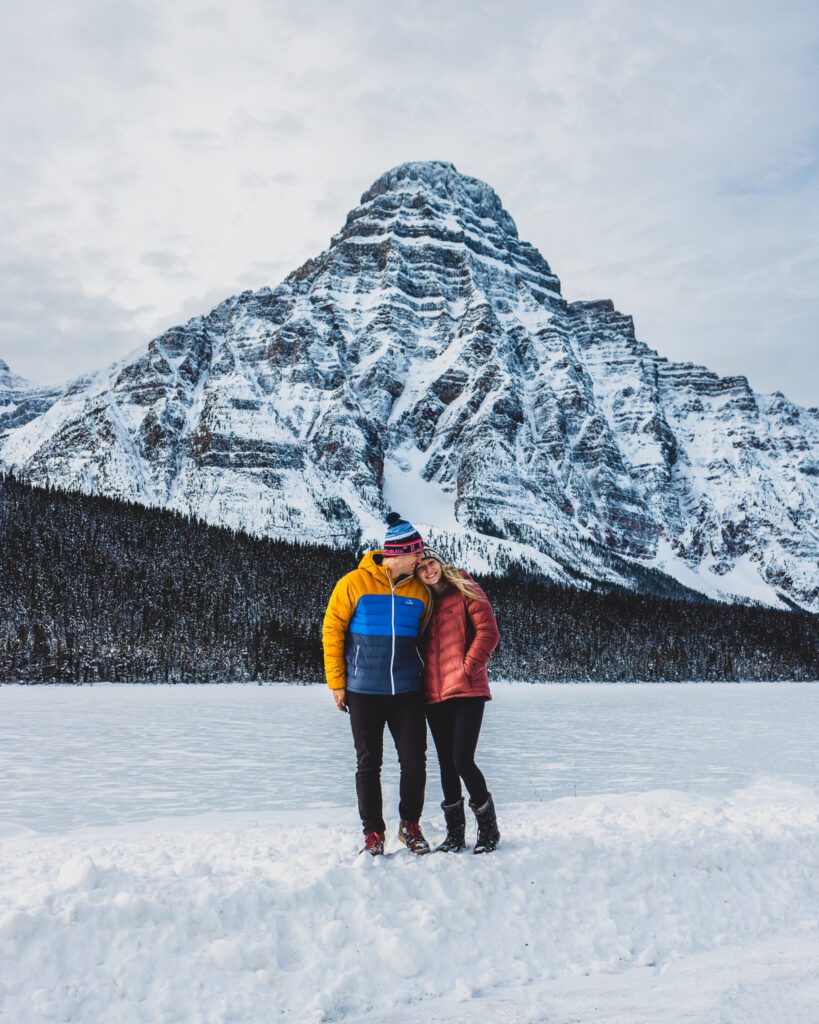 Puffy Jackets
If your loved one doesn't have a puffy jacket, get them one for their colder adventures. We always have a puffy jacket on us no matter the adventure because it can be chilly in the morning and at night when the sun is down and we are hiking. They are also perfect for staying cozy in the winter. We love a variety of them from LL Bean, Patagonia, and Columbia.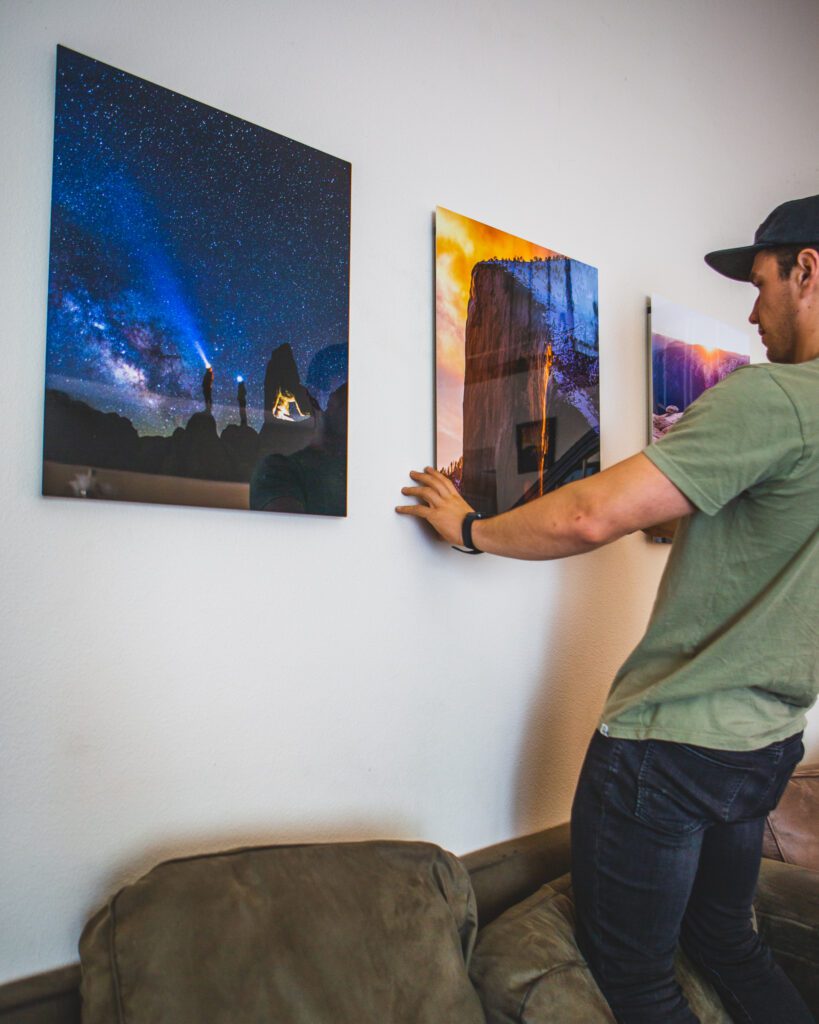 Personalized Prints & Calendars
Personalized gifts always hit differently. We love getting each other personalized presents from Printique in the past few years where we have printed our photos with each other on custom metal prints. We've also made calendars for our family members with family photos and they always turn out so special. If your loved one loves cherishing memories and photos, try ordering something from Printique!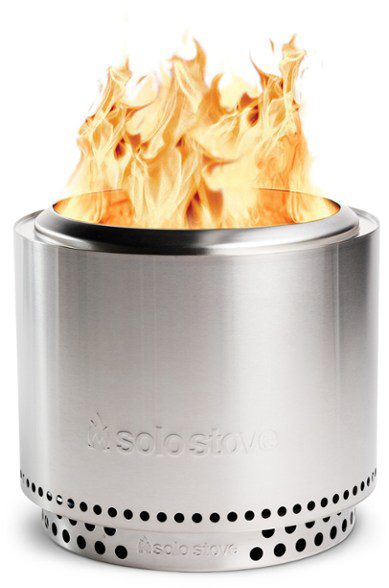 Solo Stove Bonfire Pit
Nothing beats a good old campfire and smores. The Solo Stove Bonfire Pit is amazing because it can basically allow you to have a contained, smokeless fire pit anywhere, even at your house! They are super nice and come with a convenient carrying case.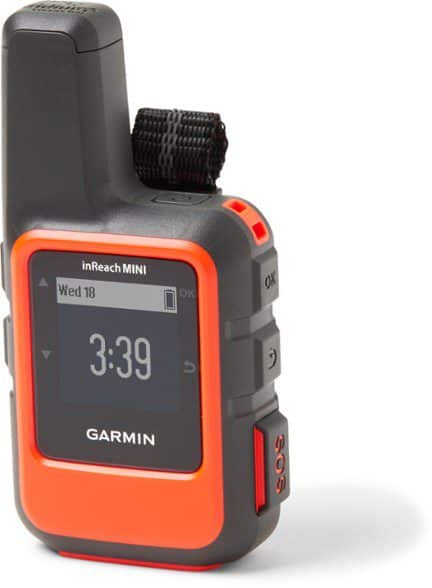 Garmin In Reach Mini
This is a gift for you and your loved one, so that you have more peace of mind when they are adventuring in spots where they may not have any cell service or reception. Once a subscription is activated, the Garmin In Reach Mini device allows you to communicate to contacts and check in via satellite messaging or hit an emergency sos dispatch button. It also allows you to receive messages, which is super nice if you are out backpacking and hiking.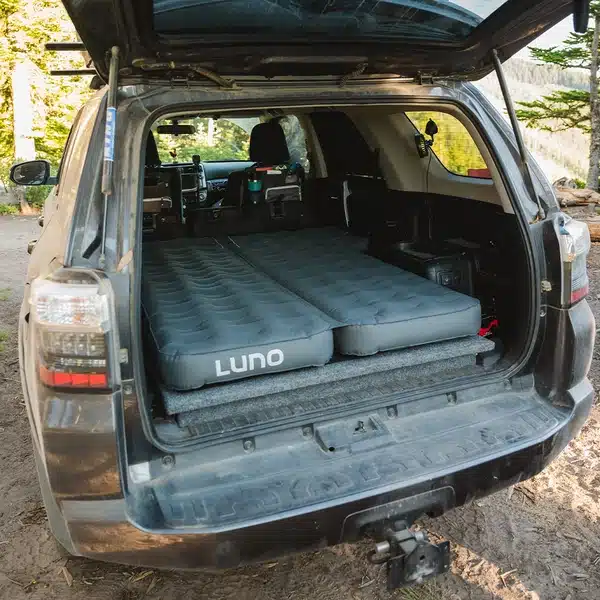 Luno Car Camping Mattress
Have friends or family that want to try car camping, but don't like the idea of sleeping in sleeping bags? The Luno car camping mattress is the ultimate solution that provides luxurious comfort in the back of your car. Their portable air mattress is the comfiest thing to sleep on while car camping and lasts a long time without any deflation issues.
Jackery Portable Power Station & Solar Panels
For those traveling with lots of photography equipment or camping gear that requires plugs, the Jackery is a life saver. We can charge it in the back of car or with the solar panels that come with the station so that we always know we can have our electronics powered while traveling.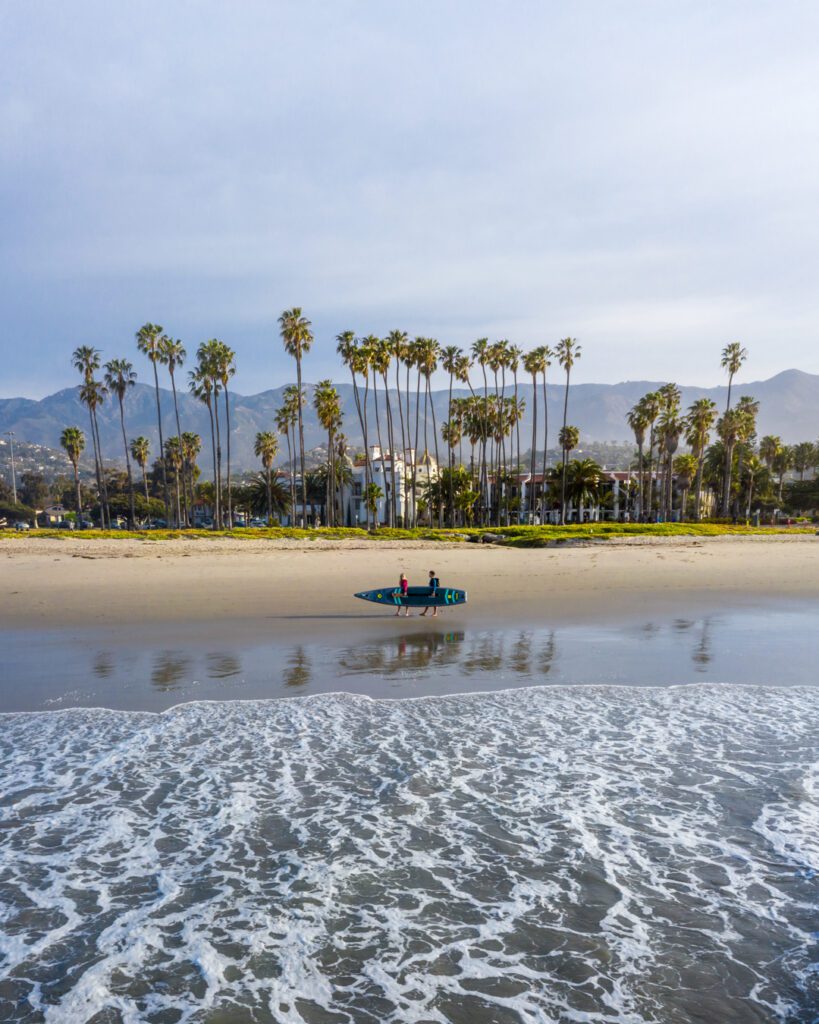 Body Glove Inflatable SUP & Kayak
Stephen and I have been loving and making good use out of our Body Glove Tandem Paddleboard. It takes less than a few minutes to set up and is super easy to transport. They also make single versions, but we especially love this model because it can be converted into a Kayak when you want it to be! This is a great gift for those that love jumping in alpine lakes and swimming in the ocean.
We hope this holiday gift guide for the adventure lover inspired your list of outdoorsy shopping ideas. For more outdoorsy shopping ideas, make sure to check out our Camp Cooking Guide, and our Adventure Photography Guide as well!